My cousin Kellie and I have long talked about taking a trip together overseas. Having Irish heritage, we decided that Ireland would be the perfect place to explore together.
DAY 1: A Rainy Day in Dublin
We landed in Dublin in early September in the mid-afternoon and after dropping our luggage off at Number 31 Hotel, we decided to walk to lunch to get some air and move our legs a bit. We arrived to some very Irish weather of clouds and rain, however our taxi driver at the airport informed us that this weather was not so typical – that it doesn't often rain all day long, day in and day out for multiple consecutive days. In fact, we had received a few weather advisory alerts on our phone when we landed. Just our luck! But we put on our rain coats and hit the ground walking!
We took a short walk from the hotel through St. Stephen's Green Garden/Park, which was eerily deserted during this bit of bad weather, but it made for quite a beautiful and peaceful stroll. We headed towards the popular Grafton Street and found a cozy spot for lunch, Sheehans Gastro Pub. Neither of us ever having had a Guinness before, my cousin opted to order the traditional Irish drink with our first meal in Ireland. While it wasn't her favorite, it made for a fun beer mustache! I decided to go with something more familiar, a pint of cider – it was a delicious local cider. We both had the most satisfying bowl of Irish potato soup accompanied with slices of fresh Irish soda bread and butter, perfect for this cold and rainy day. We walked around the popular shopping street before heading back to check in at our hotel.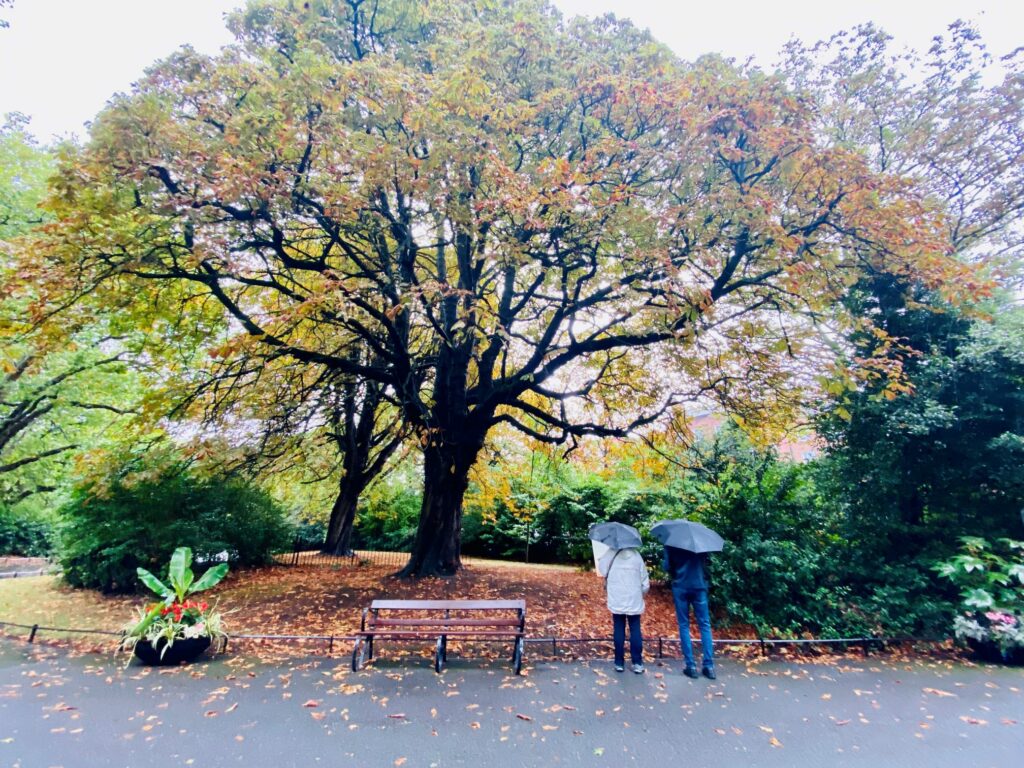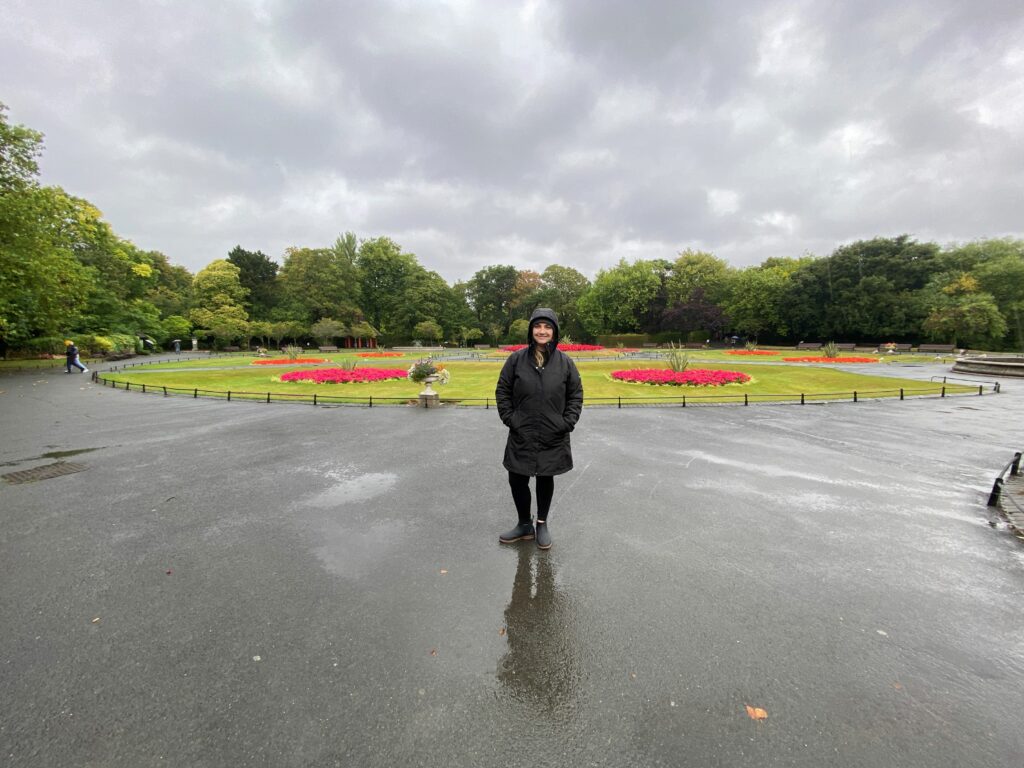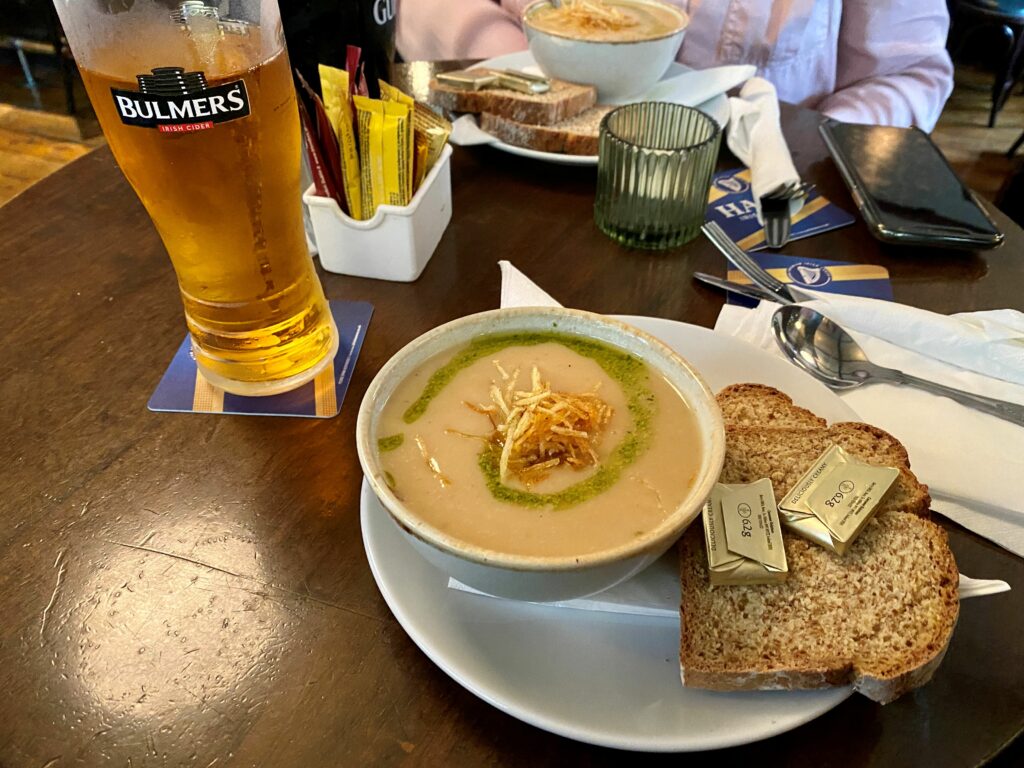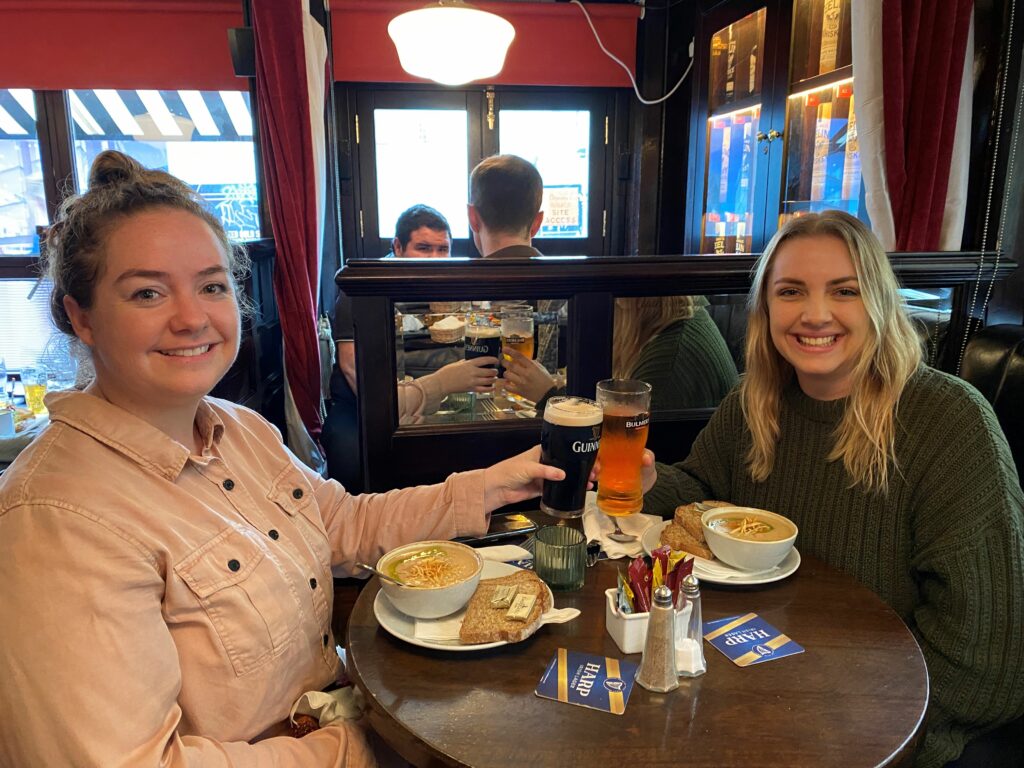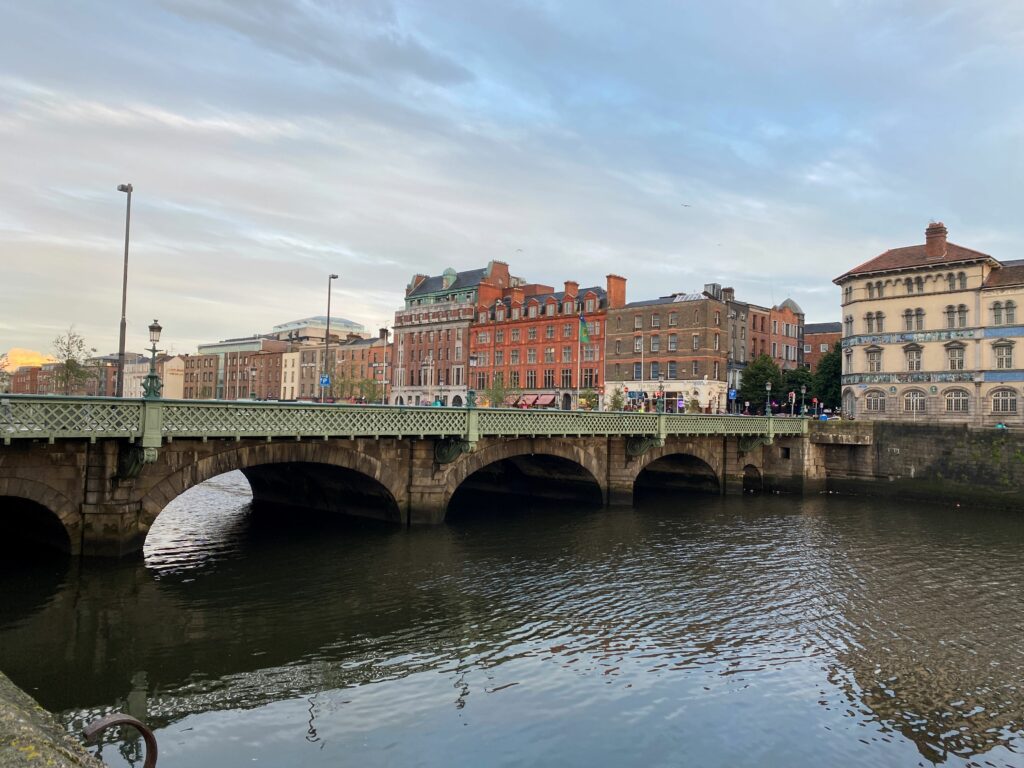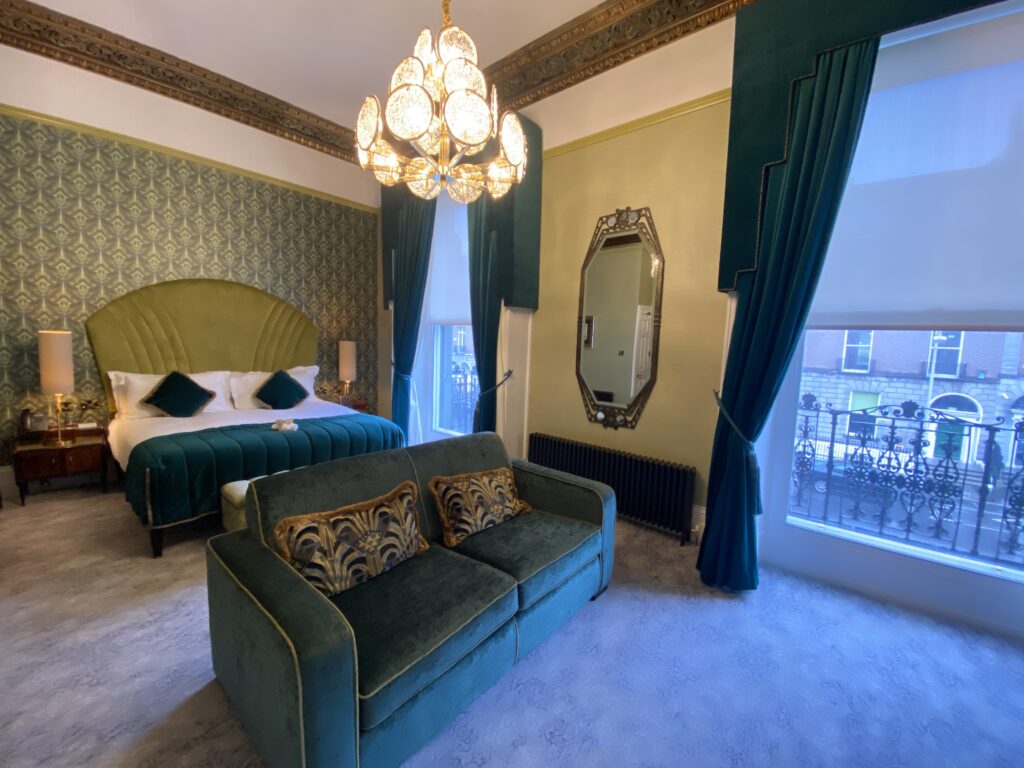 TRAVEL REVIEW: Number 31 Hotel

 Must Do!
Number 31 Hotel is an elegant, yet charming boutique hotel with the most beautiful rooms. We settled in before making our way back out to join the Dark Dublin Walking Tour where we explored some of Dublin's gruesome stories. It was still raining quite heavily, which made the tour a little less enjoyable – but it was still nice to get out and moving after a long travel day.
Once the tour ended, we stopped for dinner in the Temple Bar District, which is known as the epicenter of Dublin nightlife.
TRAVEL REVIEW: Dark Dublin Walking Tour


Only if you have time
DAY 2: Food, Food, and more Food!
We woke to sunshine, and our second day in Dublin started with a full Irish breakfast and homemade breads and jams at our hotel. We stopped by St Patrick's Cathedral and got to hear the Sunday church bells and walk around the Sunday artisan market for some souvenirs. I bought my dad a hand carved pen made from Irish drift wood from an older man. We stopped by the Guinness brewery for some photos next to the famous gates (although we skipped going into the Guinness Factory itself as it was not on either of our "To-Do" lists for Dublin).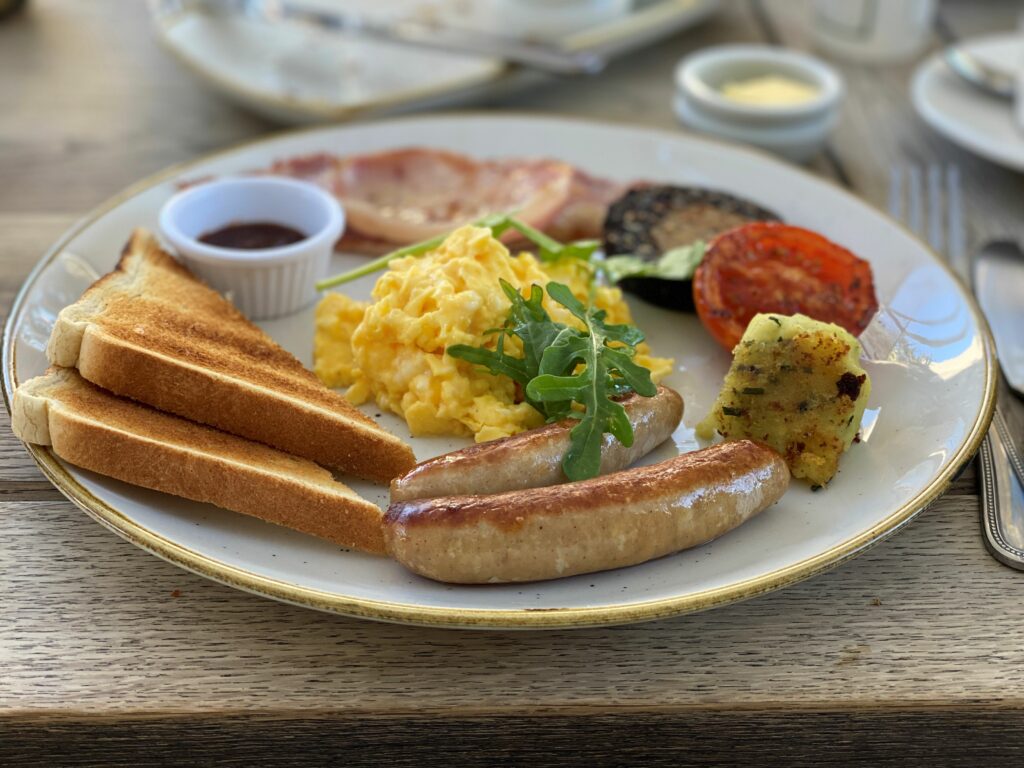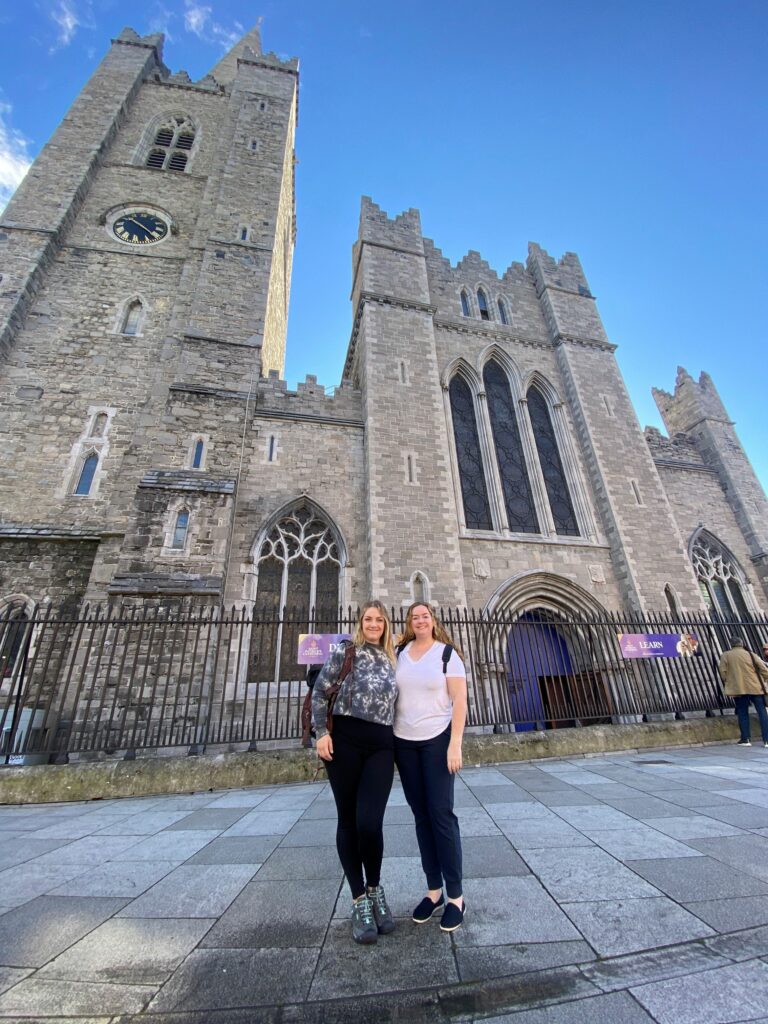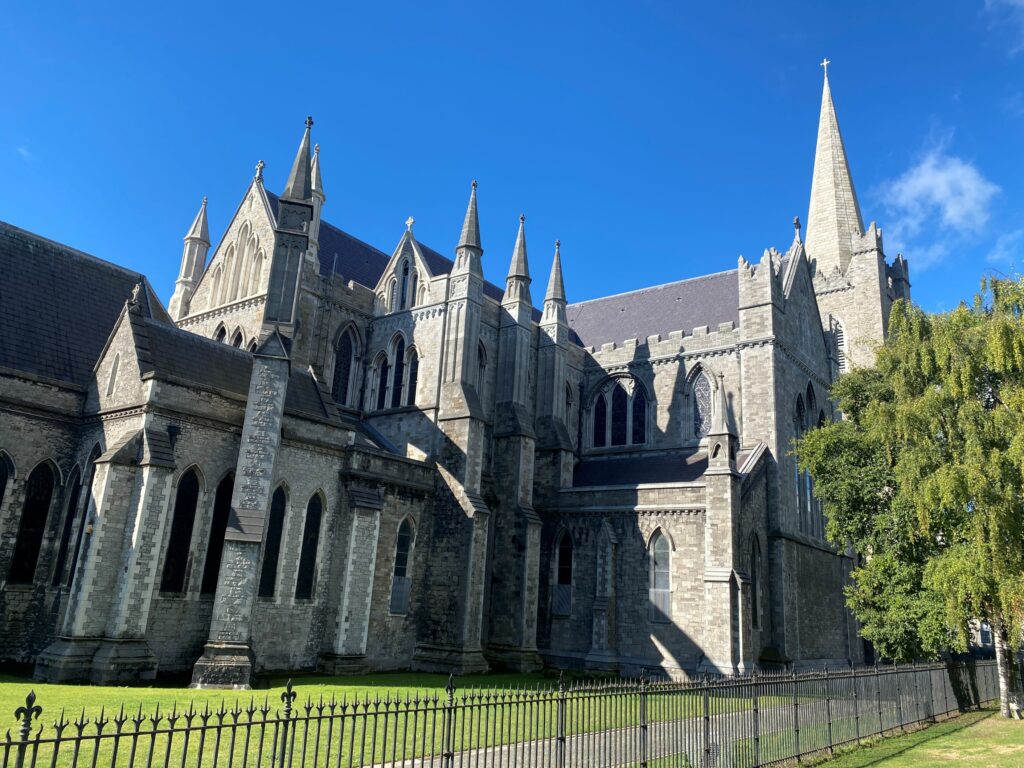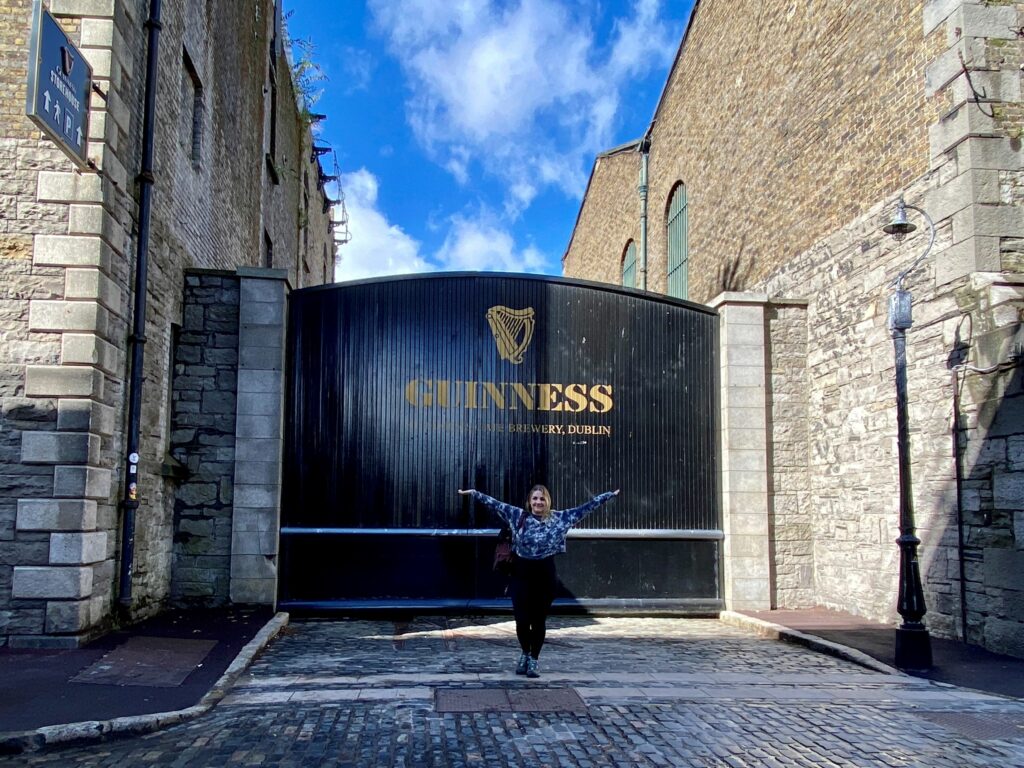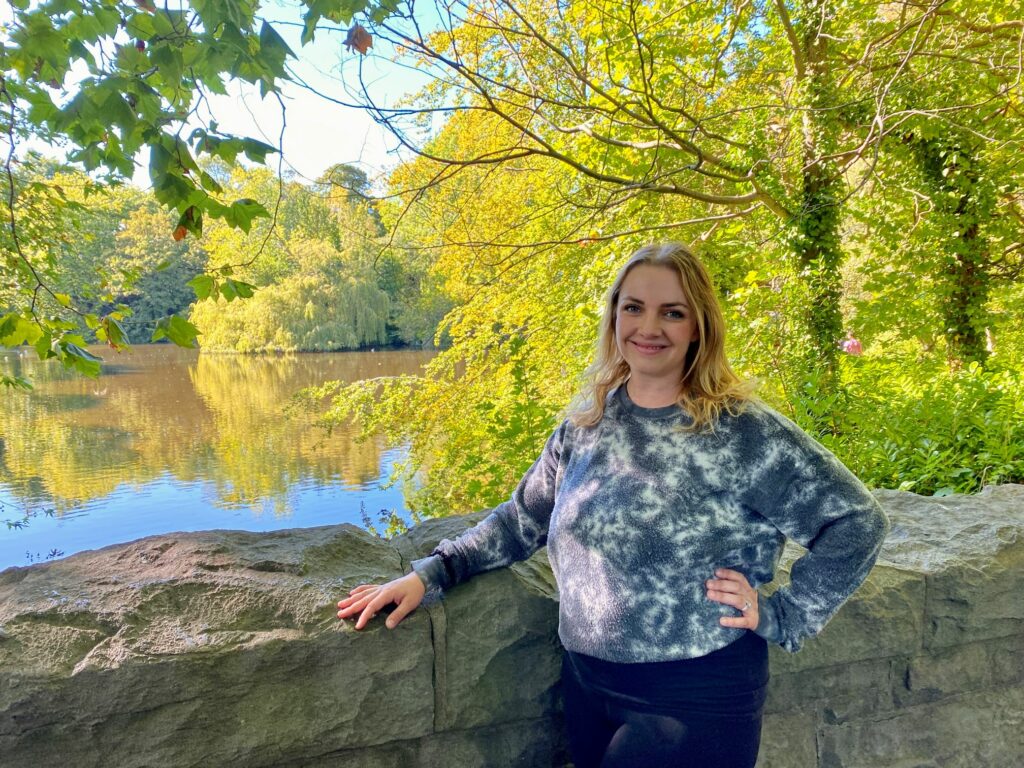 The main event for the day was a food walking tour, Food on Foot, where we got to try several traditional Irish favorites. Out tour guide, Kevin, was extremely passionate about Dublin and Irish culture… and of course food. We stopped at five different locations to sample traditional Irish food which included a mouthwatering toastie sandwich, the best fish and chips at the oldest chippery in Ireland, a slice of Baileys Irish cheesecake, and lastly a cone of Irish brown bread ice cream.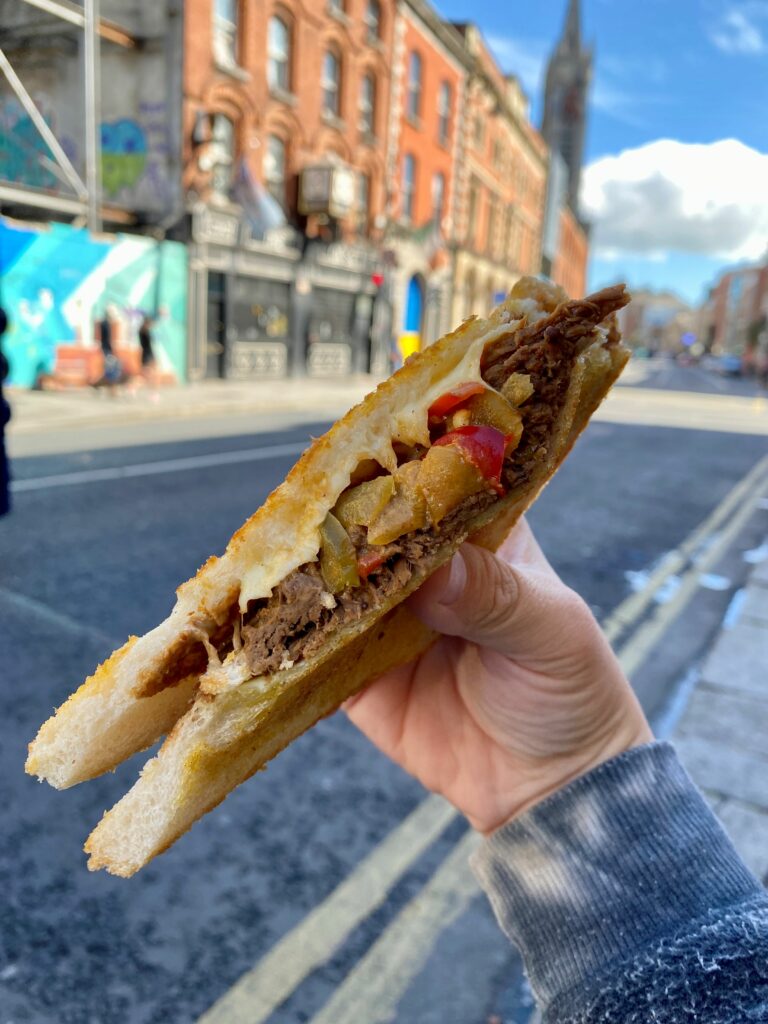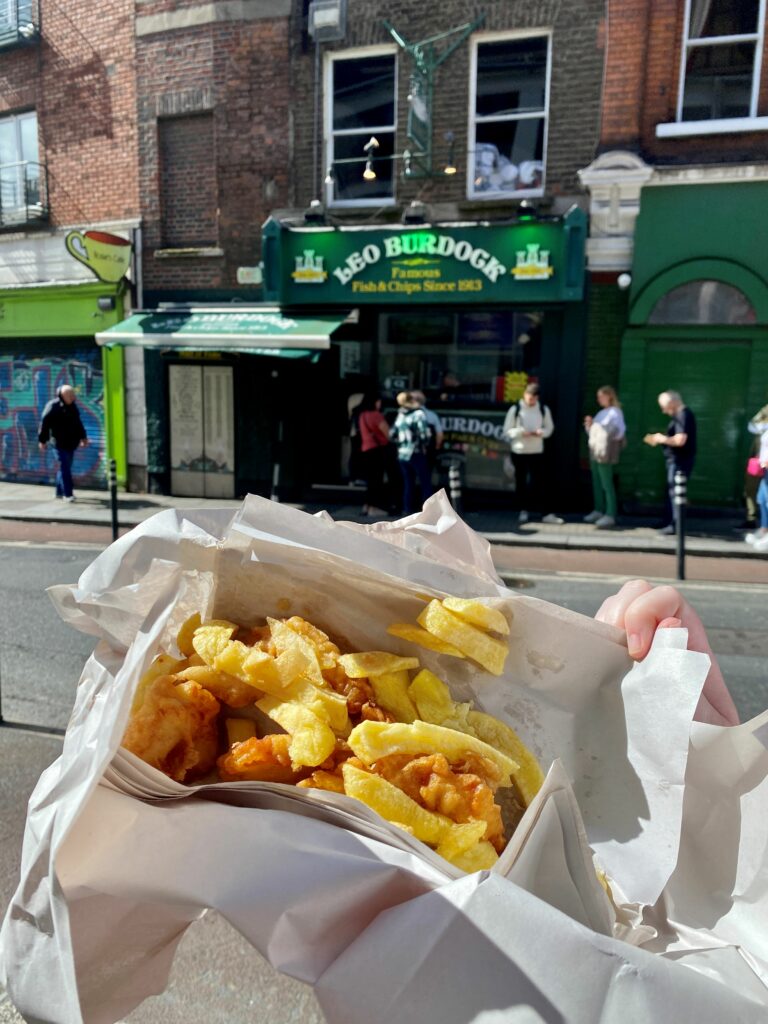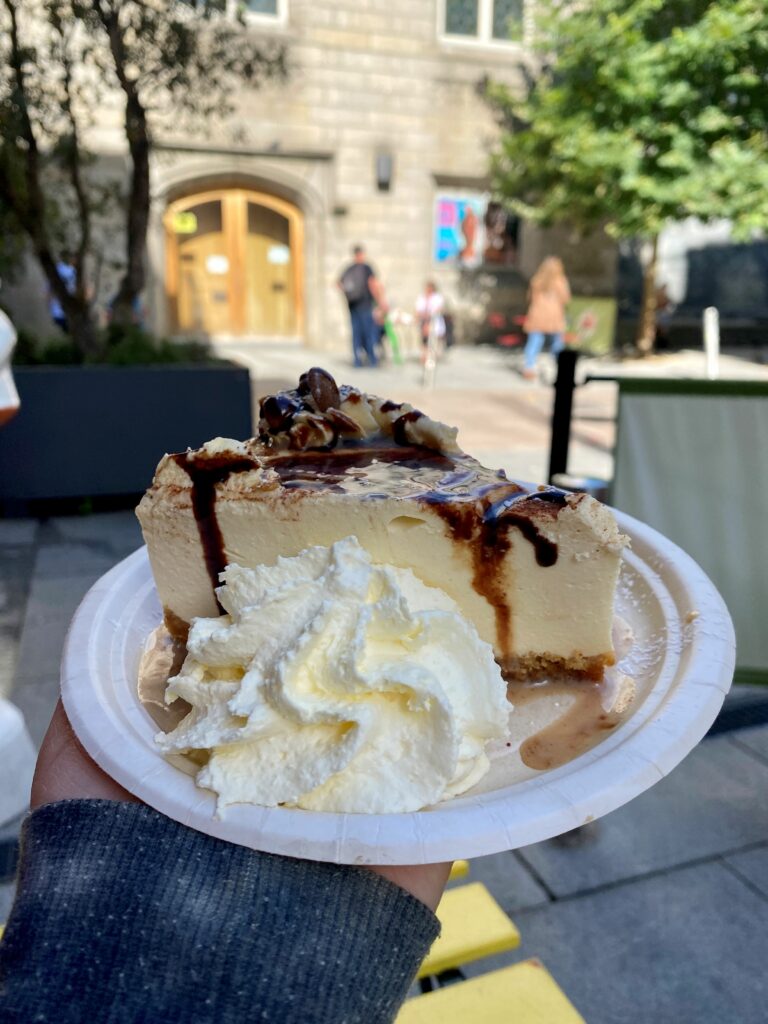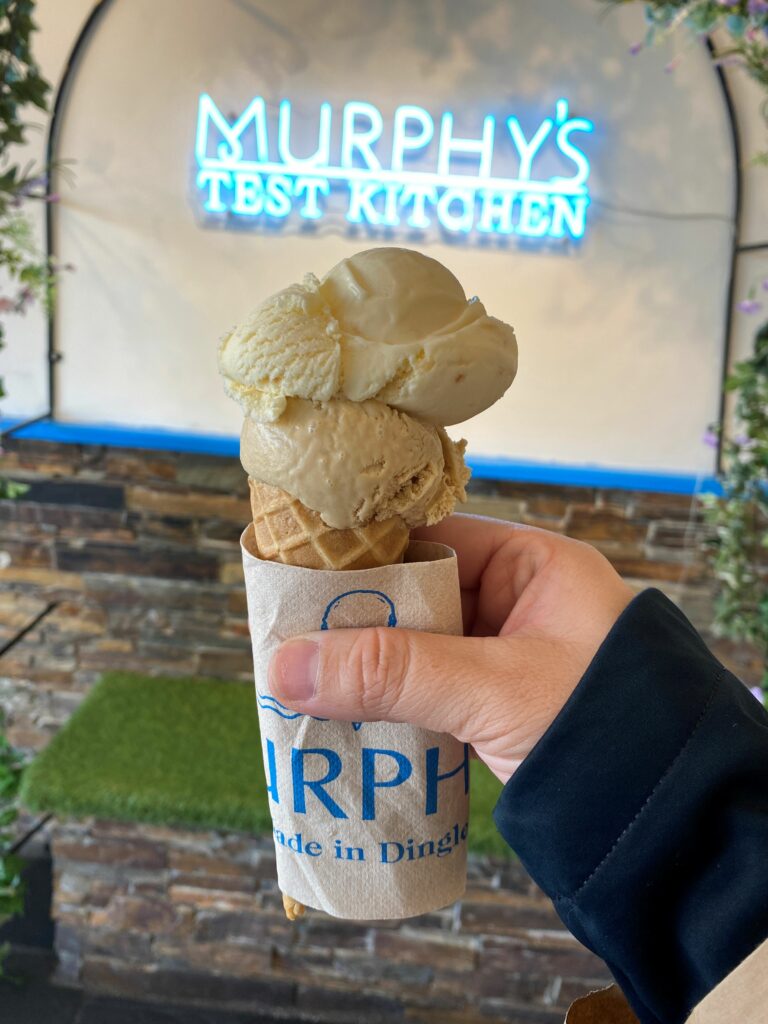 TRAVEL REVIEW: Food on Foot: Dublin Walking Tour

 Trip Highlight!
With our bellies full, we rushed to our next tour of the 400+ year old Trinity College Library, home to the Book of Kells.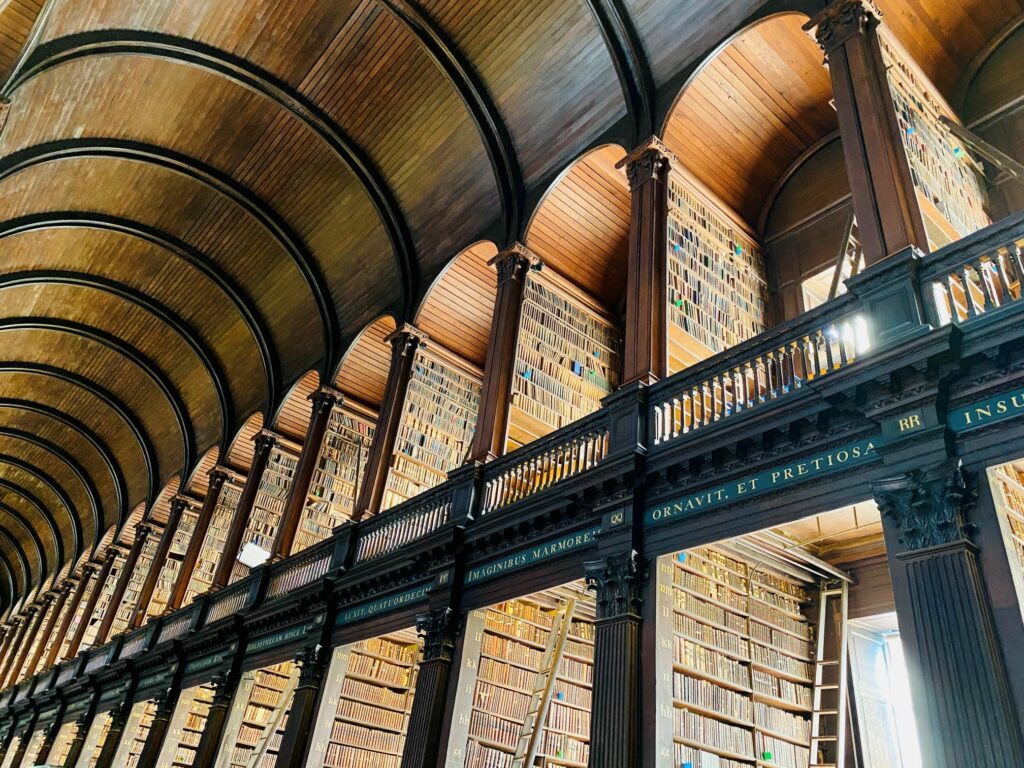 TRAVEL REVIEW: Trinity College and Book of Kells


Only if you have time
We finished the day at the Celtic Nights river dancing and music show. The show was a 2 hour seated experience with 3 course dinner and drinks. We booked well in advance, and to our luck the table assignments were based on order of booking – which meant we were seated at a table right next to the stage. For dinner I enjoyed a beef and Guinness stew with another Irish cider. The show was amazing and we were in total awe of the river dancers and live music – each song and dance telling a story of old Ireland.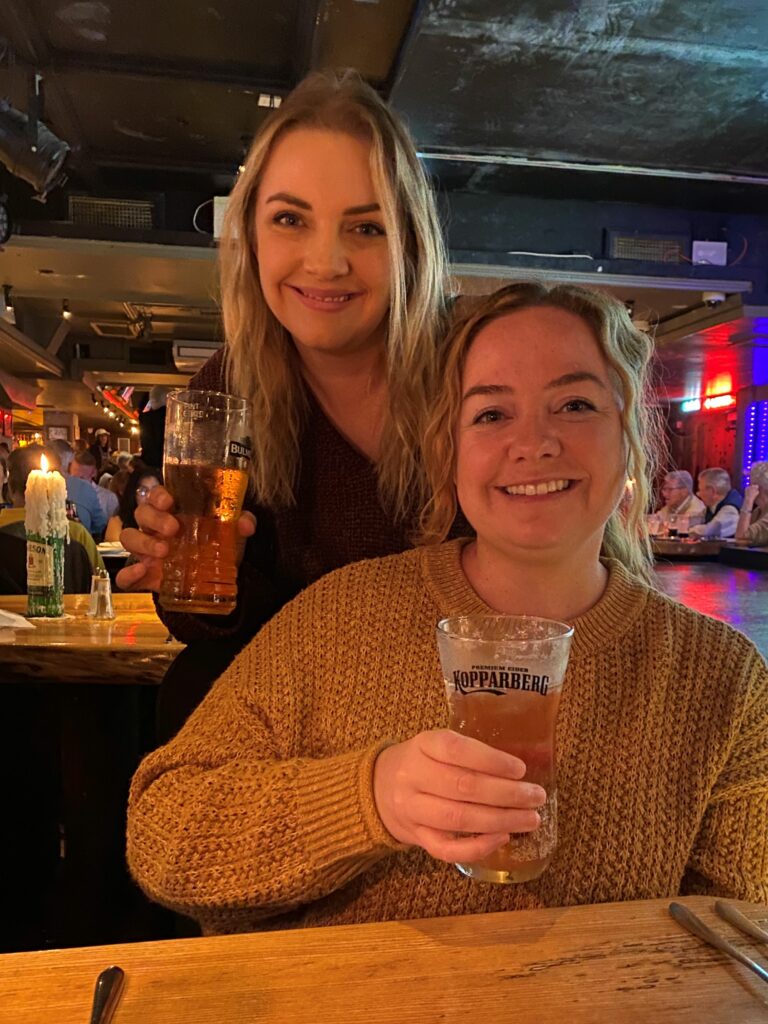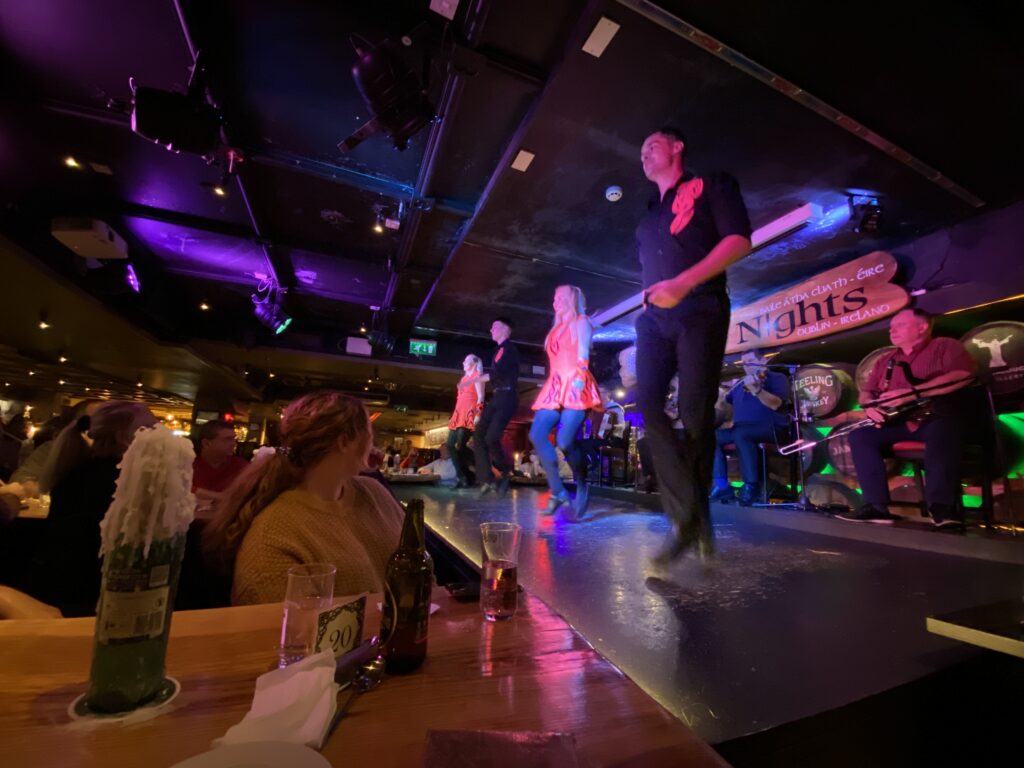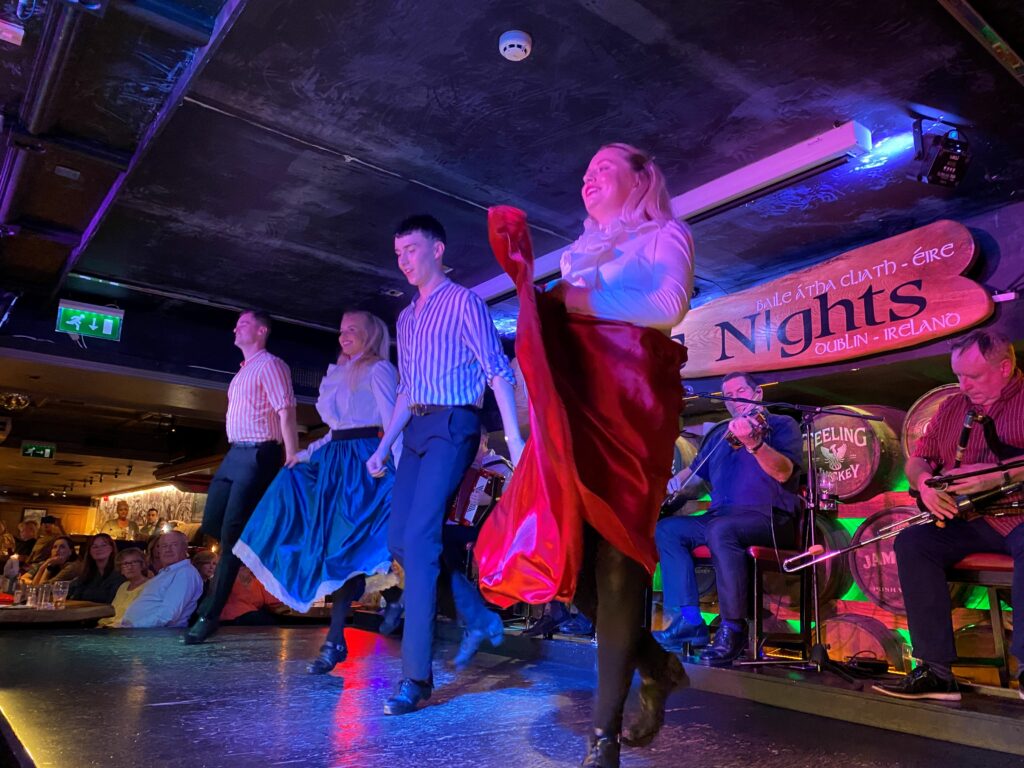 TRAVEL REVIEW: CelticNights

 Trip Highlight!
It was rather difficult finding a taxi after the show, so we decided to start walking. We had wanted to stop and see St. Patrick's Cathedral illuminated at night anyway. It was just as beautiful at night, if not more so. This may have not been the best decision however, as it did start to feel a little unsafe walking back to the hotel in the dark. But we did make it back safely and found a good night's rest.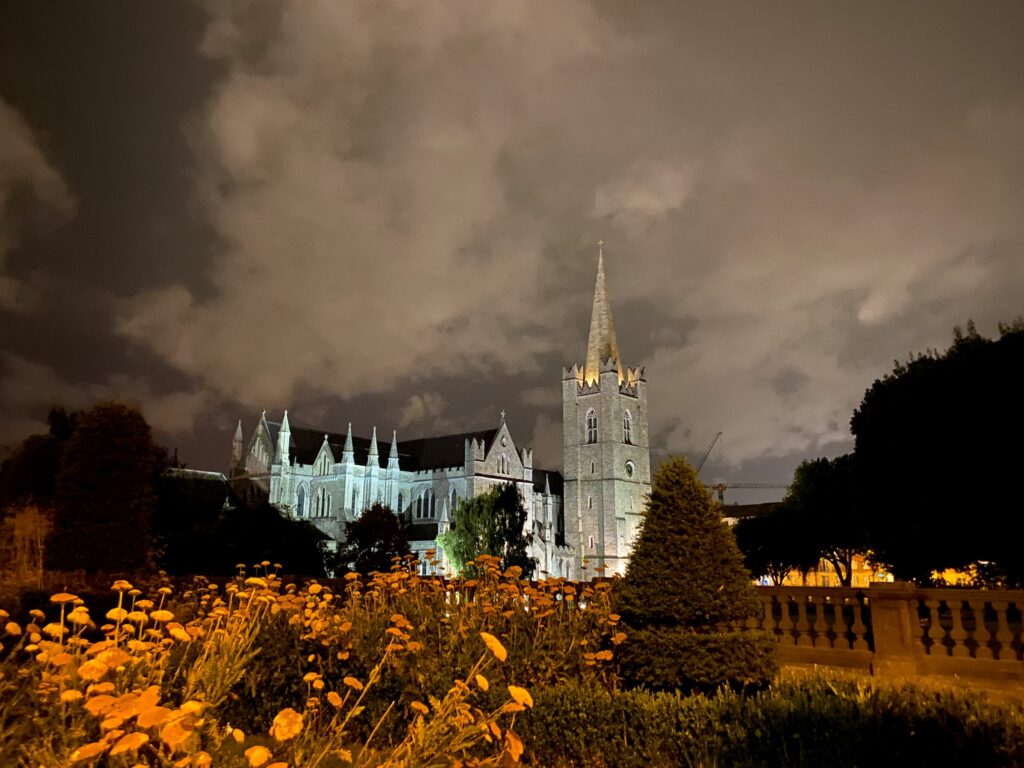 DAY 3: The Start of Our Group Tour
Today we joined our small tour group for the rest of our time in Ireland. We had booked a 7 day tour through Vagabond Tours who offers two tour types: "Driftwood" for a more leisurely pace with more quality time at each location, or "Vagabond" for an active, fast paced tour. Neither my cousin or I felt comfortable driving through the Irish countryside on the opposite side of the road, so a small group tour of no more than 10 people felt like the best way to get around and explore the rest of Ireland outside of Dublin. We decided on the "Driftwood" tour as we didn't want to feel rushed – but soon realized we probably made the wrong decision as we were grouped with travelers whom most were 2-3 times our age. While they were all very kind, it did mean that we had several instances of waiting and stopping for extra bathrooms enroute – sometimes putting us several hours behind schedule. But we made the best of it!
The first day of the tour included driving from Dublin on the east coast of Ireland all the way to the rugged Connemara region on the west coast. We made several stops along the way, the first of which was the historic ruins of 15th century Ross Errilly Friary.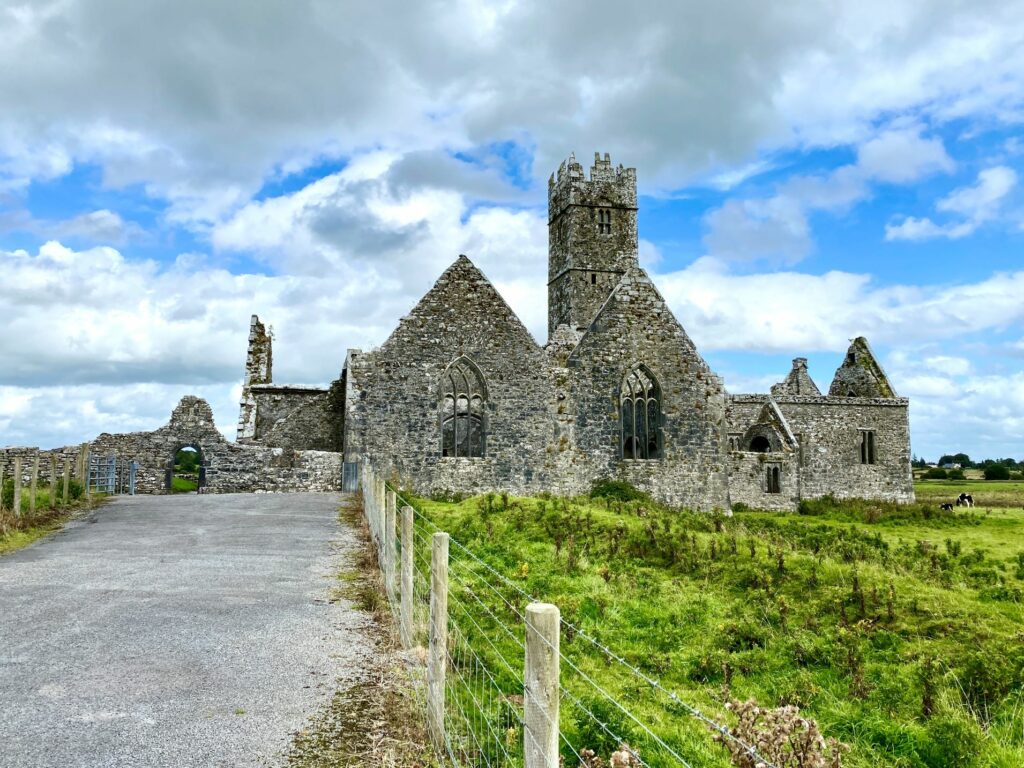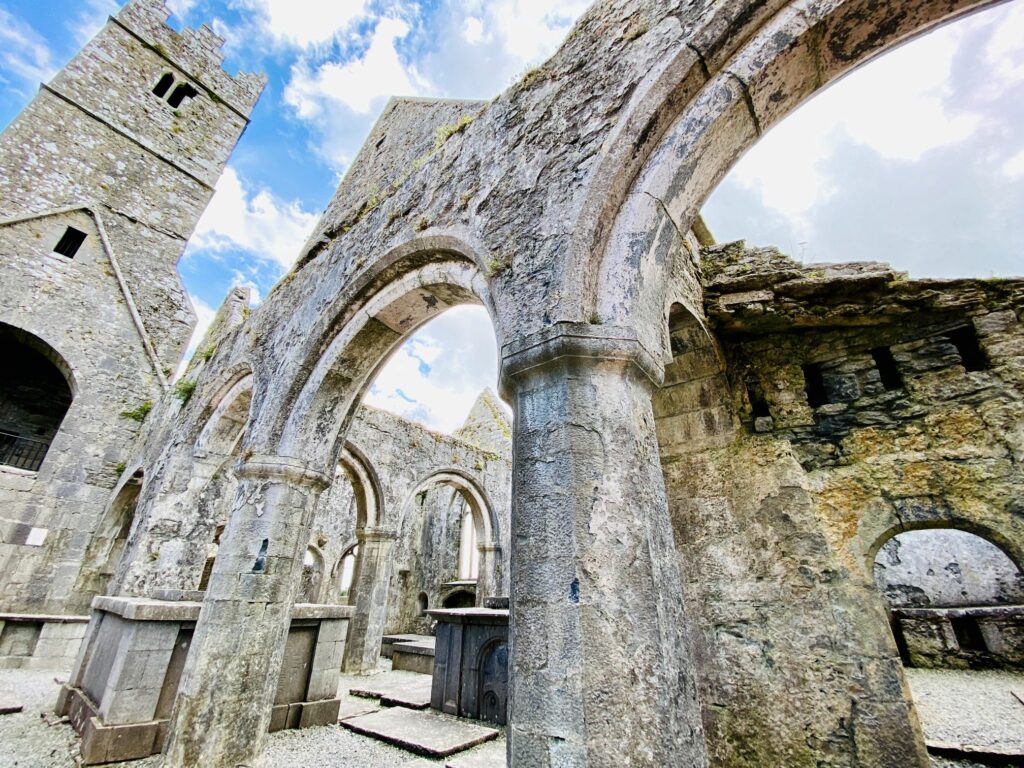 The next stop was the picturesque village of Cong, filming location for John Wayne's The Quiet Man. We enjoyed a nice forest stroll that took us by the ruins of 12th century Cong Abbey and the ruins 16th century Monk's Fishing House. My cousin and I headed back into the village of Cong for some shopping and to the famous "Pat Cohan Bar" filming location of the The Quiet Man (although neither of had seen the movie).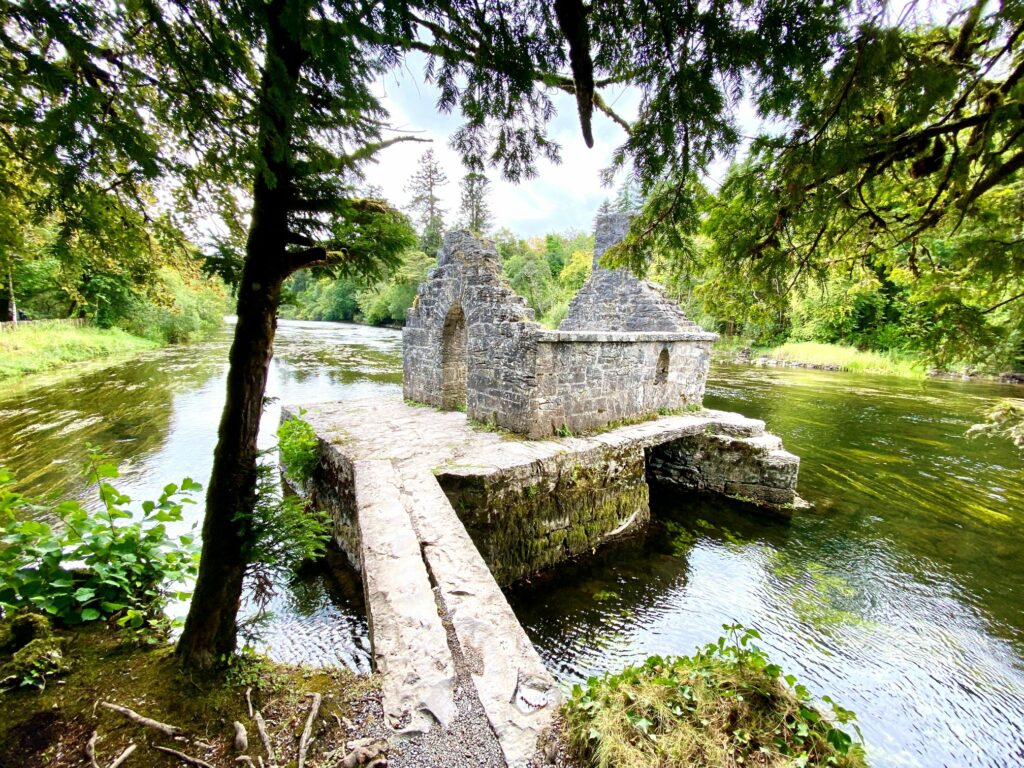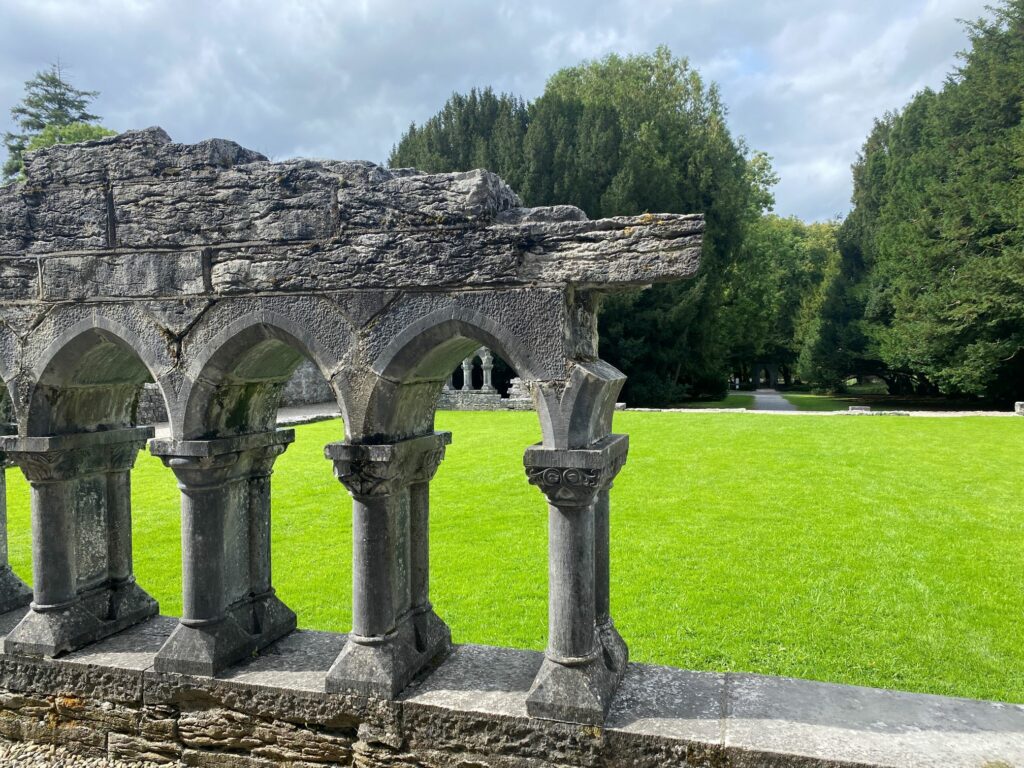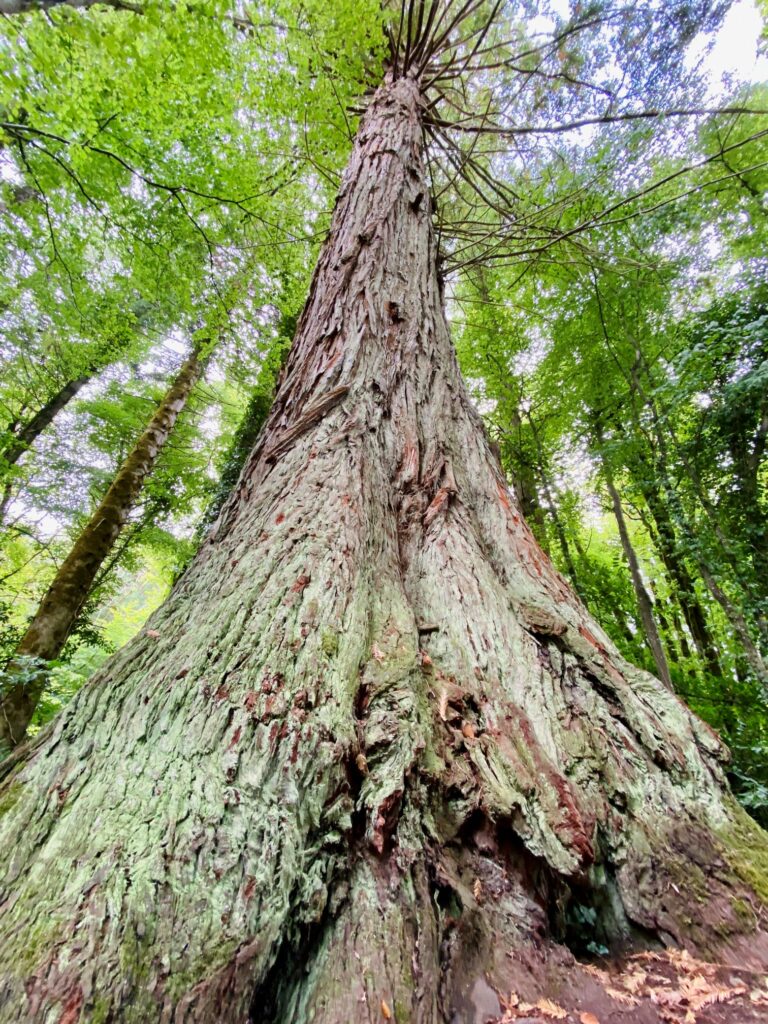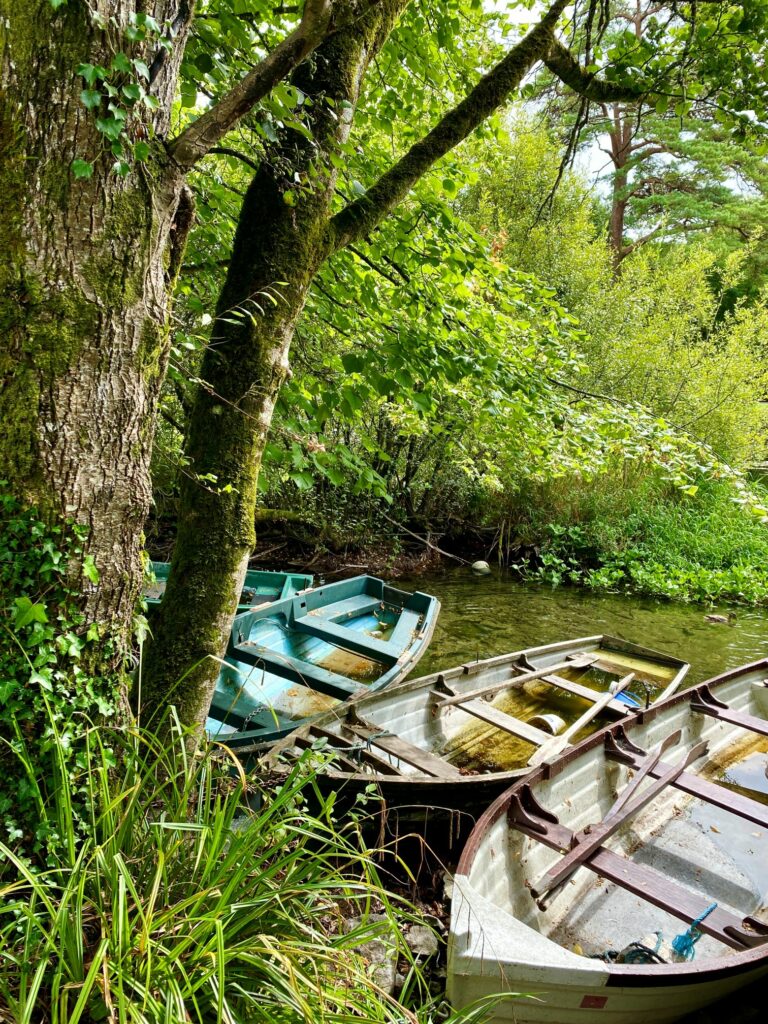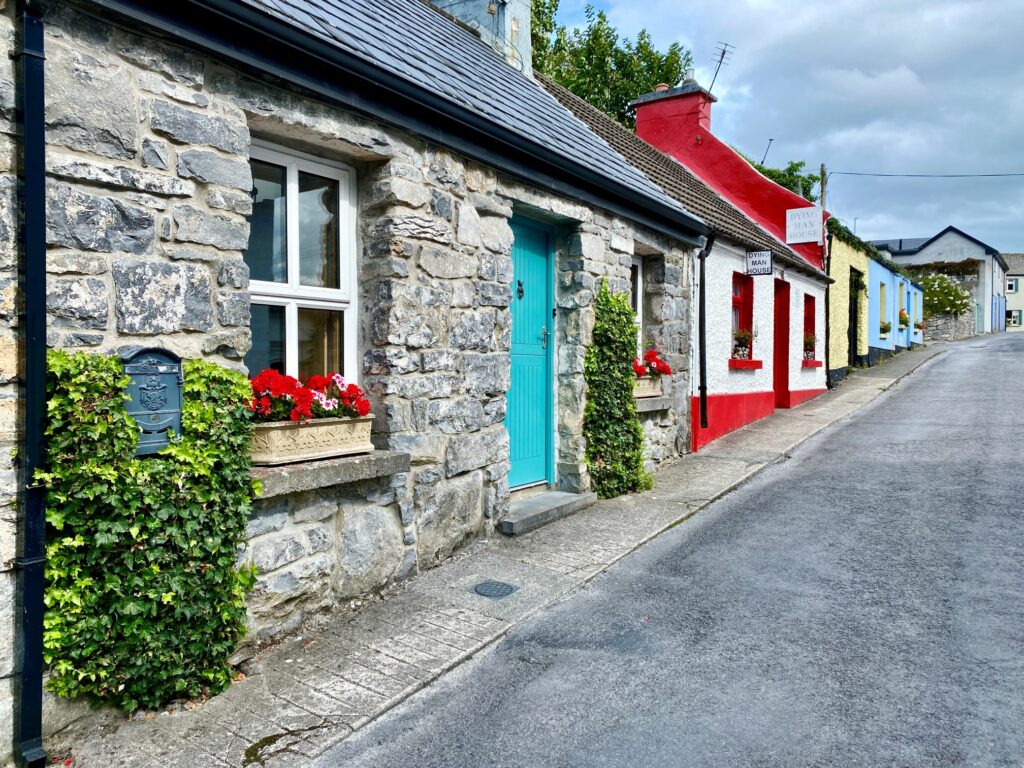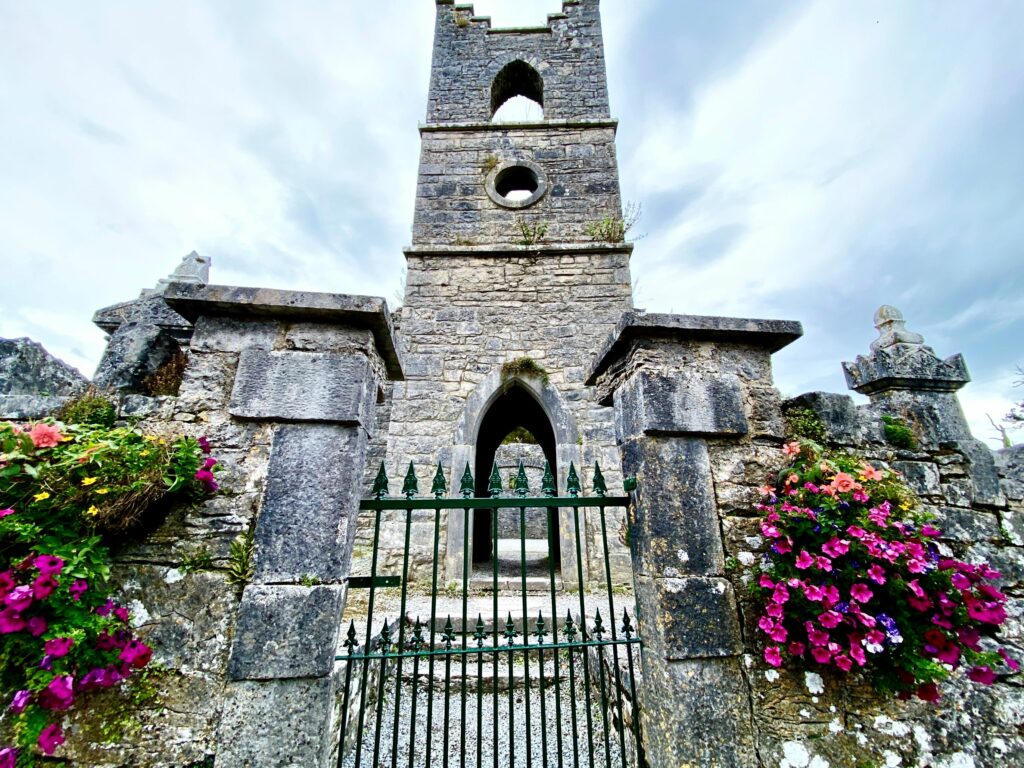 Our guide pulled the sprinter van over so that we could see the wild horses along the road. They were Connemara ponies, half Spanish war horse/half native Irish wild horse. This photo actually won me a photo contest in which I was awarded a giant case of cholate from an Irish chocolatier from Dingle, Ireland.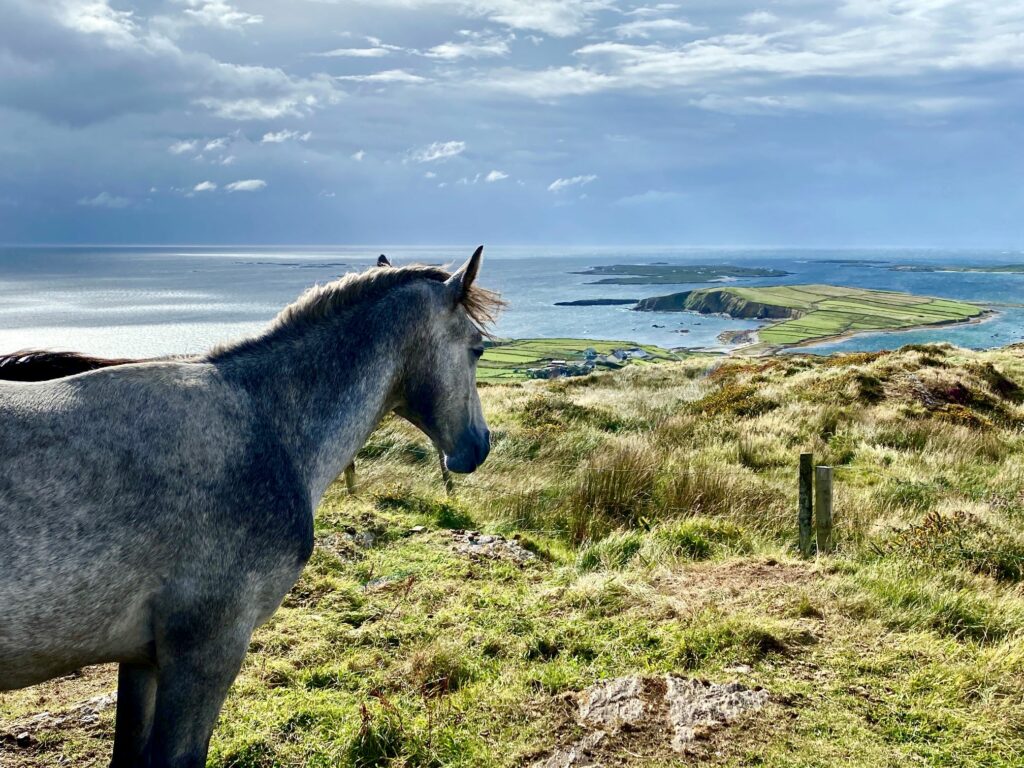 Our final stop before arriving at our accommodations for the evening was one of my favorites of our entire trip – a farm tour and sheepdog demo at Tom Nee's farm above Killary Harbor. What an amazingly scenic farm nestled above the harbor! Just as the demonstration started, the rain and wind rolled in, but even in the rain I thoroughly enjoyed watching the dog and his master working together to herd the flock of sheep. I was amazed that even in the windy weather, the dog could hear every call being made. You could tell the sheepdog was thoroughly enjoying herself and thrived on the action.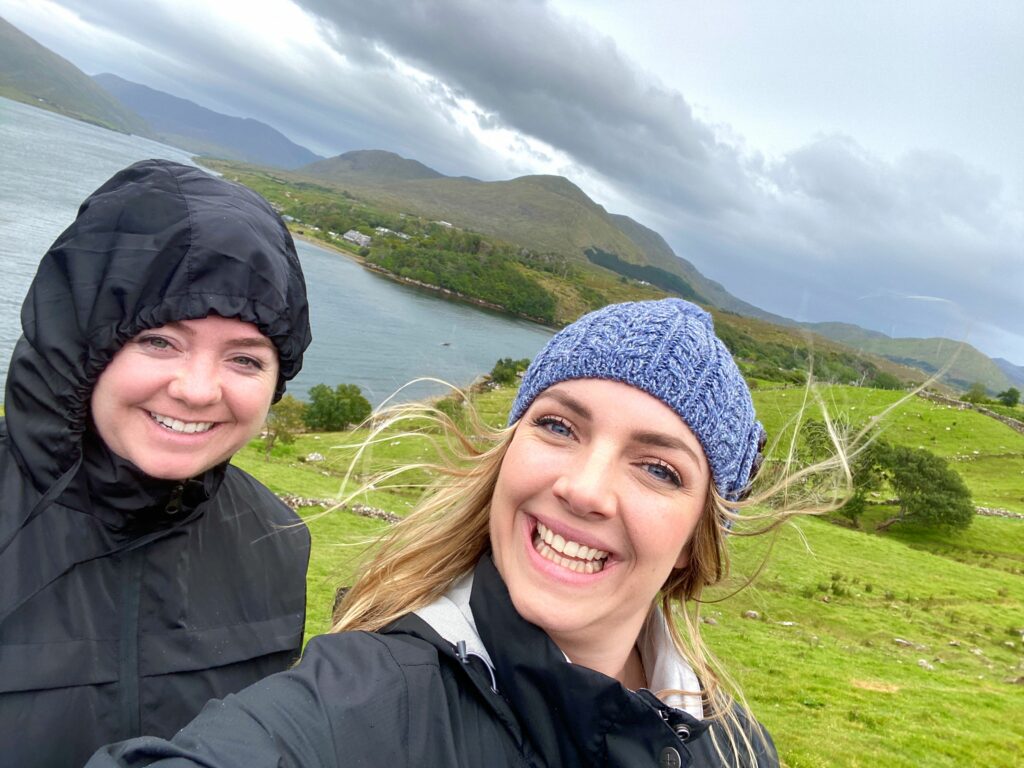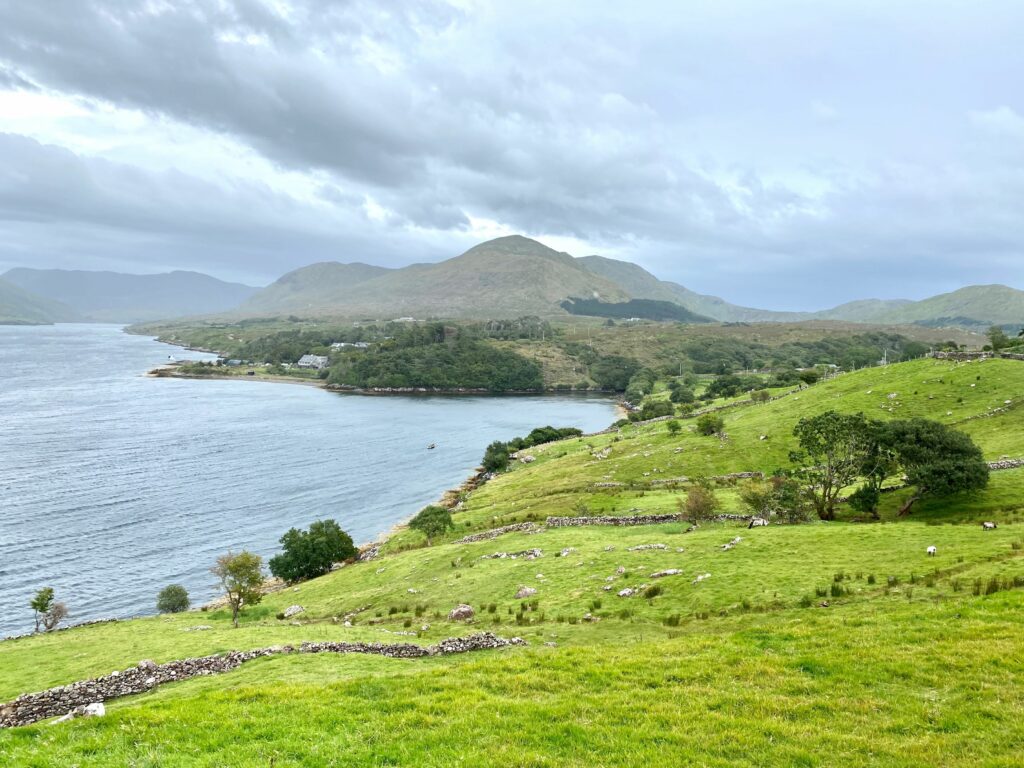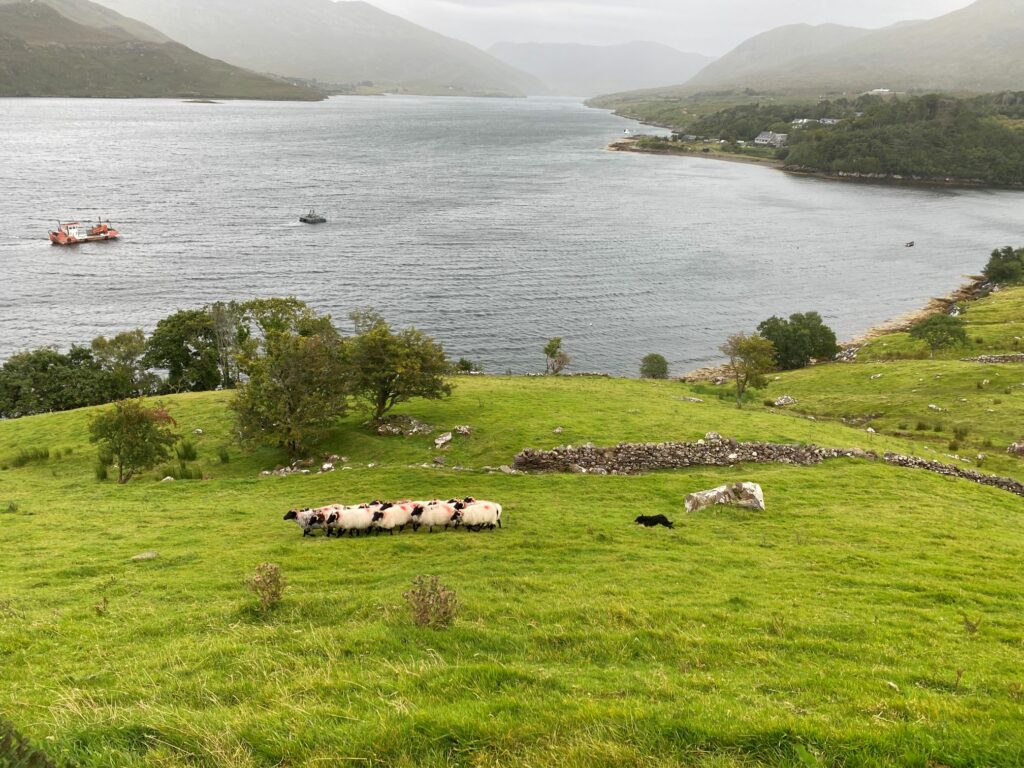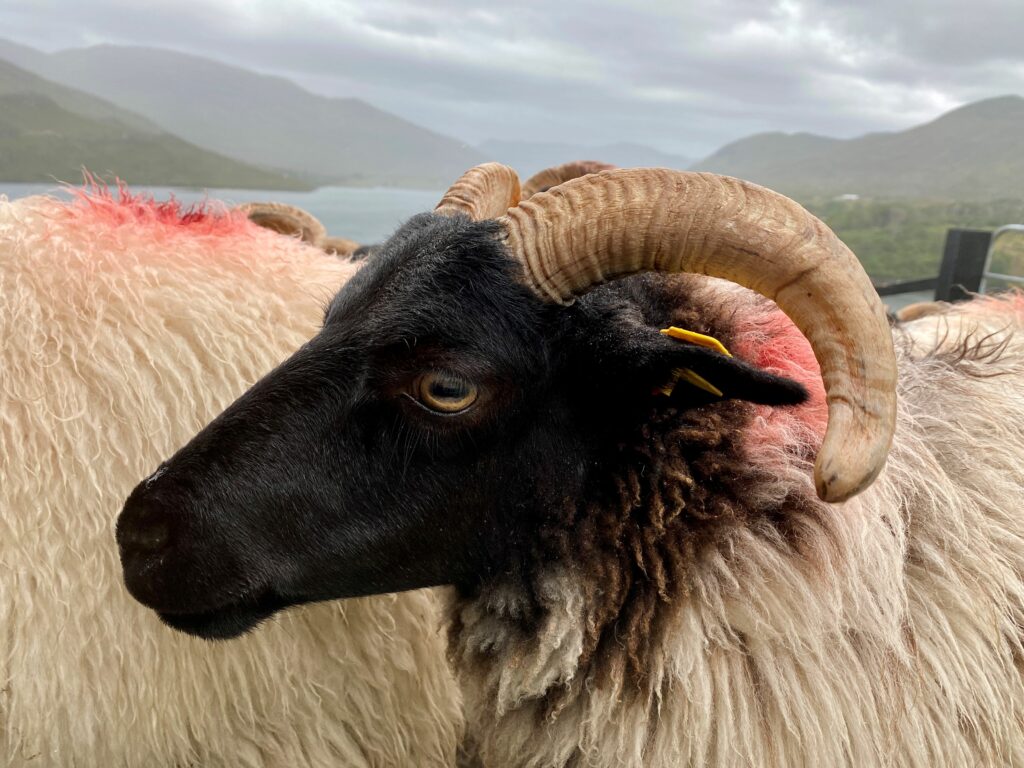 TRAVEL REVIEW: Sheepdog Demo at Tom Nee's  Farm Above Killary Harbour

 Trip Highlight!
The rain passed and we arrived at the Abbeyglen Castle Hotel, deep in Connemara. This was a huge factor for us choosing this specific tour, because of the chance to stay the night in a castle! We joined our group that evening for a fabulous dining experience. We learned that most people in our group had elegant and extravagant castle suites with four poster beds and in-room fireplaces, while we somehow got stuck in a much smaller ground level room. We thought, perhaps, it was because we requested rooms with 2 beds rather than 1 shared king bed. We had hoped that we wouldn't get the short end of the stick when it came to rooms for the rest of the trip.
DAY 4: Black and Black
I awoke early and decided to take a stroll outside by myself to see more of the castle grounds and take in some incredible views. I met my cousin and the rest of the group in the dining hall for a nice breakfast.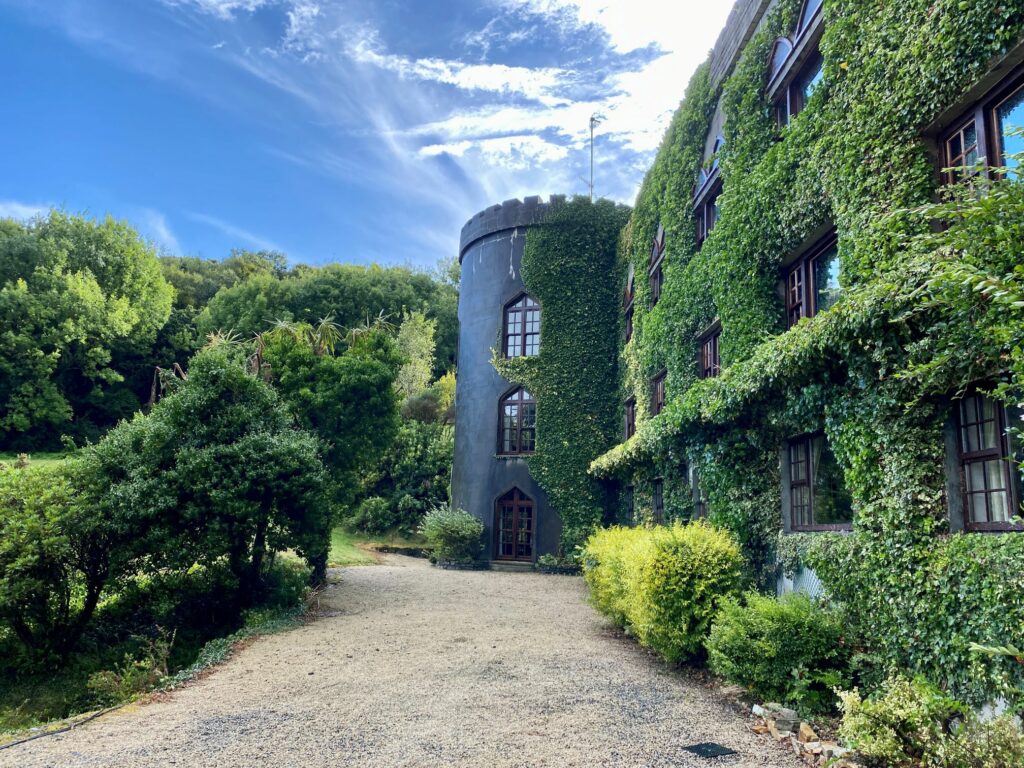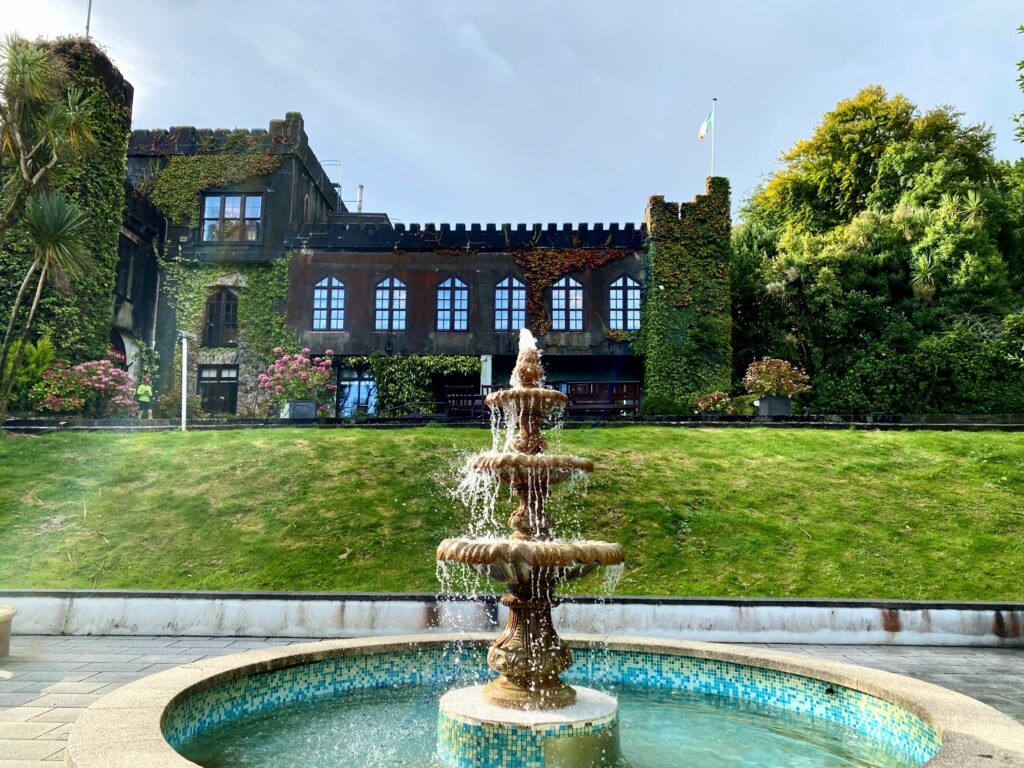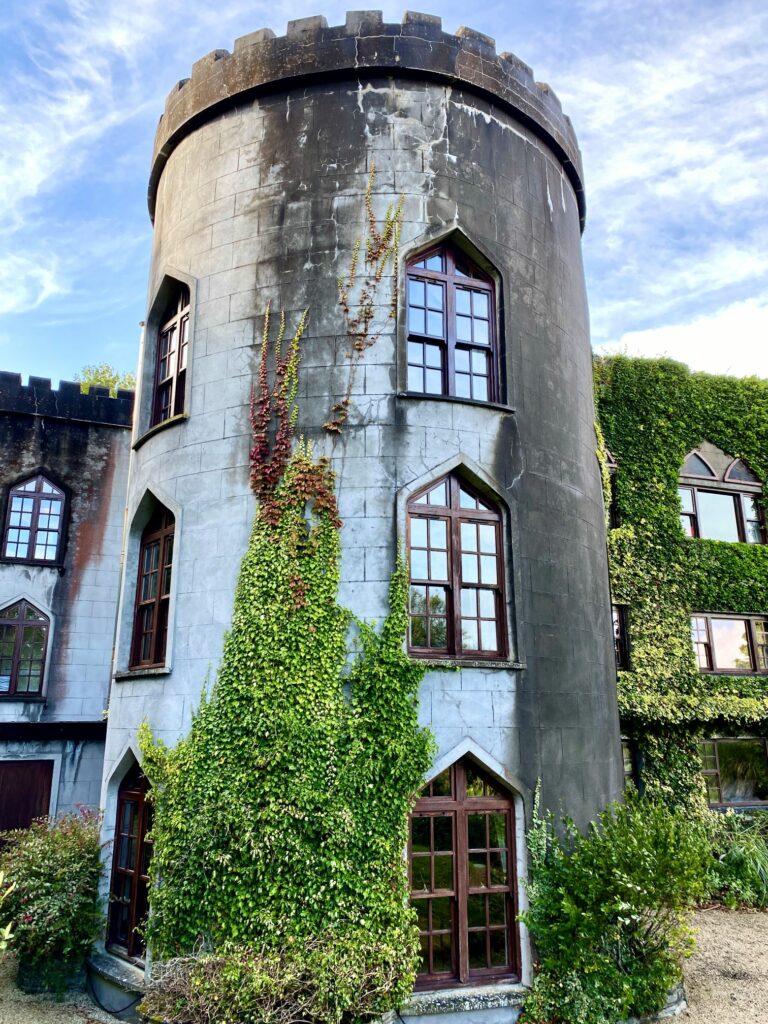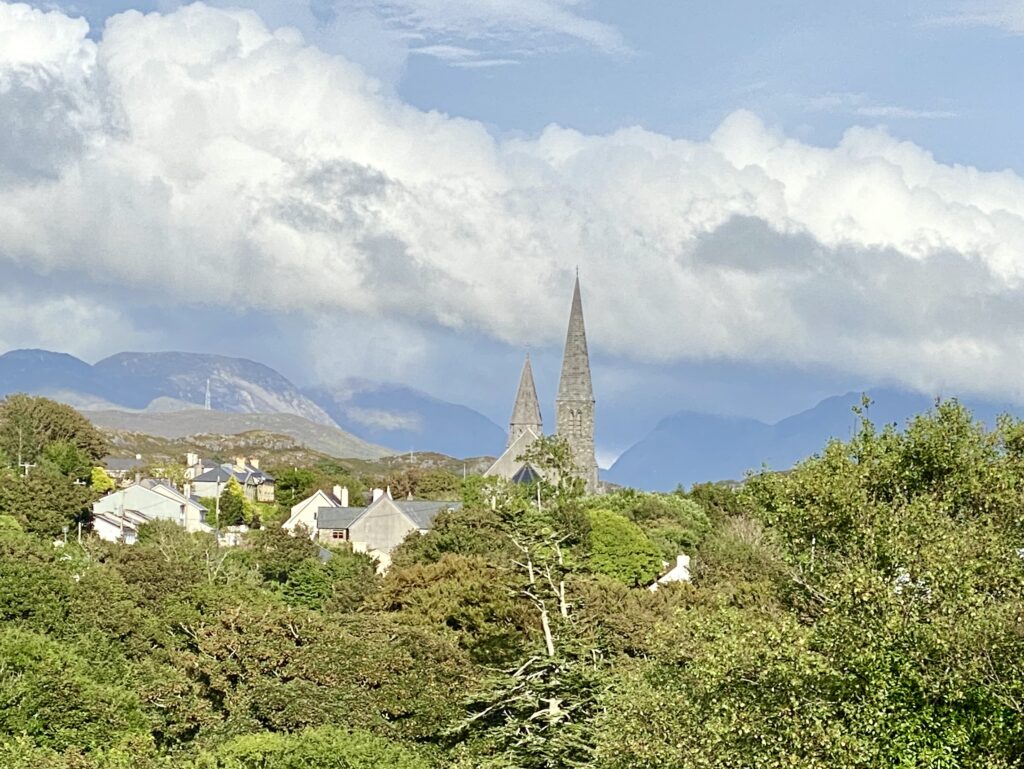 TRAVEL REVIEW: Abbeyglen Castle Hotel

Only if you have time
The first stop of the day was Aughnanure Castle where we received a guided tour of the 16th century ancestral home to the ferocious O'Flaherty clan and pirate queen, Grace O'Malley.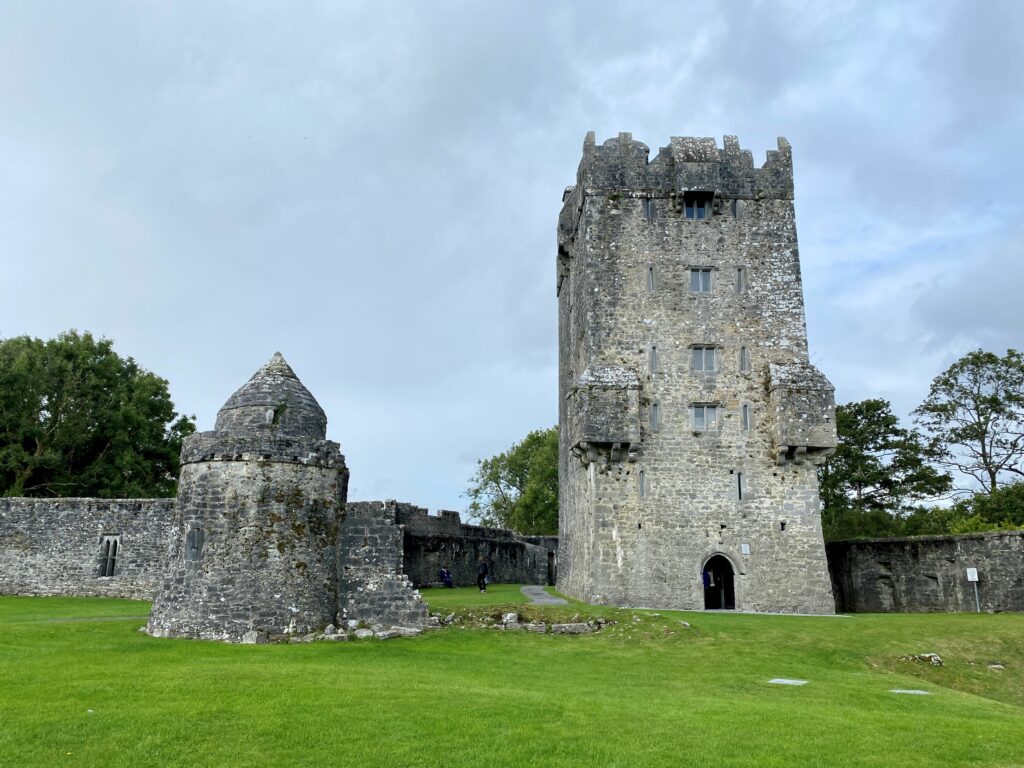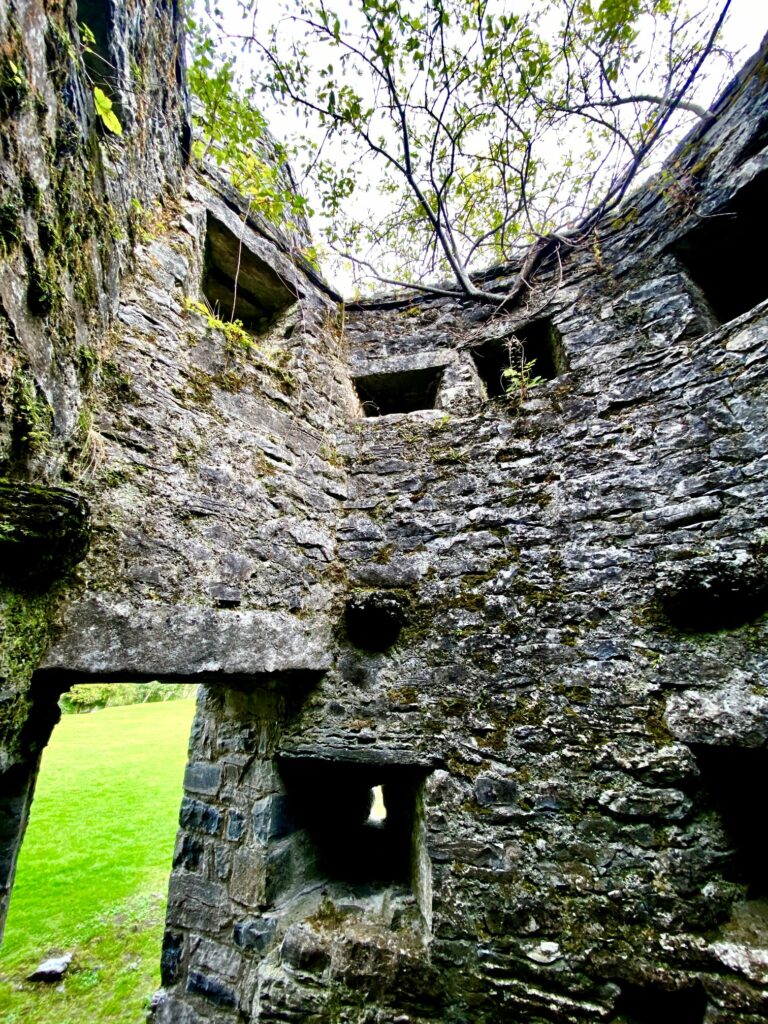 TRAVEL REVIEW: Aughnanure Castle Guided Tour

 Must Do!
Next up was Galway, an eccentric and lively city where we wandered around enjoying live music performances on the streets, quaint shops and a tasty lunch (more leek and potato soup with Irish soda bread – I wasn't complaining!) We had some extra time so wandered into an old church, St. Nicholas' Church of Ireland. A kind woman was hurriedly ushering us in – it was just our luck that a string quartet performance was just about to start. We stood at the back of the church taking it in for about 10 minutes, before we politely snuck out the side door. We didn't have much time left before we had to meet the group back at the tour van. We made a quick stop at the Spanish Arch, which was built in 1584 and part of the medieval defensive walls of Galway.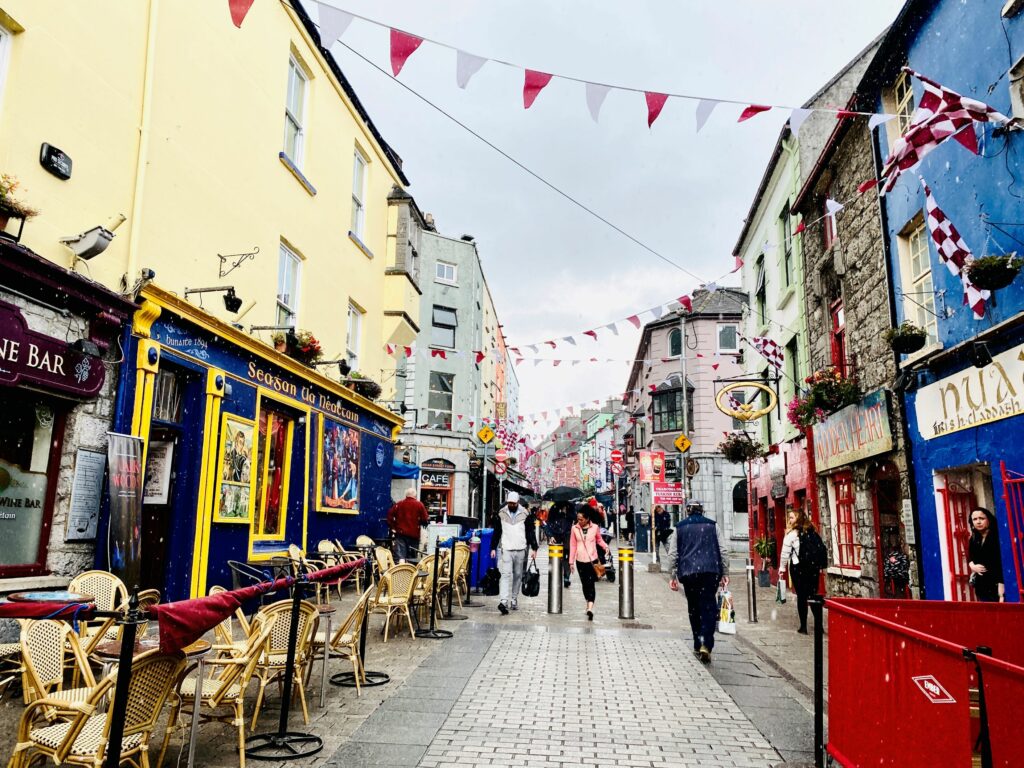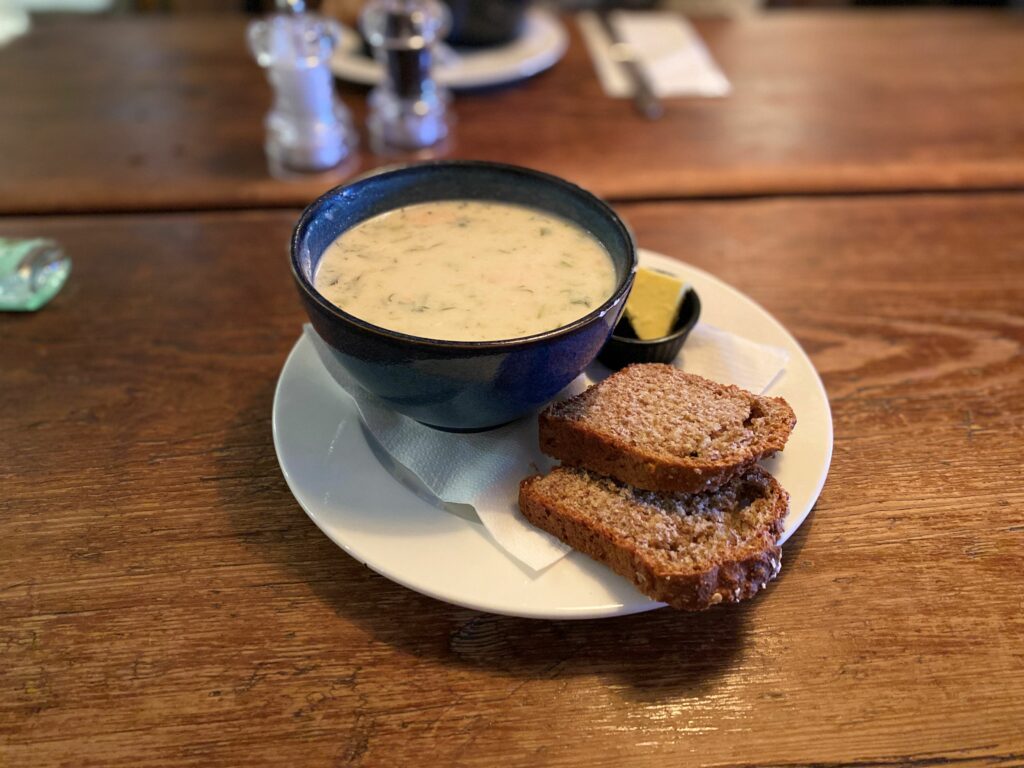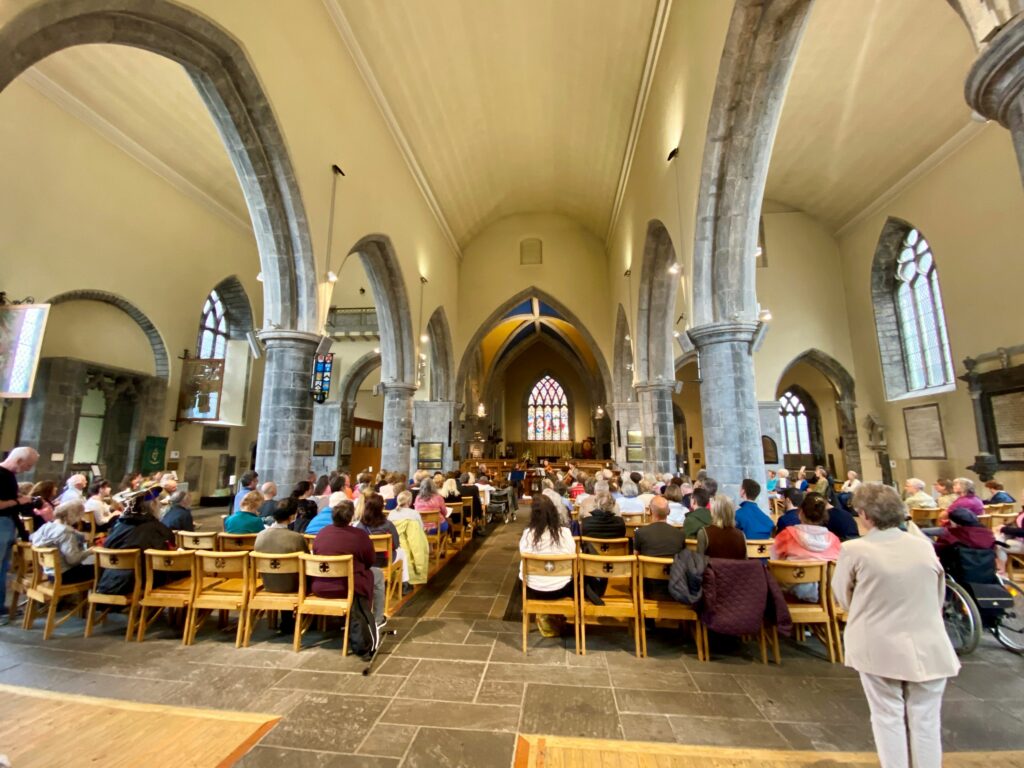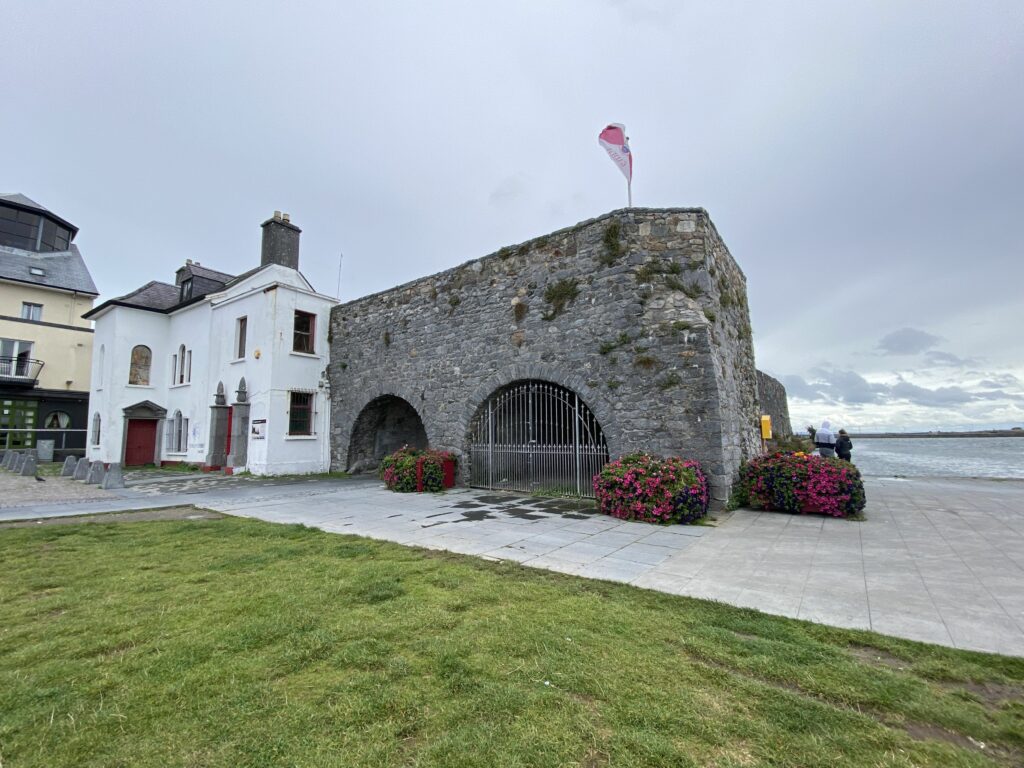 TRAVEL REVIEW: Galway

 Must Do!
Back in the sprinter van, we headed for the Burren region with its limestone lunar landscape. We had a decent amount of time to walk around and wonder at the Poulnabrone Dolmen, one of Ireland's great archaeological treasures. Situated on one of the most desolate and highest points of the region, it comprises of three standing stones supporting another horizontal stone, and dates to the Neolithic period, between 4200 BC and 2900 BC. It is the best known and most widely photographed of the approximately 172 dolmens in Ireland. We even had some Irish luck and saw a rainbow… no leprechauns yet though.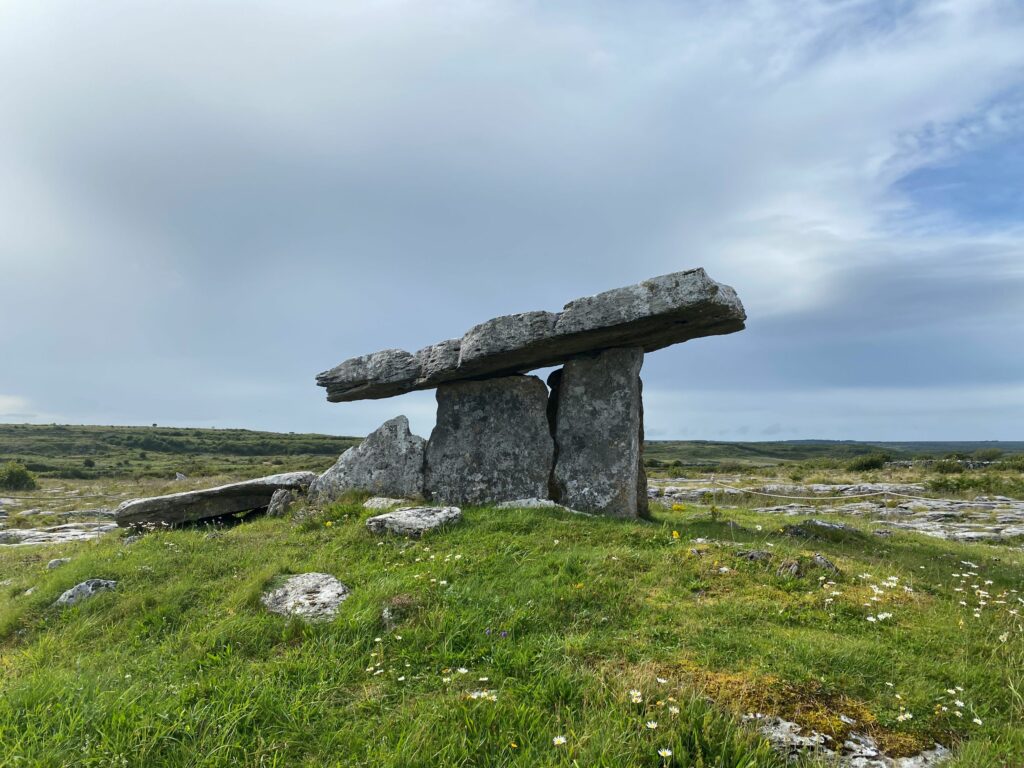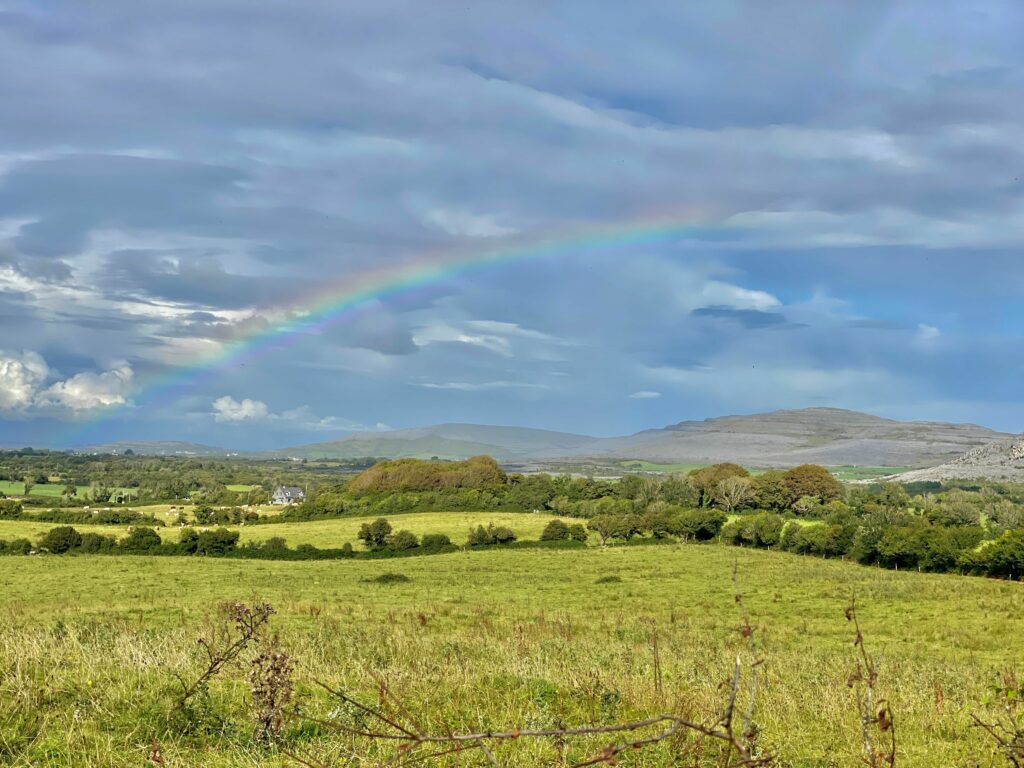 TRAVEL REVIEW: Poulnabrone Dolmen


Only if you have time
We later arrived in Ballyvaughan, a small harbor village in County Clare where our accommodation for the night was the Wild Atlantic Lodge. We had originally made reservations at a local pub, but the group decided to have a joint dinner with our tour guide at the lodge. Our tour guide had caught wind to our less than spectacular accommodations at the castle, so he offered to buy us a drink at dinner. I decided that this was as best time as ever to try a Guinness, since it wasn't my money I'd be wasting! My mom had told me that in England they like to drink Guinness with a shot of blackcurrant. I tried ordering one but the waitress didn't have a clue what I was talking about. The tour guide laughed and said that the Irish would not dare to mix in anything with their Guinness! He explained to the waitress what I wanted and she finally understood and I was able to have my "Black and Black" (or Guinness with a shot of blackcurrant cordial). To my surprise I actually enjoyed it.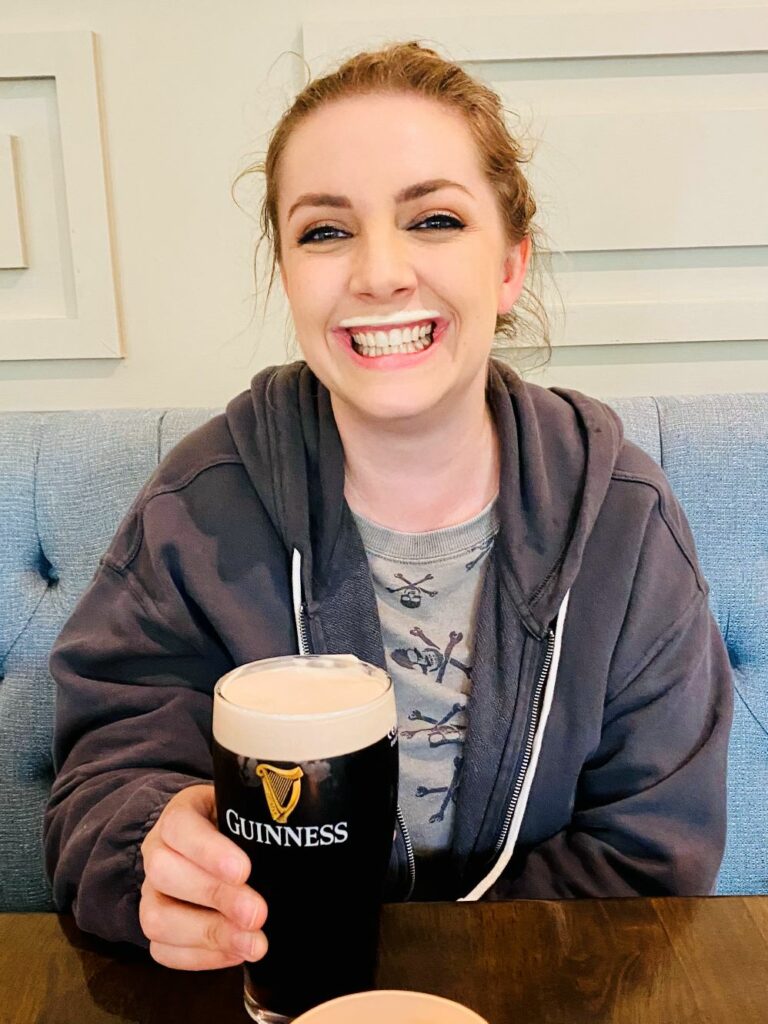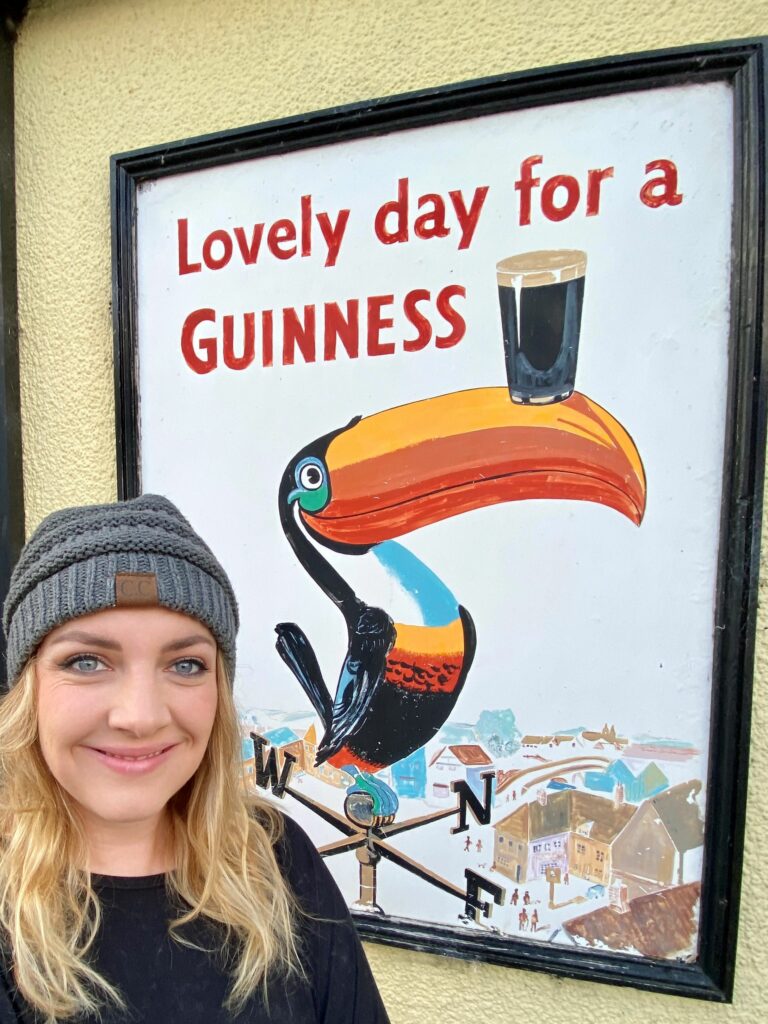 DAY 5: Cliffs of Moher
We started our day late because some of the elderly people slept in and were not feeling well. This is the unfortunate side of group travel, not being able to go at your own pace. Today was also the day we were looking forward to most of all – the Cliffs of Moher! When thinking of Ireland, I had always pictured the rugged and enormous Cliffs of Moher. Had it just been Kellie and I, we would have been up at the crack of dawn and watched the sunrise from the cliffs. But being in a tour group, we arrived a few hours later than scheduled and our tour guide informed us that we only had about an hour to spend at he cliffs. We expressed some frustration because we had wanted to walk the cliff trail from the visitor center down to the Moher Tower at Hag's Head, about a 2.5 mile trek each way. In fact, we had emailed the tour company in advance inquiring about how long we'd spend at the cliffs to make sure we had plenty of time. Our guide was understanding, but trying to keep on schedule he suggested that he pick us up at Hag's Head so we could at least walk the trail one way. So while the rest of the group stayed at the visitor center, Kellie and I made our way along the cliff trail.
We took our time, taking in a different view at every turn, and capturing hundreds of photos. I do not recommend this trail to anyone who has even the slightest fear of heights, as some portions of the walkway were too close for comfort to the cliff's edge. Other than that, it was INCREDIBLE!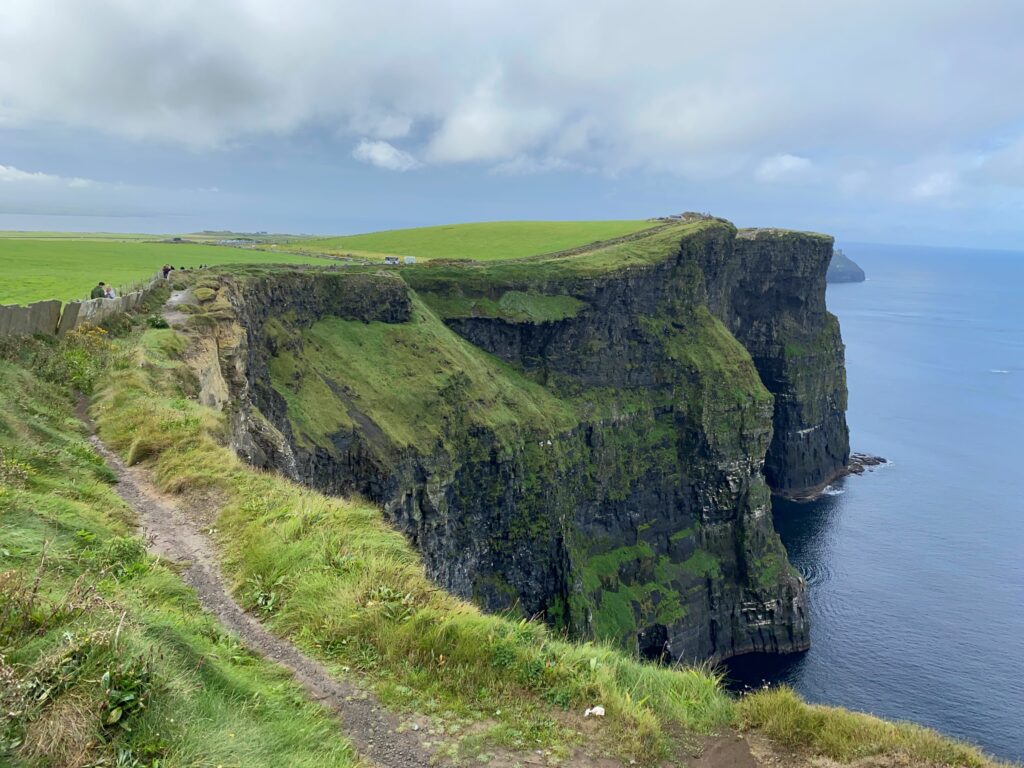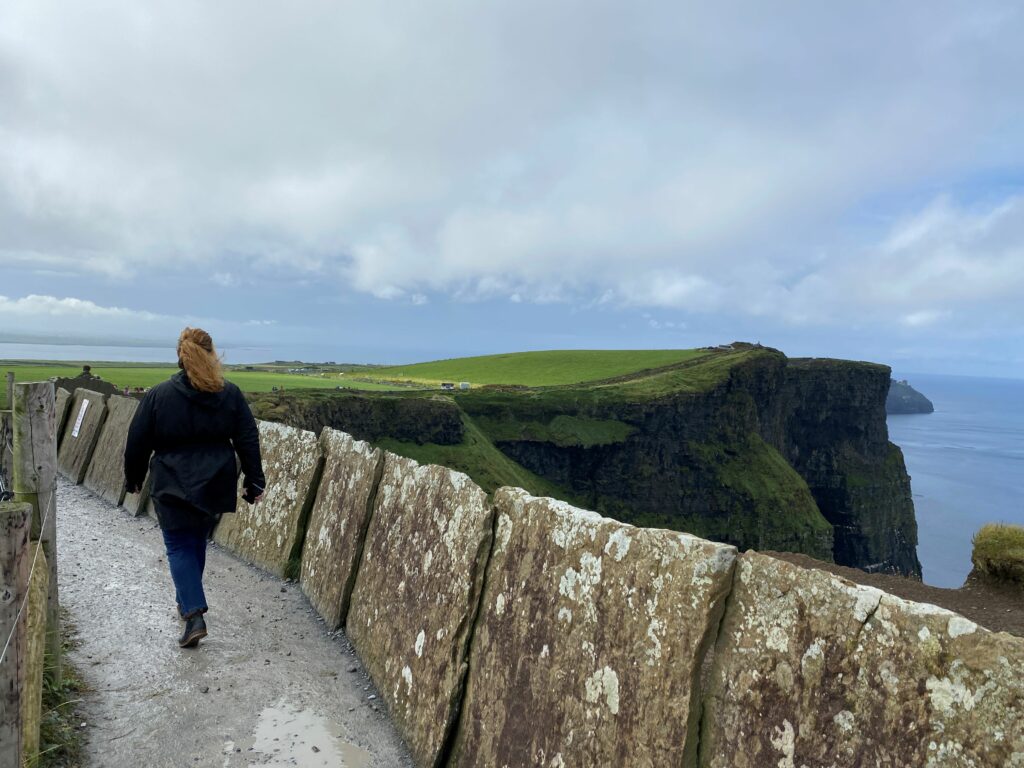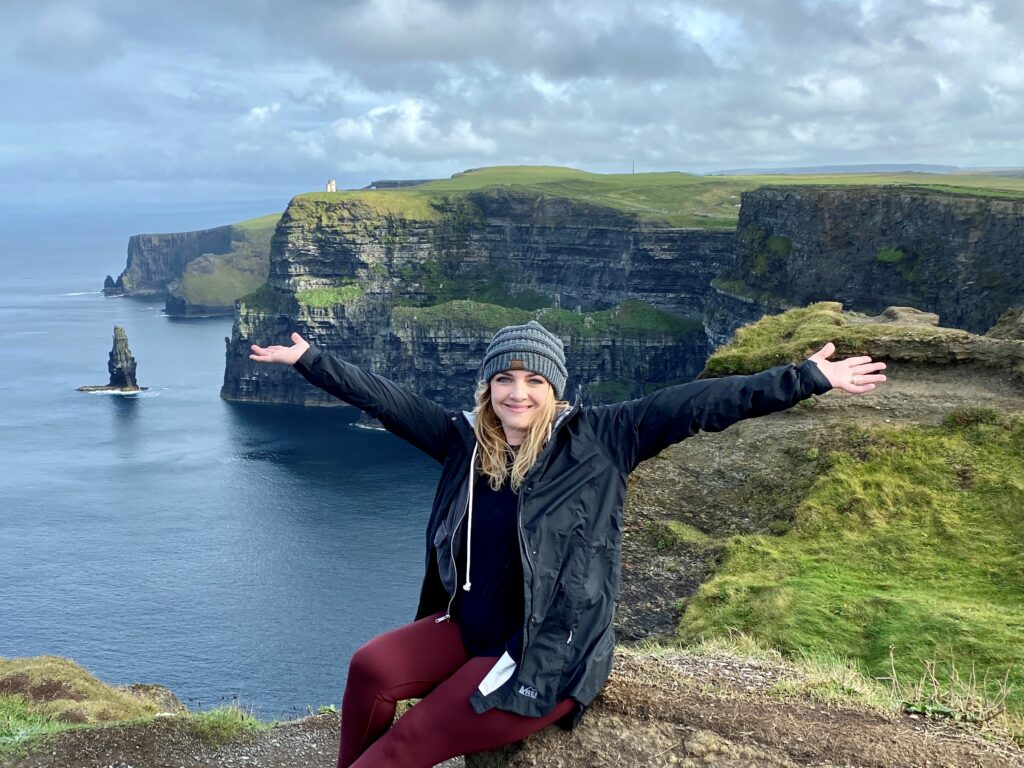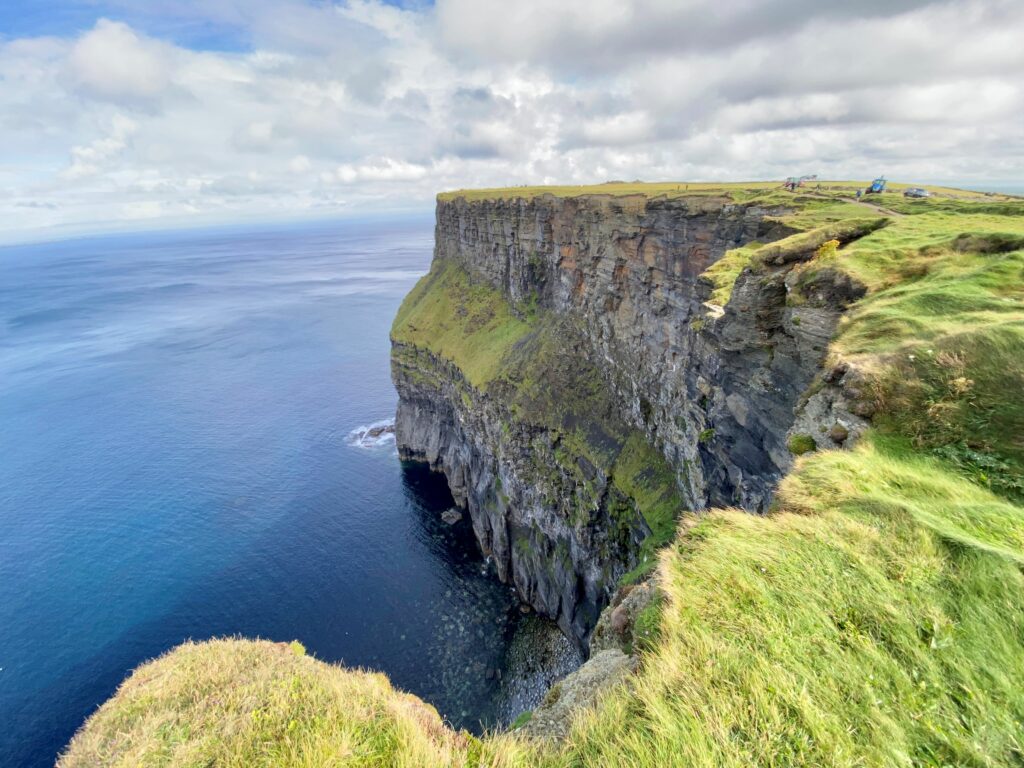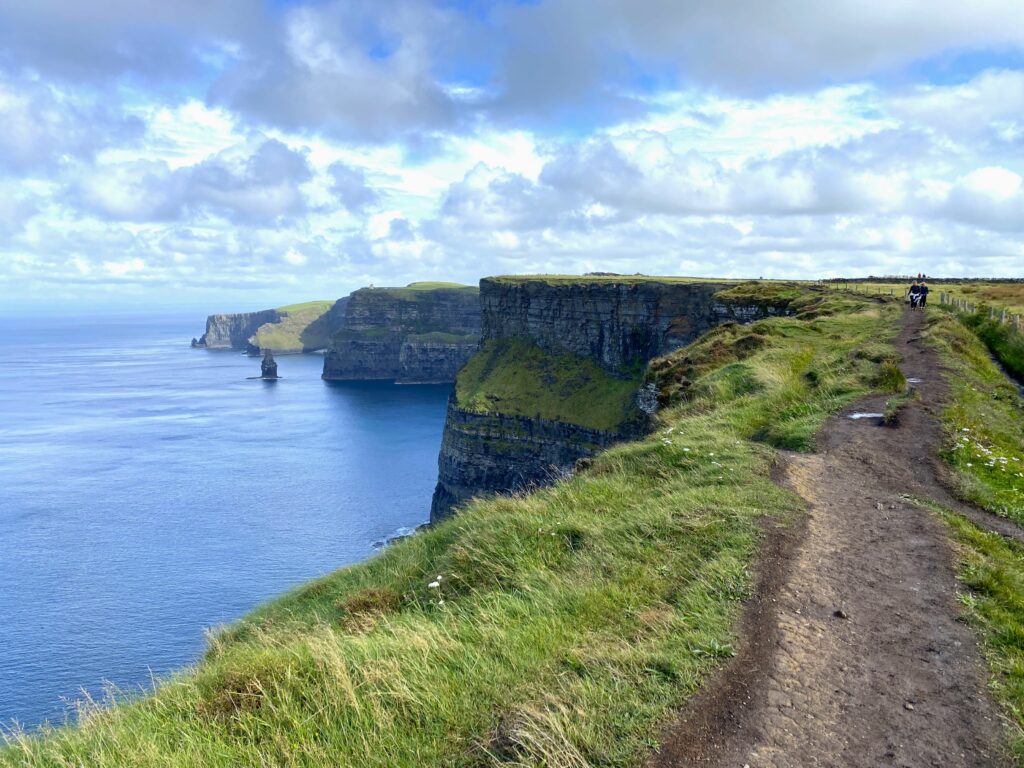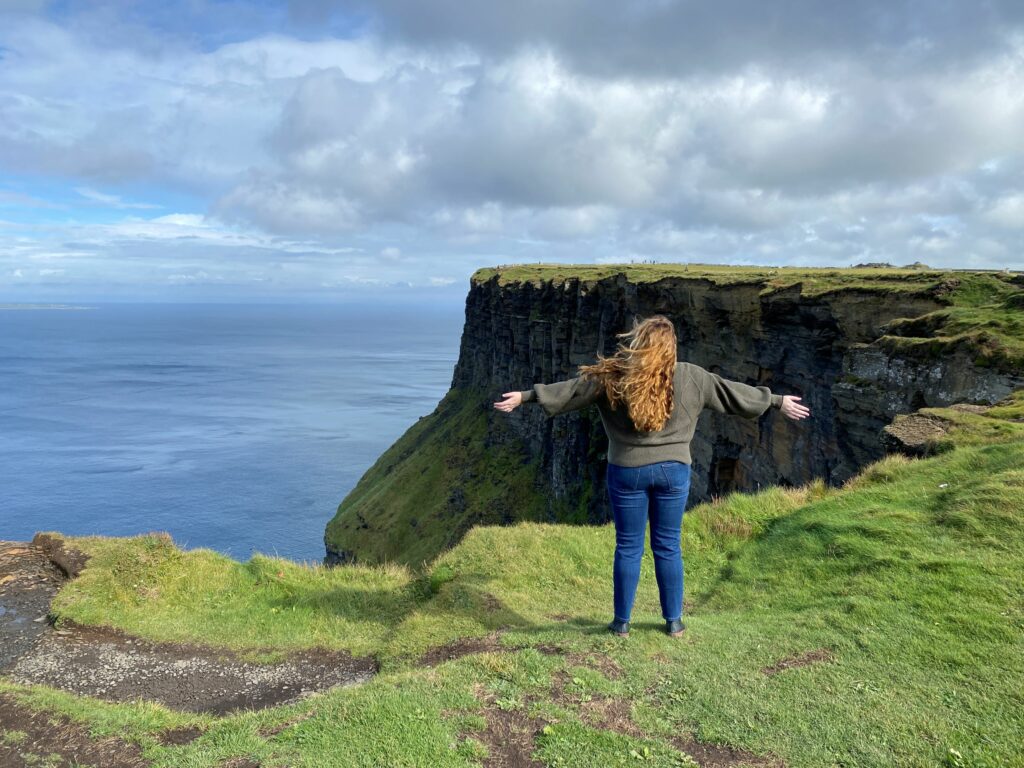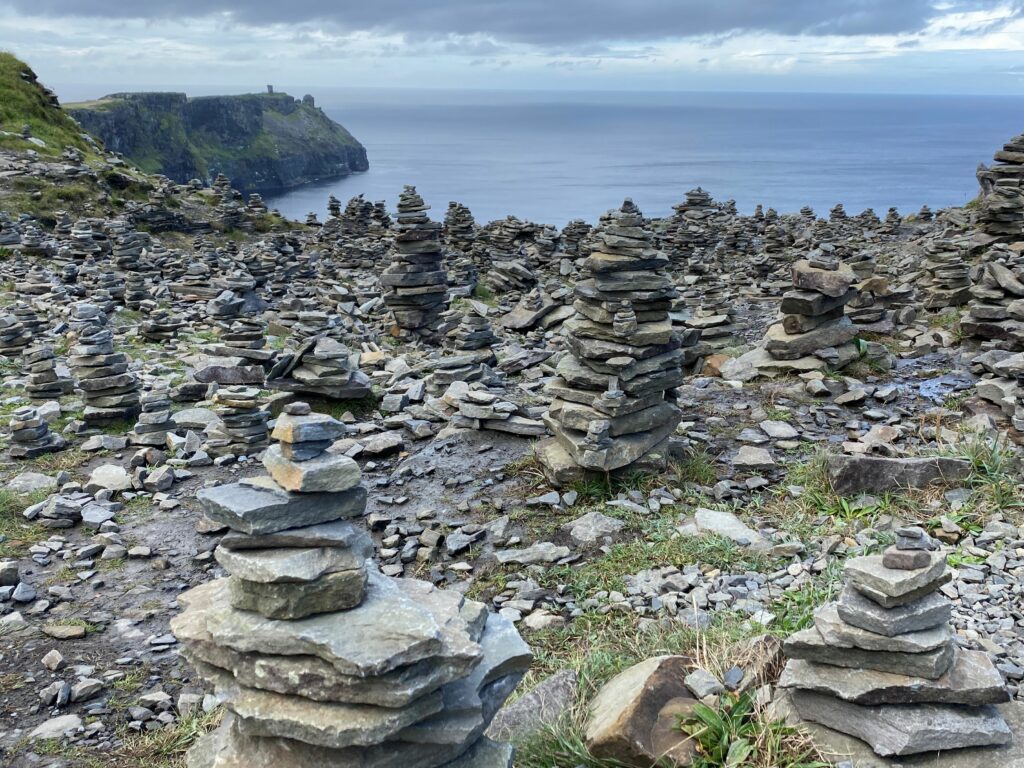 For a majority of the walk we had beautiful weather with clear blue skies, but rain rolled in towards the end of the trek. We had reached Hag's Head and hurried down to find our tour van. Once aboard, we were met with some pretty grumpy faces – apparently we had taken much longer than expected on the cliff walk and our group had waited for over an hour for us. A fair trade I thought – we waited for them in the morning, and they could wait for us at the Cliffs of Moher. Afterall, it was the #1 thing we wanted to see in Ireland.
TRAVEL REVIEW: Food on Foot: Cliffs of Moher Cliff Walk

 Trip Highlight!
The next part of our drive took us on a ferry across the mouth of the River Shannon – the longest river in Ireland – to arrive in 'The Kingdom' of Kerry. We stopped for lunch and it was here that we met up with a new tour guide, as our original guide had met his maximum amount of allowed driving hours.
I thought that our new guide was lovely, she was much more talkative than the first and pointed out far more things as we drove along the countryside. She also pulled over for several quick, 5 minute photo stops during our journey (something our first guide did not often do – I suppose he was tired nearing the end of his shift).
We arrived in Dingle at the southwestern most part of the country, which ended up being my favorite location in Ireland. Our accommodation for the next two nights was the Emlagh Country House. I was looking forward to staying in one location for two nights. The hotel was beautiful and we had a very large room with a window overlooking Dingle Bay. We had made reservations for dinner months in advance at The Chart House. We each enjoyed a different local fish – it was one of the best meals of our trip.
TRAVEL REVIEW: Emlagh Country House

 Must Do!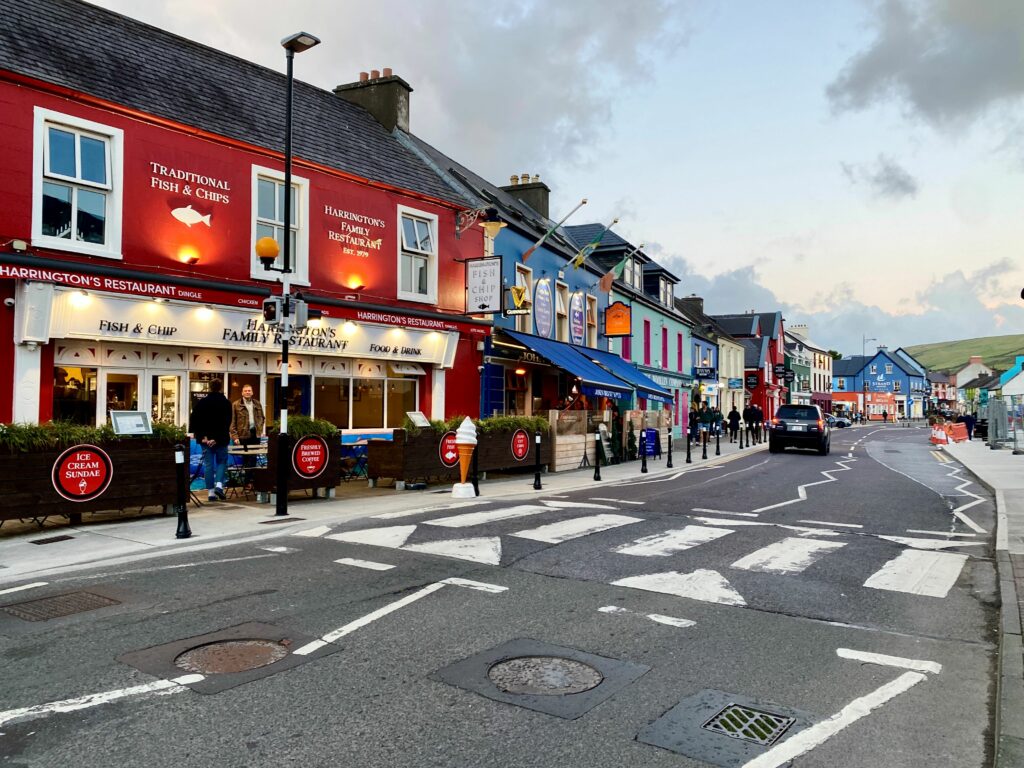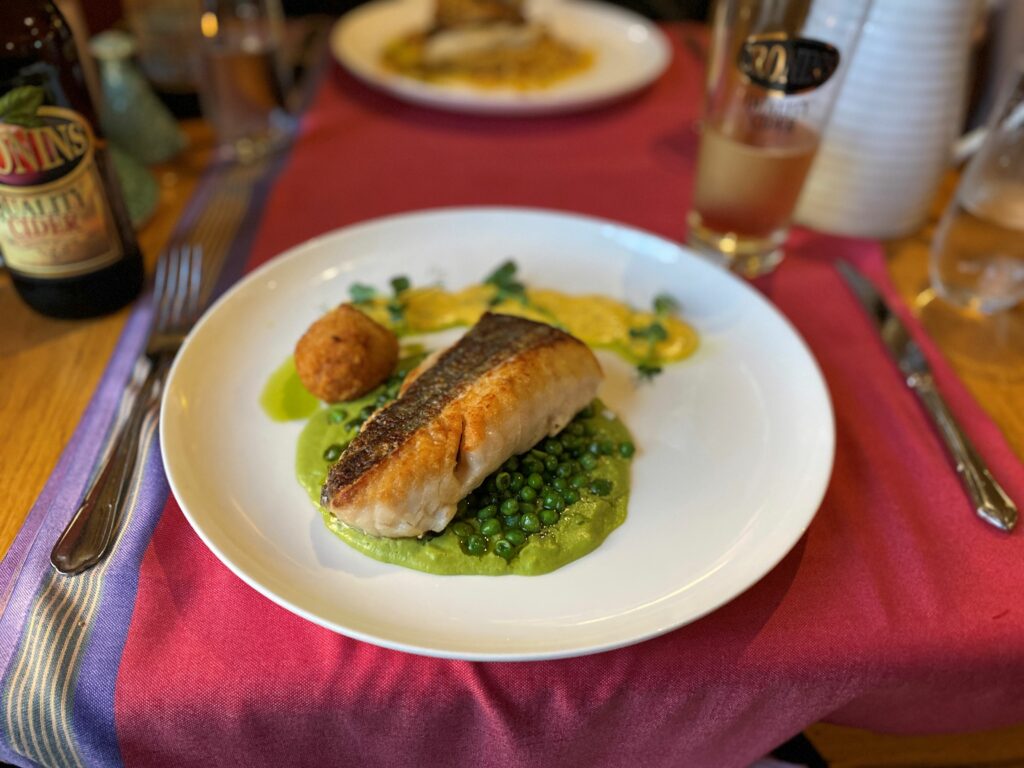 TRAVEL REVIEW: The Chart House

 Must Do!
DAY 6: Dingle Peninsula
Feeling antsy to start exploring, I woke at sunrise and headed out for a 2 hour coastal walk that our guide had told us about that included a "secret beach." It was such a peaceful, crisp morning and I didn't see another person until I made may way back. The trail brought me to Hussy's Folly, an 1834 ruin of a once standing castle that guarded the Dingle Bay. Further on my walk I came across the Dingle Lighthouse, some amazing scenery, and the beautiful "secret beach" that I had all to myself. I stayed there for about half an hour just soaking in the scenery as I noticed an enormous cruise ship come around making its way towards the bay. I made it back to our hotel just in time to join my cousin and the rest of the tour group for breakfast.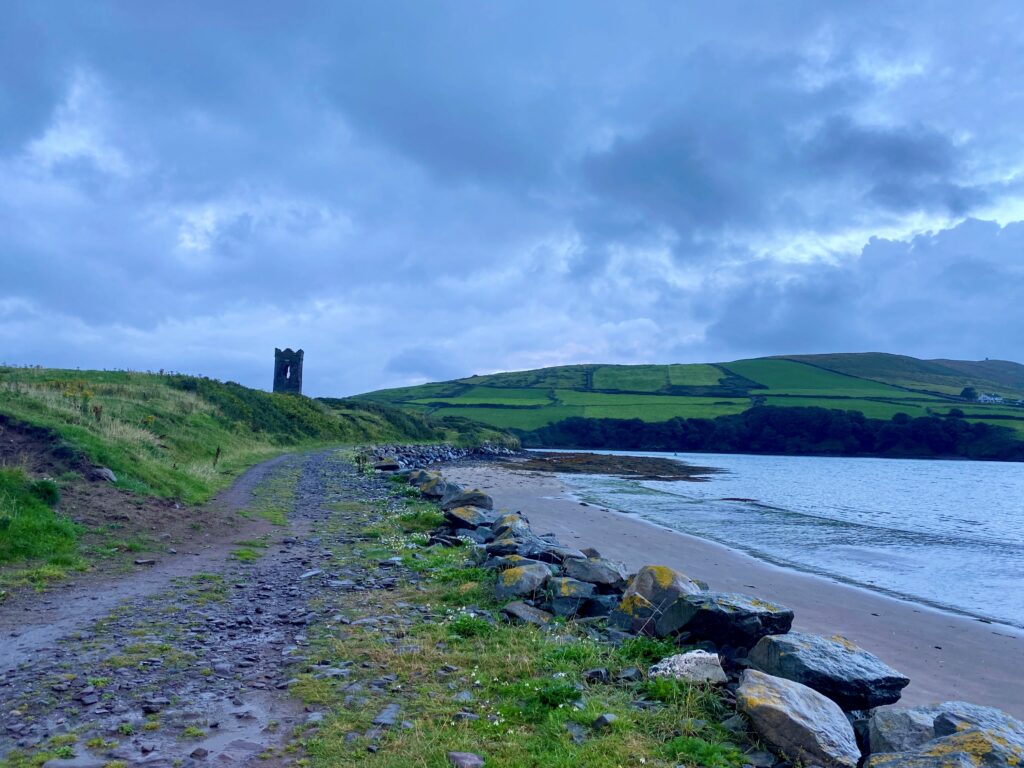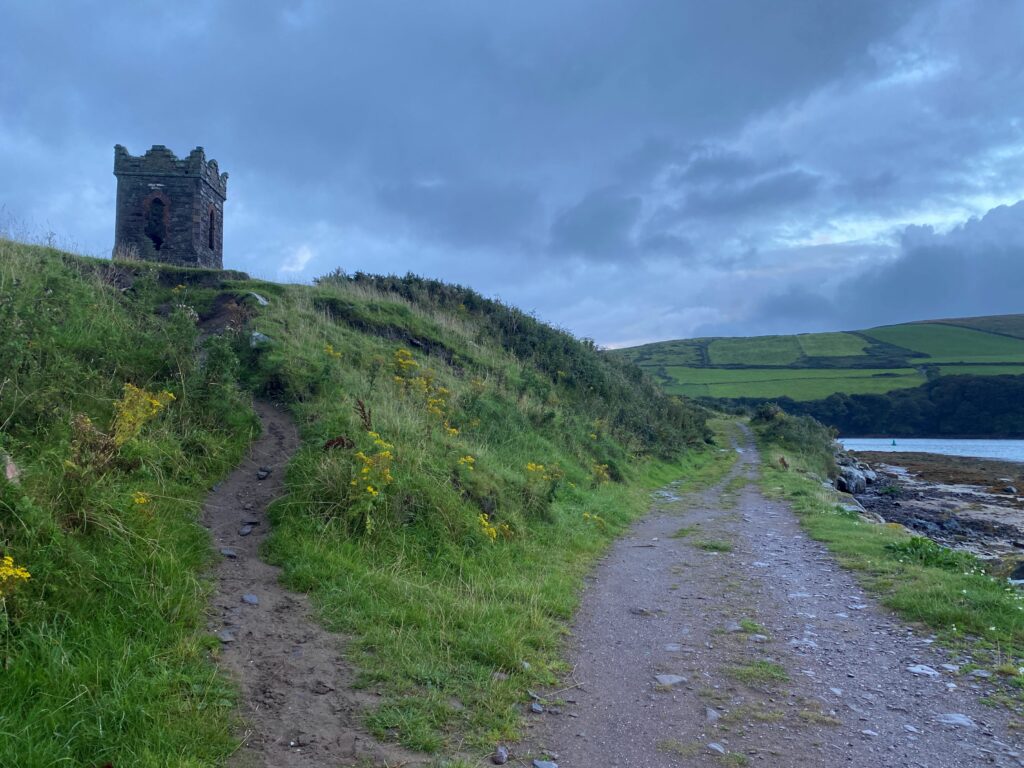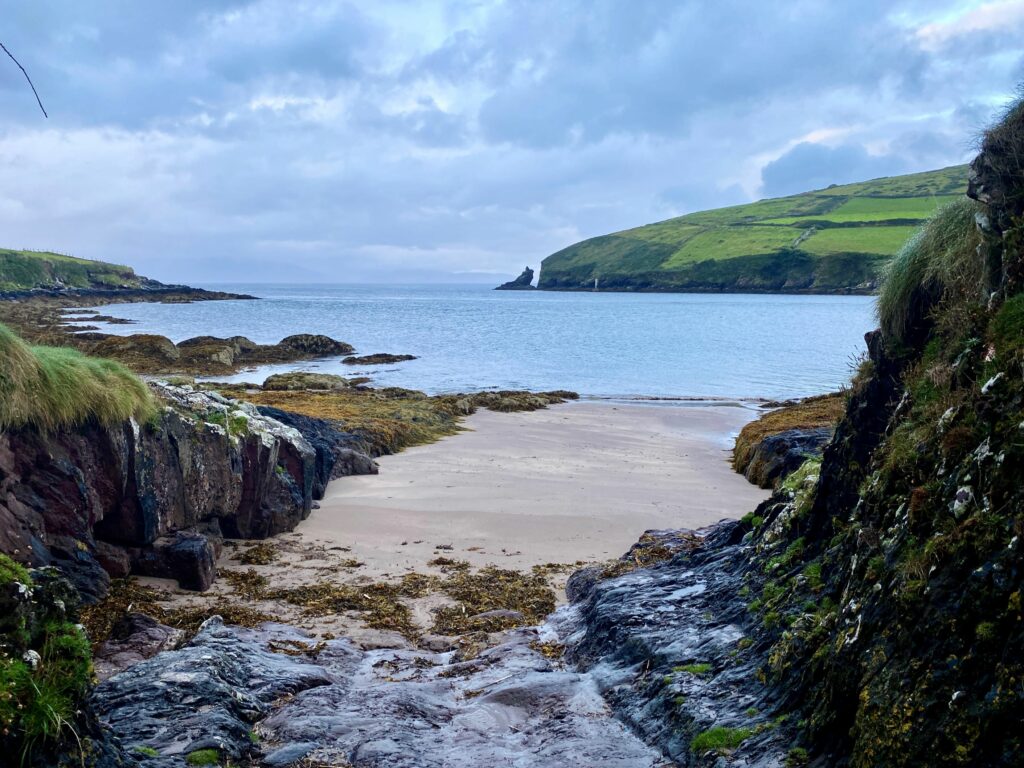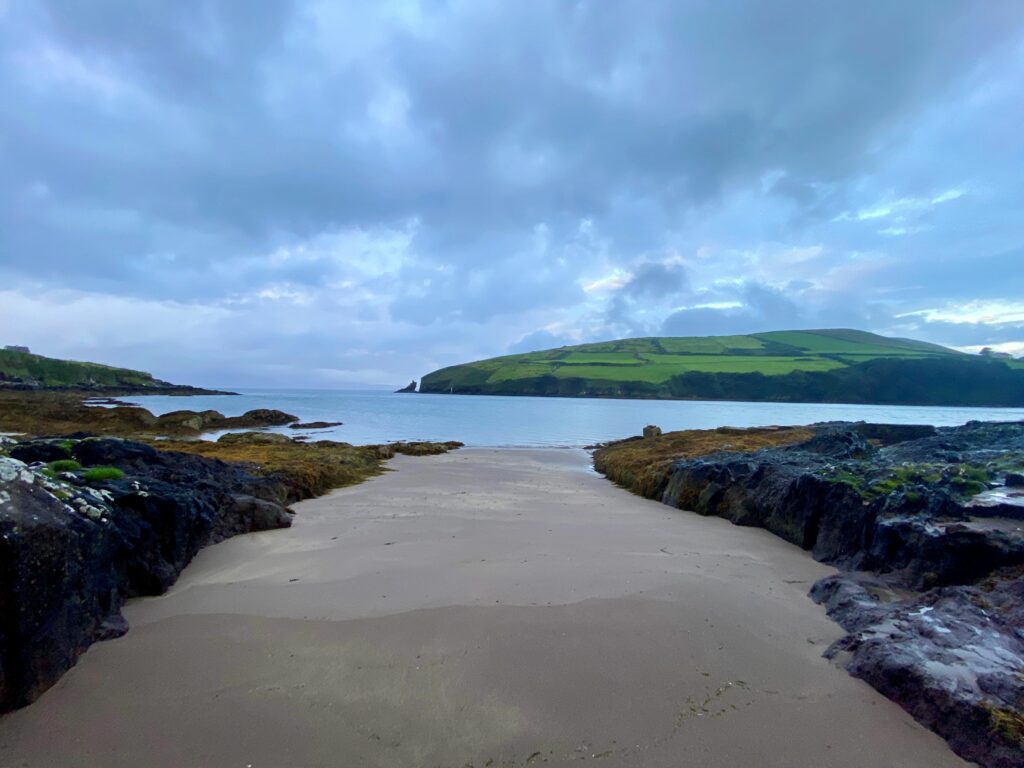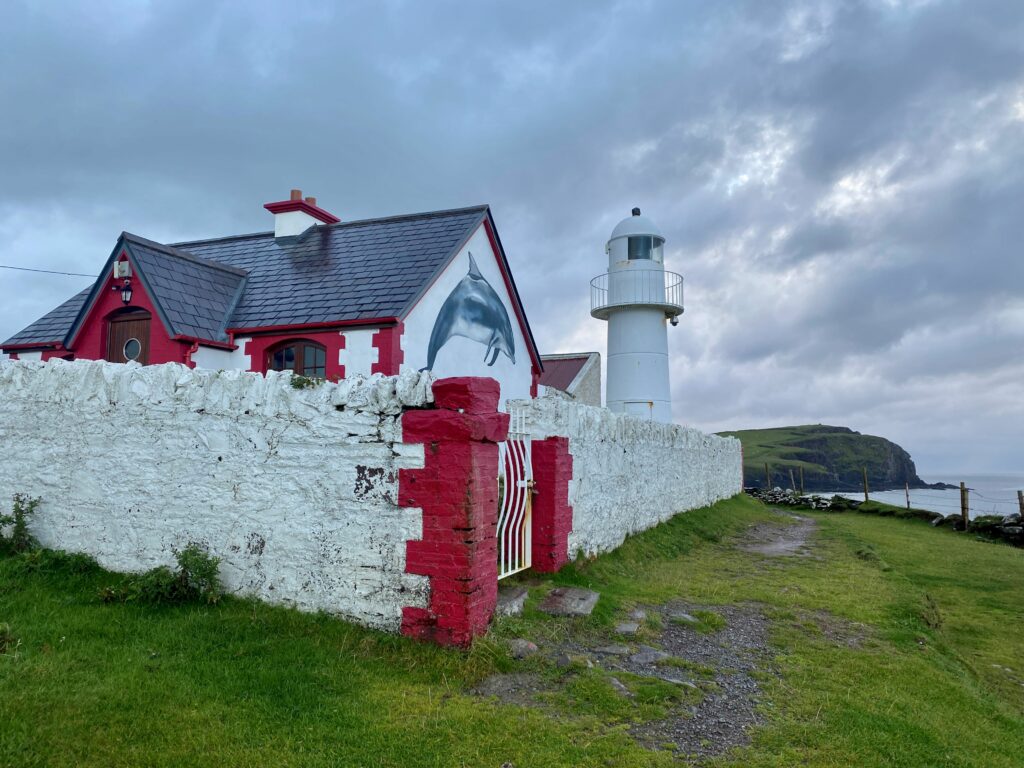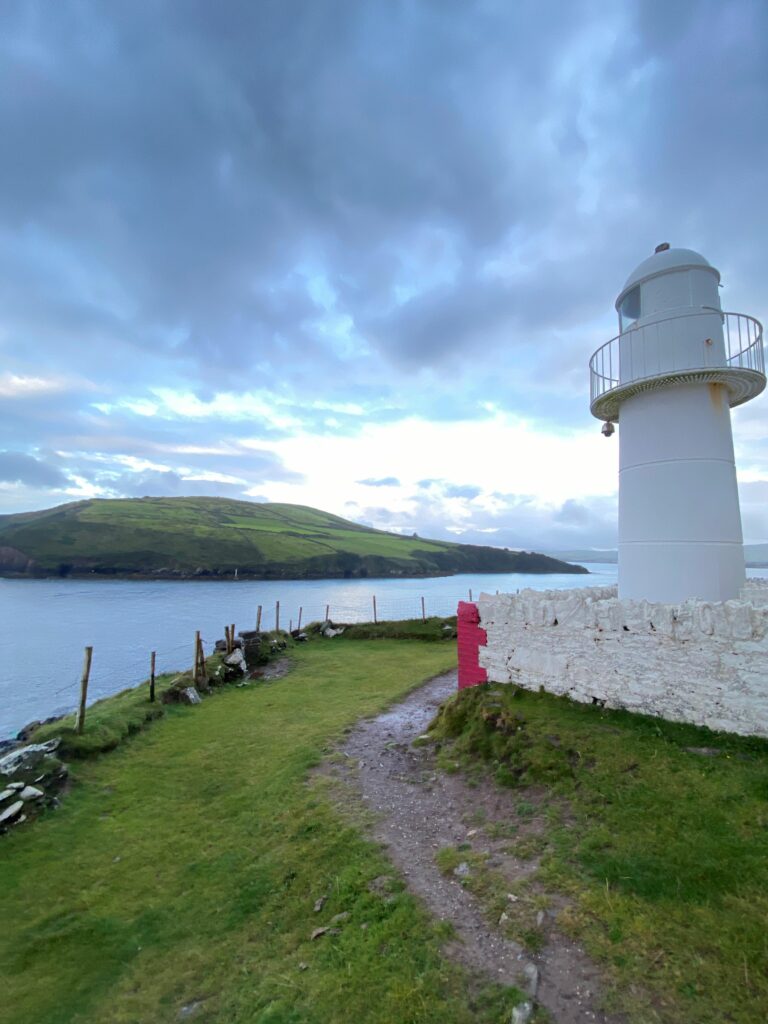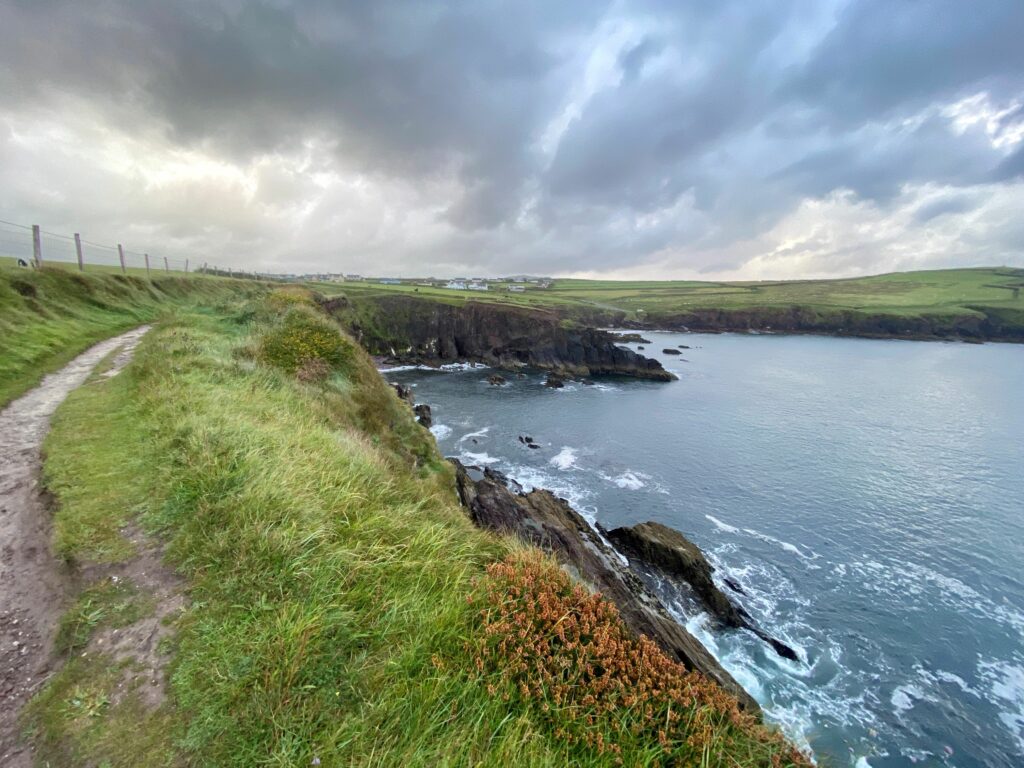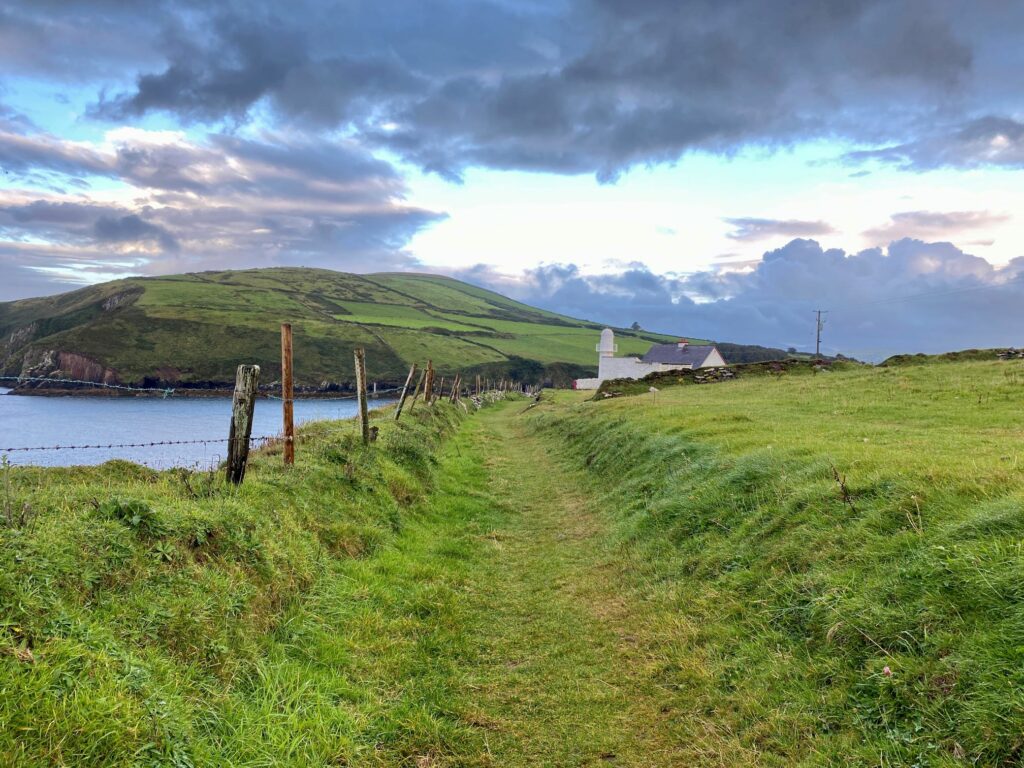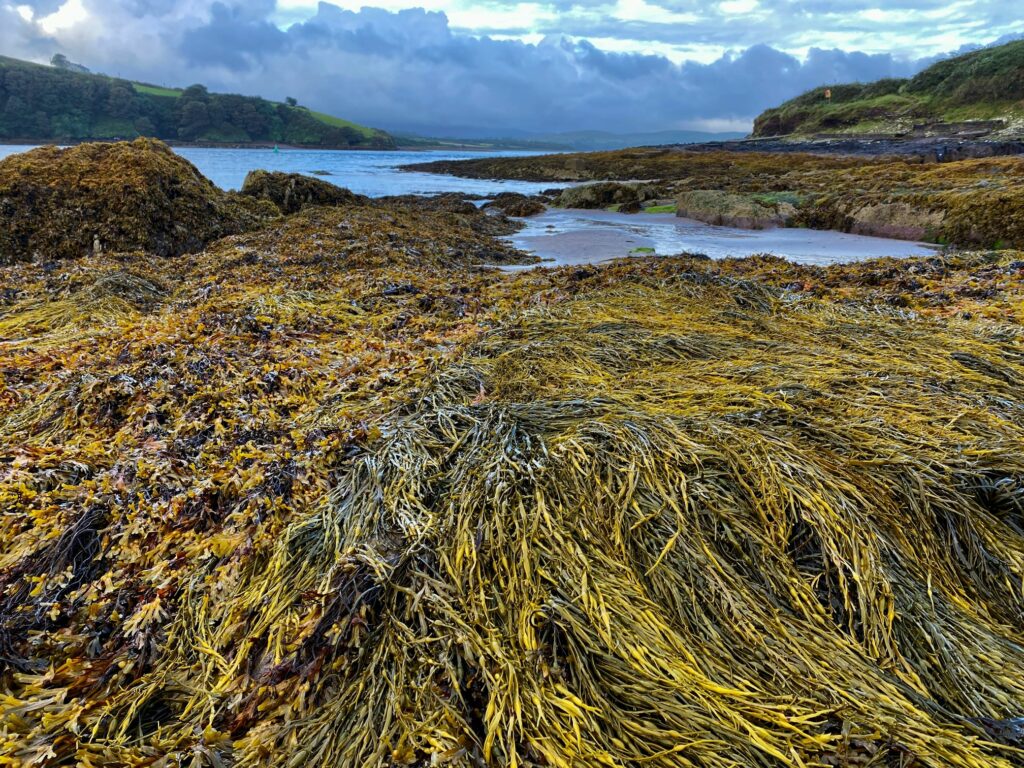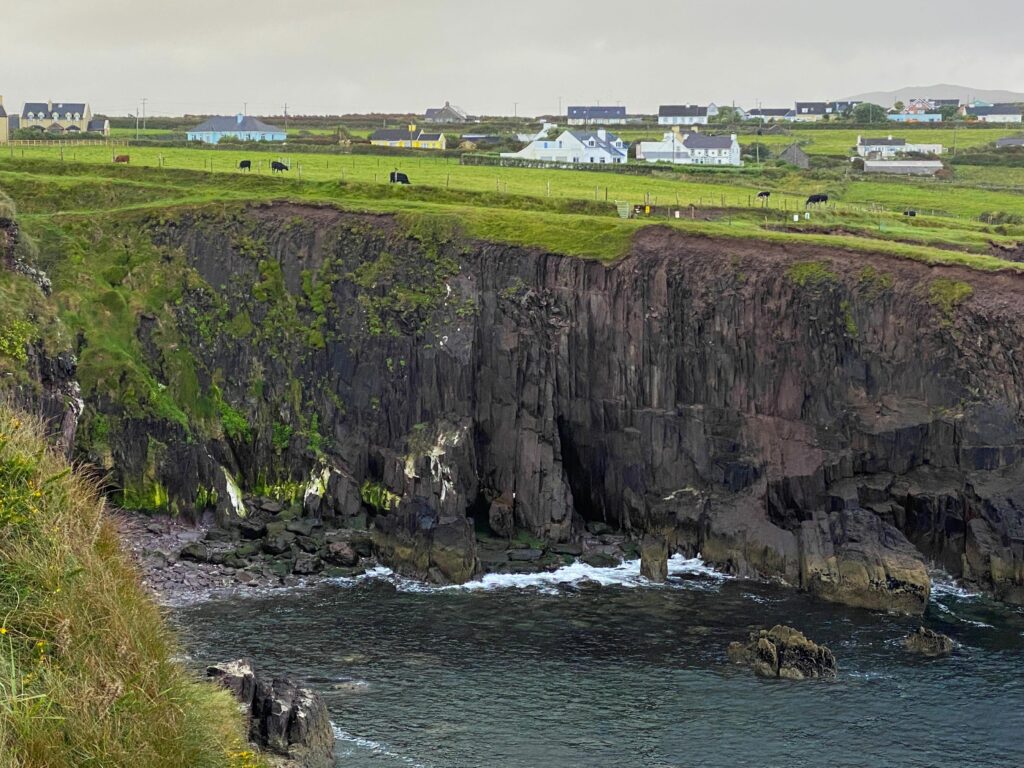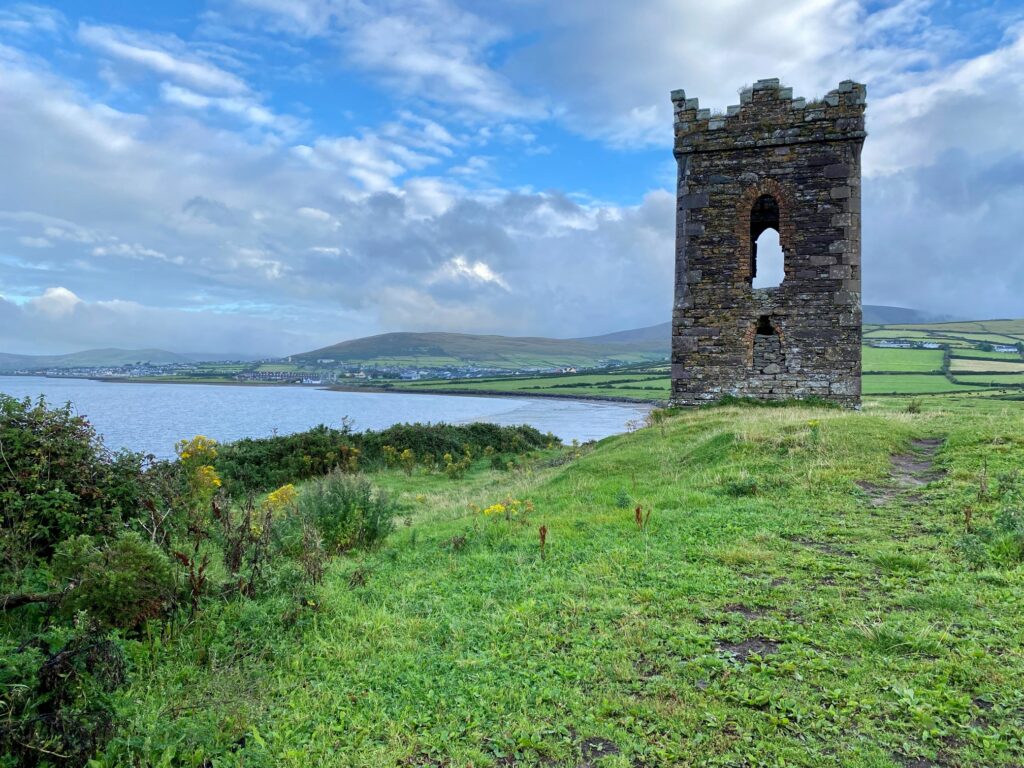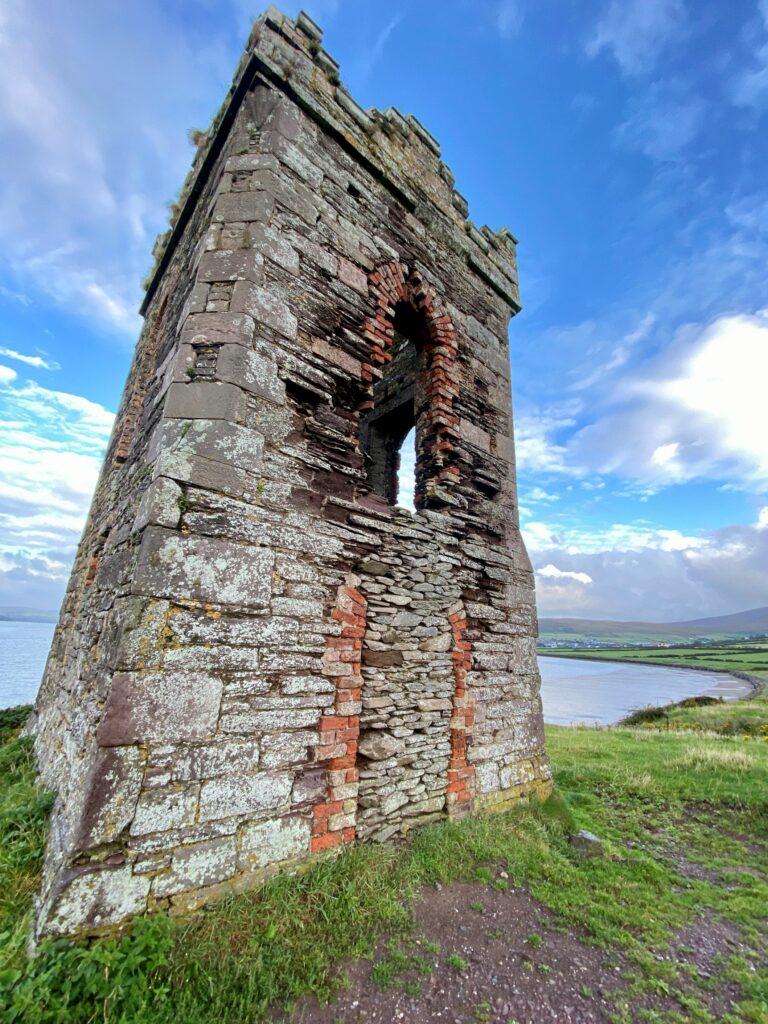 TRAVEL REVIEW: Dingle Bay Secret Beach Walk

 Trip Highlight!
Seated back on the van, we experienced one of the most beautiful, rugged drives in Ireland. Slea Head Drive is a loop drive around the Dingle peninsula. We made several stops and listened to old Irish tales that our tour guide told. She even sang us some old songs in Gaelic – she had an incredible voice.
We stopped to see the ancient Bee Hive huts that date back over 1000 years ago. The bee hive huts were the inspiration for Luke Skywalker's hideout in Star Wars episode VII (I'm a big Star Wars fan). We also got to hold some adorable little lambs.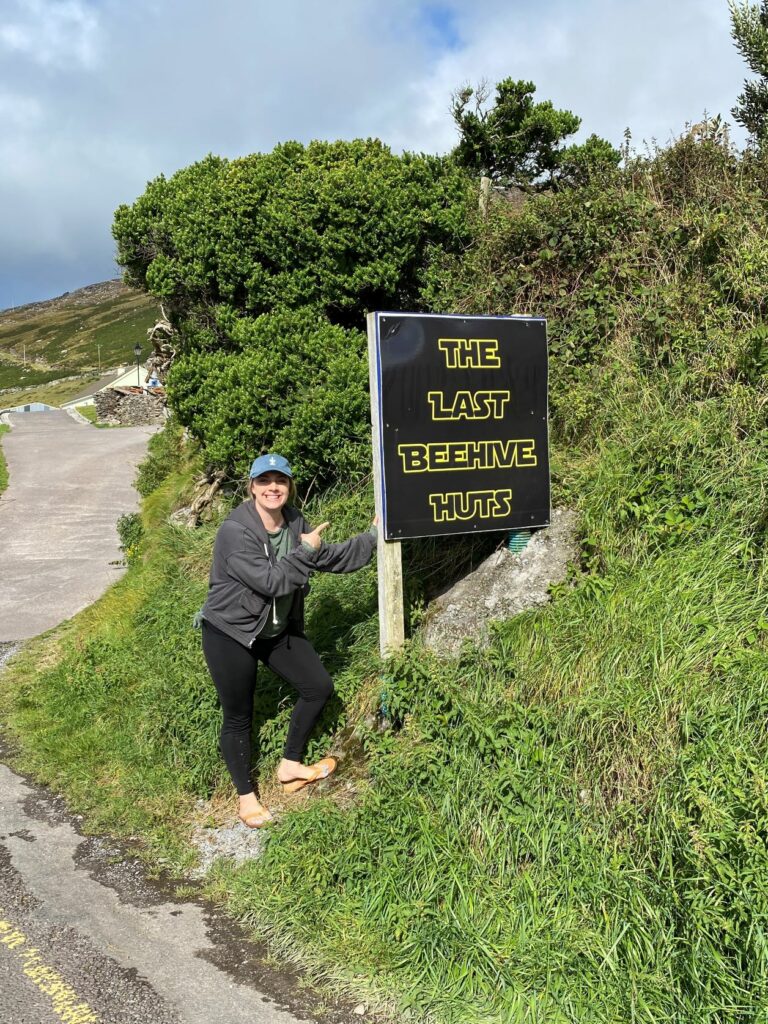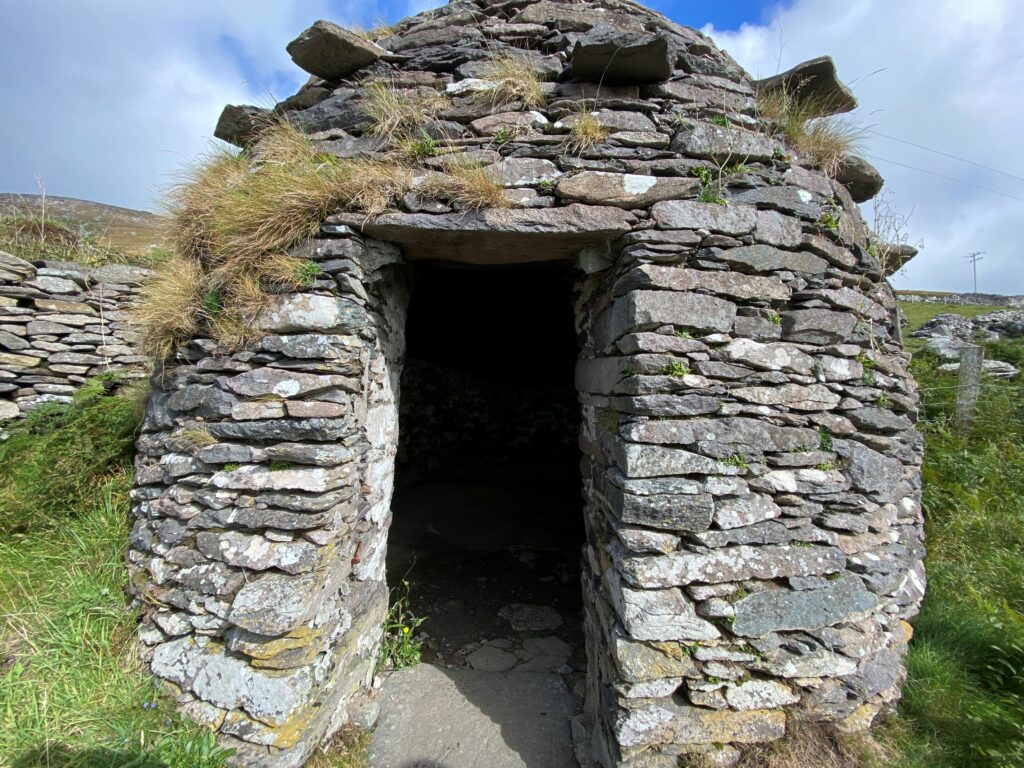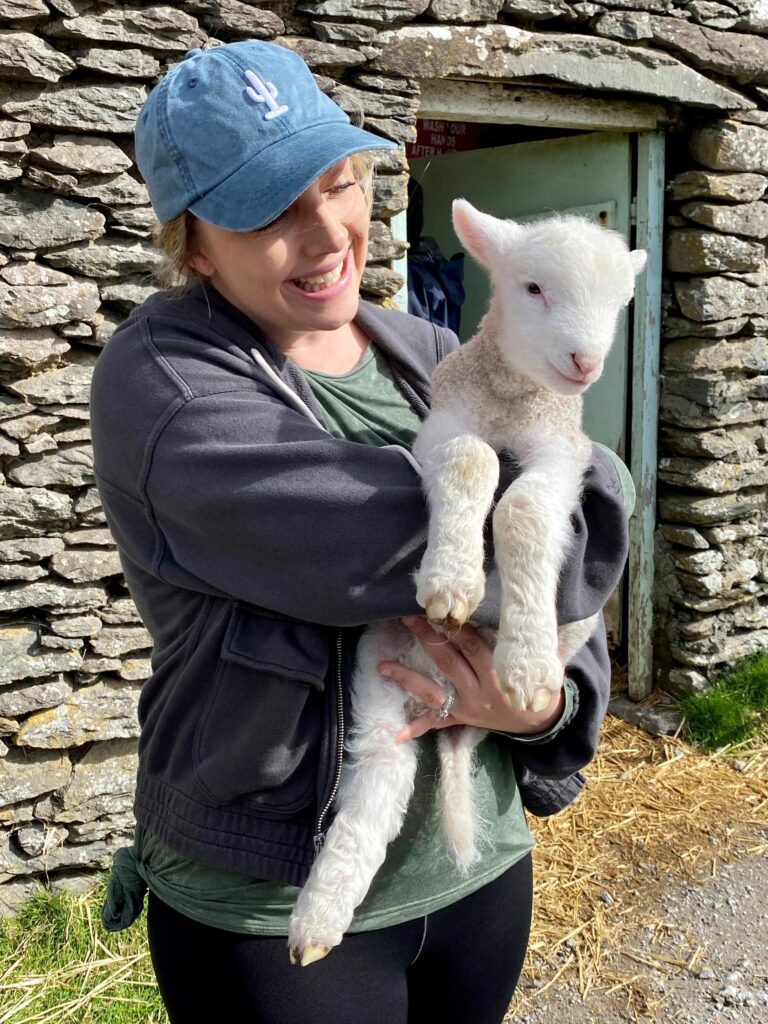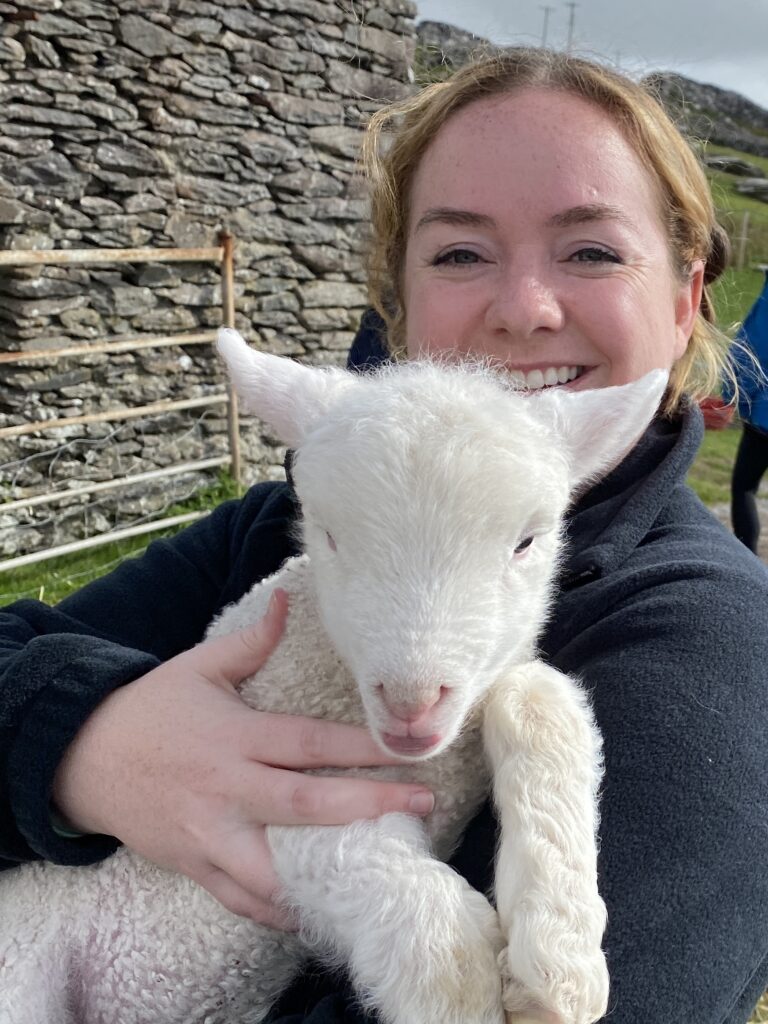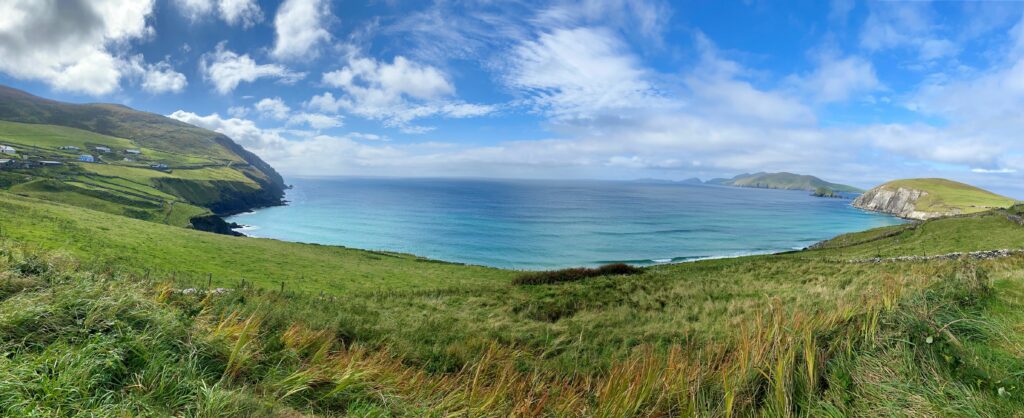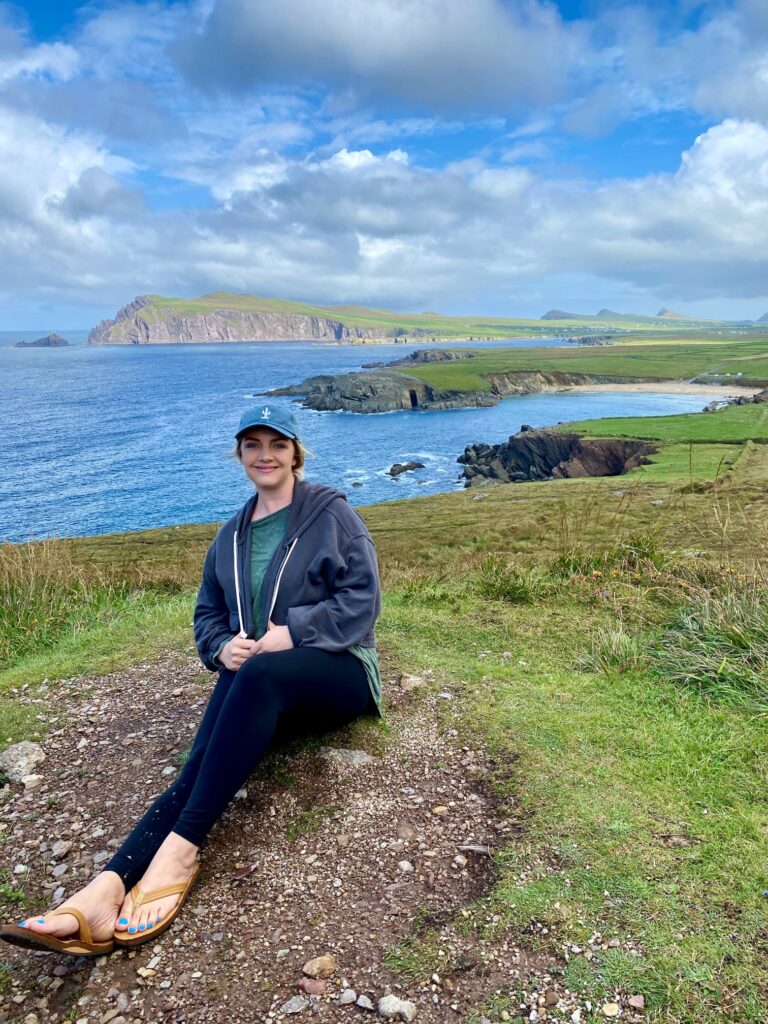 Another stop we made was at the Kilmakedar Church, a medieval ecclesiastical site and National Monument located in County Kerry, Ireland dating back to the 12th century. The church had so many interesting features, including a "standing stone" with a hole carved into it that was used to make commitments and promises. For example a couple getting married would stand on either side of the stone and touch their hands through the stone, confirming their commitment to each other. Or a farmer selling land to another farmer would seal the deal in the same way. Carved into the standing stone is a medieval inscription written in Ogham, an early medieval alphabet used primarily to write the early Irish language. At the very back of the church is the "key hole" … going through the key hole in the wall symbolizes that you will receive entry into heaven (as part of the medieval Irish wedding tradition, a couple would pass through the key hole together, ensuring that they would both enter heaven together). Kellie and I both eagerly squeezed ourselves through the key hole to ensure our entry into heaven.. it is not a big opening, we were only 4 of 12 people in our group to even attempt the passage!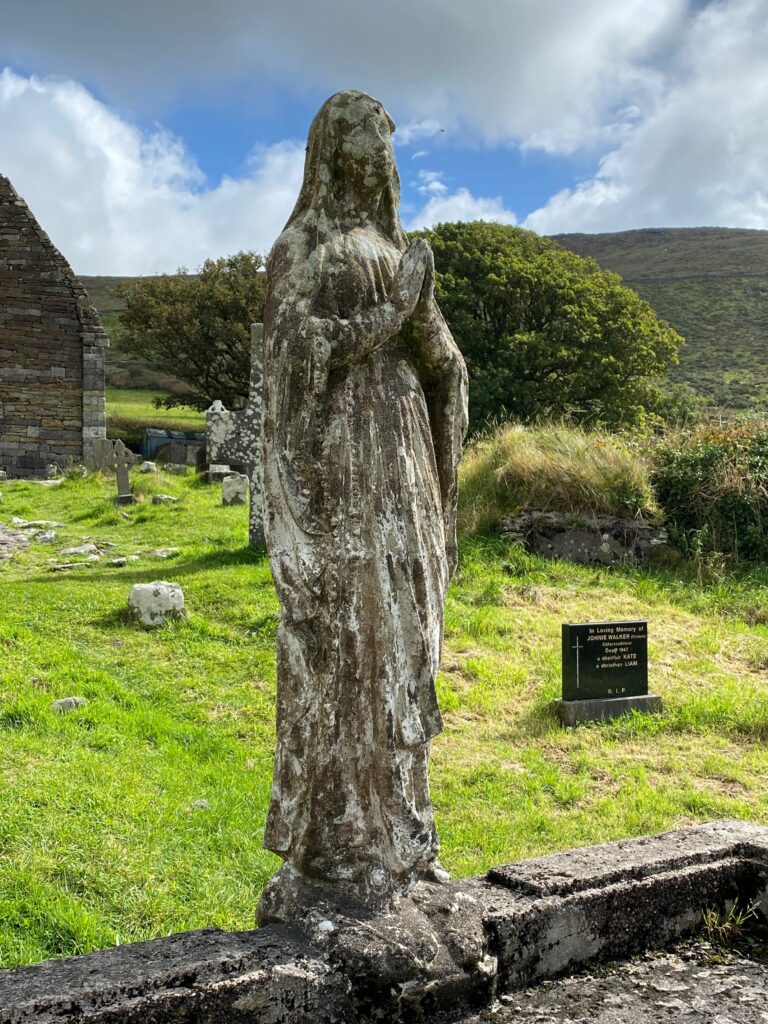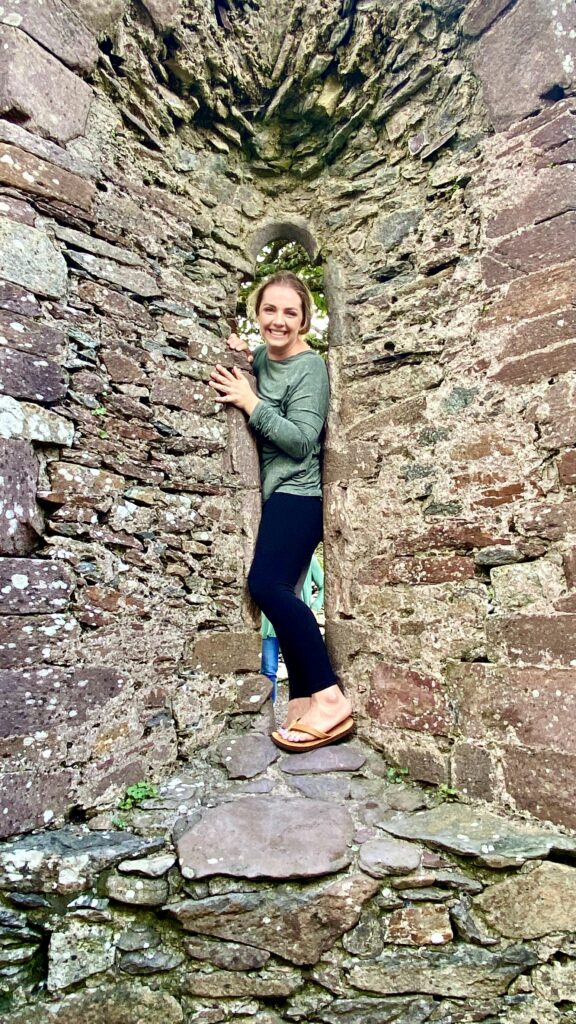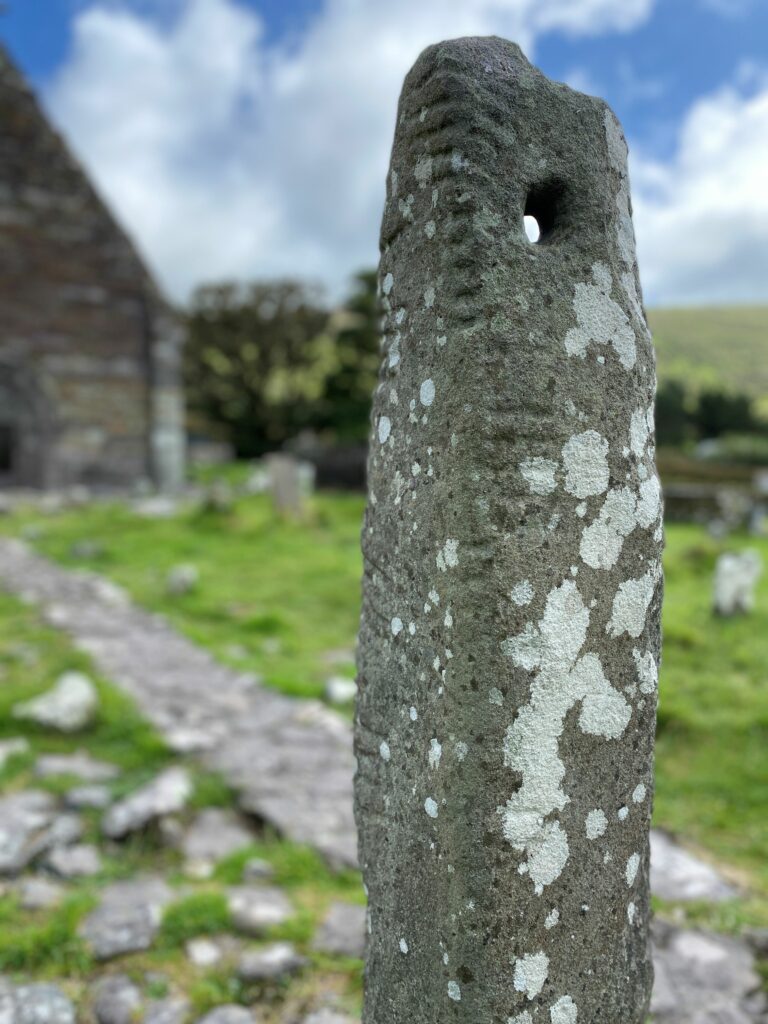 TRAVEL REVIEW: Slea Head Drive (recommend getting a local guide for the drive)

 Must Do!
We had lunch back in Dingle at a popular fish and chip spot where I got a sample of fried fish, shrimp, and calamari. We spent the rest of the afternoon shopping in the various local craftsman shops that Dingle is well known for. One in particular was Brian de Staic Jeweler, who makes handcrafted Celtic jewelry. My cousin and I each picked out a custom piece – I got a silver ring engraved with my name written in Ogham script. We also found a shop selling bath products – I picked out a bubble bath soap made of sheep's fat.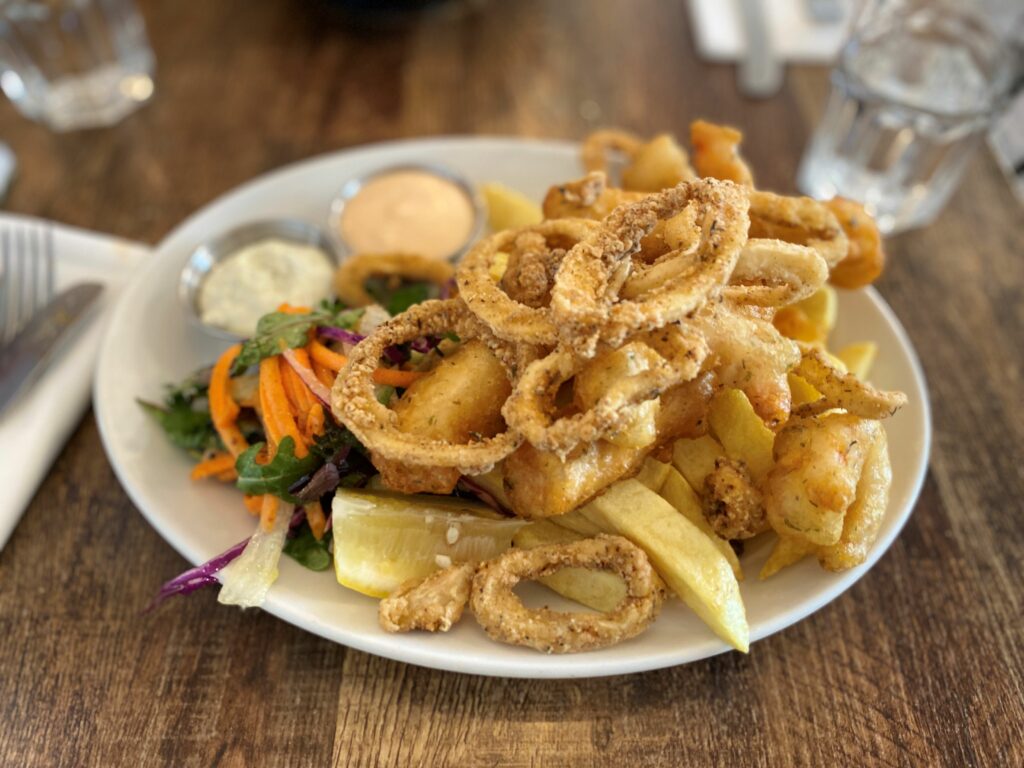 Our new guide could tell that we were a bit more energetic than the rest of the group and she asked if we'd like to go on a canoe ride in Dingle Bay. She had a friend who was part of the Dingle Row Club and she could make arrangements for her to take us out. Kellie and I excitedly agreed, even if it meant skipping dinner! Two of the row club's members took us out into the bay, teaching us about the history of the traditional rowing canoe called the Naomhóg, made from wood, tar and canvas. It was such a fun time and one of the highlights of our time in Dingle!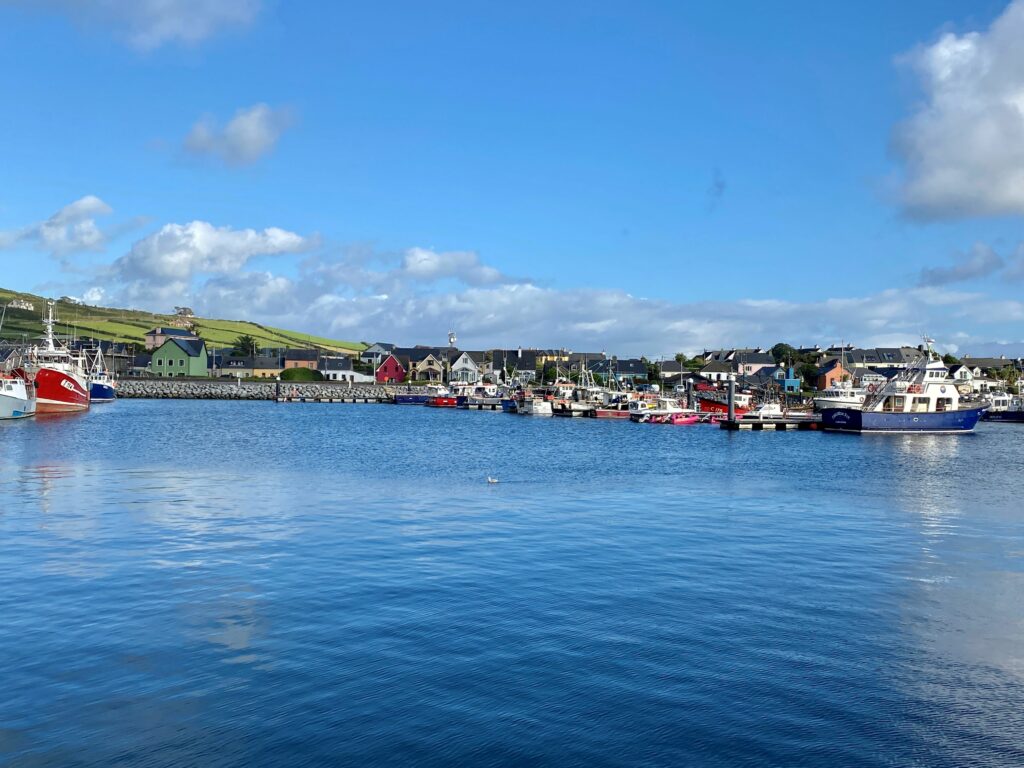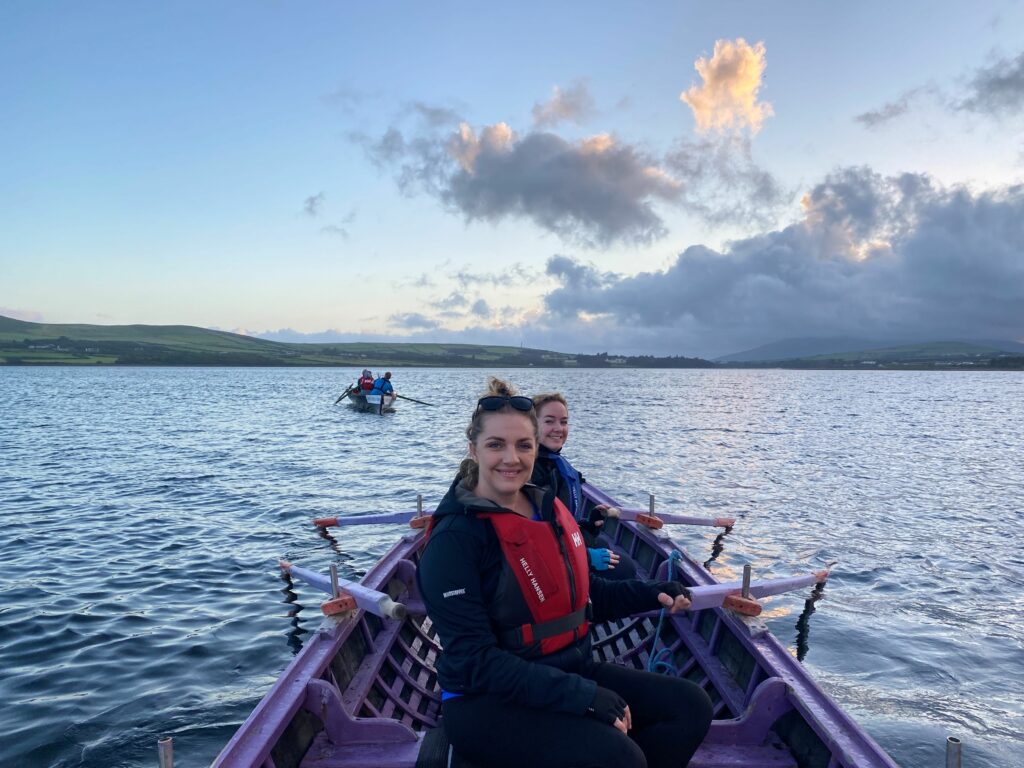 TRAVEL REVIEW: Dingle Bay Rowing

 Trip Highlight!
We stopped at the local supermarket for some Irish cheese and Irish rye crackers for a small bite to eat. I finished my night with a sheep's fat bubble bath.
DAY 7: Fairies
After another delicious breakfast, we left Dingle and made our way through the Ring of Kerry, a scenic drive, towards and Killarney National Park. Once parked, we took a walk to see the Torc waterfall and did a jaunting horse carriage ride through the national park to the 700 year old Muckross Abbey that was built around a 1000 year old Yew tree. The roots of the yew tree are poisonous and it is said to be very bad luck if you touch one.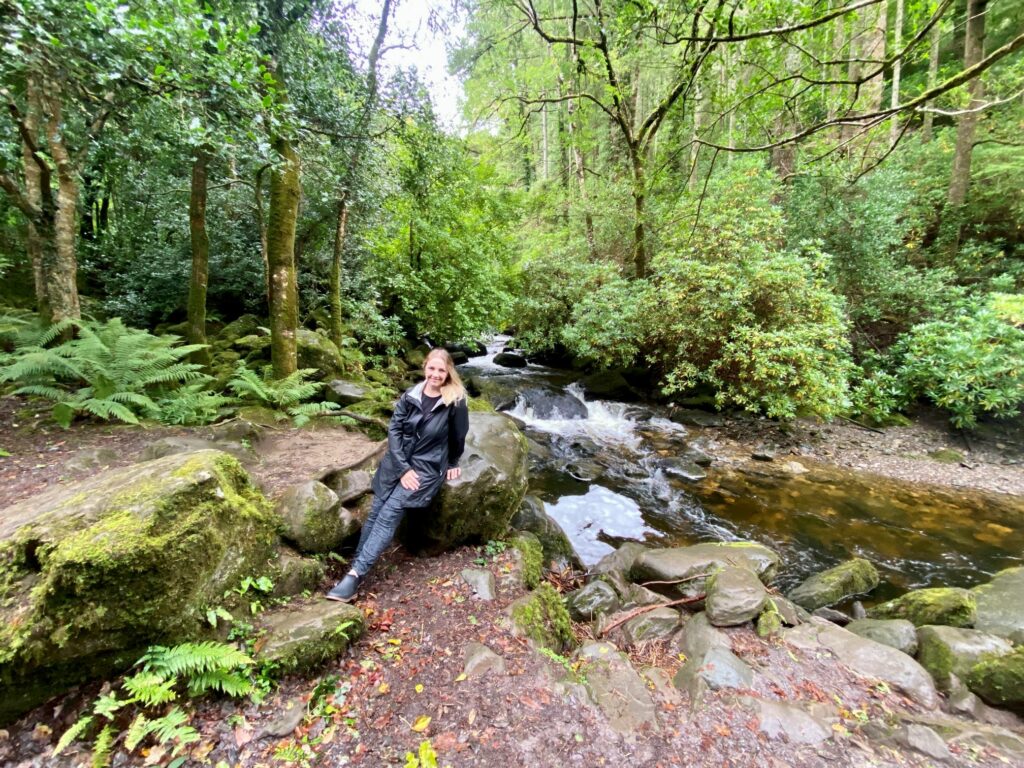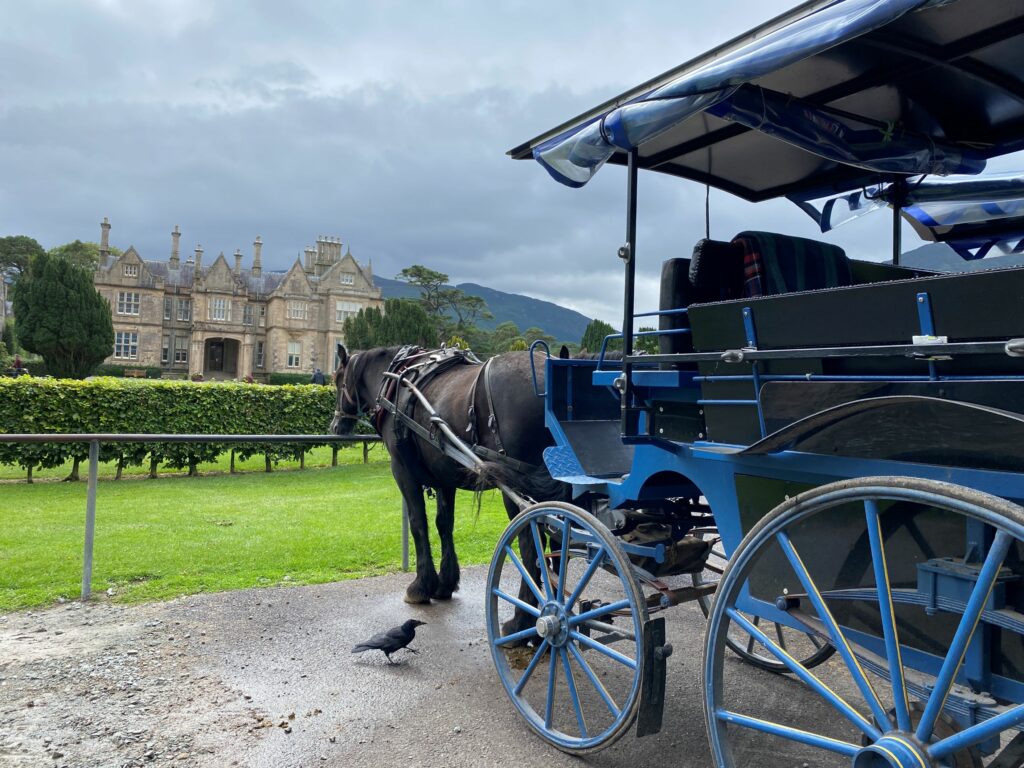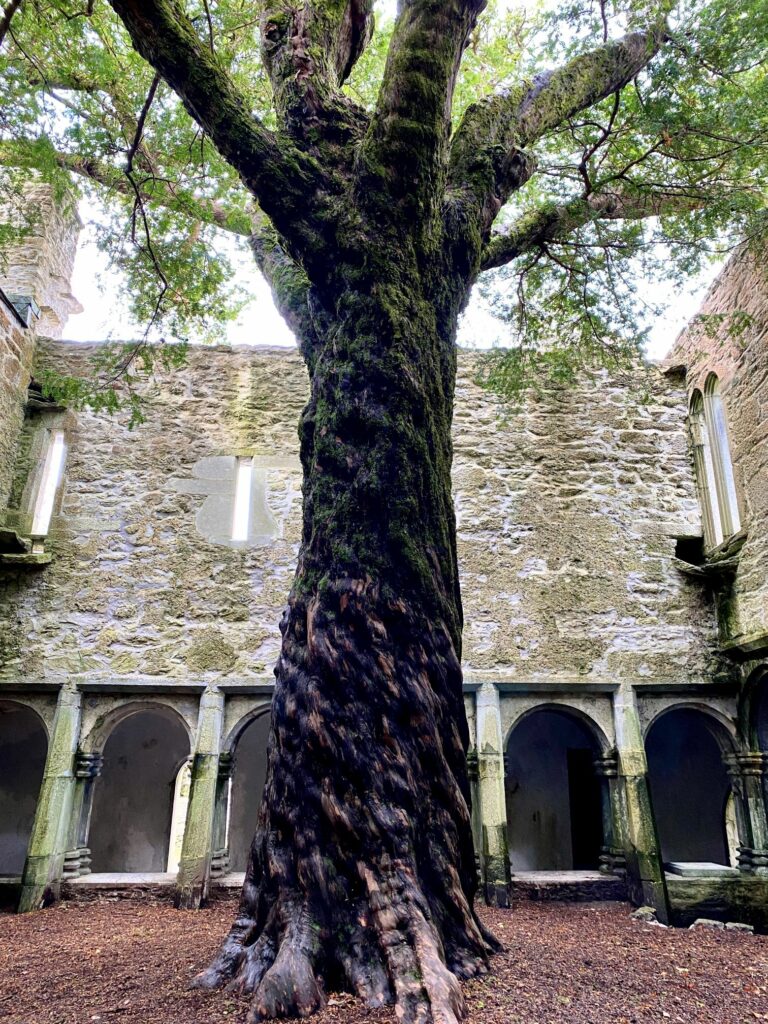 TRAVEL REVIEW: Killarney National Park


Only if you have time
We stopped for lunch in the town of Kenmare, which is famous for it's needlepoint handmade lace. After that we traveled deeper inland to the Uragh Stone Circles, believed by the Irish to be portals to the fairy world. Our guide told us of many Irish legends and superstitions about the fairies. It is said that if it is raining it is because someone upset the fairies. Parents would also stitch a bag of coal/burnt embers into their children's clothing to help keep the fairies away from them, because it was believed that the fairies would take babies and young children when their parents weren't looking (our guide's grandma used to do this to her and her siblings and she said it is a very commonly practiced superstition!). People come to the stone circles and leave offerings (like coins or trinkets) to the fairies to make them happy. My cousin and I made a small handbound wildflower bouquet and a few coins to leave at the base of the standing stone. It was an overcast sky and within seconds of giving my offering the clouds parted and the sun shone through for about 5 minutes. It was incredible and definitely sealed my belief in the Irish fairies!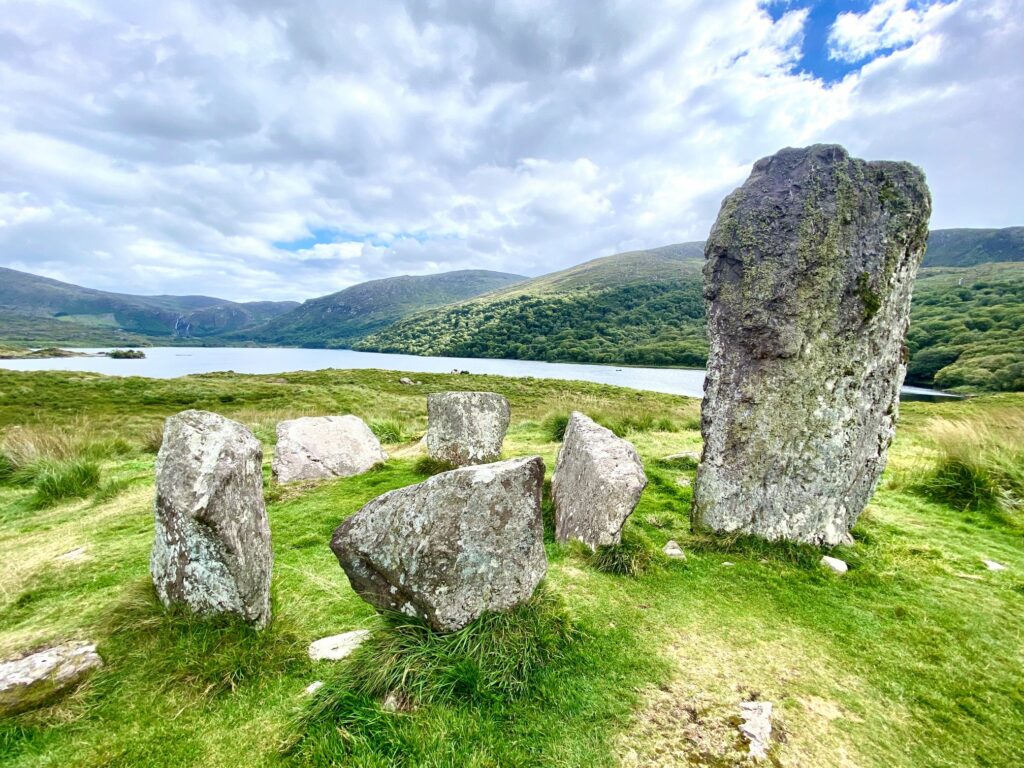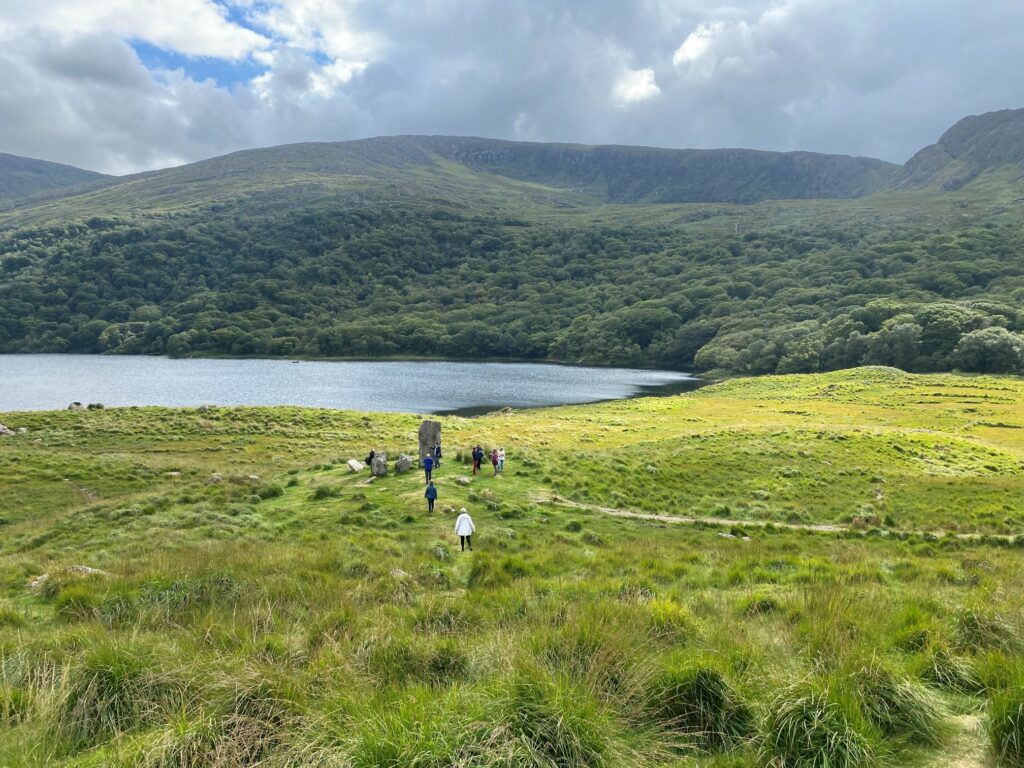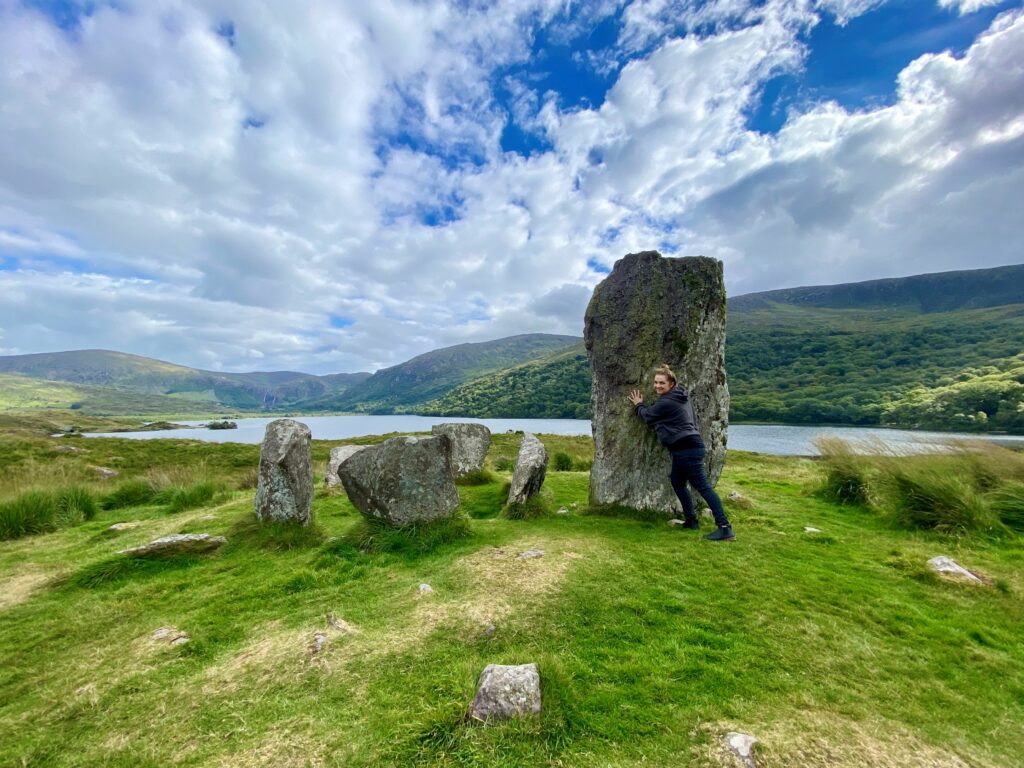 A photo of me above checking to see if this stone circle possessed the same time travel capabilities as those in the popular Outlander TV show!
We had a scenic drive and ended up in County Cork where we stayed for the next couple of nights. Our accommodation was the Gougane Barra Hotel, which was the cutest country house situated on a beautiful lake in County Cork. The fifth-generation run hotel is well-known for its fabulous food where they have a daily changing menu and are able to source most of their food from a large number of small, local producers.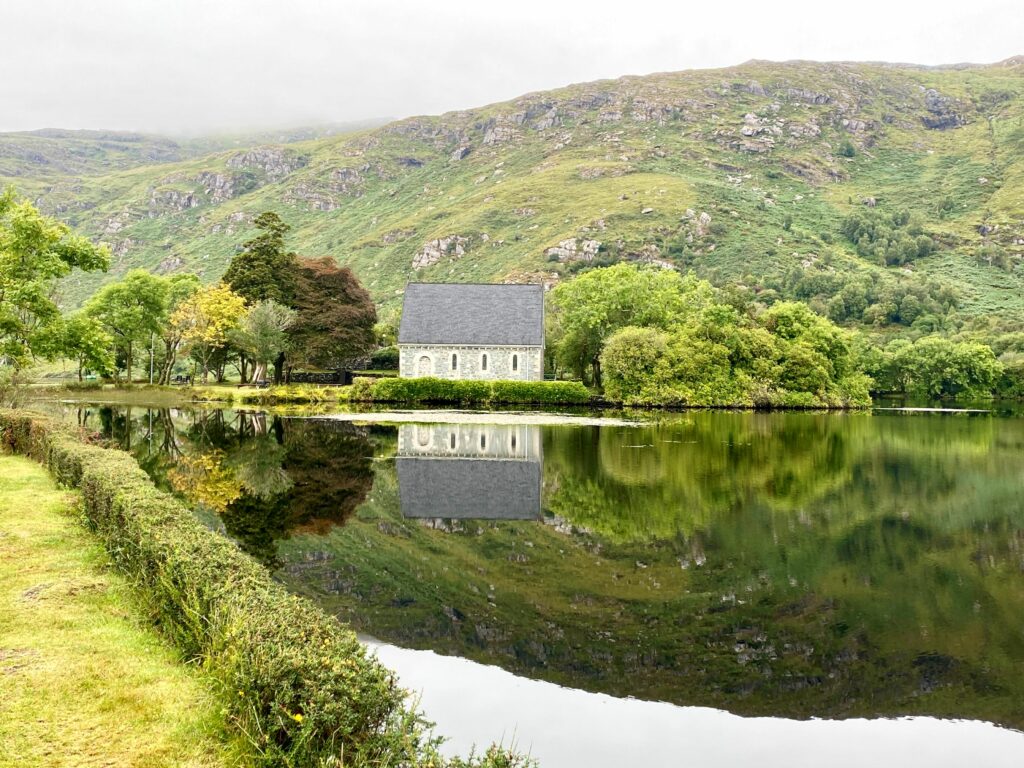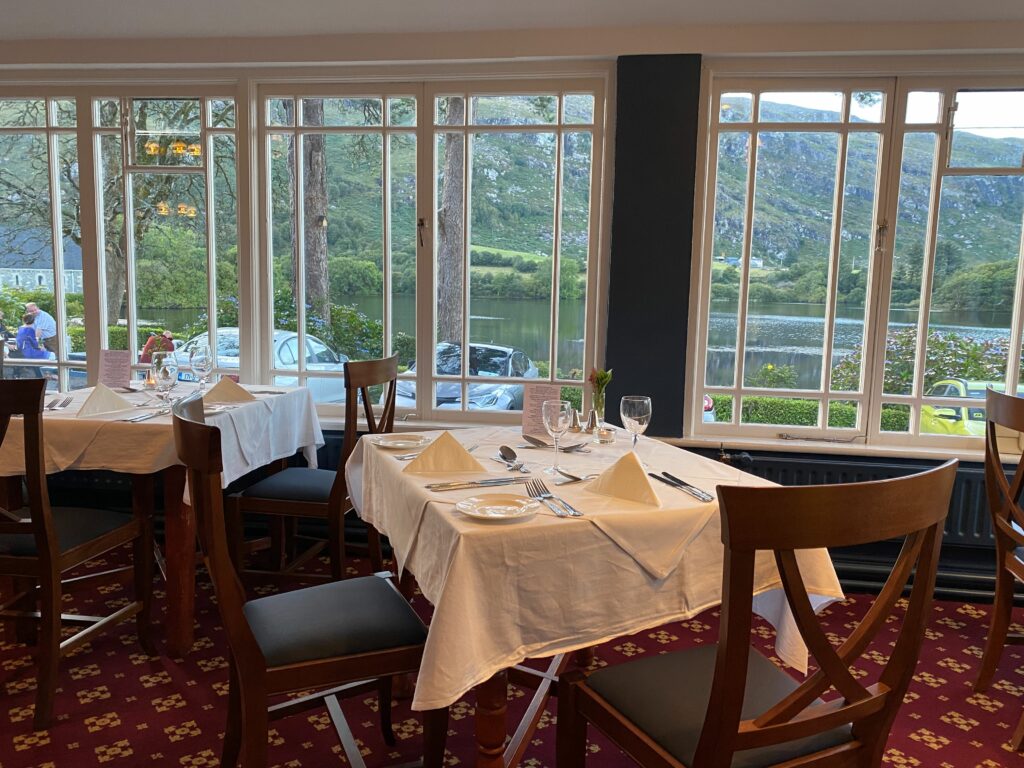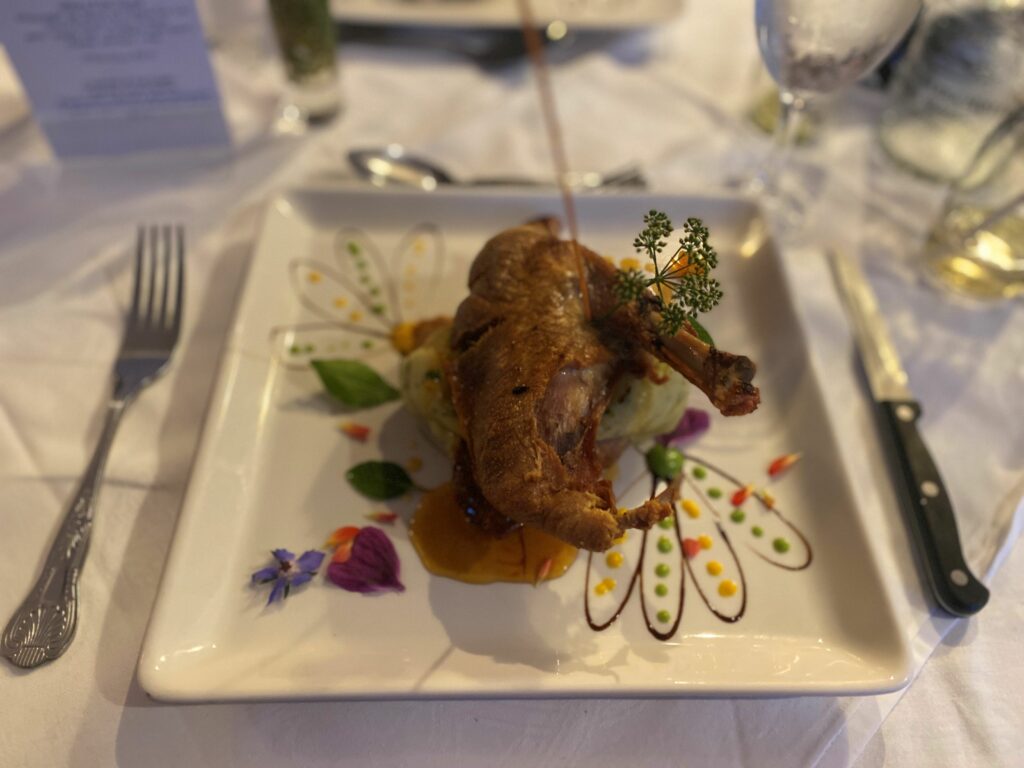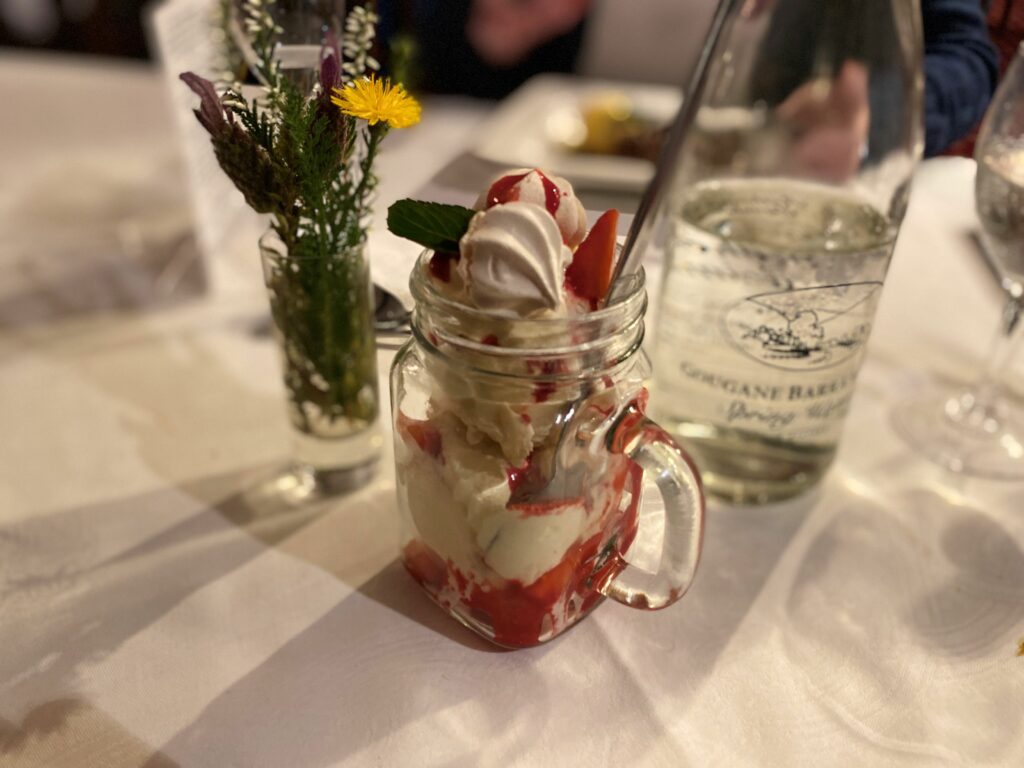 TRAVEL REVIEW: Gougane Barra Hotel

 Trip Highlight!
DAY 8: A Day of Gardens
Our group started our morning with a walk lead and narrated buy our guide through an enchanted forest that is said to be protected by the fairies.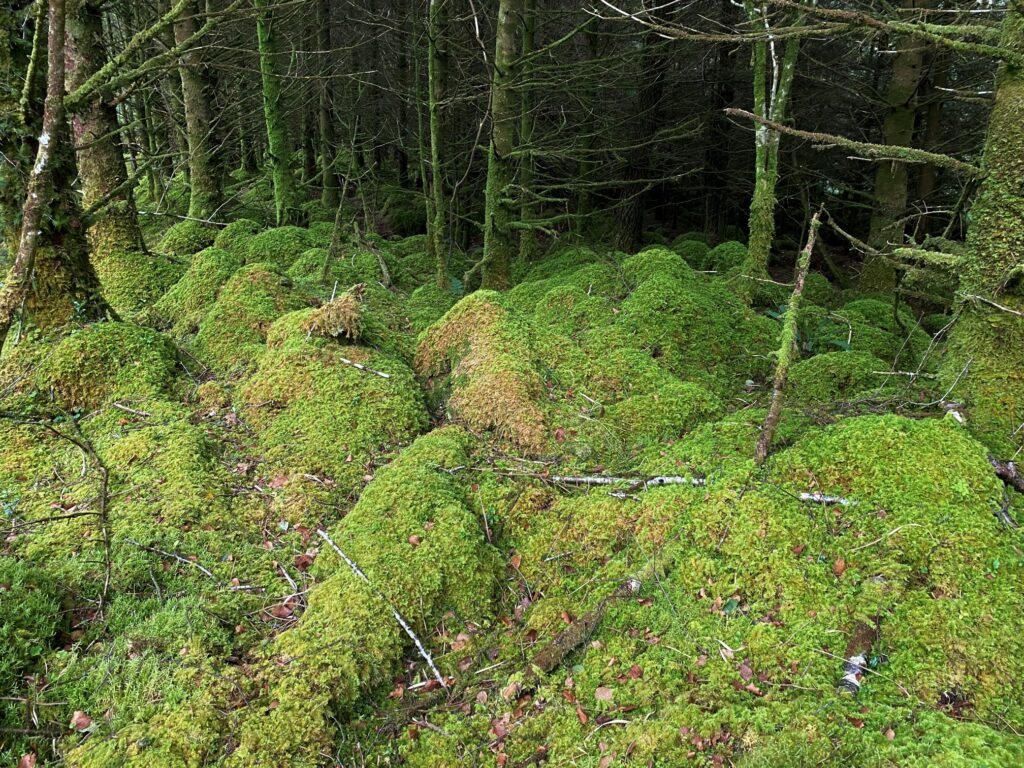 We then made a quick stop to look at the Carriganass Castle located on the bank of the Ouvane River.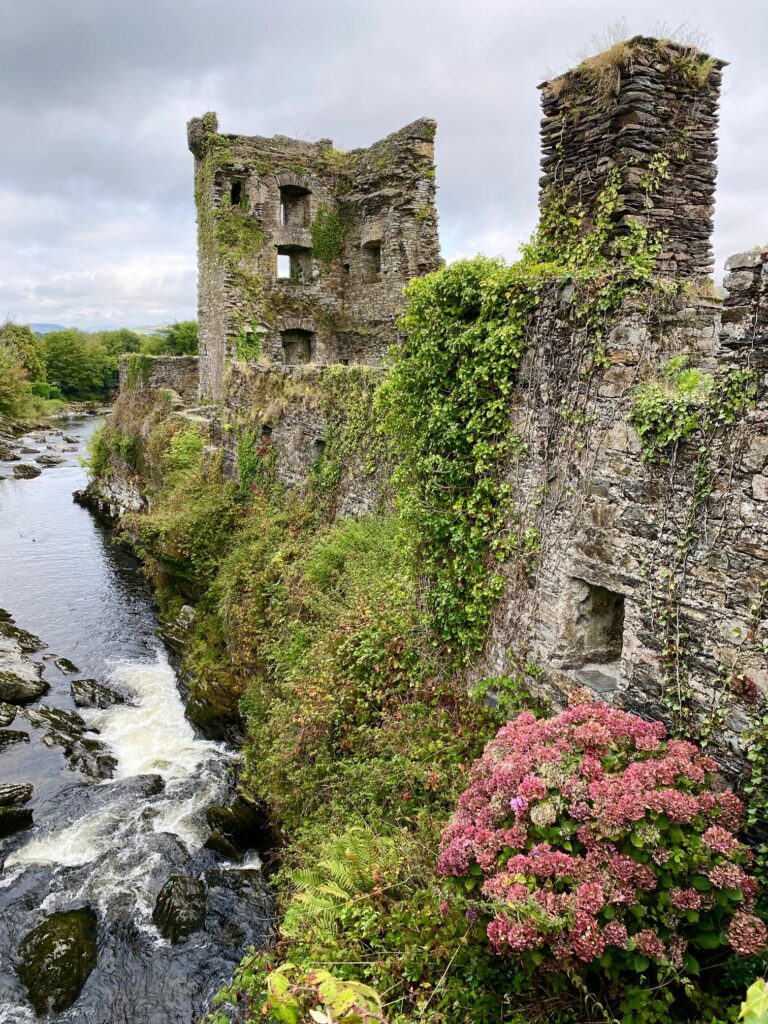 Next up was the Bantry House & Garden which is a lovely preserved property turned into a museum with all of the original interiors. The interior as well as exterior grounds were especially beautiful. There was a little cafe, where we grabbed a hot tea and scone while we enjoyed views of the house garden.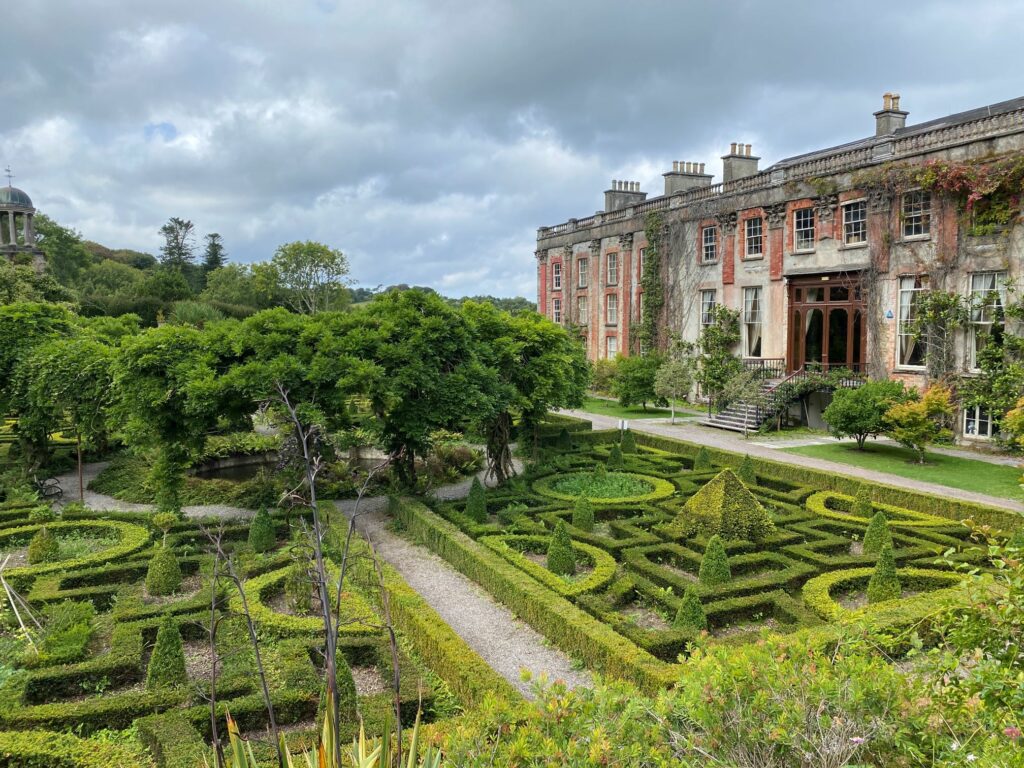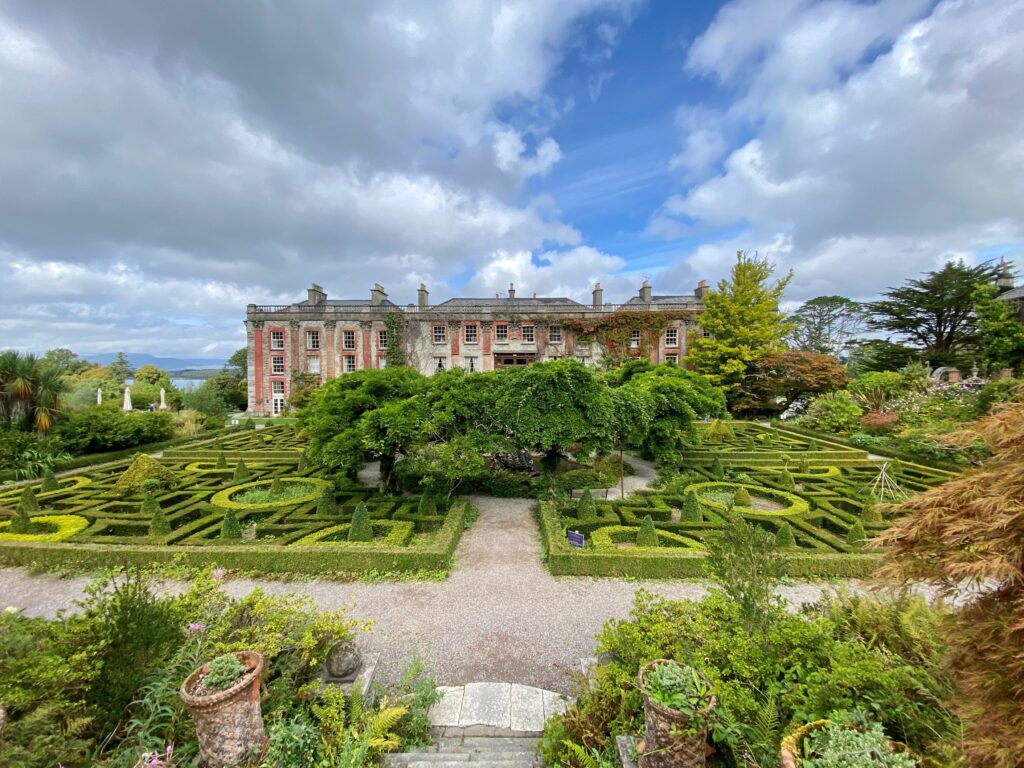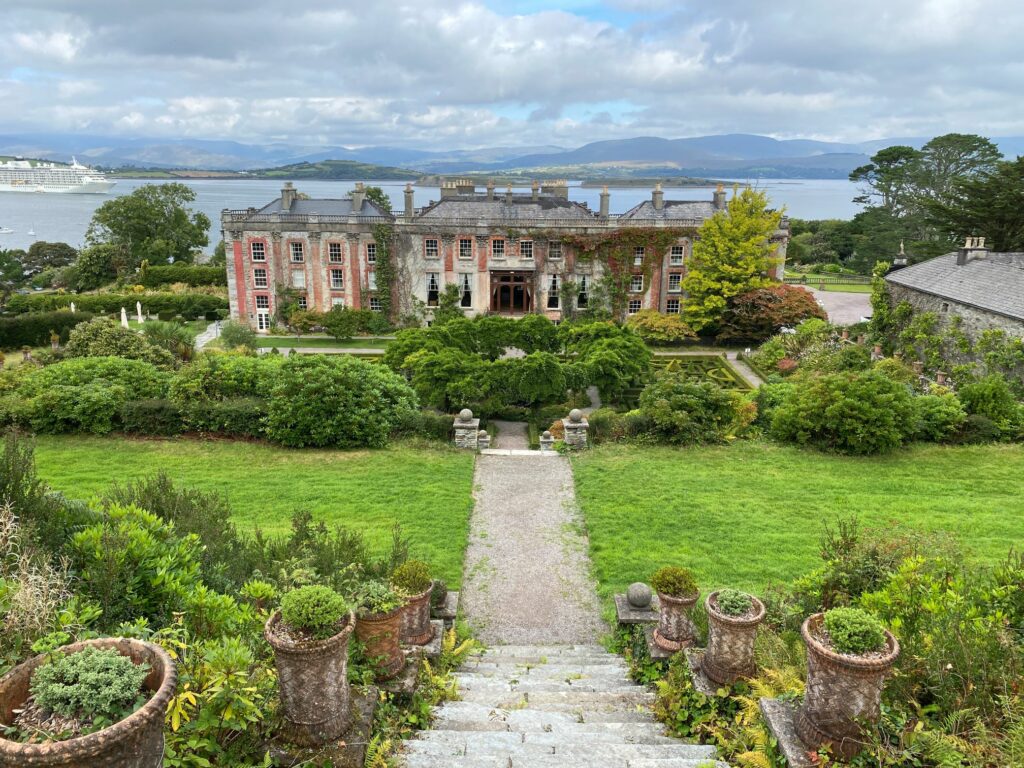 TRAVEL REVIEW: The Bantry House and Garden

 Must Do!
We stopped in Glengarriff for lunch, where my cousin and I found what looked like a popup food vendor market – we opted for a simple toastie sandwich.
After lunch, our group took a boat ride to Garnish Island to see another beautiful garden (some of our group opted to stay back in Glengarriff for shopping). Those of us who went to the island saw several seals and a rare sighting of Ireland's white tailed sea eagle. The gardens of Garnish Island were extremely tranquil and whimsical.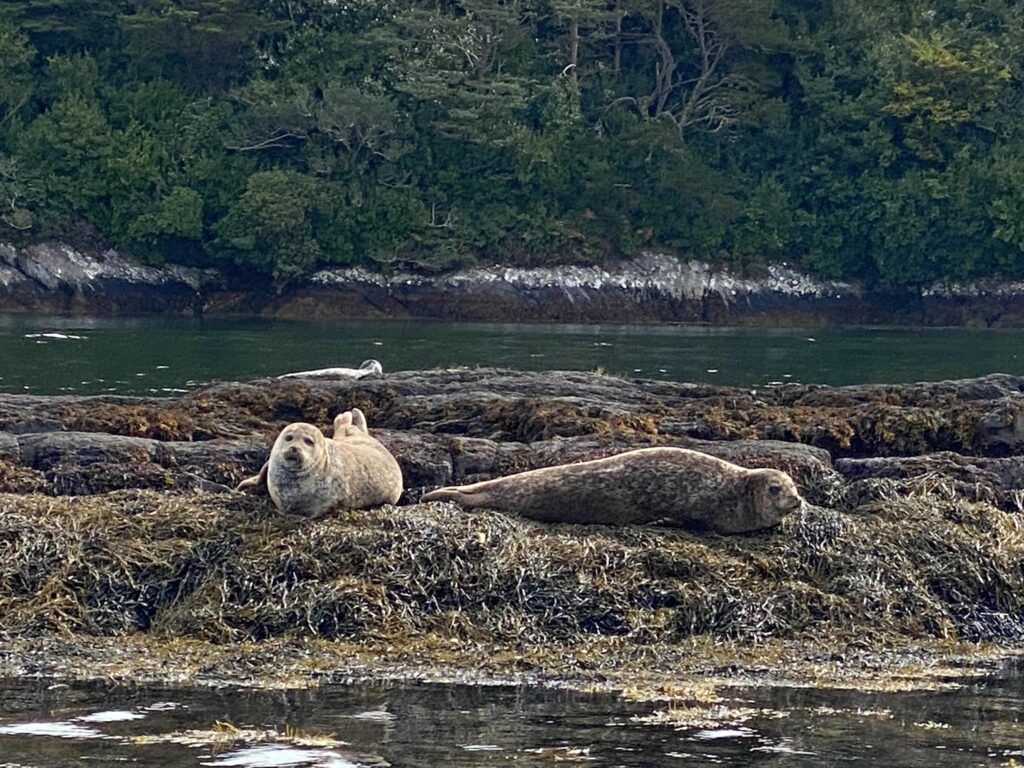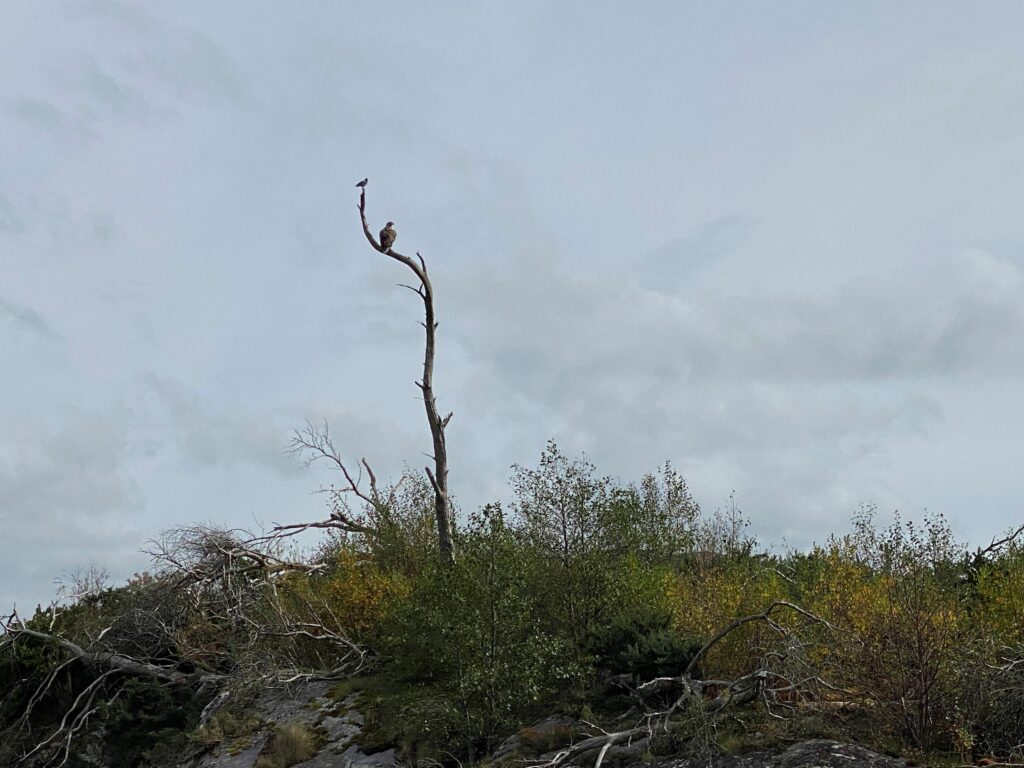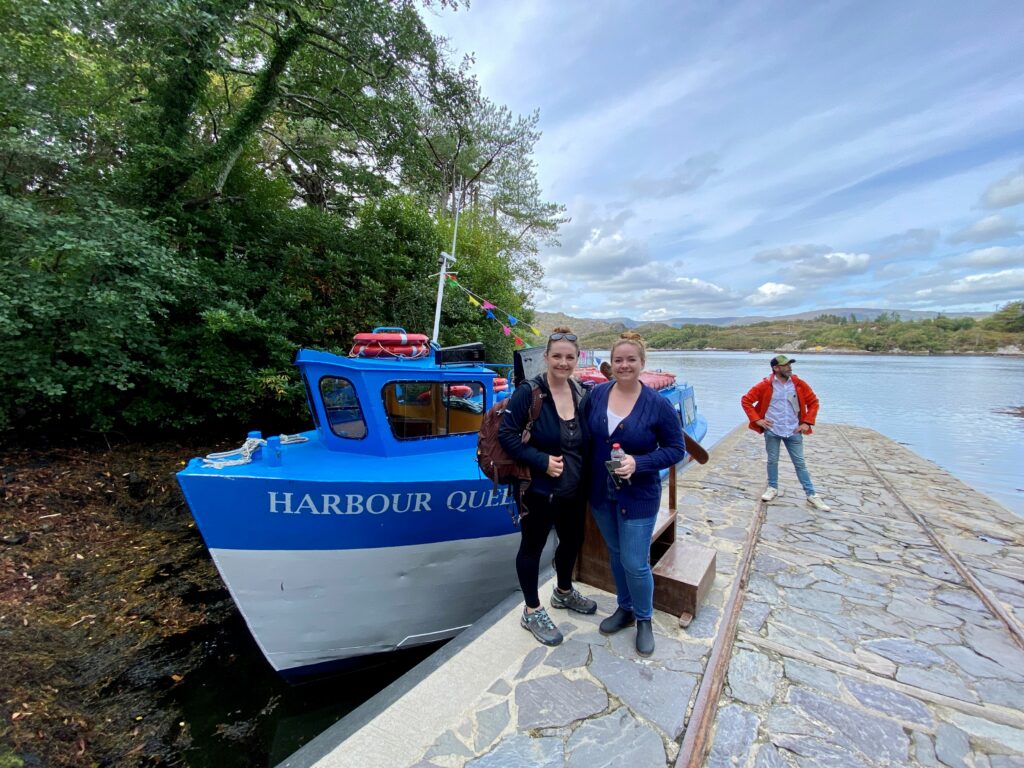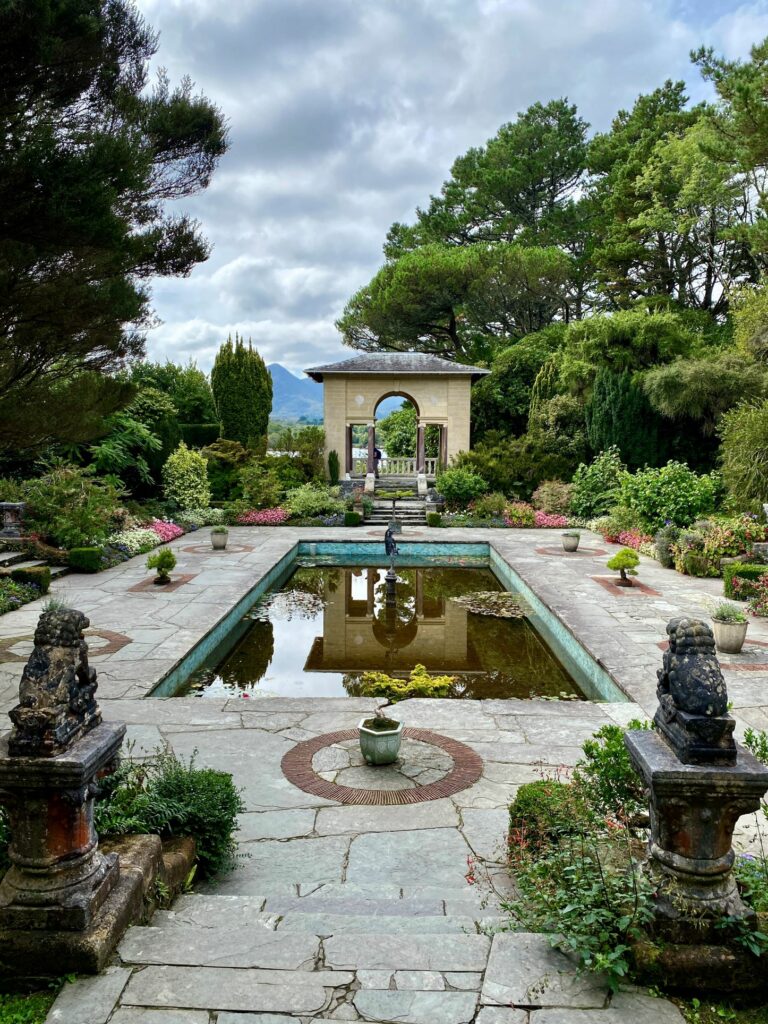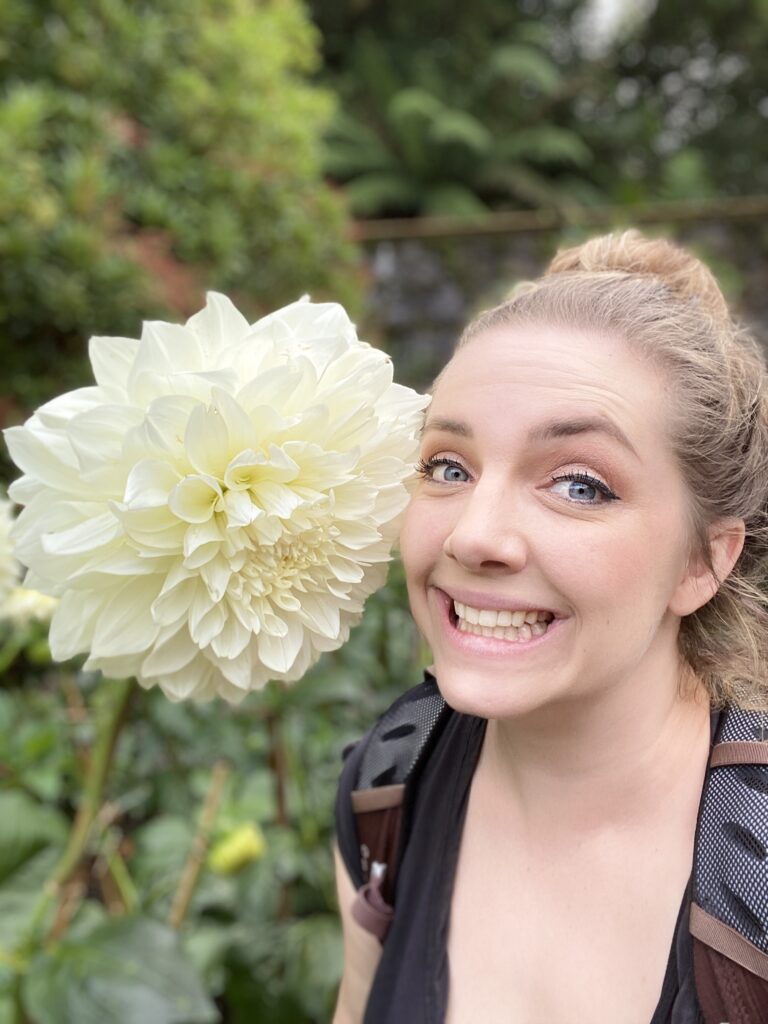 TRAVEL REVIEW: Garnish Island


Only if you have time
Back at the hotel, Kellie and I ended our day rowing a boat around the lake by our hotel and exploring St. Finbarr's Oratory – an incredibly beautiful, tiny church that rests in the middle of a small island on the lake. The inside of the church is magnificent, but we found ourselves exploring the exterior.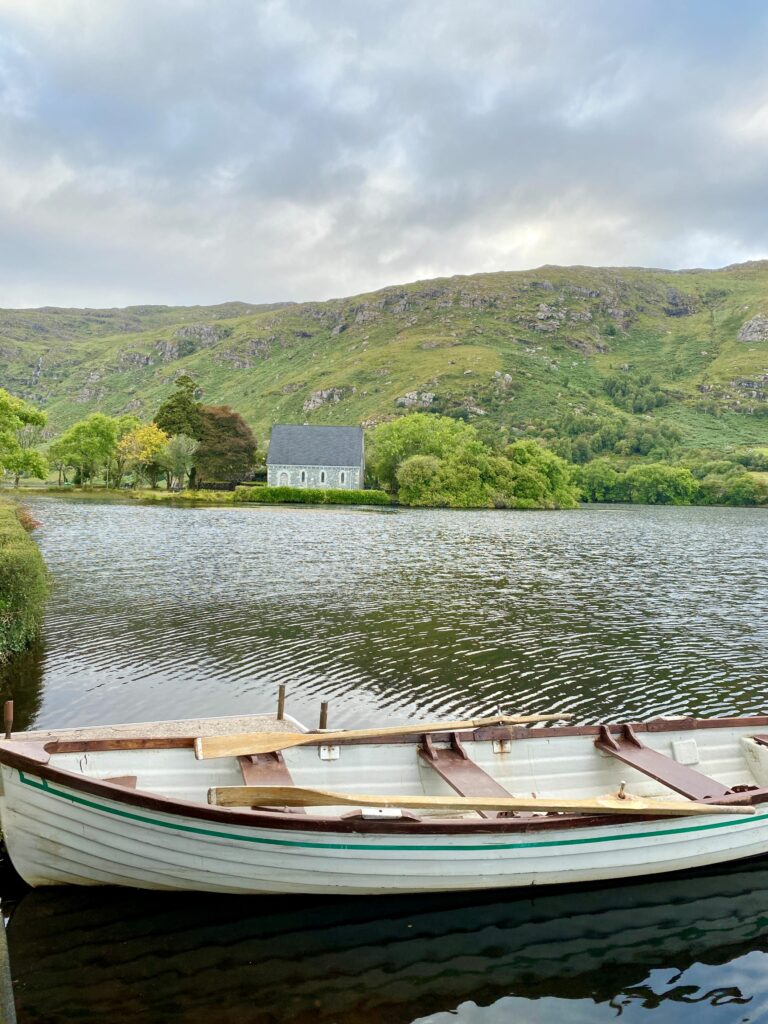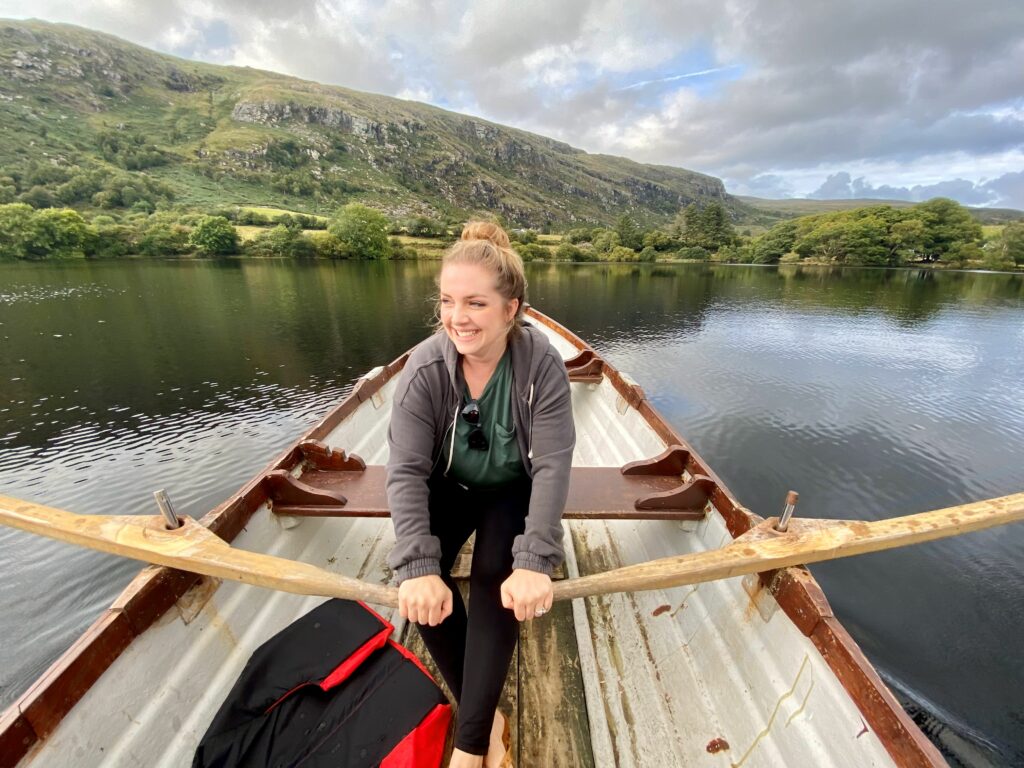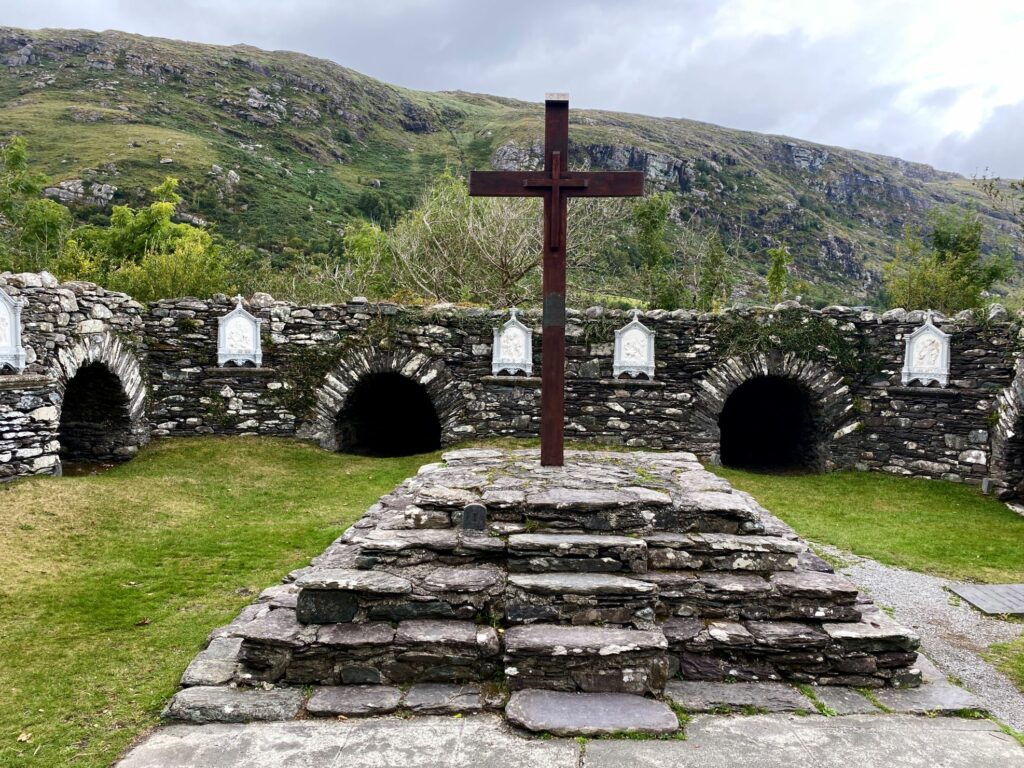 We enjoyed another lovely dinner with some Dingle Donkeys (ginger ale and vodka) at the Gougane Barra Hotel.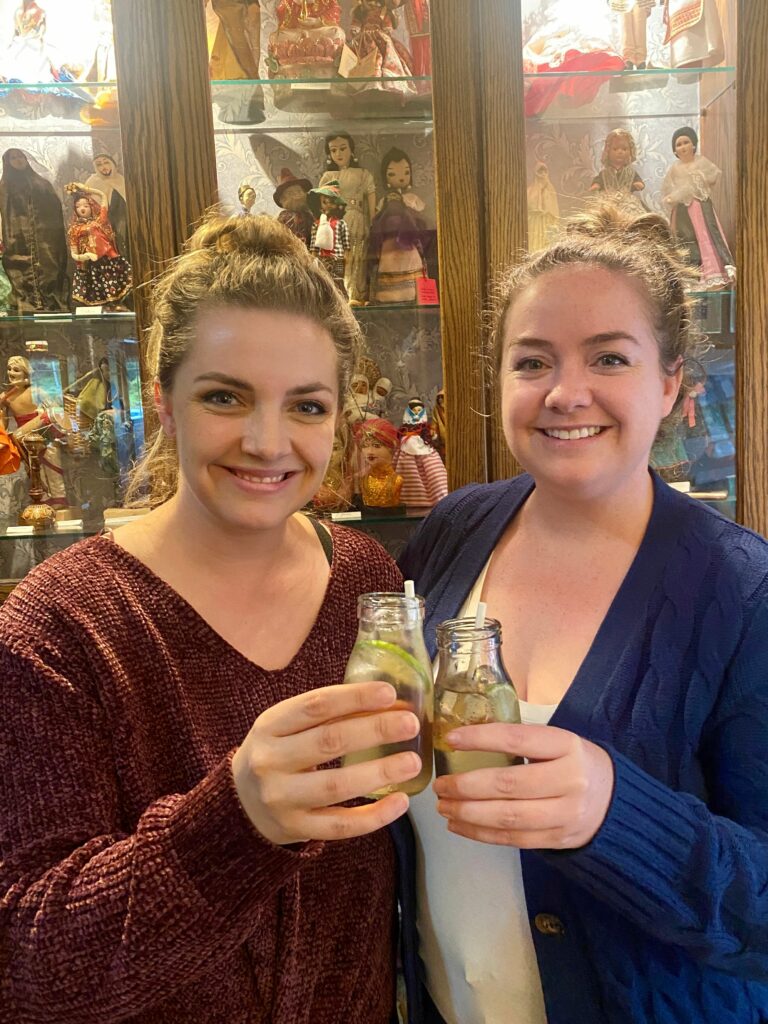 DAY 9: The Gift of Gab
Today was our last full day in Ireland and we woke up to some rainy weather. We were informed that we'd be laving behind two older women from our tour group, as they both were feeling ill and tested positive for COVID. A number of others in our group showed some signs of illness and we had wondered if they had also taken a COVID test or not. Luckily it was our last day.
Our first stop was the Blarney Castle where Kellie and I both kissed the Blarney Stone to get the gift of eloquence (gift of gab). Apparently this is Ireland's #1 tourist attraction (even more than the Cliffs of Moher) and there is usually a 60-90 minute line to walk up to the top of the castle tower to kiss the stone… we lucked out and there was a zero minute wait when we got there (maybe because of the gloomy weather?). In any case, this meant we had plenty of time to explore the rest of the castle grounds including the underground escape caves, poison garden, the witches wishing steps, and Druid cave.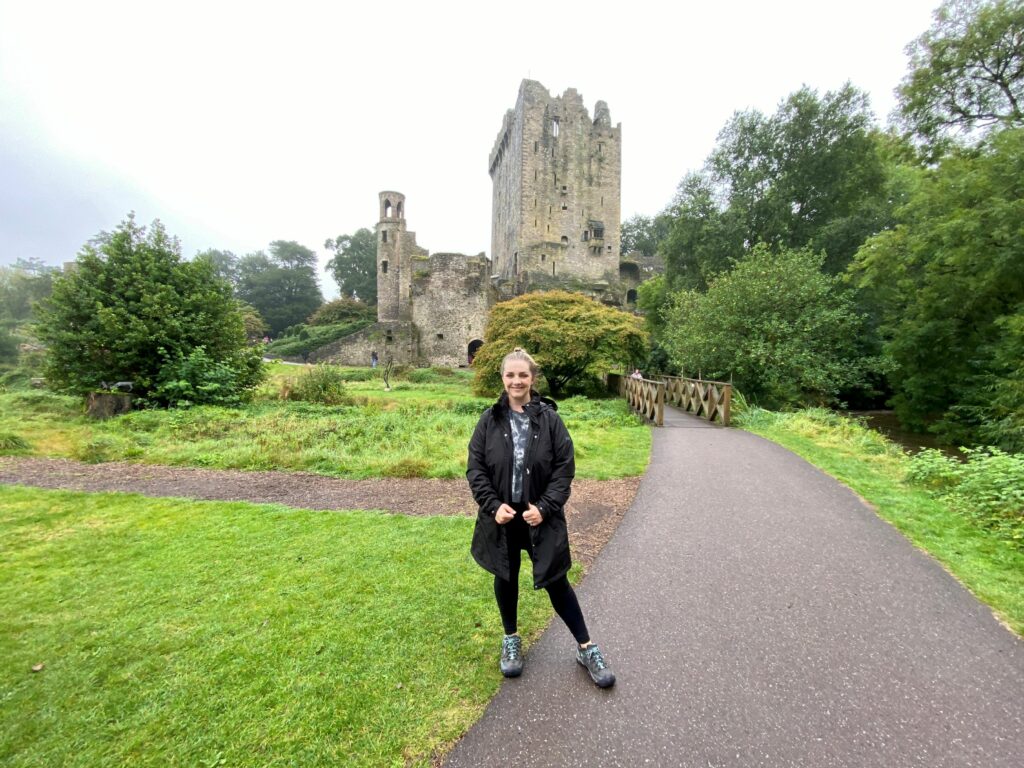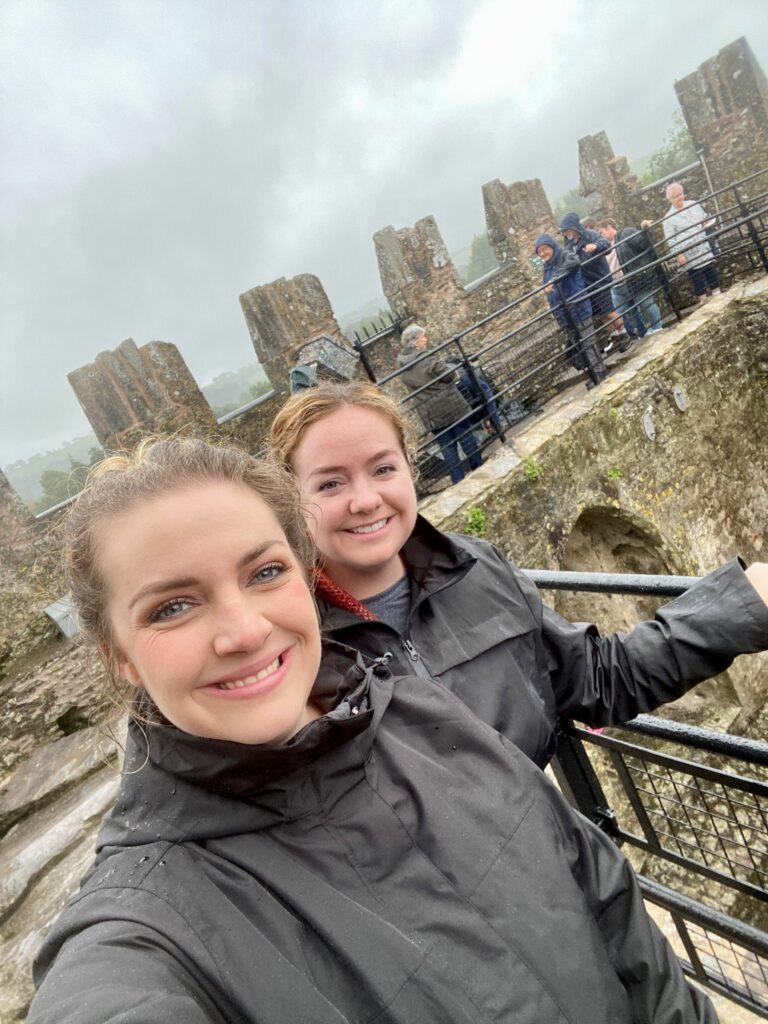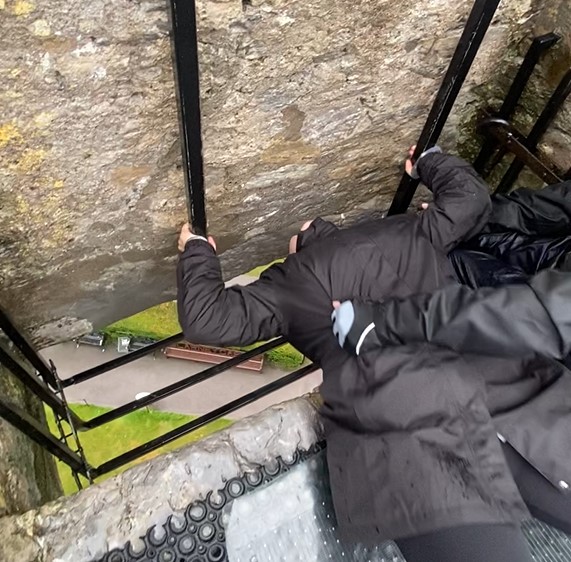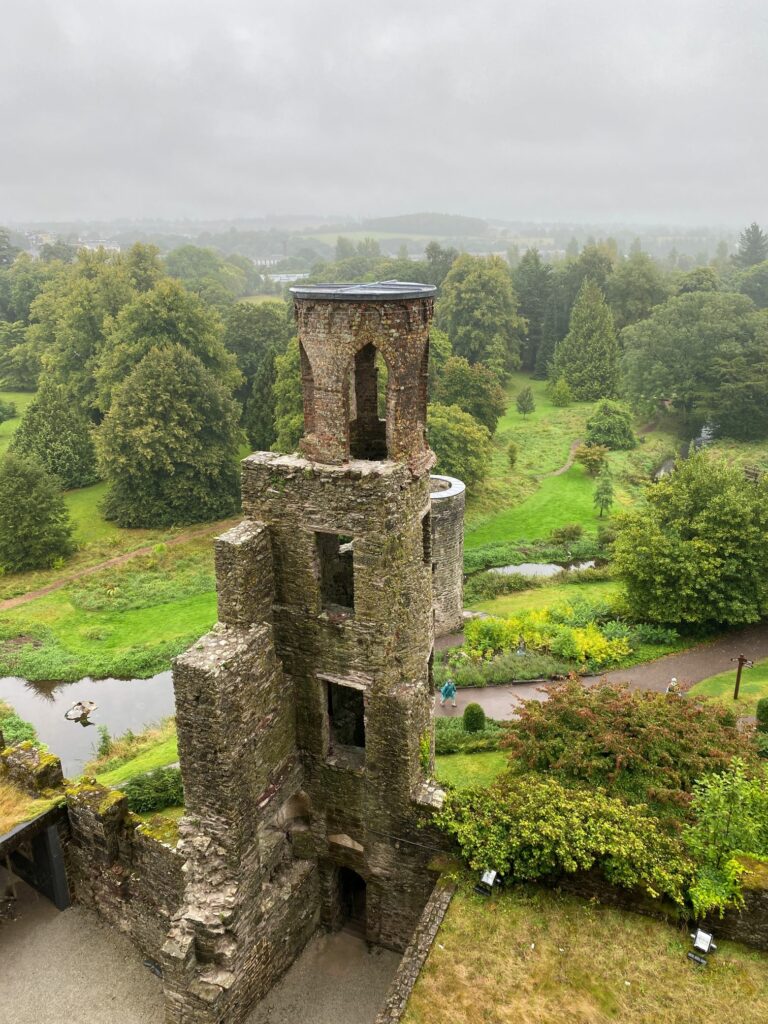 TRAVEL REVIEW: Blarney Castle

 Must Do!
We made our way back towards Dublin and stopped at the Rock of Cashel. Set on a dramatic hilltop, the Rock of Cashel, consists of the most impressive grouping of medieval buildings in Ireland. Among the monuments is a round tower, a high cross, a Romanesque chapel, a Gothic cathedral, an abbey, the Hall of the Vicars Choral and a fifteenth-century Tower House. Originally the seat of the kings of Munster, according to legend St. Patrick himself came here to convert King Aenghus to Christianity. Brian Boru was crowned High King at Cashel in 978 and made it his capital.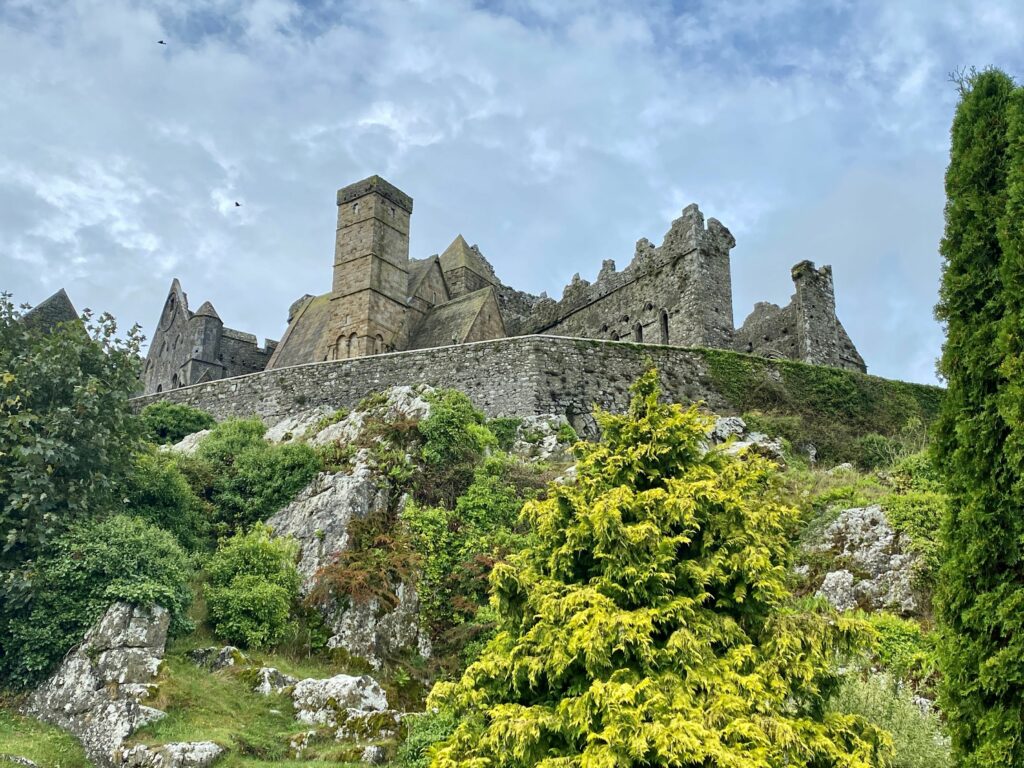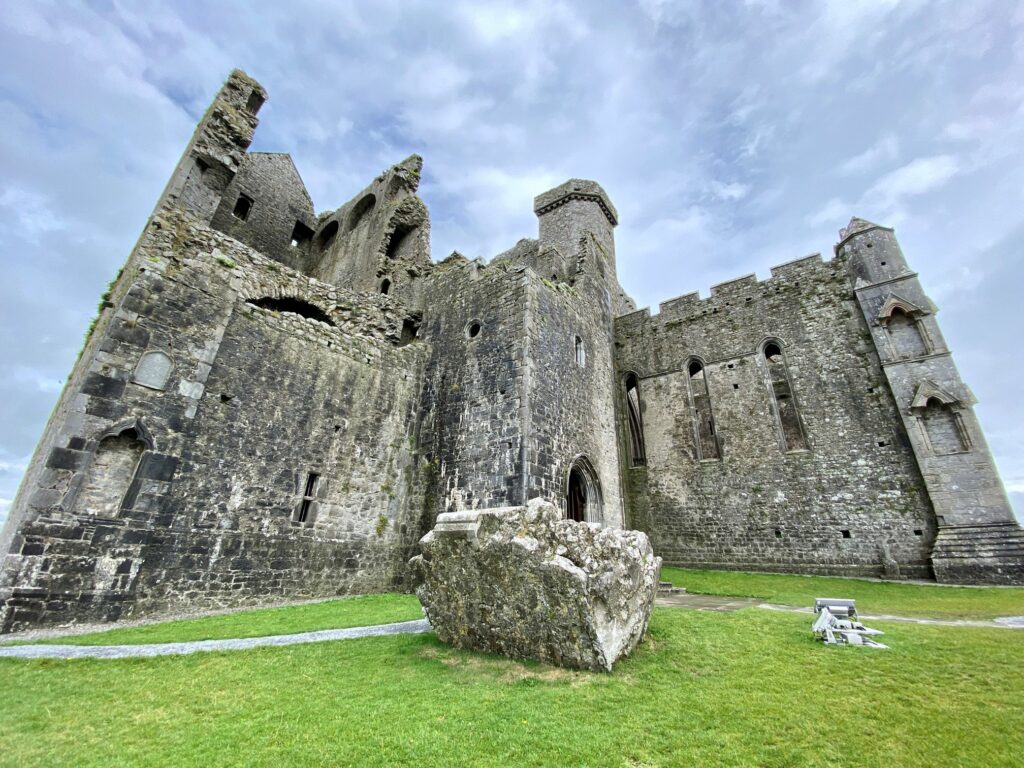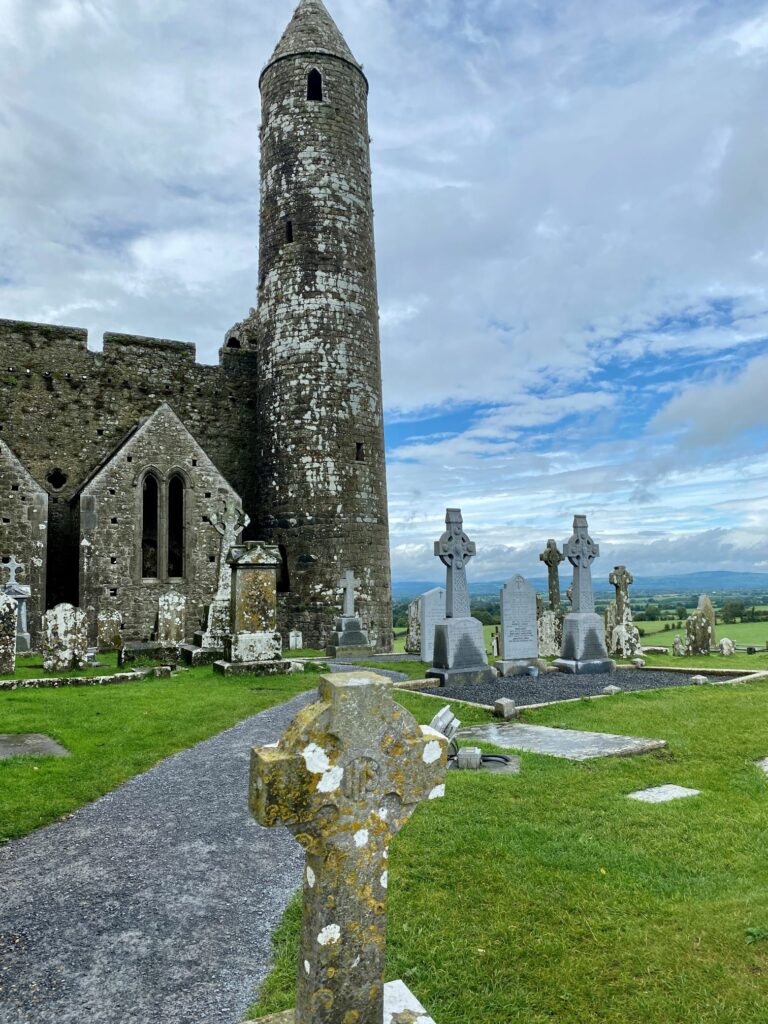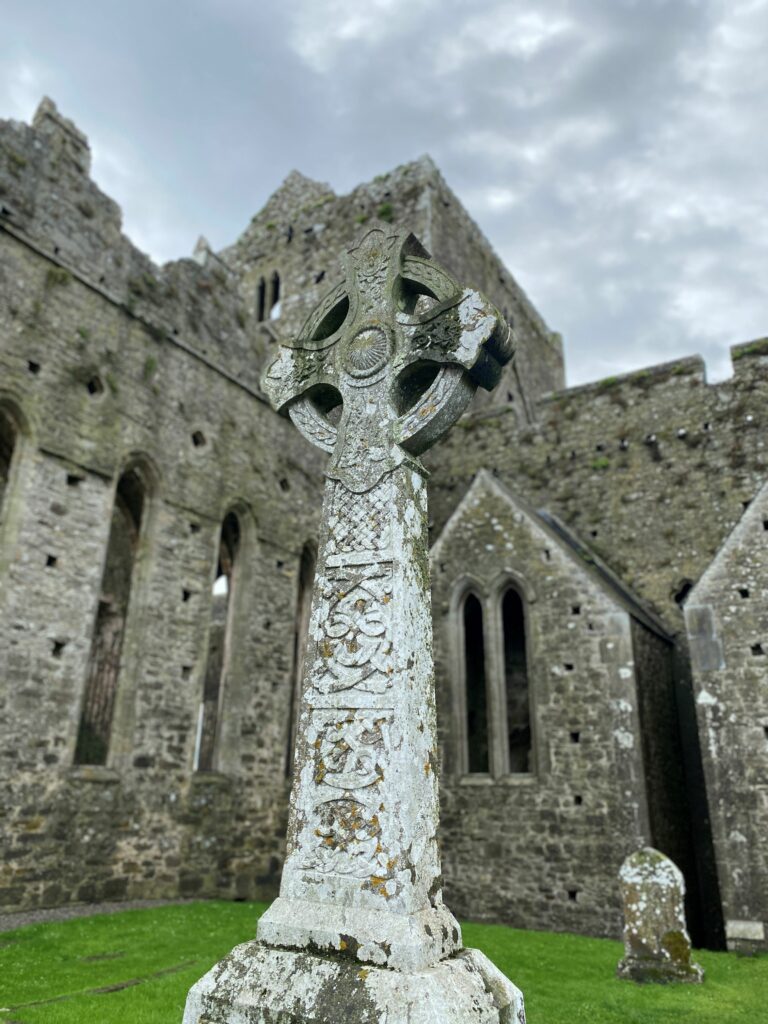 TRAVEL REVIEW: Rock of Cashel

 Must Do!
We arrived to Dublin late in the afternoon, and checked into a hotel for the evening. Our flight home was the next morning. It just so happened that Kellie's mom, dad, and brother (my aunt, uncle and cousin) were also planning a trip to Ireland and had just arrived in Dublin earlier that day. We met up with them in the Temple Bar District for dinner, drinks, and live music for our last night.