DAY 1: Capsule Hotel
We arrived at the Kyoto station around 6pm and waved down a taxi to take us to our hotel. We relied heavily on taxis while we were in Kyoto and it was very convenient and not too expensive (except for our taxi ride to Arashiyama). I handed our driver, who was wearing a suit and white gloves, a map that I had printed out of our hotel. We were headed to 9 Hours Kyoto Capsule. I had read about capsule hotels and it seemed so interesting and foreign to me that I wanted to try it for one night. I figured since we were getting into Kyoto late, that our first night in Kyoto would be the best option to try a capsule hotel.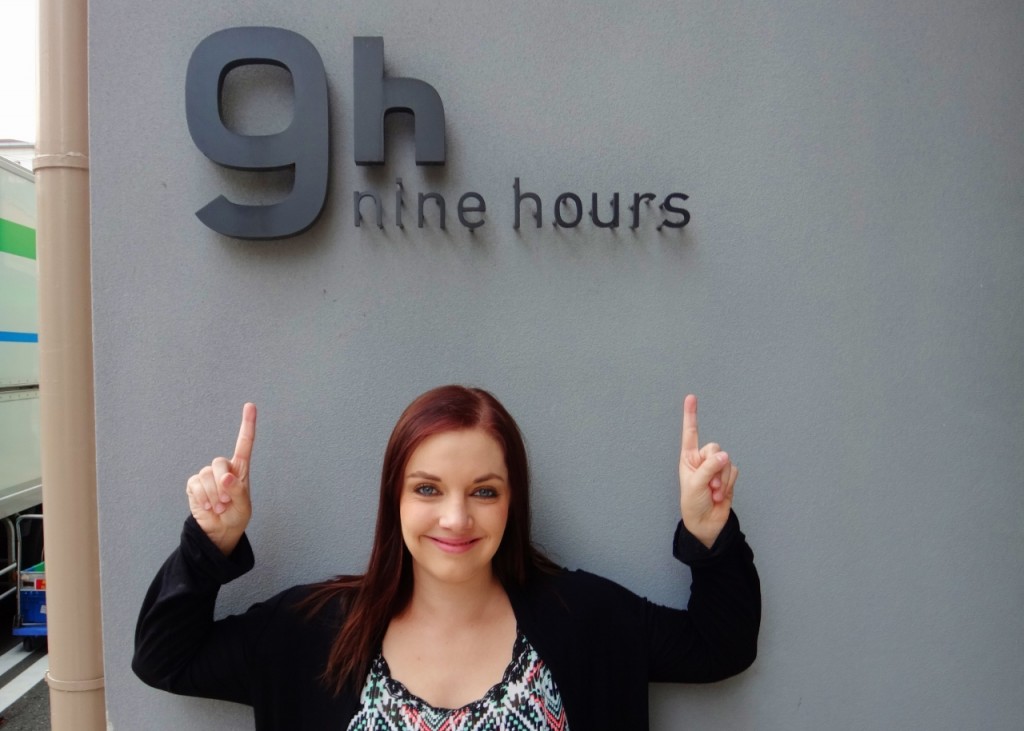 Our taxi driver dropped us off at the front of 9 Hours Kyoto. We walked into a very futuristic looking space that was decorated in all white. We were each given a pod number, a shoe locker key, storage locker key, and 9h slippers. We took our shoes off, storing them in the first floor shoe lockers, and slipped on our slippers. Large luggage was also stored in a designated area on the first floor, so we grabbed just a few items (change of clothes, toiletries, and electronics) and headed up to check out our pods. Males and females are separated on different floors of the hotel, with women being on floors 2-4 and men on floors 5-7. There were also separate elevators for men and women that went to the gender specific floors. Brian and I agreed to meet back in the lobby in 1 hour. We went our separate ways – I got on the female elevator and he got on the male elevator.
My first stop was the locker room on floor 2 which was very clean and sleek. I found my locker which had a sleeping gown and toothbrush and toothpaste inside. I left those there for now and dropped off some of my things. The locker room had bathrooms, sinks, and showers too. Next, I took the elevator up to floor 3 to look for my pod. This floor was also very futuristic and just like the photos of 9h online. There were rows of little pods about 25 wide and stacked 2 tall. My pod was at the very end of the line and on the bottom row. I crawled in and to my surprise, my pod was a little bigger than I was expecting it to be (I had imagined something like a coffin!). The pod was about 4 feet wide, by 4 feet tall, by 9 feet long. It included a couple of usb charging ports and an ambient sleep system, which helps to gradually wake you up. I was very pleased with the cleanliness of the pod and how new it seemed.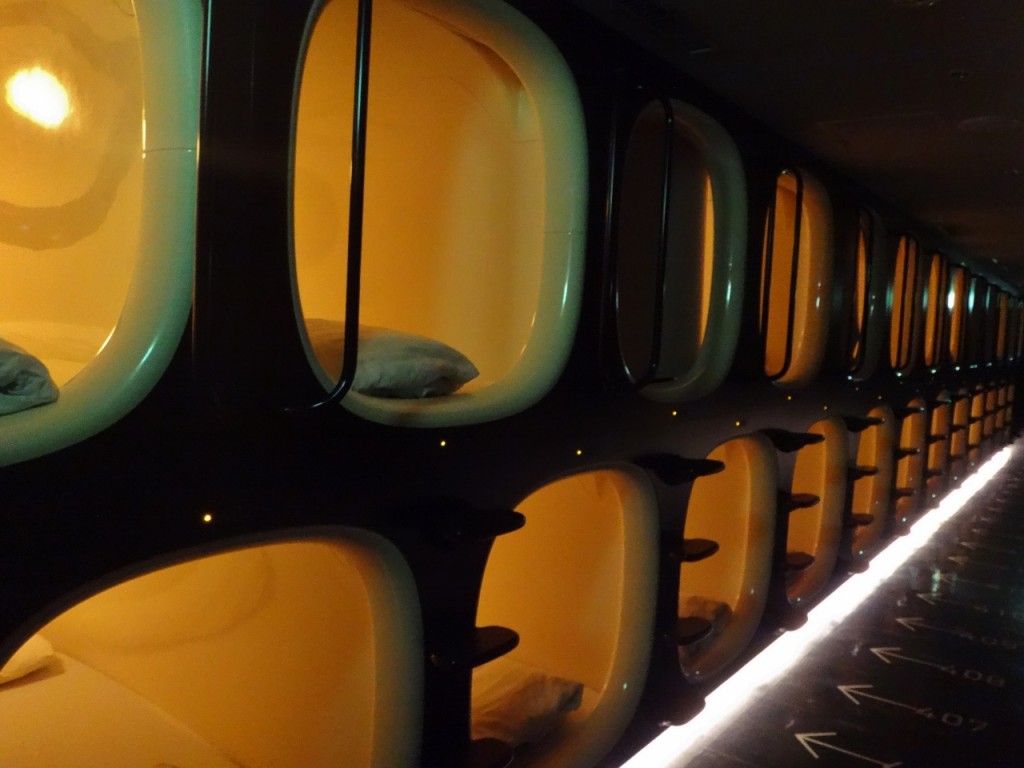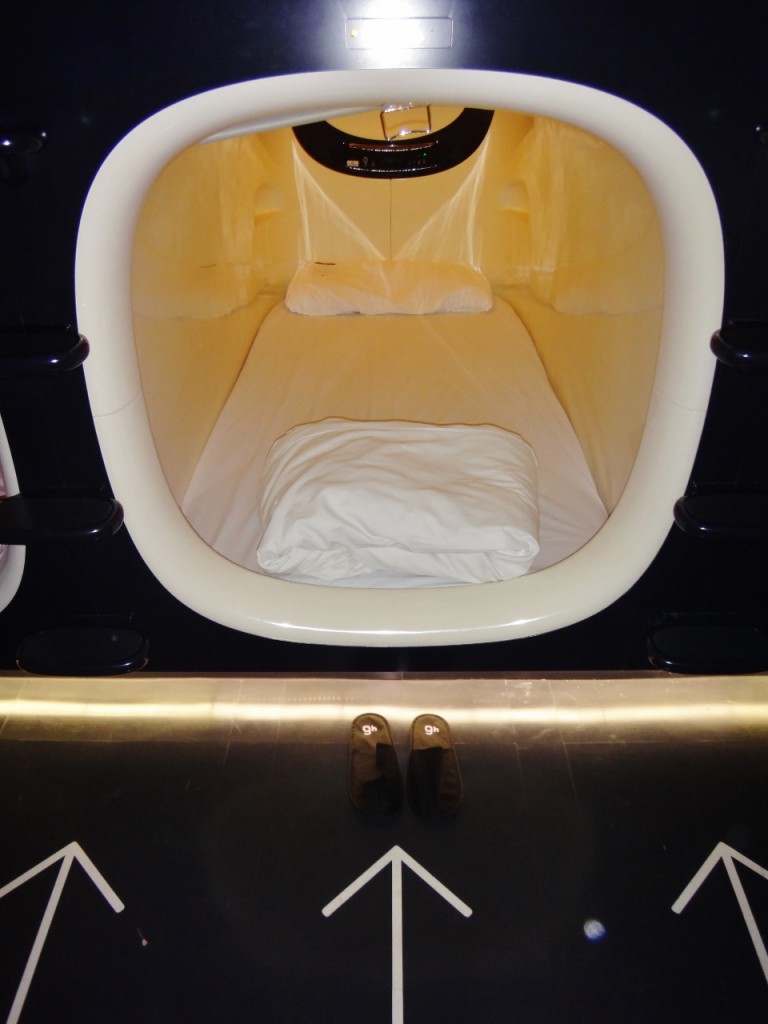 We were starving, only having eaten snacks on the bullet train for lunch. 9h was really well located to a main shopping street with tons of restaurants. I was starting to come down with a cold and was in the mood for some comfort food so we google mapped the closest ramen restaurant. We found one just a few minutes away – there was one couple on a waiting list in front of us, so we were handed a wooden paddle with the number 2 on it and asked to wait outside (it was a rather tiny restaurant). We ended up waiting about 30 minutes before being called in, and by then there were at least 10 other groups waiting behind us (we definitely got there at the right time!). We sat up at the counter and each ordered a bowl of ramen and shared an order of dumplings. It was fun to sit at the counter and watch the action of the kitchen. The ramen here was not as good as our first bowl of ramen in Akihabara, Tokyo – but it was still delicious and exactly what I needed.
We walked around the shopping streets for a little bit, but most stores were starting to close up at this time. We were both pretty tired from traveling all day so we decided to head back to 9h and call it a night.
Because we were sleeping separately that evening and wifi didn't work great in the pods, we had to come up with a plan to meet the next morning. We agreed on a time and made our way to our separate pods. The pods were by no means sound proof – they only had a curtain to pull down for privacy. Luckily I had ear plugs which really helped. The "mattress" (it was really just a foam pad) was not the most comfortable and the pillow was very thin. It wasn't the best night's sleep but I did get some rest and it was such a fun experience. For a more detailed look, here's a quick (less than 60 seconds) video walk through of the pod hotel.
TRAVEL REVIEW: Capsule Hotel

Only if you have time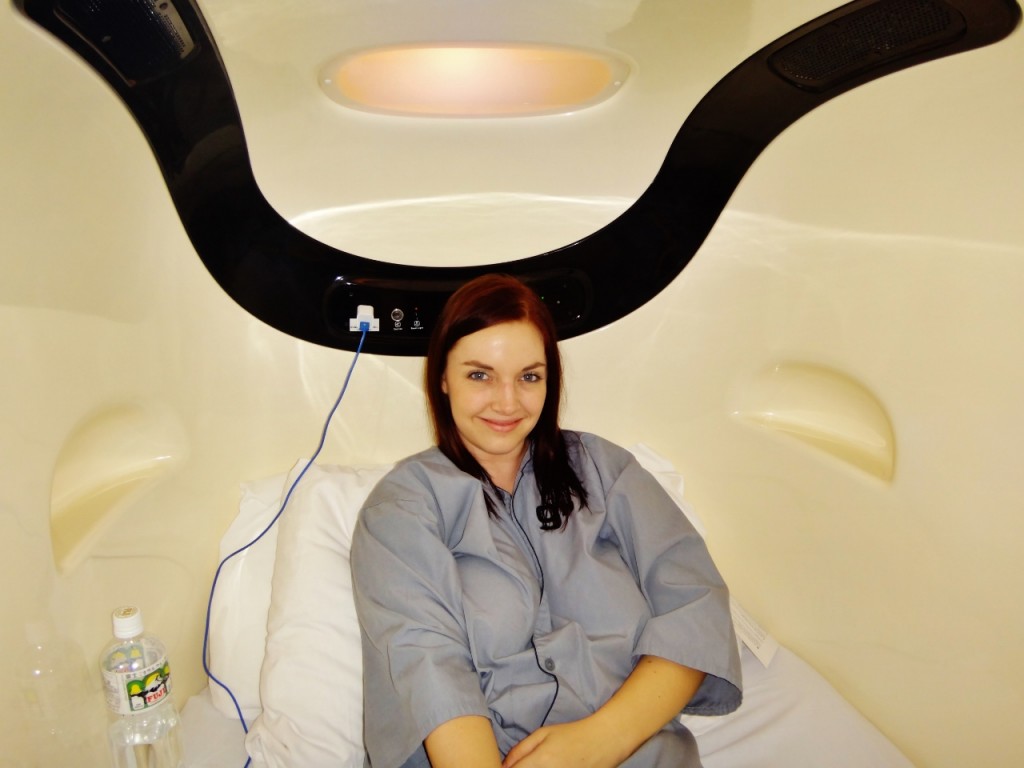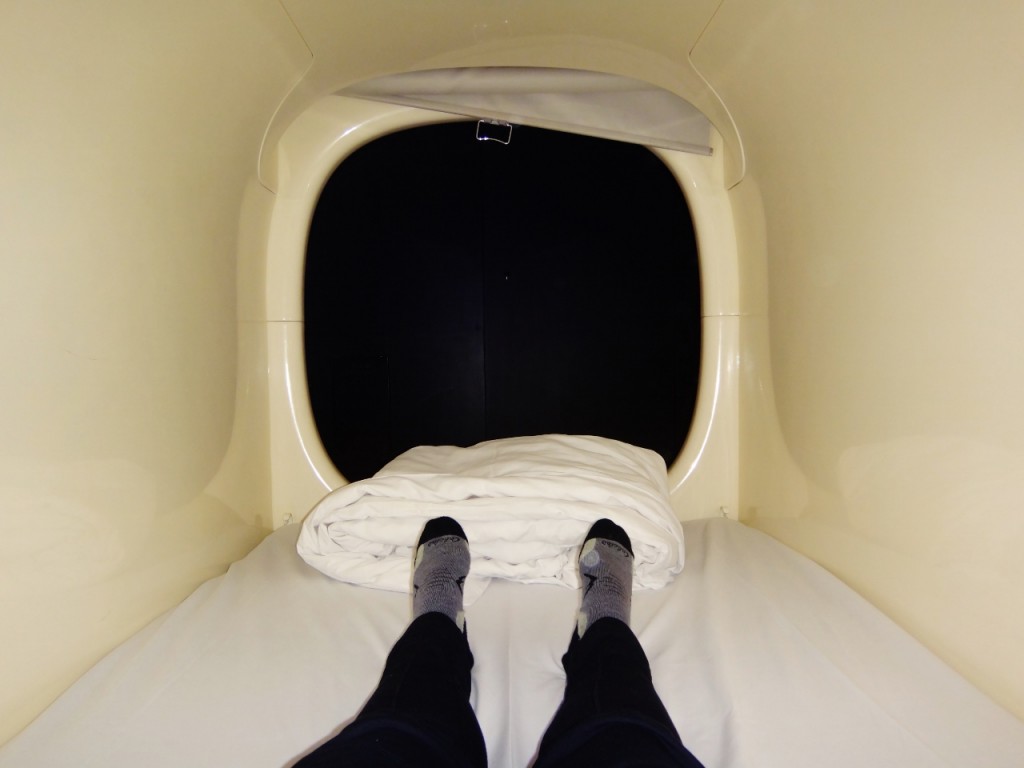 DAY 2: Temples, Kimonos, Green Tea Ice Cream, Fall Colors, and Japanese BBQ
In the morning, I met up with Brian in the lobby and asked how he liked the pod experience – he hated it! He mentioned that he was also on the bottom pod and the person in the pod above him got in and out of his pod at least every hour throughout the night, making it impossible to fall asleep (Brian didn't have ear plugs with him). When I asked if he was at least glad to have experienced a pod hotel he said he would have rather not had the experience at all. I on the other had really enjoyed it, but would not want to stay longer than 1 night.
After a very interesting night at the 9 Hours Kyoto capsule hotel, we were excited to be checking into TripAdvisor's #1 rated hotel in Kyoto, Hotel Mume. But we couldn't check in until 3pm, so our plan was to leave our luggage at the capsule hotel for the day and explore Southern Higashiyama.
When we stayed at hotels that did not offer breakfast, we found this meal to be the most difficult of the day. Maybe we weren't looking for breakfast restaurants hard enough, but even the bakeries that we saw did not open until at least 9am. We like to get started early and it was a challenge finding breakfast when it was not included at our hotel stay. Luckily, there was a FamilyMart just down the street from 9h – we found some packaged waffles and pancakes. Convenience store packaged pancakes and waffles was definitely a strange concept to us, but they were surprisingly very fresh and delicious. The pancakes even had a layer of butter and syrup perfectly spread between the short pancake stack. This breakfast was convenient and cheap, so we were happy!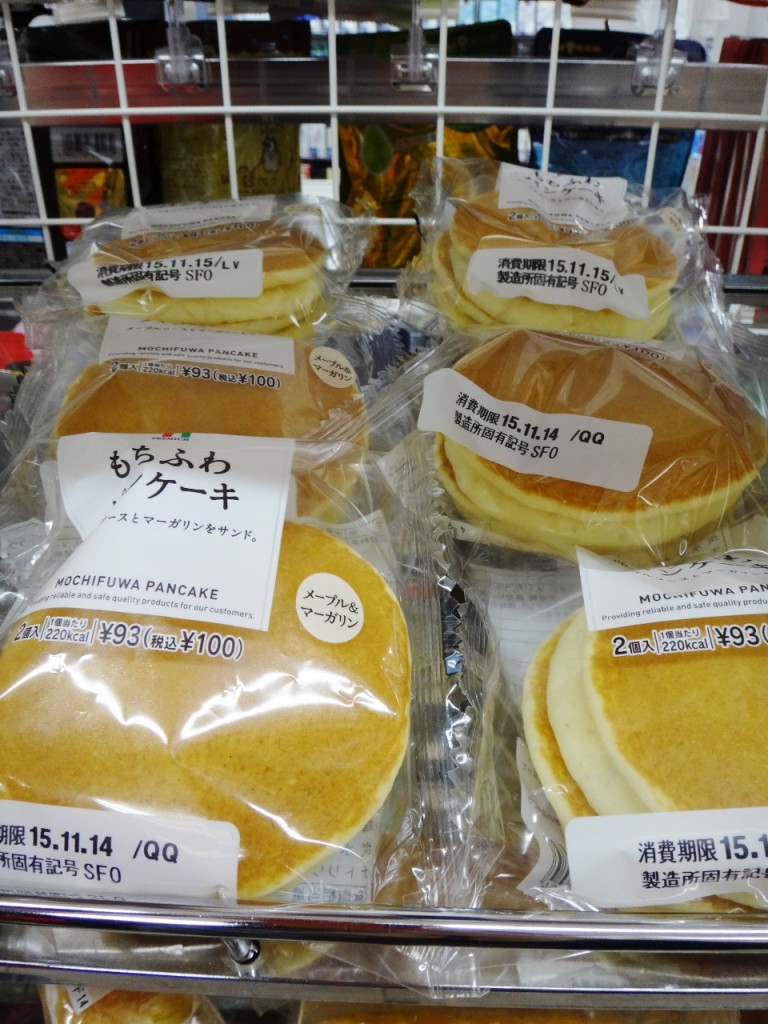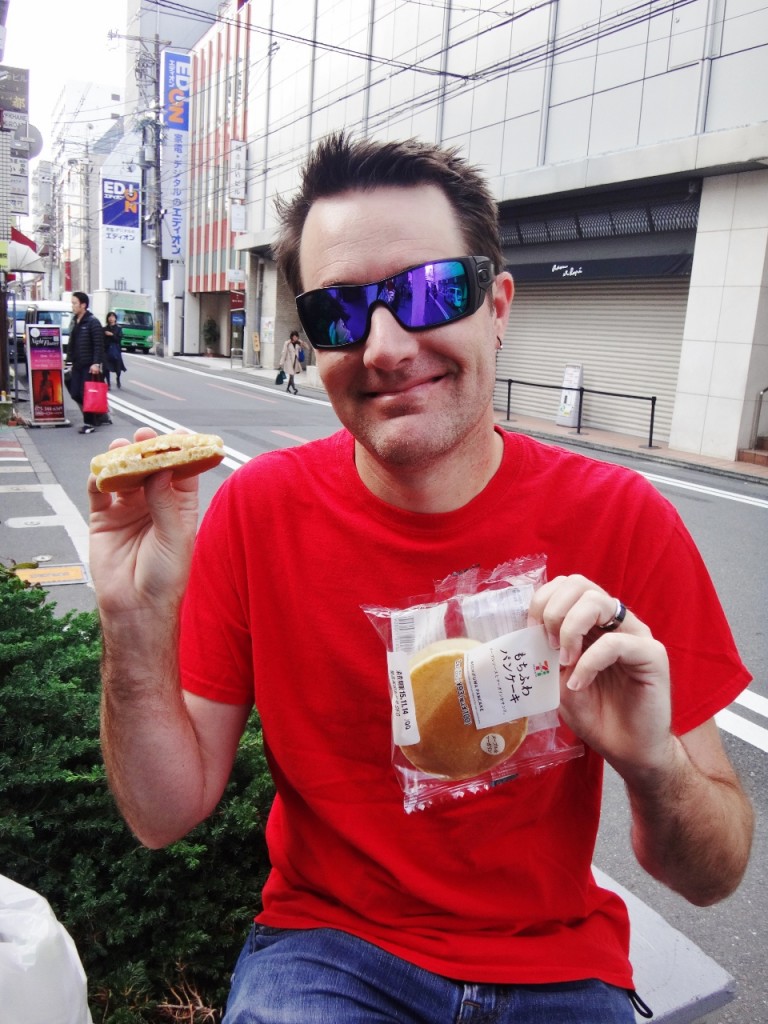 I had pre-planned our route for the day. We would take a taxi to Kiyomizu-dera Temple, then take a walk down the Ninen-zaka and Sannen-zaka preserved streets, stopping at Yasaka Shrine, before heading to the Nishiki Market and back to grab our luggage at 9h. I used google maps to plan the 2.5 mile route from Kiyomizu-dera back to 9h.
I forgot to mention this in previous posts, but now seems like a good time to talk about it – we pre-ordered a pocket wifi from eConnect Japan online before our trip. We knew that we were going to need wifi to use Goggle Maps while we were out and about during the day. We ordered the WiFi-To-Go 4G for 12 Days and it cost us about $70. It worked perfectly for our entire trip. We had the device shipped to our first hotel, Park Hotel Tokyo, and it was there waiting for us when we checked in. We had constant internet access for our entire trip, which was especially useful for train routes and walking routes (we used Google Maps solely and never had a problem). The battery lasted the whole day, even with an iPad and two iPhones constantly connected to it. I would highly recommend getting something like this – it was invaluable.
Our taxi driver dropped us off at the base of the shopping streets that lead up to Kiyomizu-dera Temple. It was about a quarter mile of uphill walking but the countless shops lining the street made it a pleasant walk. We decided to come back after the temple visit for souvenir shopping so we wouldn't have to carry any shopping bags around the temple with us.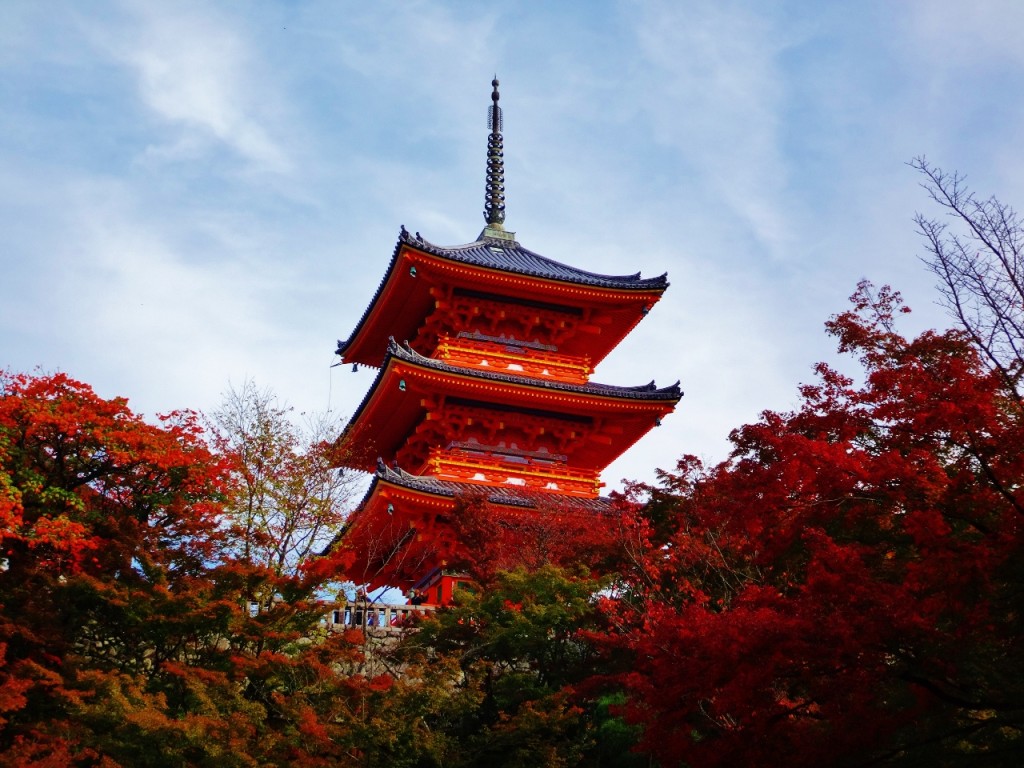 As we approached Kiyomizu-dera I noticed that it was definitely the largest temple we had seen yet. The multi-tiered, bright orange pagoda stood out beautifully against the blue sky and scenic mountain backdrop. The temple complex was very busy, even at 9am. We made our way up to the main hall and enjoyed the panoramic view of Kyoto city from the wooden stage. Although it was only mid-November, the wooded hills near the temple were already swimming in fall colors.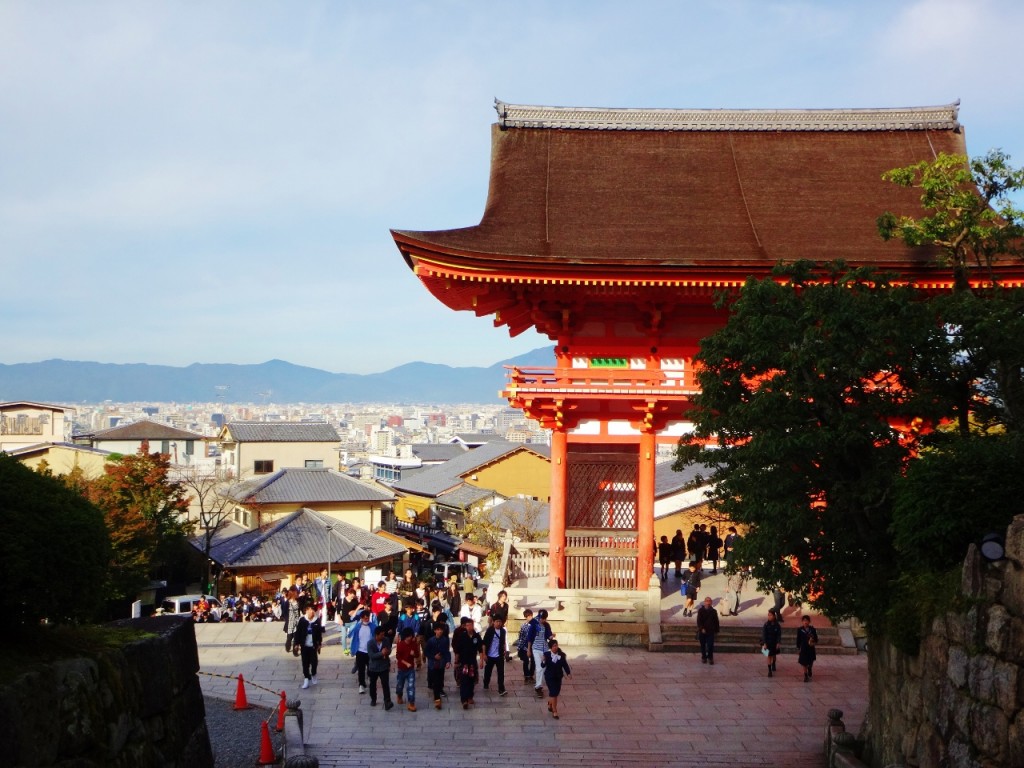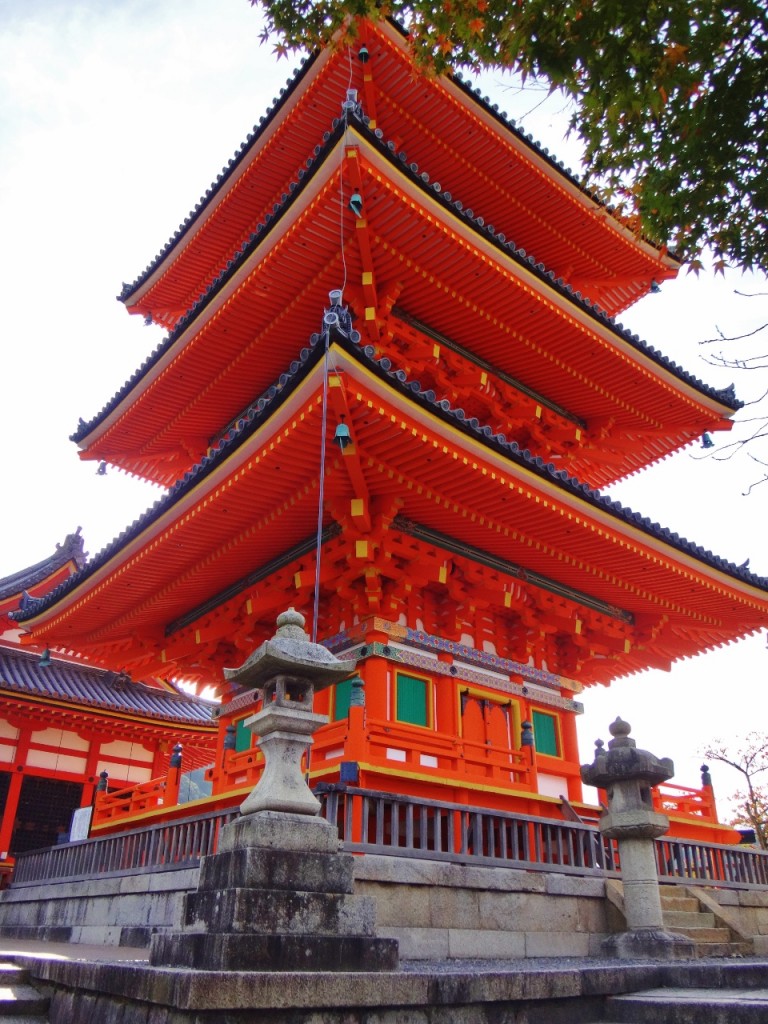 I had read about the Otowa waterfall, which runs through the temple grounds. The water is divided into three separate streams, each having a different benefit; longevity, success at school and a fortunate love life. Visitors use cups attached to long poles to drink from the streams, but drinking from all three is considered greedy. As we peered over the edge of the wooden stage, we could see the Otowa waterfall and it's three streams below. We headed down and got in line for the water drinking ritual. I love things with meaning and history and I was excited to partake in this custom. There were a lot of school children in line with us, waiting to take a sip from the famed waterfall. I realized that I had no idea which of the three streams was designated to "longevity", "success at school" and "fortunate love life." I really wanted to drink from the "love" stream and Brian wanted to drink from the "longevity" stream. I decided I would try and ask the students and I pointed to the waterfalls asking "long life?" – the children smiled and giggled and pointed in order from left to right (if you are facing the water fall) "long life, love, school." We repeated back to them as we pointed this time "long life, love, school?" – the children giggled some more and nodded yes. It was very fun participating as everyone around us was very excited to take a drink from the waterfall – this was one of my favorite temple experiences.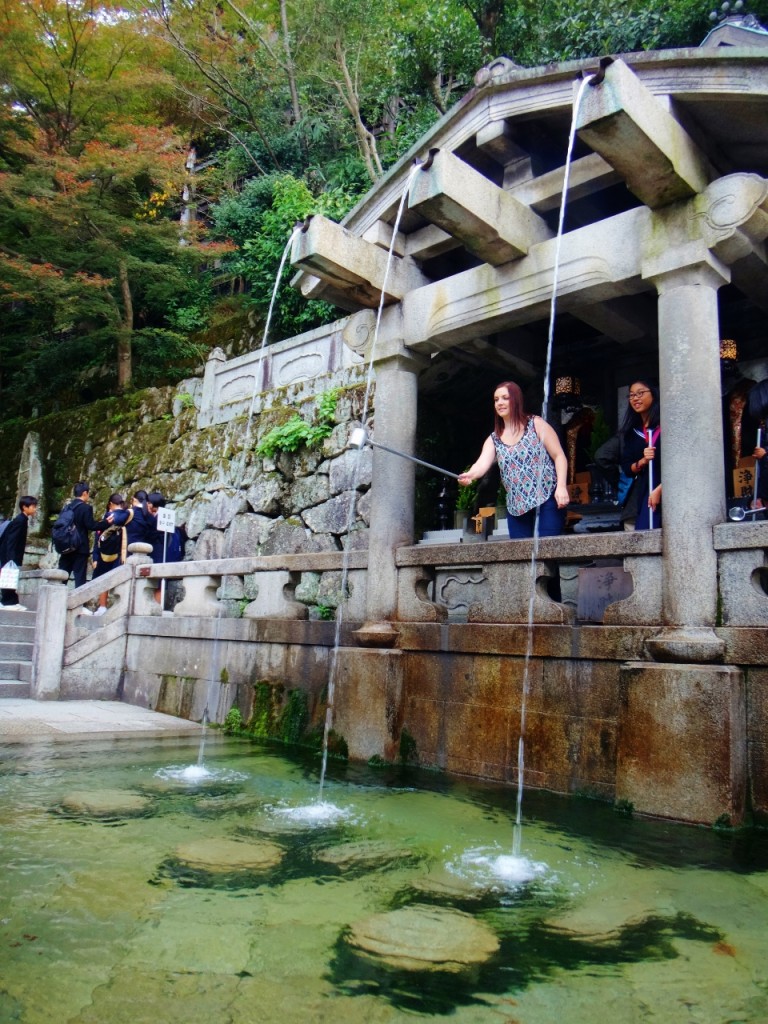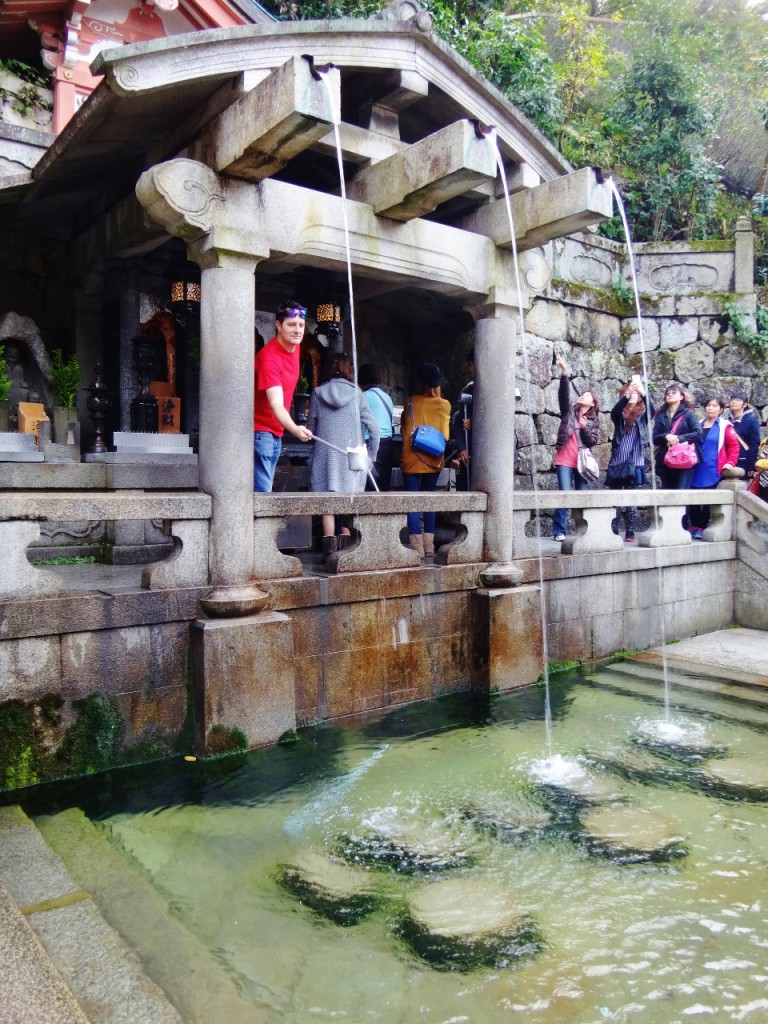 TRAVEL REVIEW: Kiyomizu-dera Temple

 Trip Highlight!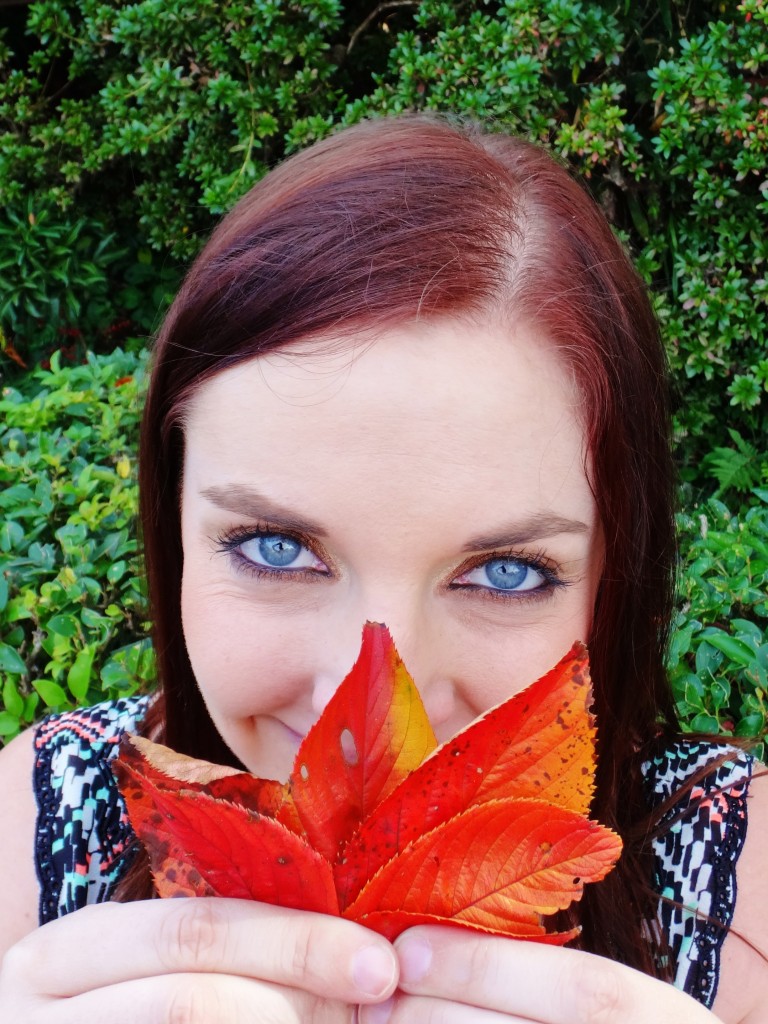 We spent some more time exploring the rest of the temple grounds and admiring the fall colors before making our way back down the shopping streets and the preserved streets. We bought a lot of souvenirs here including a sake set, a beautiful hand-painted Japanese fan, and a couple of daruma dolls. The streets were jam-packed and we were starting to get hungry, so we found a meat bun restaurant to escape the crowds. I had never tried a Japanese meat bun but it was very delicious and just the right size for a pre-lunch snack.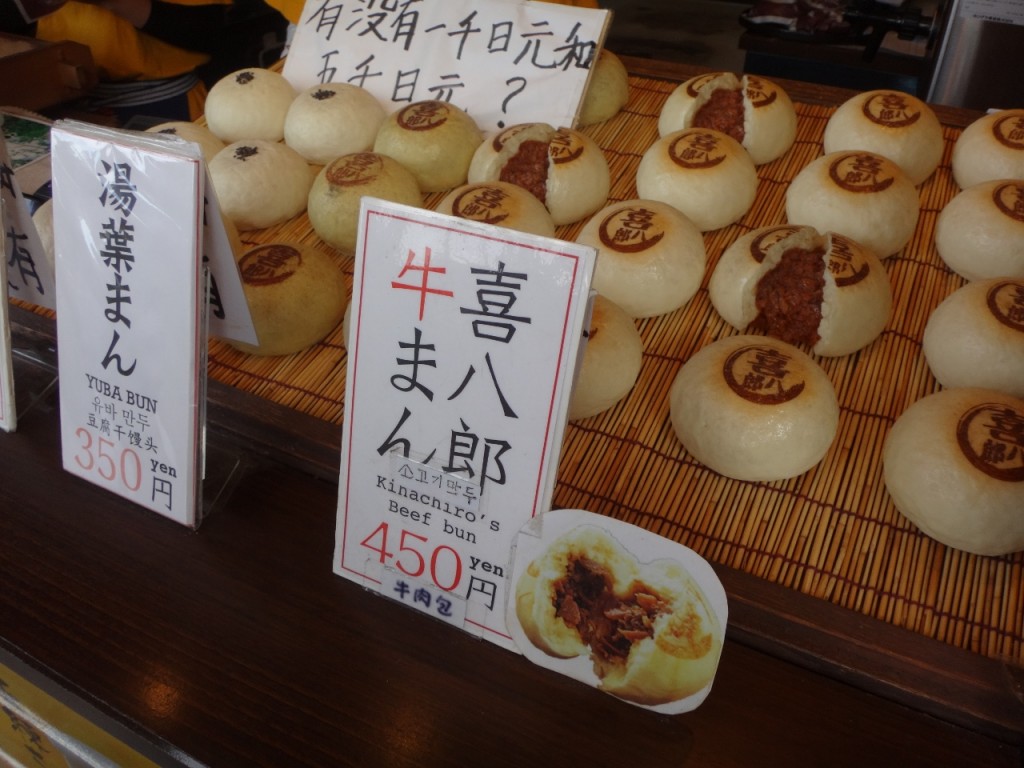 Once we rested our feet a bit and finished our meat buns, we Google Mapped directions to Yasaka Shrine. It was only about a 10-15 minute walk away. We only spent a few minutes at this shrine before noticing an adjoining park and decided to spend our time there instead of at the shrine. The park we visited was Maruyama Park and it was so charming. I had a preconceived notion that a park and garden were the same thing, but I quickly realized that they had a different purpose. Rikugien Garden that we visited in Tokyo had a specific walking path and viewing areas – more like a museum where you review and admire works of art. When we got to Maruyama Park I noticed that there were families relaxing on picnic blankets and children running about having fun. When I look back now, I don't know why I thought a park and a garden were the same thing – maybe it is because we don't have gardens where I am from.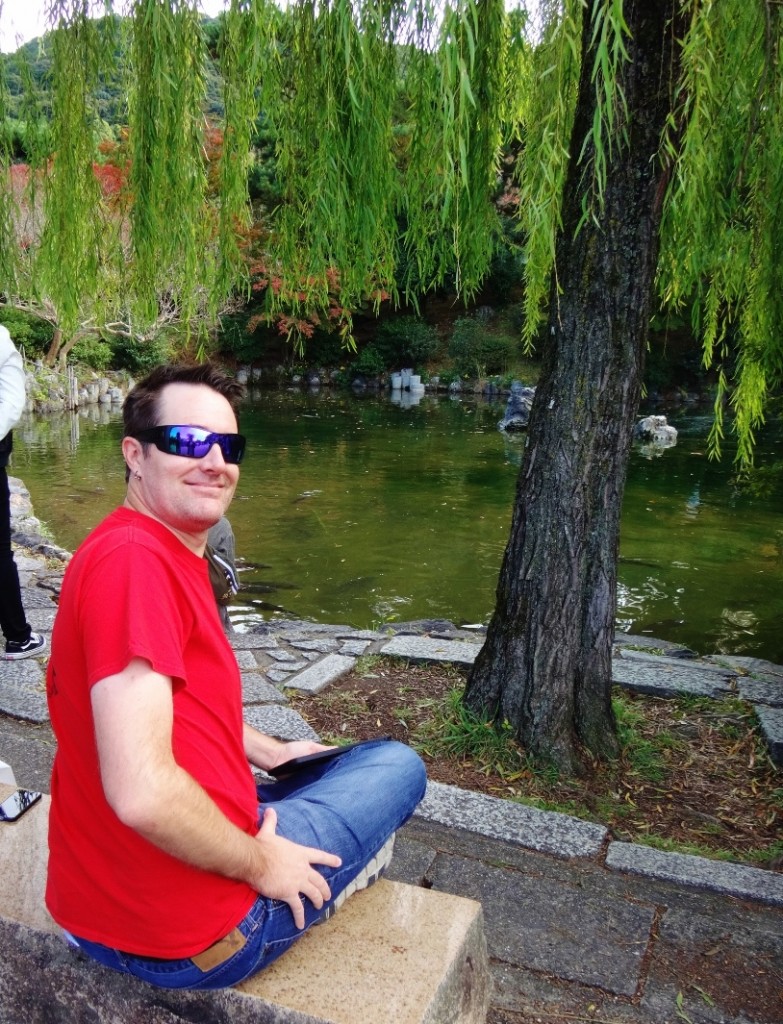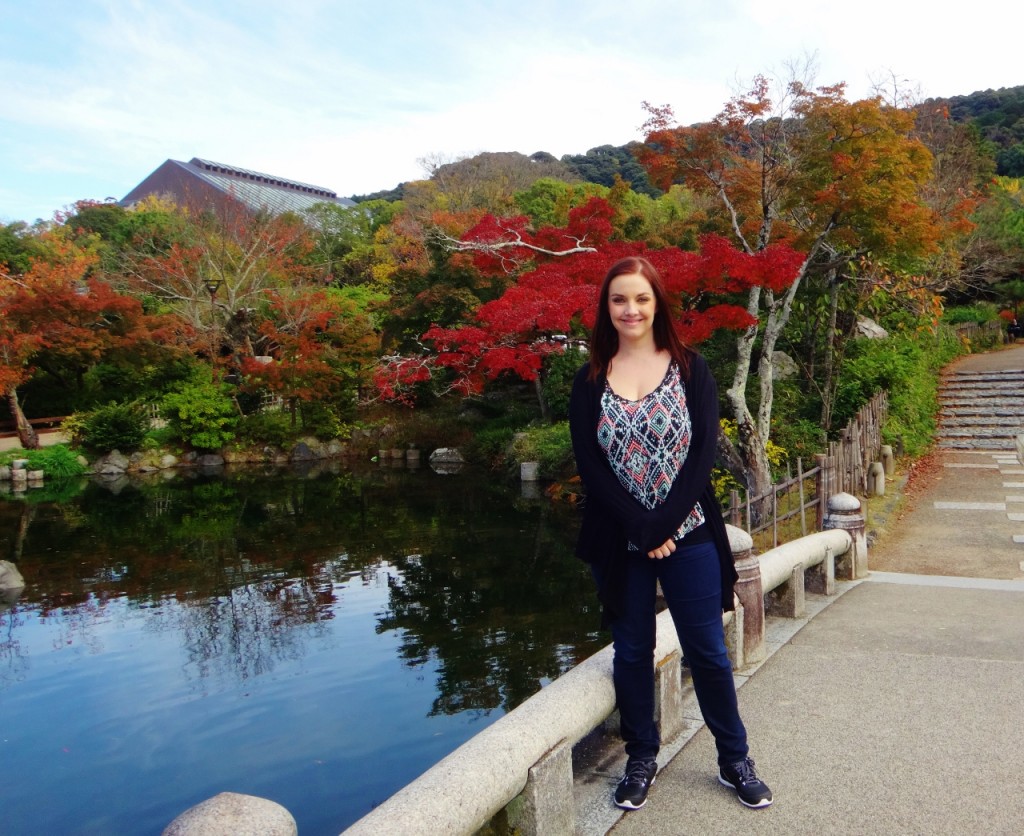 We found an open bench under a willow tree next to a koy pond and took a seat. We spent a while people watching and relaxing. There was a nearby food stand selling ice cream and a few other goodies so I wandered over to check it out. I saw the lady in the window making some sort of grapefruit drink where she de-pulped a whole grapefruit, used a milkshake blender to puree the inside fruit of the grapefruit, and then turned the grapefruit upside down into a cup filled with shaved ice. This looked interesting to me so I decided to order one along with a soft serve green tea ice cream cone (I had wanted to try some green tea ice cream since we arrived in Kyoto!).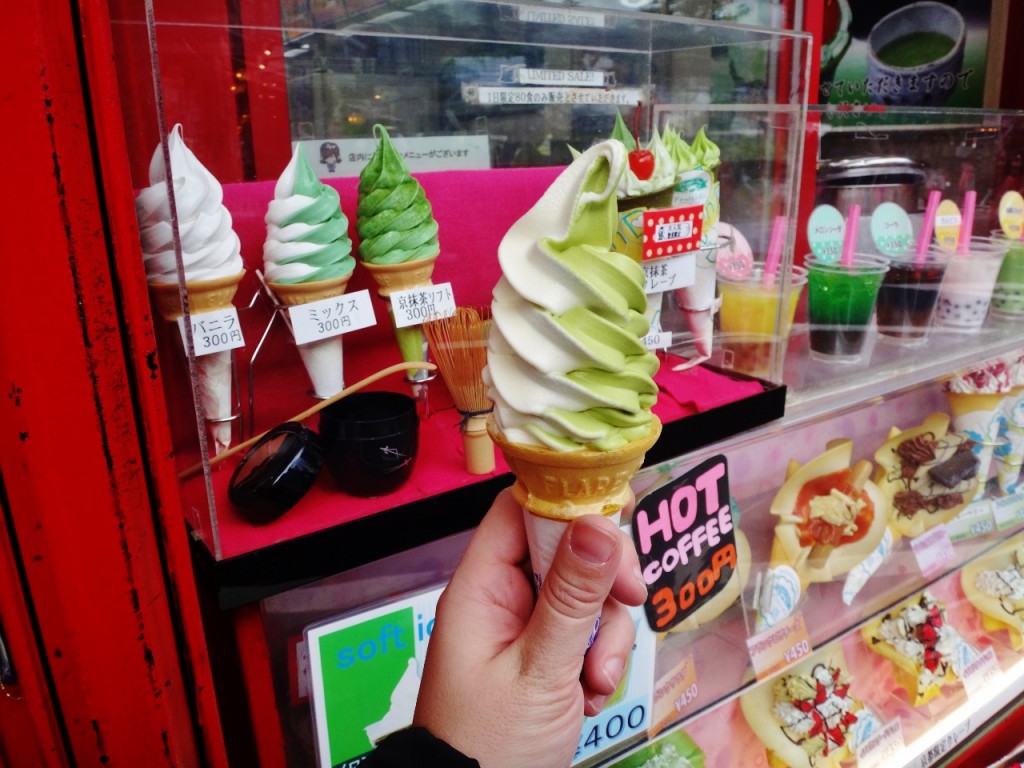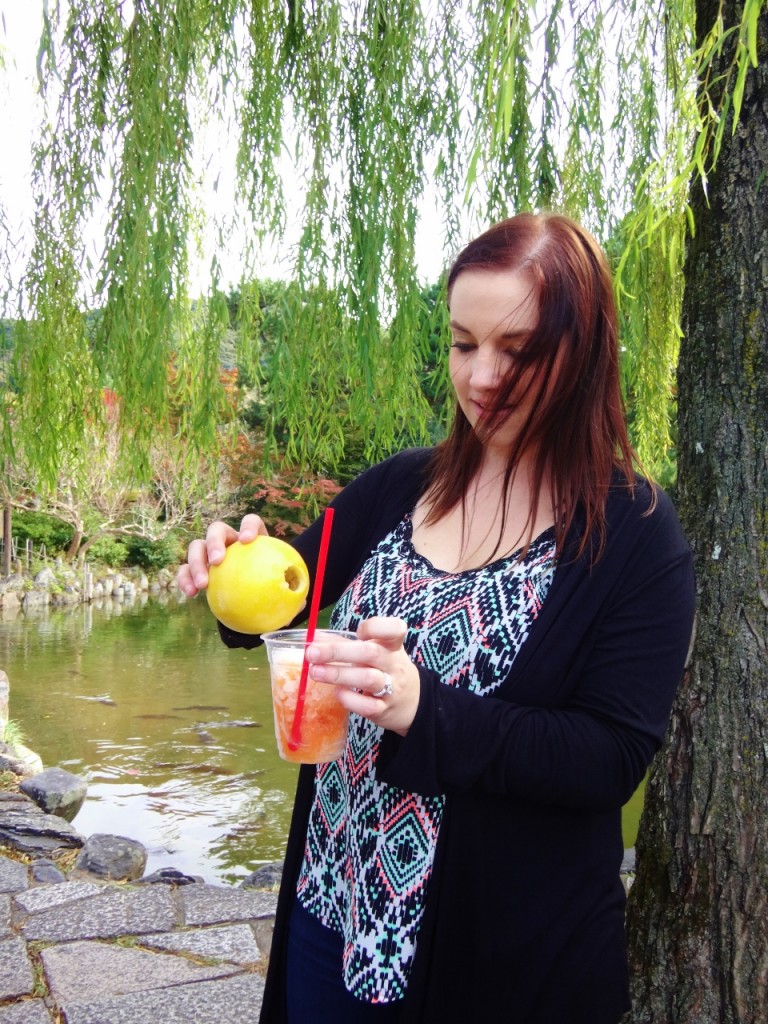 The grapefruit ice drink was refreshing; it was fun to try something new. The green tea ice cream was better than I imagined and didn't have that bitter taste that macha can have. It was creamy and delicious – Brian described it as some of the best ice cream he's ever had! We were really enjoying our time at the park, so we decided to grab some lunch at the food stand and stay for a while longer. There were quite a few young Japanese girls dressed in traditional kimonos having professional photographs taken around the park. I assumed they were having something like what we in the US call "senior school photos"?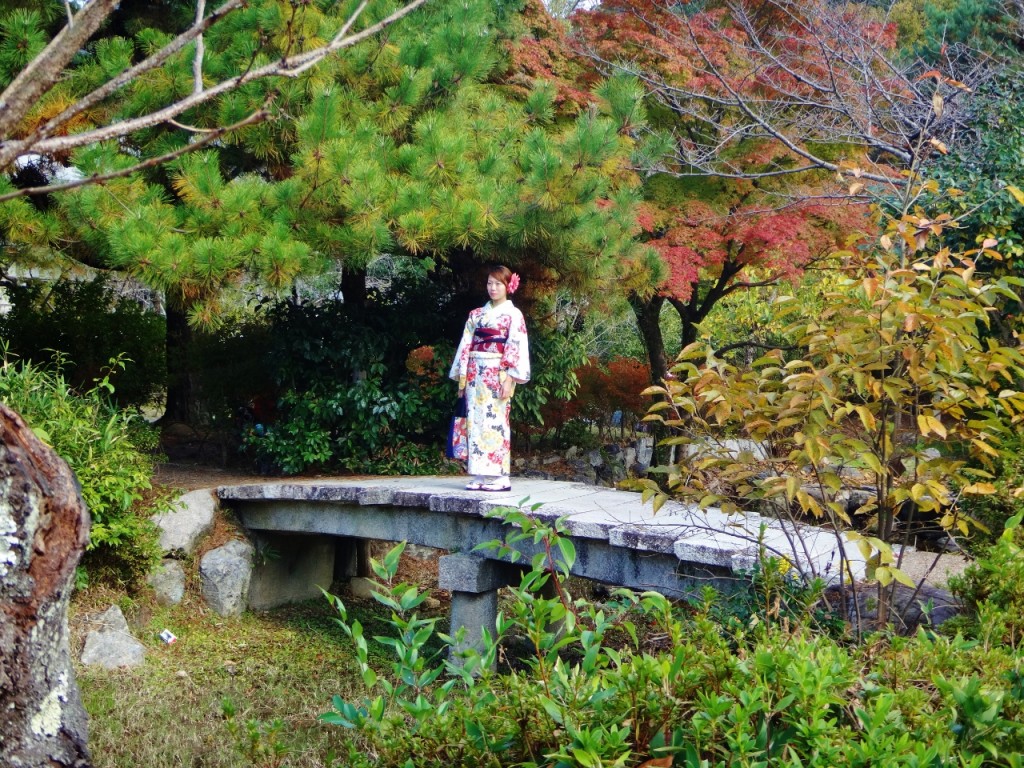 TRAVEL REVIEW: Maruyama Park

 Must Do!
We decided to skip the Nishiki market on our way back to pick up our luggage at 9h Capsule Hotel, as we had stayed longer than expected at the park and it was time to check-in at Hotel Mume.
I found Hotel Mume on TripAdvisor, and as I mentioned in an earlier post, I started researching for our Japan trip over a year in advance. In reviews onTripAdvisor, I read that Hotel Mume's 8 rooms book up very quickly during the autumn color season and the cherry blossom season. From the pictures online, I knew I wanted to stay in Hotel Mume's only suite (Why not? This was a dream trip for us!) so I knew I had to secure our booking as soon as the rooms opened up online. I booked 3 nights in the Flower Suite for November 12th, 13th, and 14th in mid-January (about 10 months prior to our trip). I'm glad I was so diligent about it because when I checked back online a few months later to look at Hotel Mume's availability, they were sold out for that weekend already!
The next day after booking, someone at Hotel Mume reached out to me personally to confirm our booking, give us hotel directions, ask about our preferences, and recommend restaurants and things to do. Over the course of 10 months they helped answer many of my questions and also made dinner reservations for each night of our stay. When we arrived at the hotel, the staff was just as kind and helpful as they had been through email. We used luggage forwarding service for our two large bags from Park Hotel Tokyo to Hotel Mume, and they already had our bags in our room for us. We checked-in, were treated to tea, coffee, and snacks in the dining area, and then were escorted to our room where someone showed us all of the suite's amenities. The room was beautiful – we had a seating area with table and chairs, Japanese futons on a tatami mat surrounded by bamboo screens, a gorgeous bathroom with clawfoot bathtub, and a balcony overlooking the Shirakawa River below and Higashiyama Mountains in the distance. It was decorated traditionally while still staying very modern.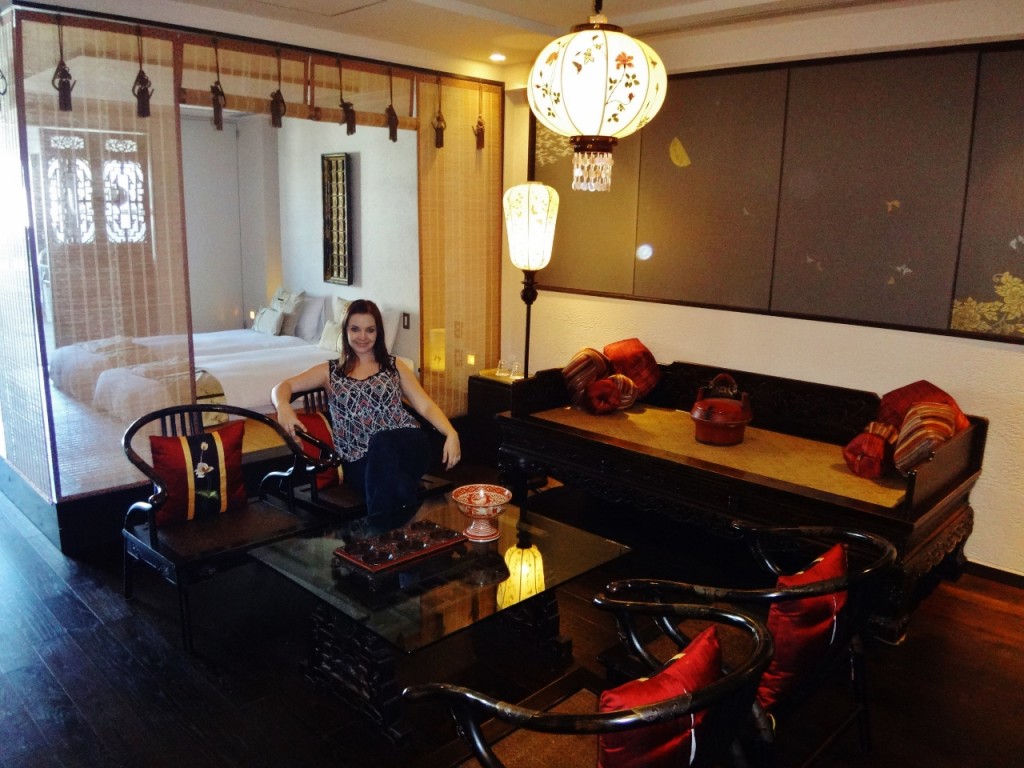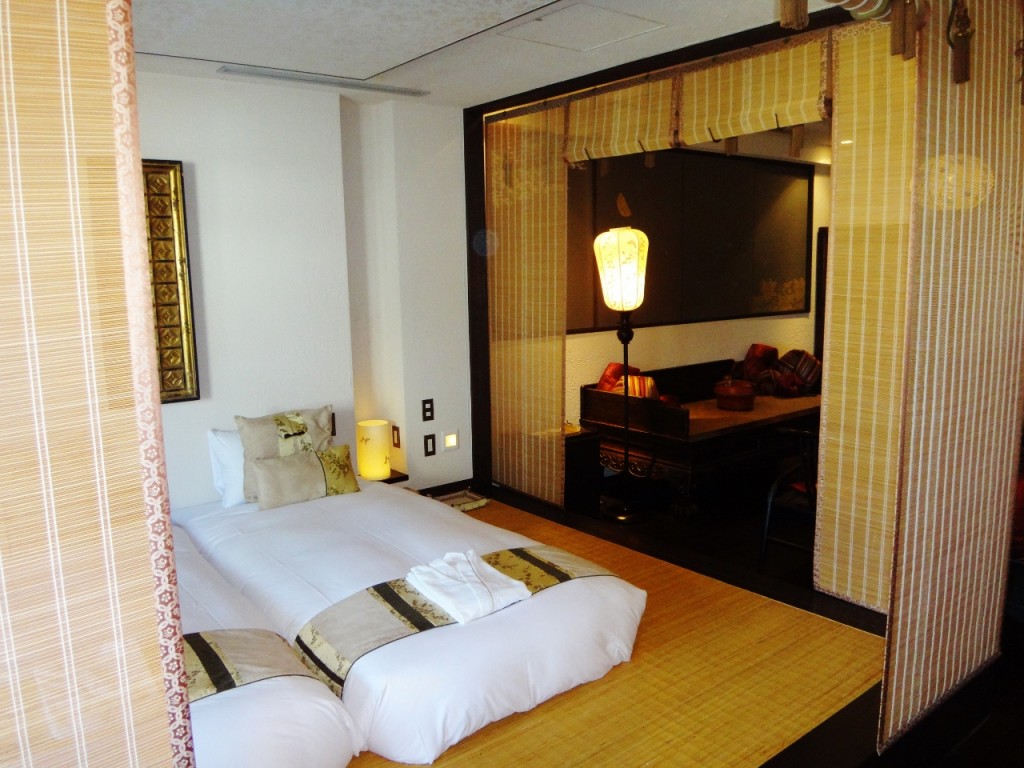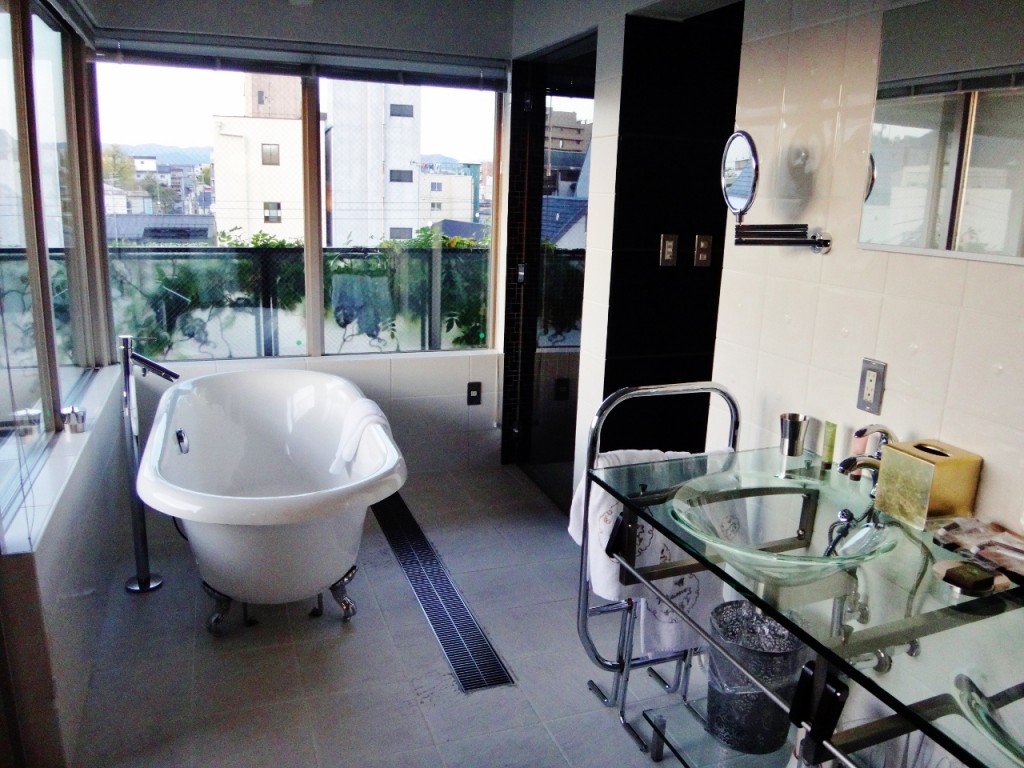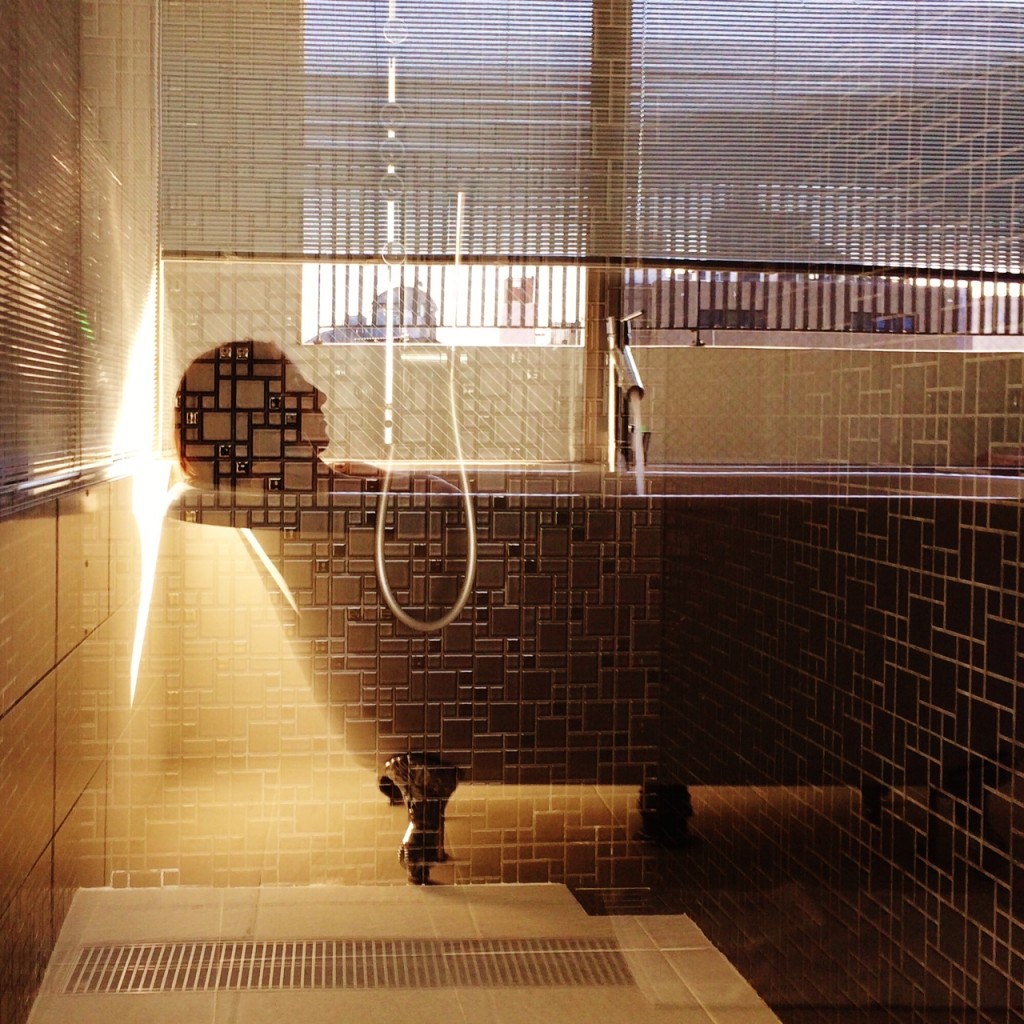 TRAVEL REVIEW: Hotel Mume

 Trip Highlight!
We took a nap before walking to Hiro (a Japanese BBQ restaurant) just a few minutes away from our hotel for dinner. Hotel Mume reserved a private room at Hiro for us and gave us a printed map of how to find the restaurant as well as a photo of what the restaurant looked like from the outside (making it much easier to find). Before we were shown to our private room we had to remove our shoes. The room was small and intimate, our table had a round grill in the middle of it and there was a sunken area below the table for us to put our feet. We were given an English menu with pictures. We decided to order a la carte and try a few different things. We started with a chef's sampler which included 4 different cuts of kobe beef and a side of rice. A few minutes later a beautiful plate of raw kobe beef was delivered to our room. We put the first few pieces of beef on the grill and totally overcooked it, not realizing how hot the grill was and how fast the beef would cook. After learning this, we were more careful about grilling the remaining pieces of beef. Everything was delicious.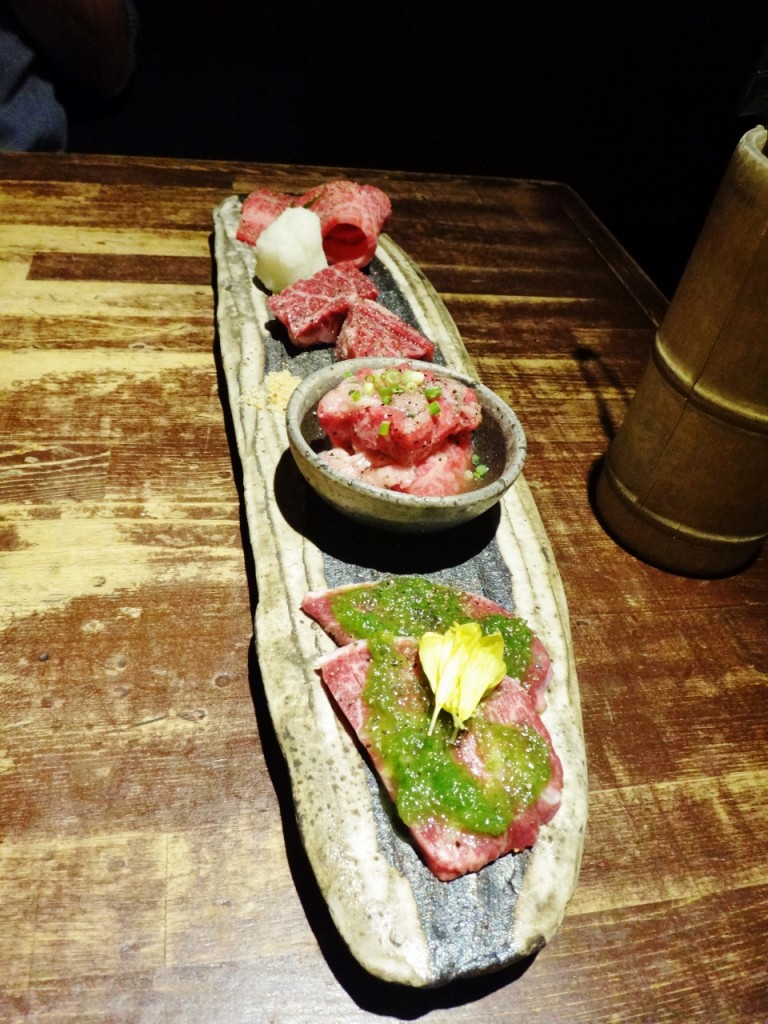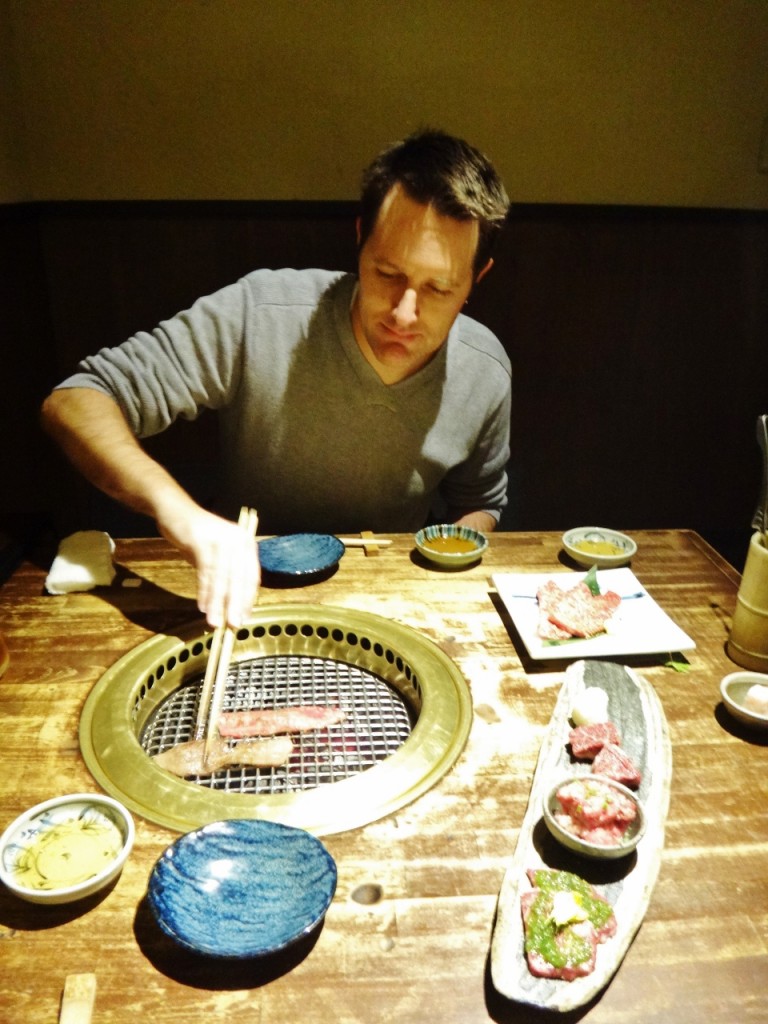 We finished the sampler pretty quickly and were still very hungry. We weren't sure what to do next. We didn't know if someone was coming back to our private room. We waited for a while and then noticed a phone hanging on the wall in the corner. We decided to pick up the phone and someone answered in Japanese – I had no idea what they were saying and when I replied they had no idea what I was saying! It was quite funny, and I just said very nicely -"more food." I think they understood this and our waitress was back very quickly to take our additional order of another sampler and a prime rib plate. We thoroughly enjoyed the rest of the meal and when we finished, we again found ourselves unsure of what to do next. Do we pay at the front? Do we wait for the check? We had no idea. As we awkwardly waited, Brian was fumbling around with some things on the table and noticed a button. He pushed the button and immediately our waitress came back to the room – when she opened the door, I noticed a light on the outside of the room that lit up. This button must be how you notify your server that you need assistance. Anyway, we asked for the check (it was quite expensive, but worth it in my opinion) and headed back to Hotel Mume for the rest of the evening.
TRAVEL REVIEW: Japanese BBQ

 Must Do!
DAY 3: Monkeys, Temples, Bamboo Groves, Shabu-Shabu Dinner
Although the forecast for Kyoto showed rain, we woke up to a beautiful sunny morning. We headed downstairs for our Hotel Mume breakfast, included in the price of our stay. Our breakfast was delicious; definitely a step up from our FamilyMart pre-packaged pancakes the day before! We had a basket of assorted freshly baked breads, various jams and spreads, mixed fruits, yogurt, hardboiled egg, and a hot vegetable soup (and of course tea and coffee). The breads, jams and soup changed daily so we never had the same breakfast. Having soup for breakfast was foreign to me, but it was delicious so I cannot complain! The homemade baked breads were some of the best I've ever had.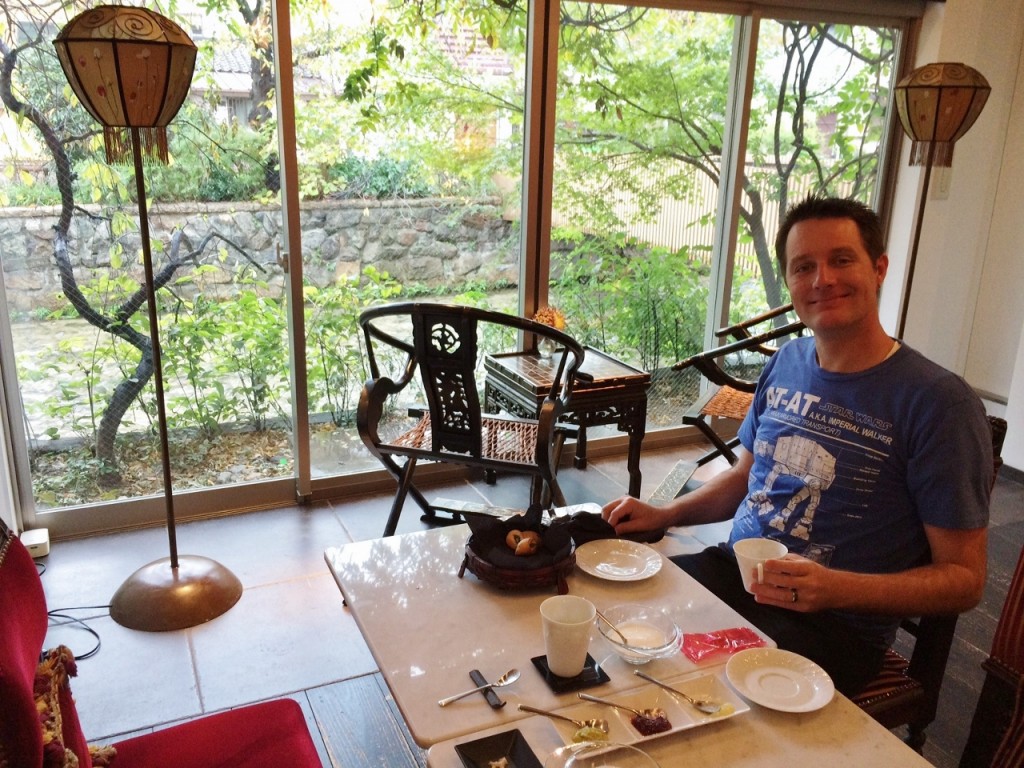 After a filling breakfast we were ready to start our day's adventure in Arashiyma in Eastern Kyoto.
We took a taxi from Hotel Mume to Arashiyama – it was about a 30 minute ride and cost us about $40. A little pricey but very convenient and a quick route from the hotel directly to the Arashiyama Monkey Park. We arrived at the Monkey Park just after 9am and started our ascent up the mountain to the park area. It took us about 20-25 minutes to walk up the mountain, stopping and reading the informational signs along the trail. We saw some monkeys swinging in the trees above us as we made our way up.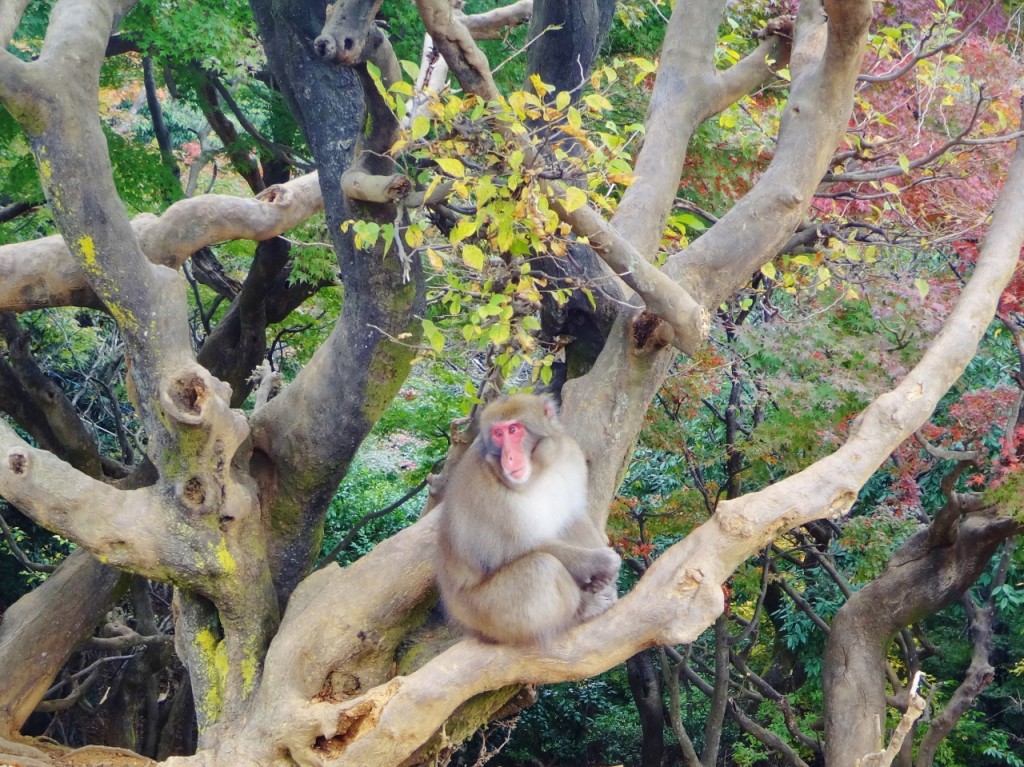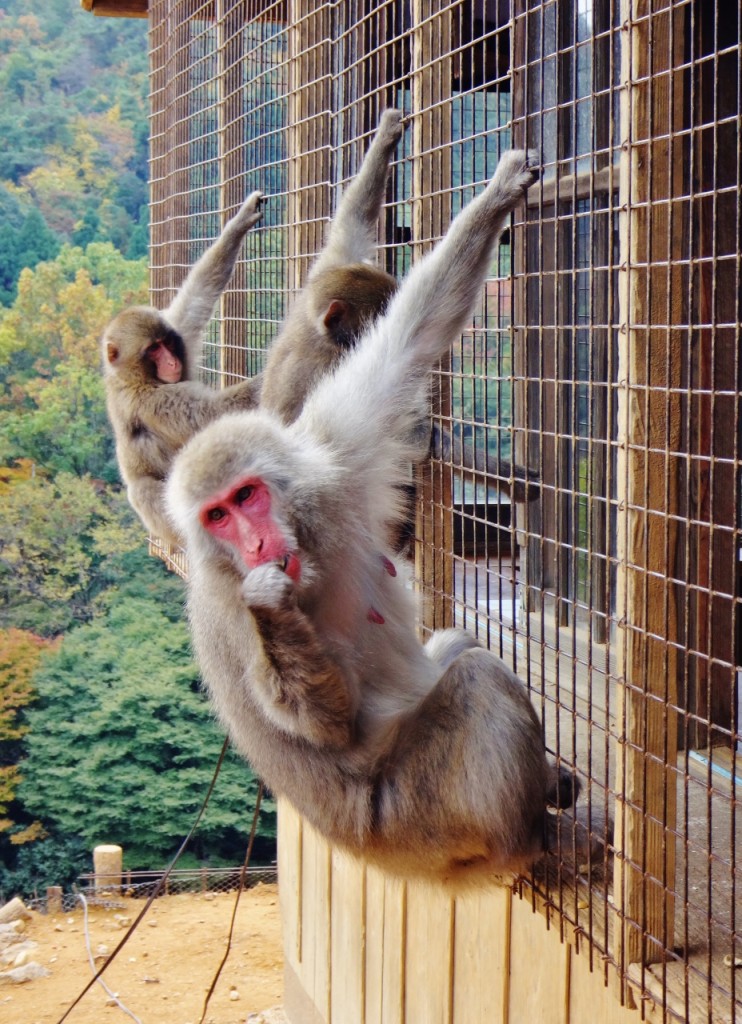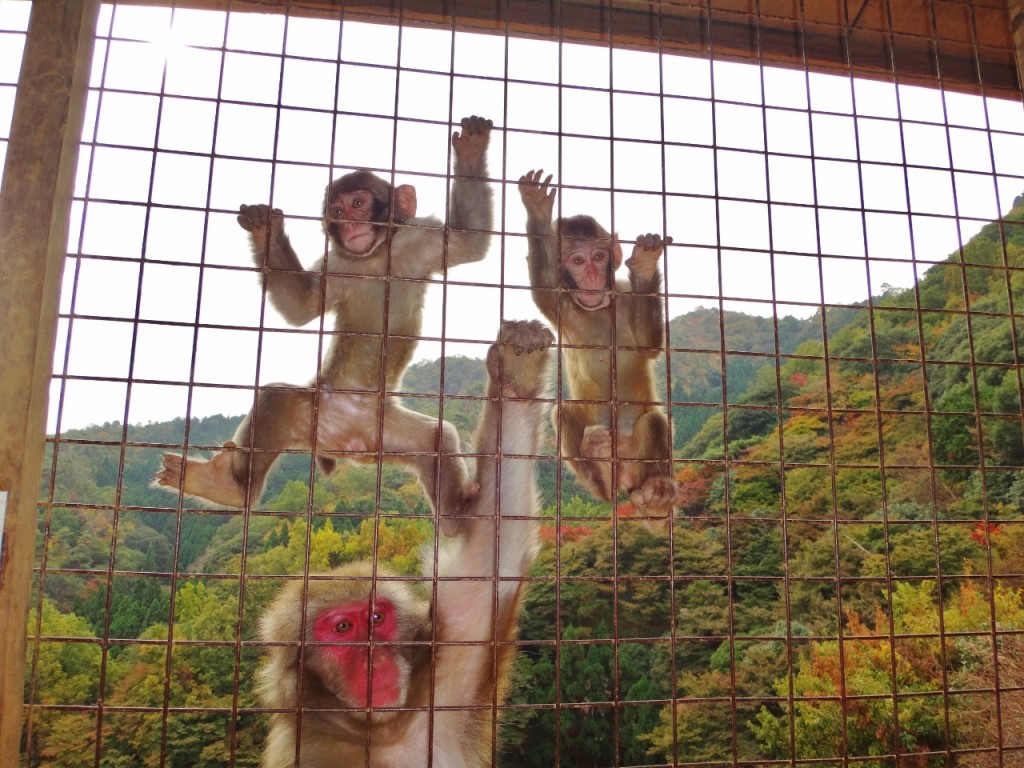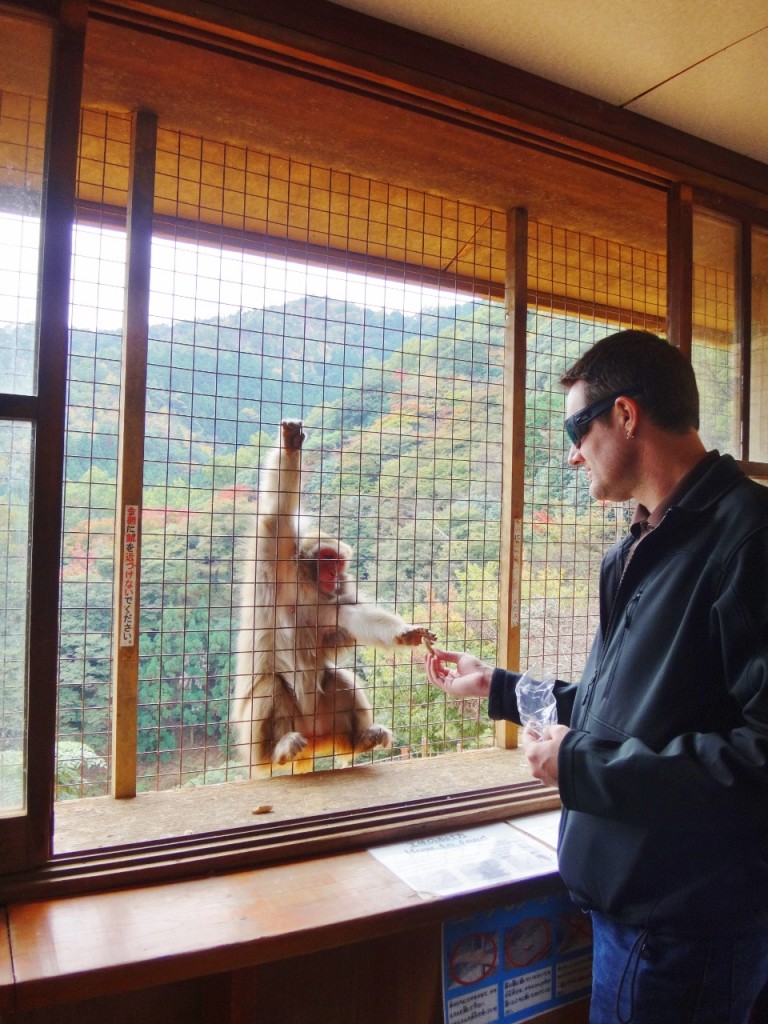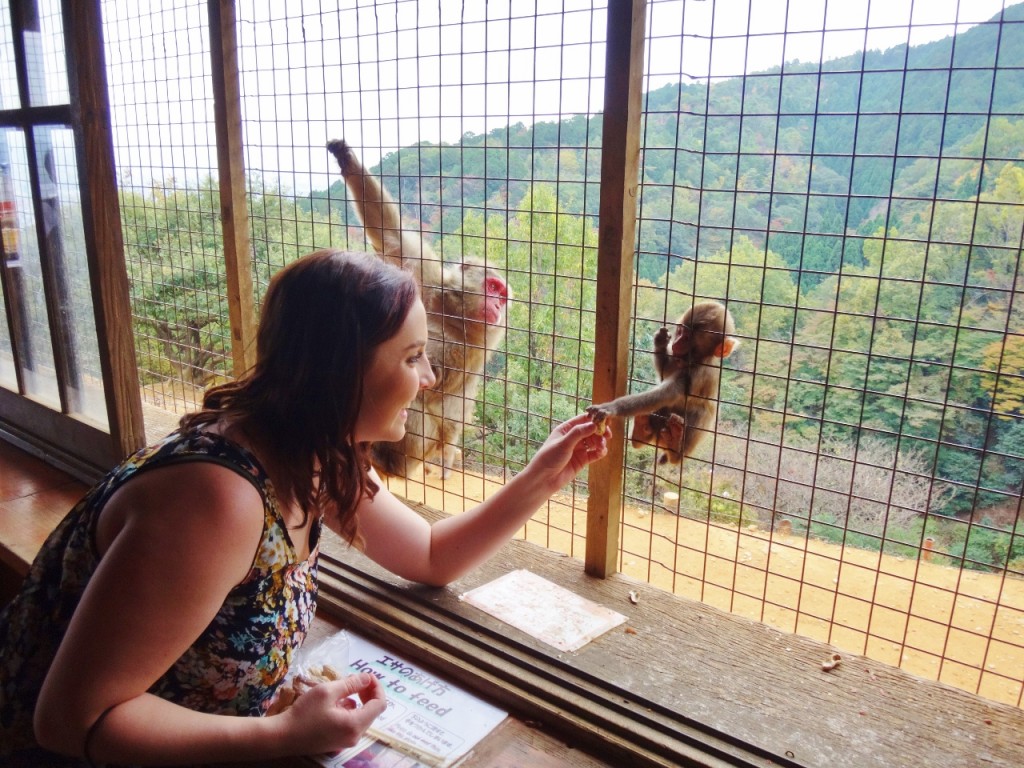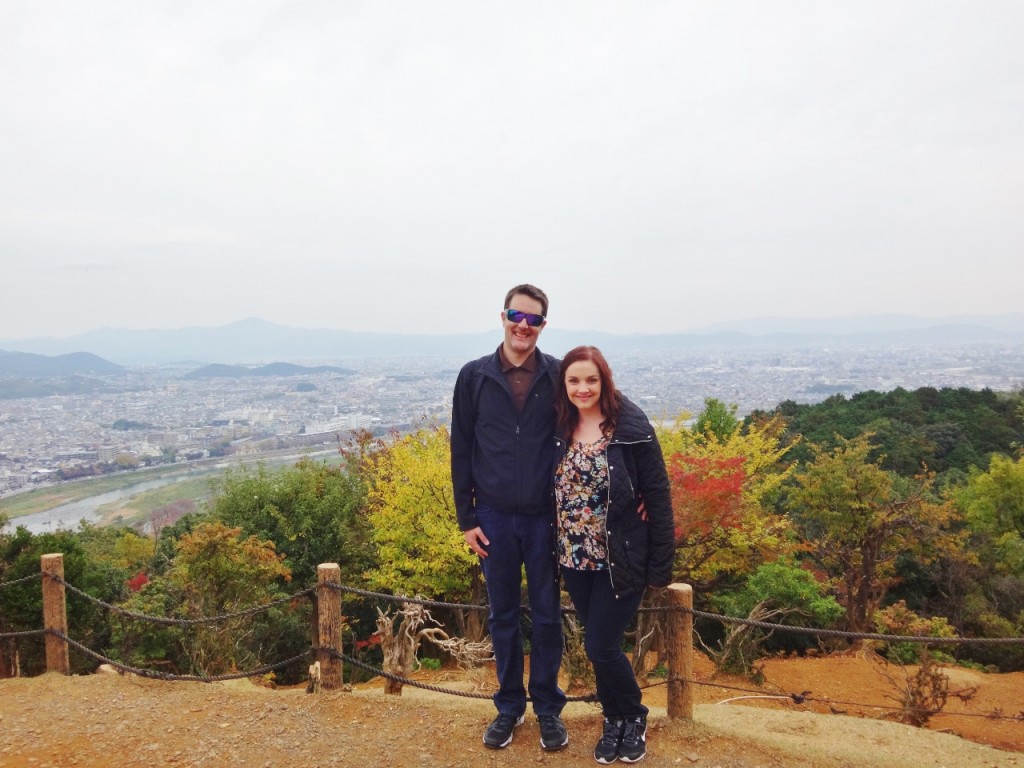 We finally reached the top of the mountain and the view of Arashiyama was lovely. There weren't as many monkeys as I expected there to be, but there were a decent amount and even a few babies too. We went into the "feeding room" to get some monkey food (peanuts and apple slices) where we hand fed the monkeys from inside the caged area. It was fun to see the baby monkeys up-close and personal. After a little while we decided to head back down the mountain and onto the next sight.
TRAVEL REVIEW: Arashiyama Monkey Park

Only if you have time
The Togetsukyo Bridge was just a few minutes away from the Monkey Park (I loved the proximity of all the sights in Arashiyama). The Bridge had great views of the mountains and the river. We watched as other tourists took boat cruises down the river. Just on the other side of the bridge was the path to Tenryuji Temple.
The walk to Tenryuji Temple was beautiful and the streets were lined with magnificent fall colors. I remember taking a photo in front of the largest most yellow tree I had seen – it didn't look real!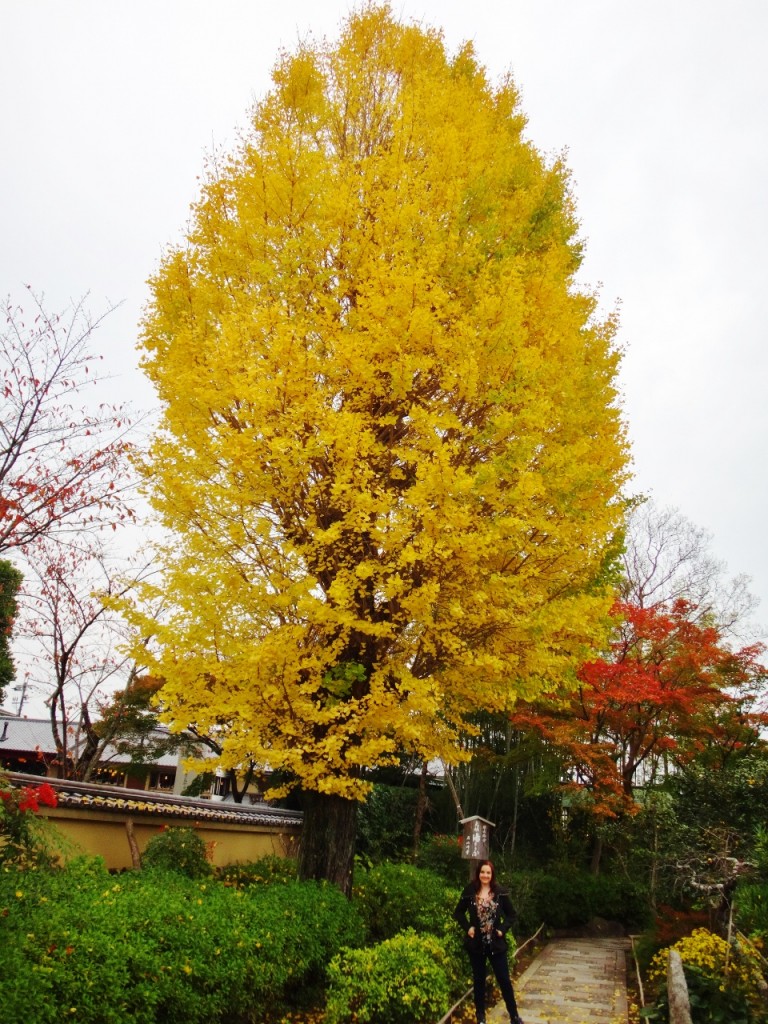 Tenryuji was the first zen temple that we had visited and it was interesting to see the fields of perfectly designed sand. The autumn colors were even more beautiful in the temple's garden and reflected stunningly in the pond water. There were many koy fishing swimming in the pond. The scenery was spectacular.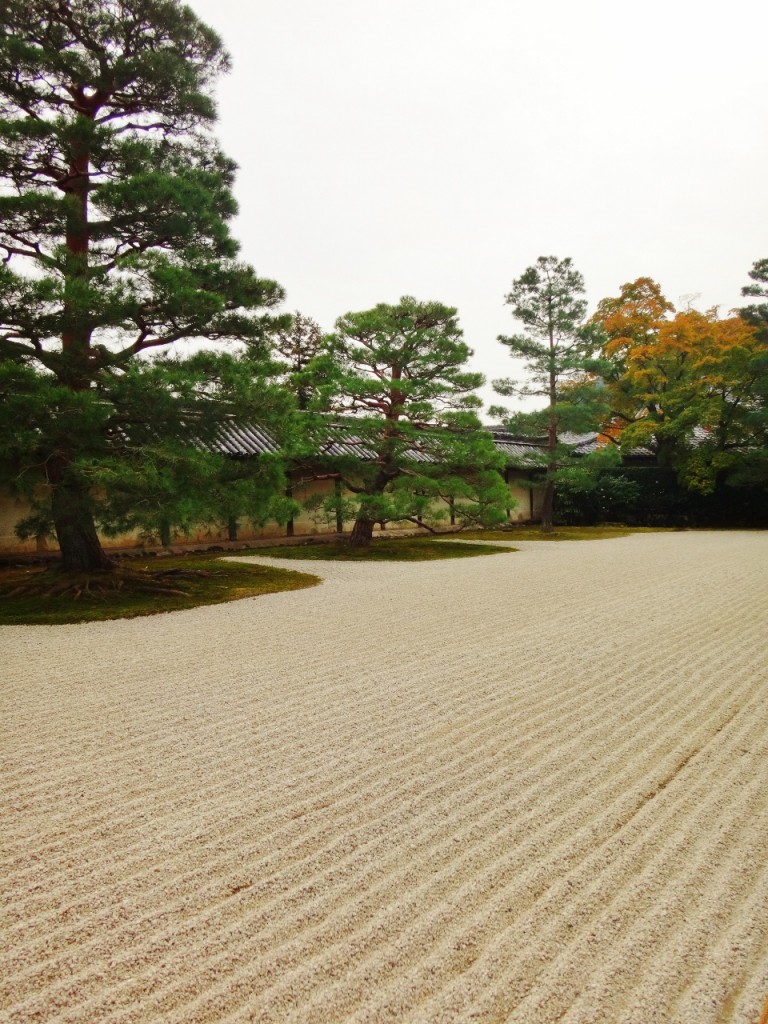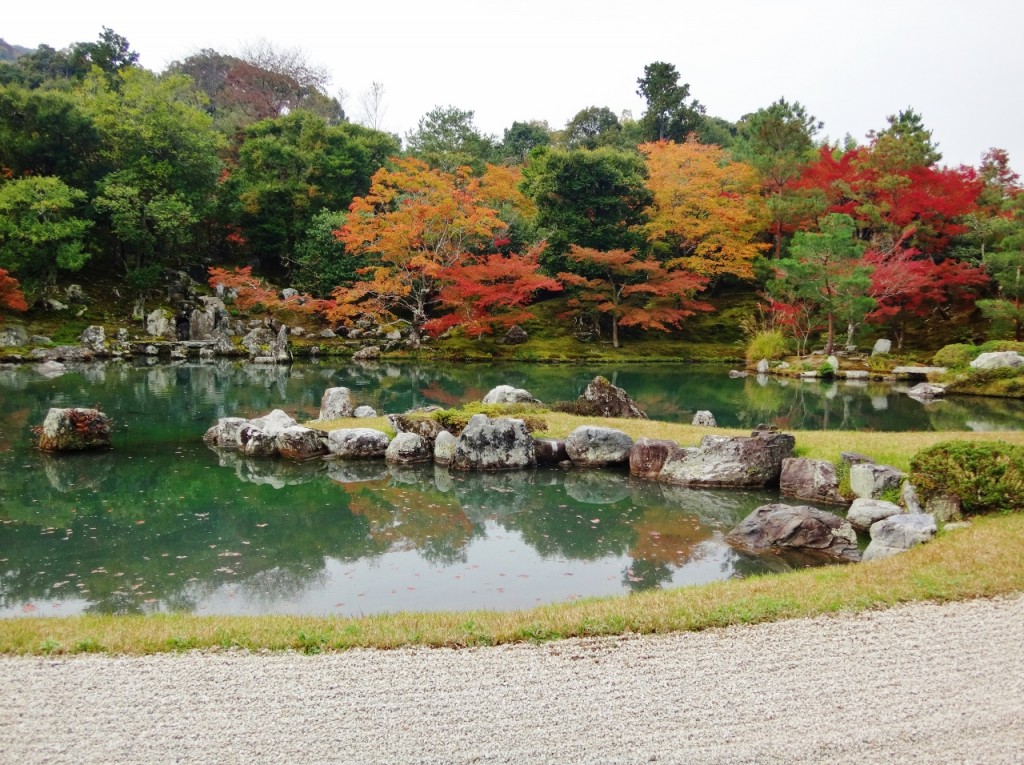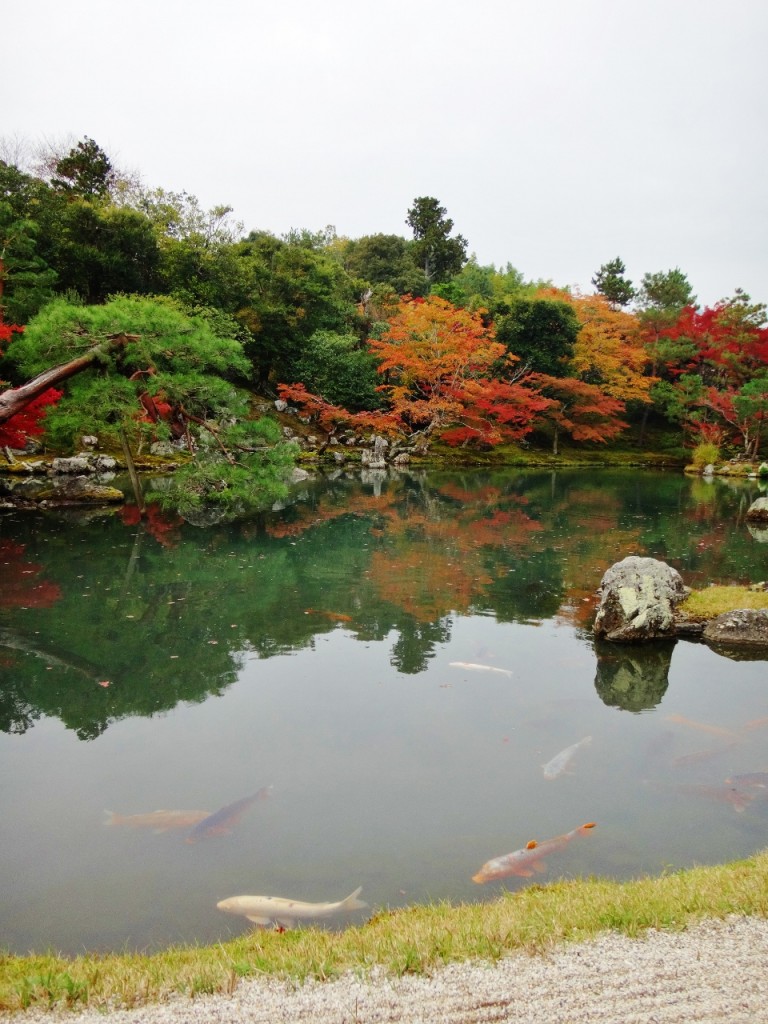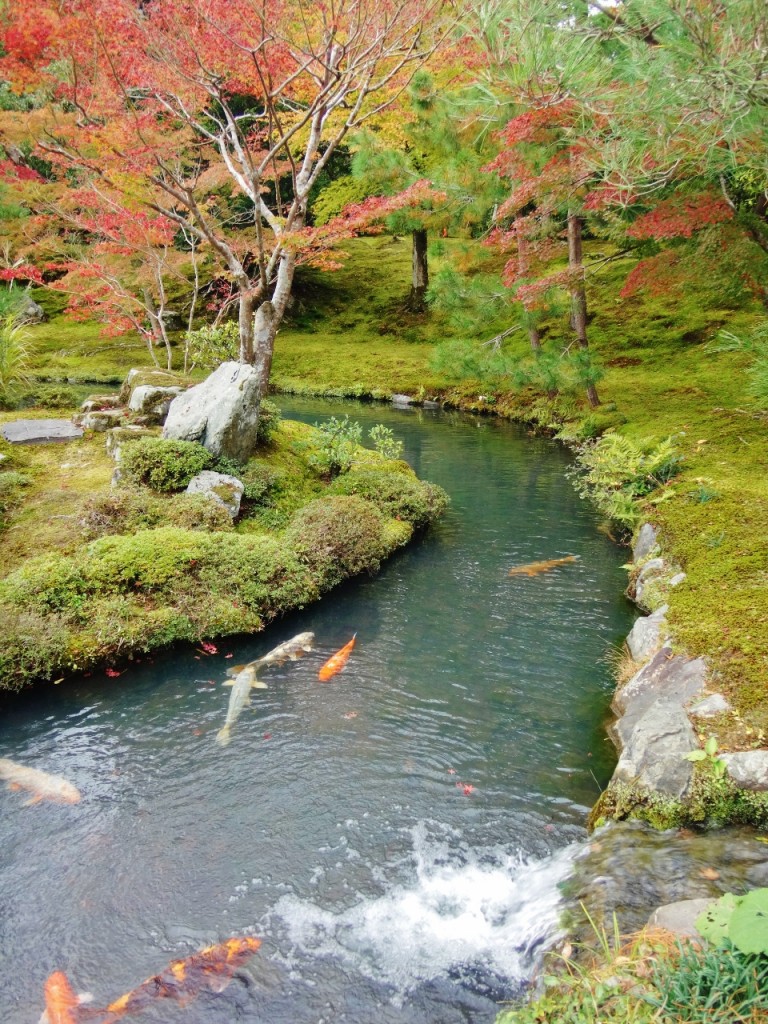 TRAVEL REVIEW: Tenryuji Temple

 Must Do!
As we made our way through the temple complex we had a group of school children run up to us and ask to take a photo with us. We agreed and we all held up peace signs. After the photo they asked where we were from and for us to sign their school book. Before we had a chance to ask what it was for they were off running somewhere else.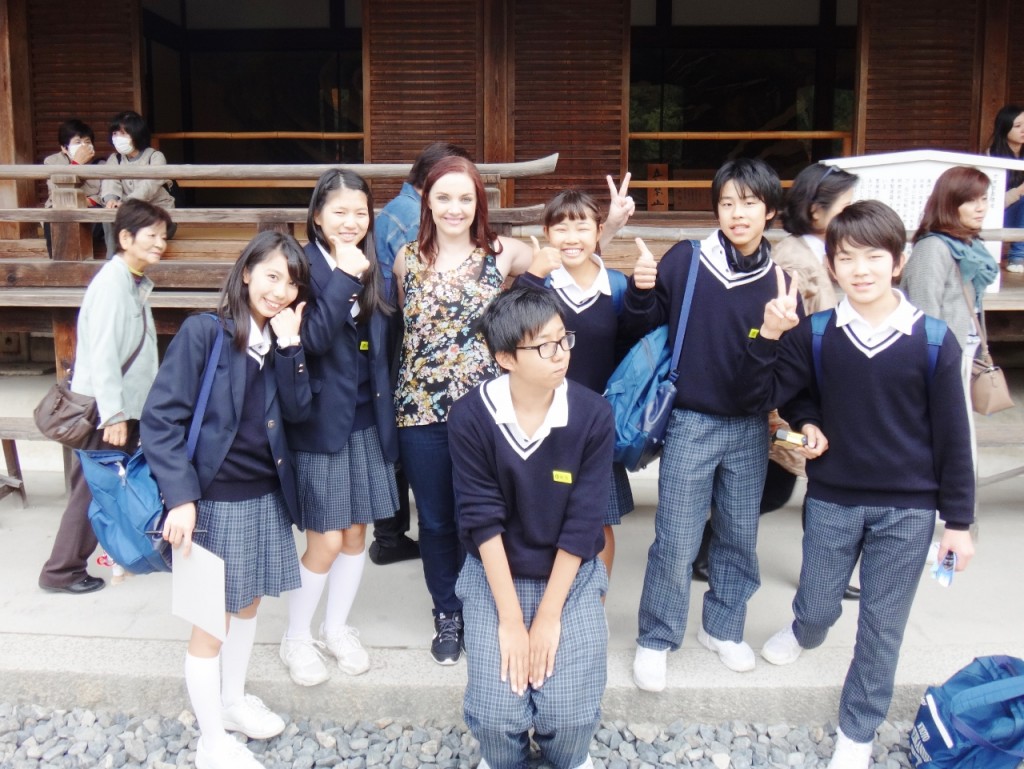 We exited Tenryuji Temple from the back entrance which leads to the Bamboo Groves. The bamboo grove was just as magical as I thought it would be, but it was a bit too crowded to enjoy it fully. I can only imagine how amazing it must be to walk through the groves on a slow day.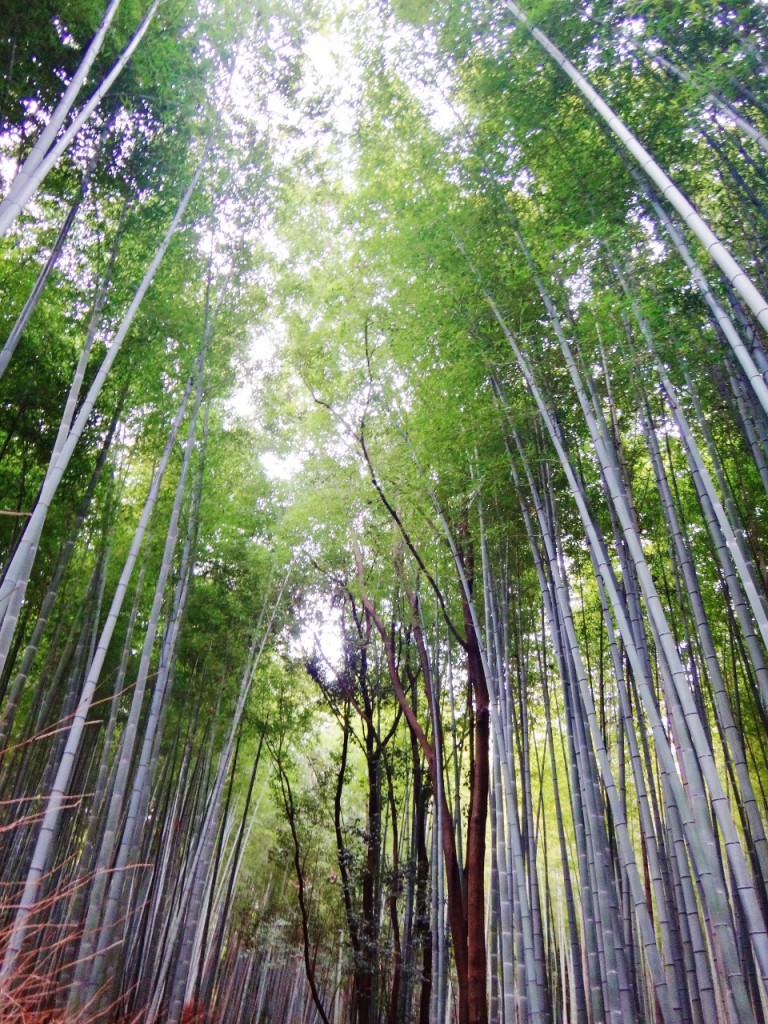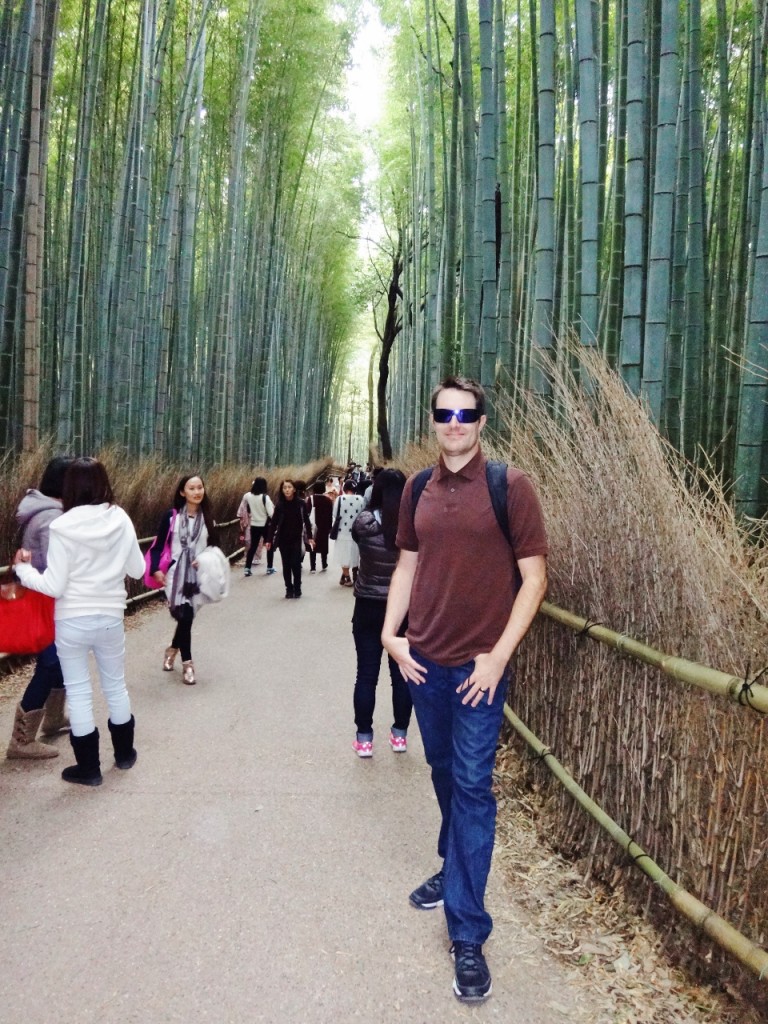 TRAVEL REVIEW: Bamboo Groves

 Must Do!
At the end of the pathway we took the street north towards Jōjakukō-ji Temple. We were planning to stop here, but as we learned, we simply did not have enough time for everything we planned to do each day. We were also getting hungry so we continued towards Saga-Toriimoto Preserved Street. We stopped for lunch and picked up a few souvenirs. The preserved street was very scenic and much less crowded than areas around Tenryuji and Jōjakukō-ji – I think that most people must spend their in the southern Arashiyama area.
Continuing north, we walked to Adashino Nenbutsuji Temple. On the way, we were stopped by more school children who asked us a couple of questions about where we were from and what our favorite part of Japan was. They were very excited to talk to us and it was a pleasure interacting with them. They must have had some kind of school assignment to talk to visitors.
Adashino Nenbutsuji was my favorite temple of the day – there were no crowds which made it very peaceful, the fall colors were popping, and the temple grounds were unique. This temple is located on a hill where people abandoned the bodies of the dead during desperate times of war, epidemic and famine. When things stabilized the relatives of the dead visited the area and left Buddha statues as grave markers to remember their loved ones. In 1903, Nenbutsuji was founded in an effort to collect the scattered statues. The temple has approximately 8000 mini statues and it is quite a site to see.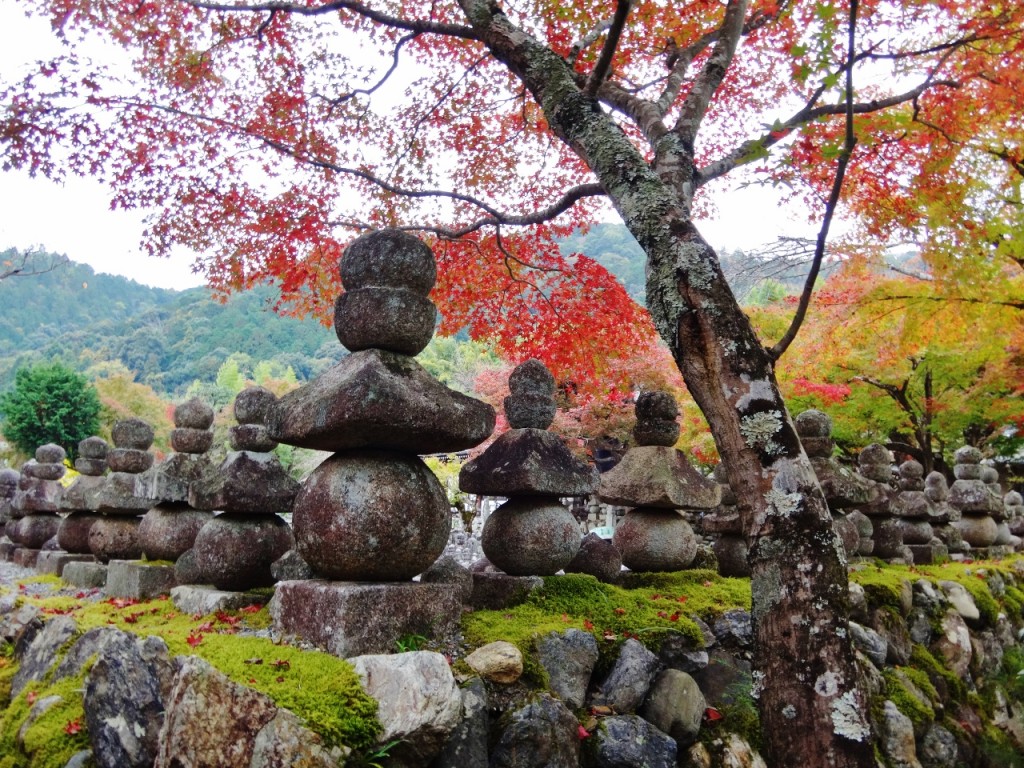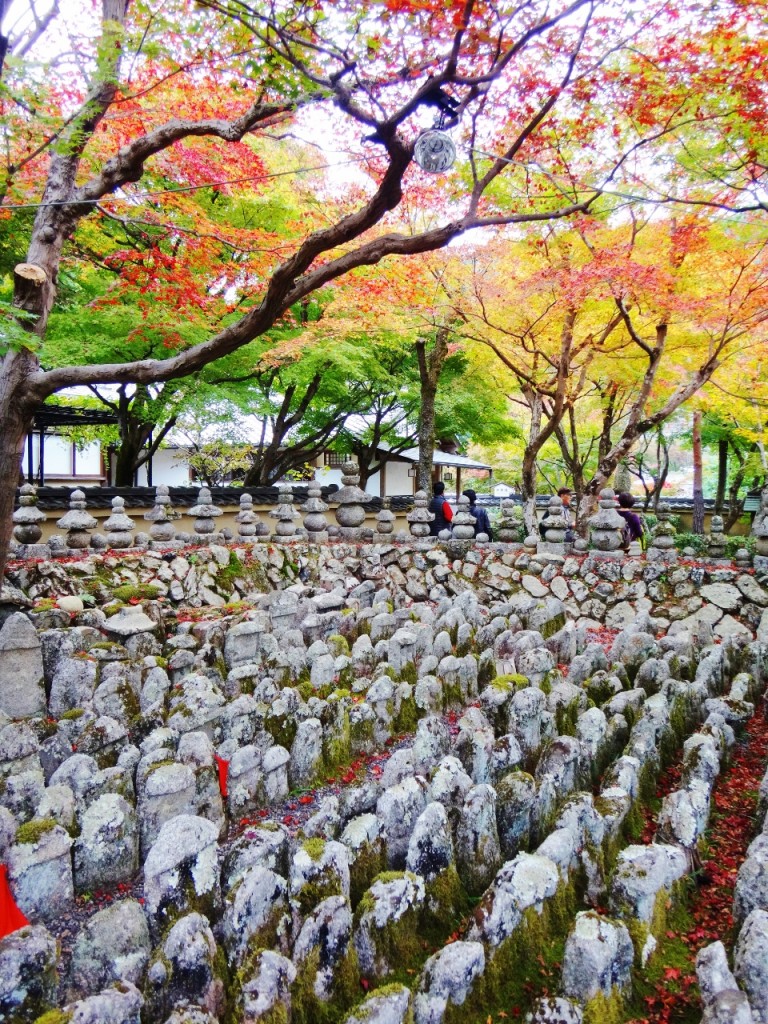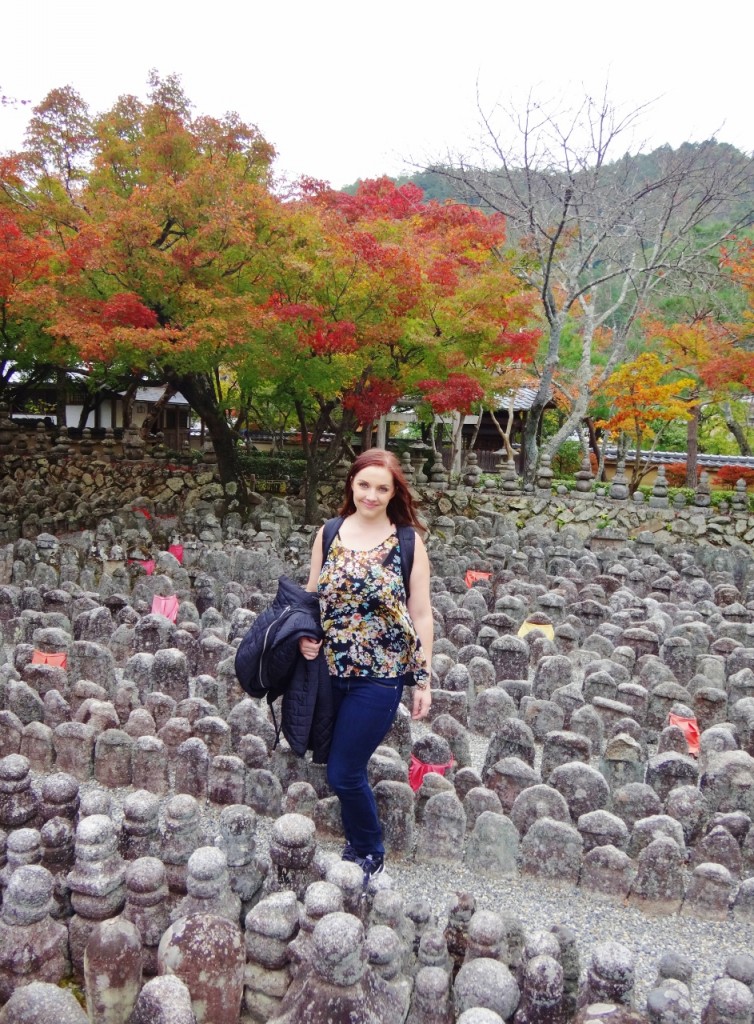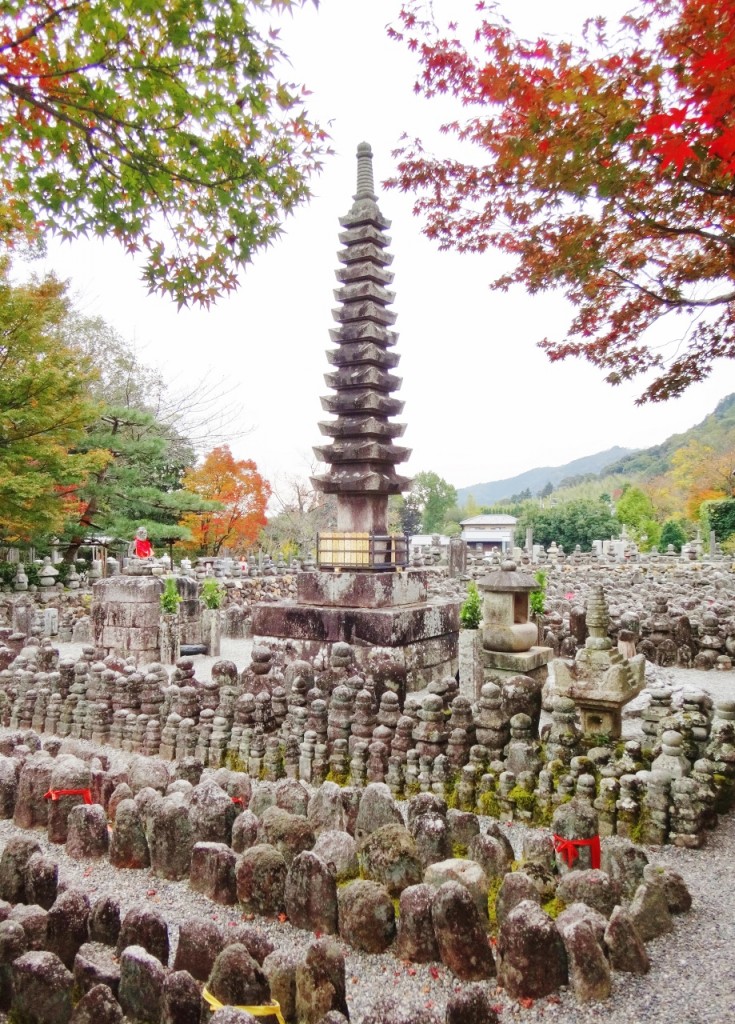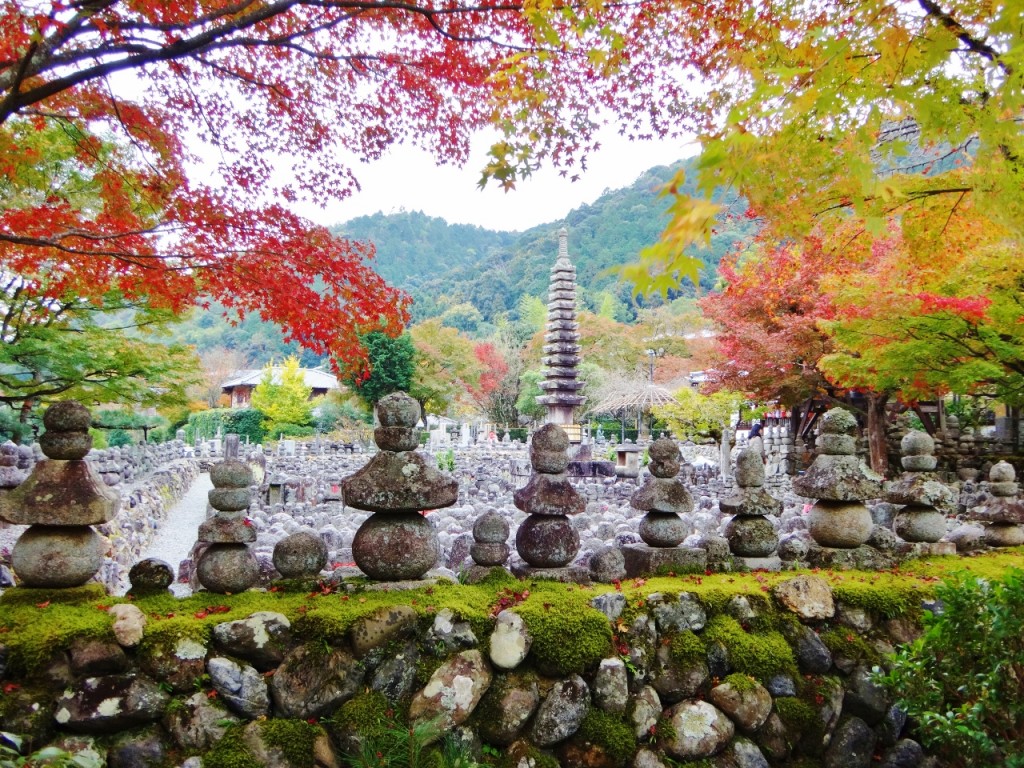 TRAVEL REVIEW: Adashino Nenbutsuji Temple

 Trip Highlight!
At this point it was the late afternoon and we were pretty tired, so we made our way back to southern Arashiyama to find a taxi back to our hotel. I really enjoyed Arashiyma, and even though we didn't see as much as we planned to, it was a beautiful day. We were beginning to realize that maybe we had packed too much into our itinerary and didn't leave room for down time or account for how long would we stay at each location. It was at this time that we decided to skip Nara, which we had planned to visit the next day, for more time in Kyoto. We still hadn't had the chance to see Kinkakuji or Fushimi Inari, which were high on our priority list.
We spent a couple of hours back at the hotel and exploring a few nearby shops before heading to dinner. Hotel Mume booked us reservations at Iroha, a Shabu-Shabu restaurant in Pontocho Alley. Pontocho Alley was just a 10-15 minute walk from our hotel and was a very scenic and lively street with what seemed like hundreds of restaurants. We arrived at Iroha and were shown to another private room (it seems like private dining rooms are very common in Japan). There was a round table with a large pot in the center. We sat on cushions on the floor but there was space under the table to hang our legs and feet. There were 3 set menus and we choose the middle priced one. Our server, who was beautifully dressed in traditional style clothing, brought us our raw meats and vegetables and began cooking the ingredients in the pot at our table. She served us our first course and as she left the room, she gestured that we should cook the rest of the food when we were ready.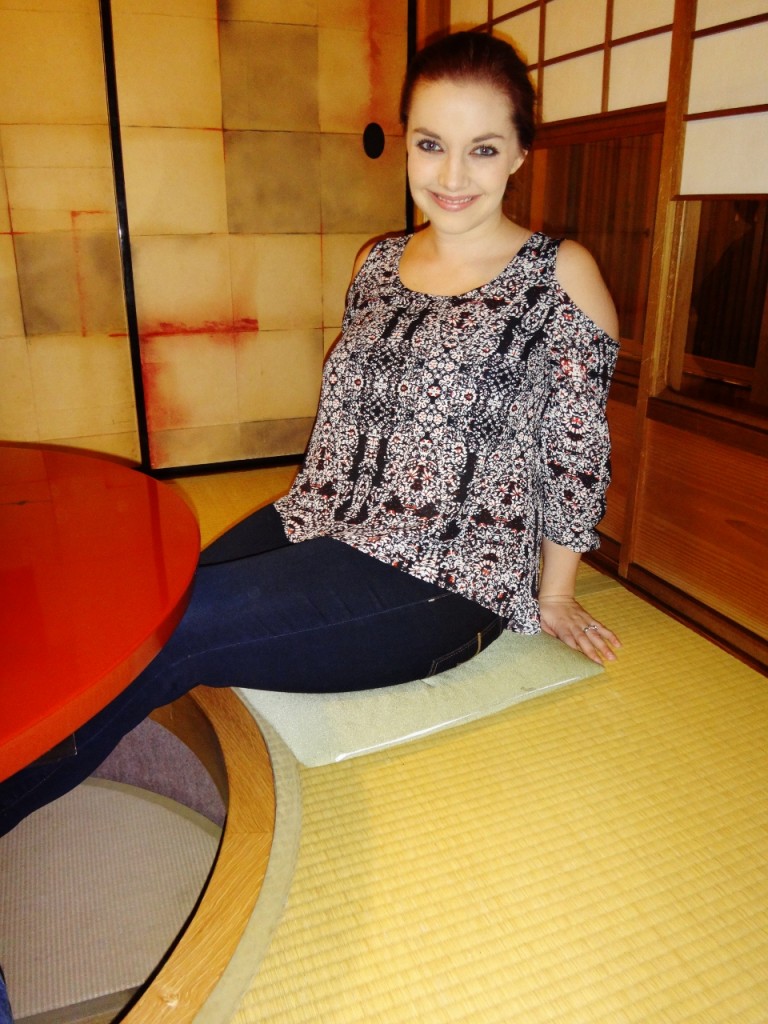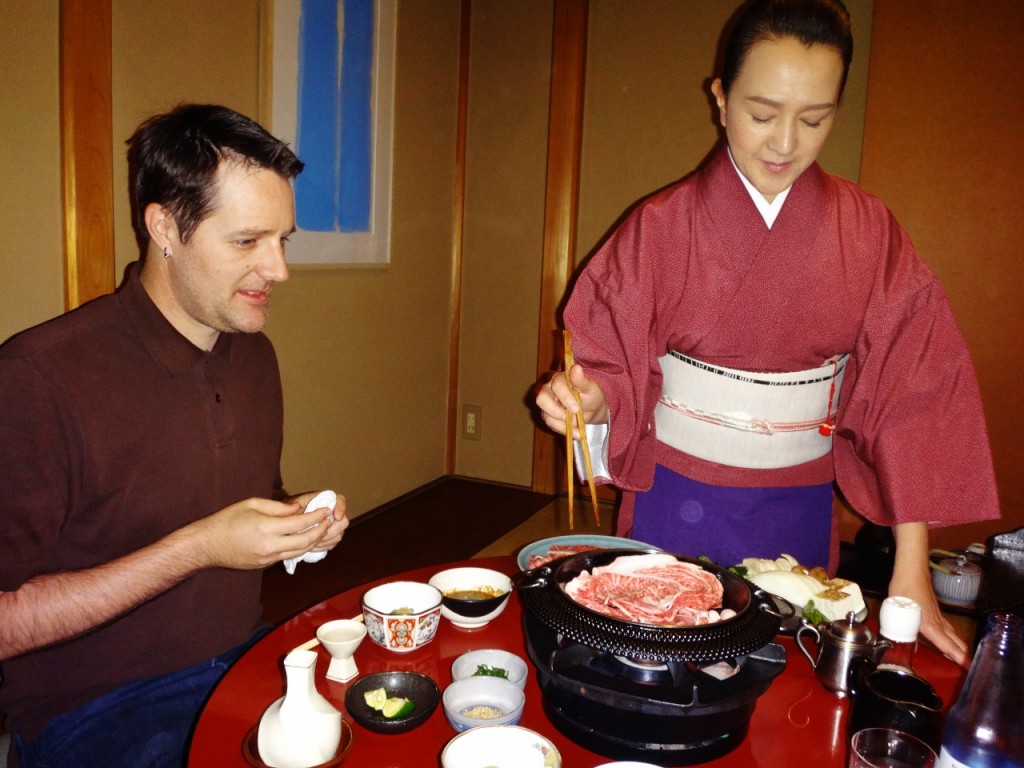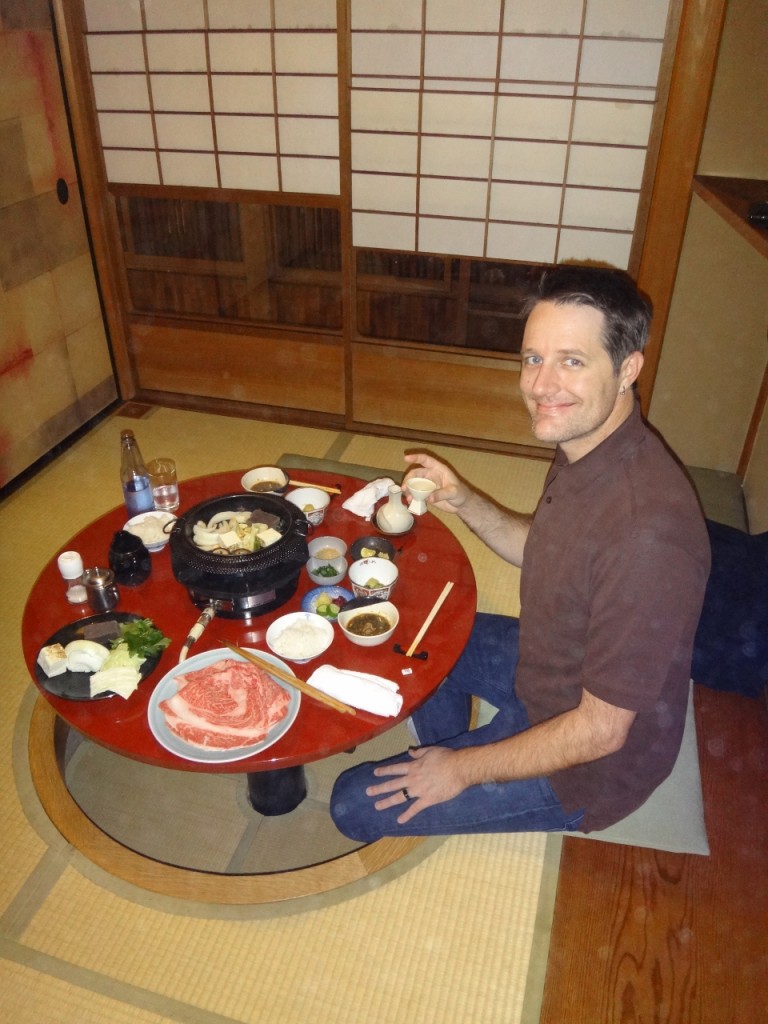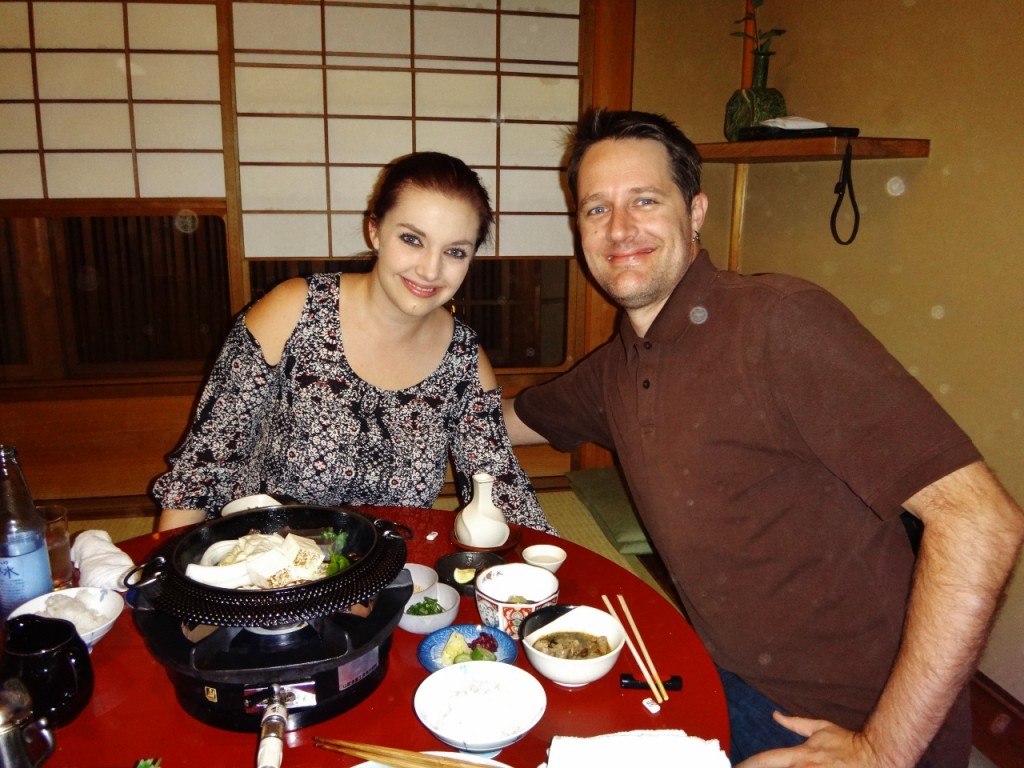 We had an assortment of food including large pieces of finely sliced beef, many types of vegetables, and tofu. The idea is to flash cook the food in the hot pot on the table and then transfer the food into a bowl with hot broth and seasoning. Everything was mouth-wateringly delicious. Our server came back to check on us and a few minutes later returned with tea and desert. Our desert consisted of fruit and a yogurt sauce. We found ourselves in the same situation as the night prior – we didn't know what to do when we were done. We saw no phone or button in the room this time. After waiting a while Brian got up, opened the door and peaked outside. Our server was patiently sitting outside our room and politely handed us the check. I hope she wasn't waiting for us too long!
TRAVEL REVIEW: Shabu-Shabu Dinner

 Must Do!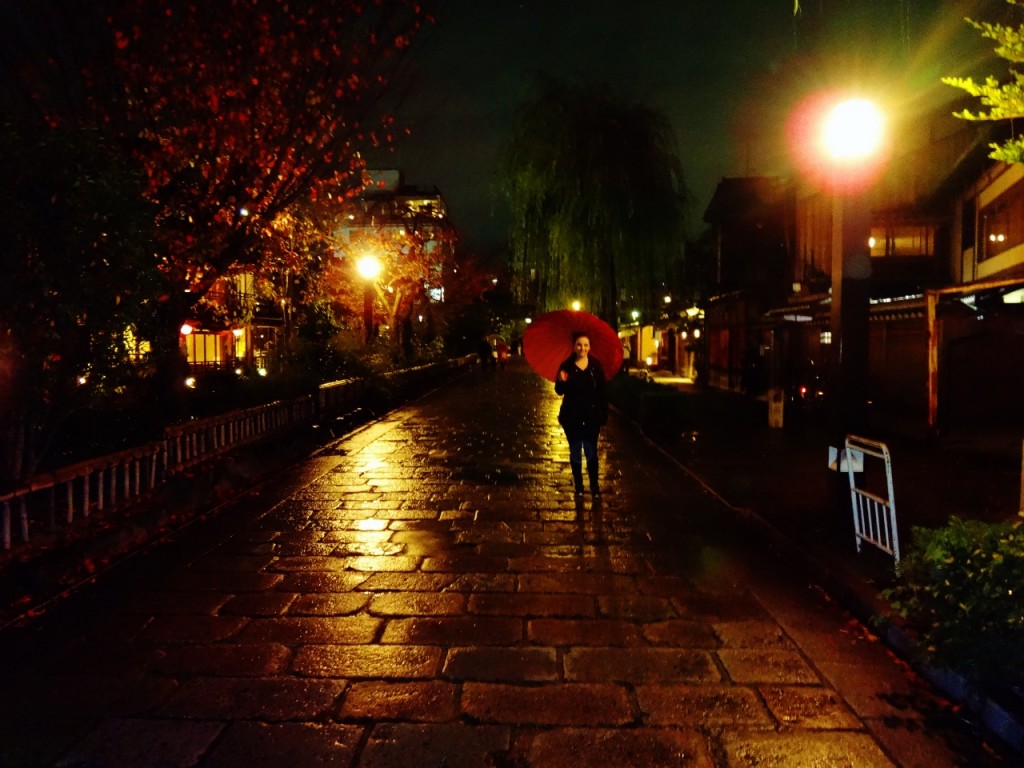 We ended the evening by walking down the rest of Pontcho Alley and heading back to Hotel Mume.
DAY 4: Tori Gates and Golden Pavilion
After enjoying another delicious breakfast at Hotel Mume, we planned to take the train Fushimi Inari Shrine. However, Hotel Mume suggested that a taxi might be more convenient and we agreed.
Fushimi Inari Shrine is famous for its thousands of torii gates, which straddle a network of trails behind its main buildings. Fushimi Inari Shrine has ancient origins, predating the capital's move to Kyoto in 794 and is considered the most important of several thousands of shrines dedicated to Inari, the Shinto god of rice. Foxes are thought to be Inari's messengers, resulting in many fox statues across the shrine grounds.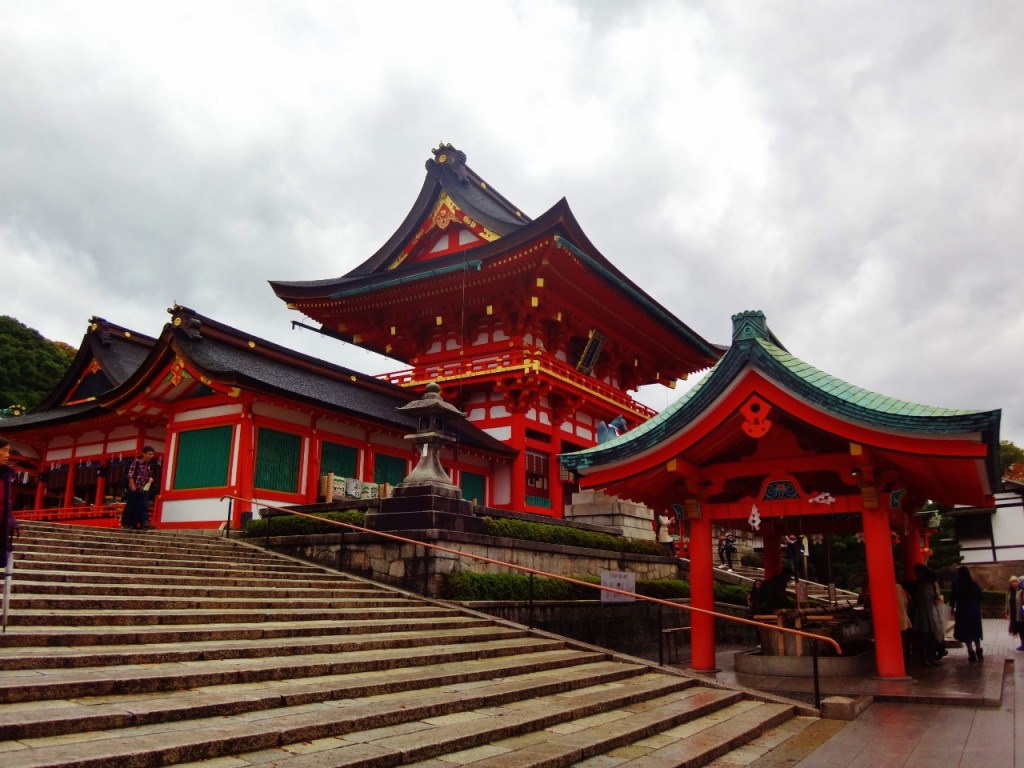 I had been looking forward to Fushimi Inari's giant tori gates and I was not disappointed. Our taxi driver dropped us off at the bottom of the road which lead up to the Shrine. The street was lined with many shops which were just starting to open. We had arrived early enough in the morning so that it was not too crowded. We spent a while wondering through the trails covered by the bright orange tori gates.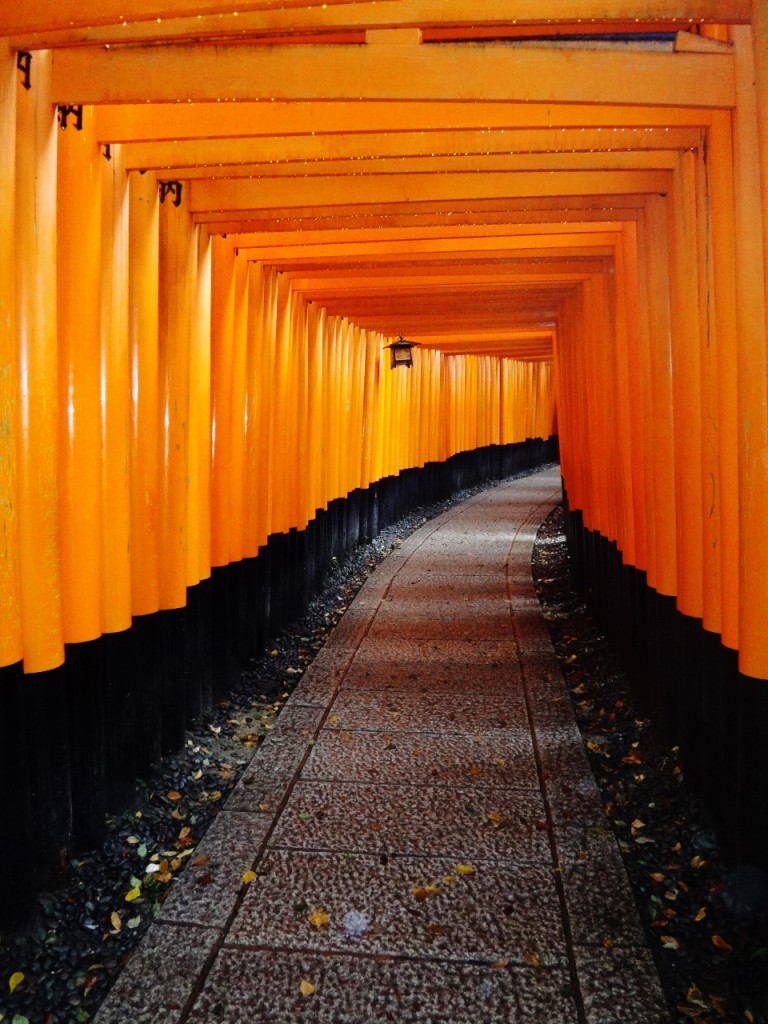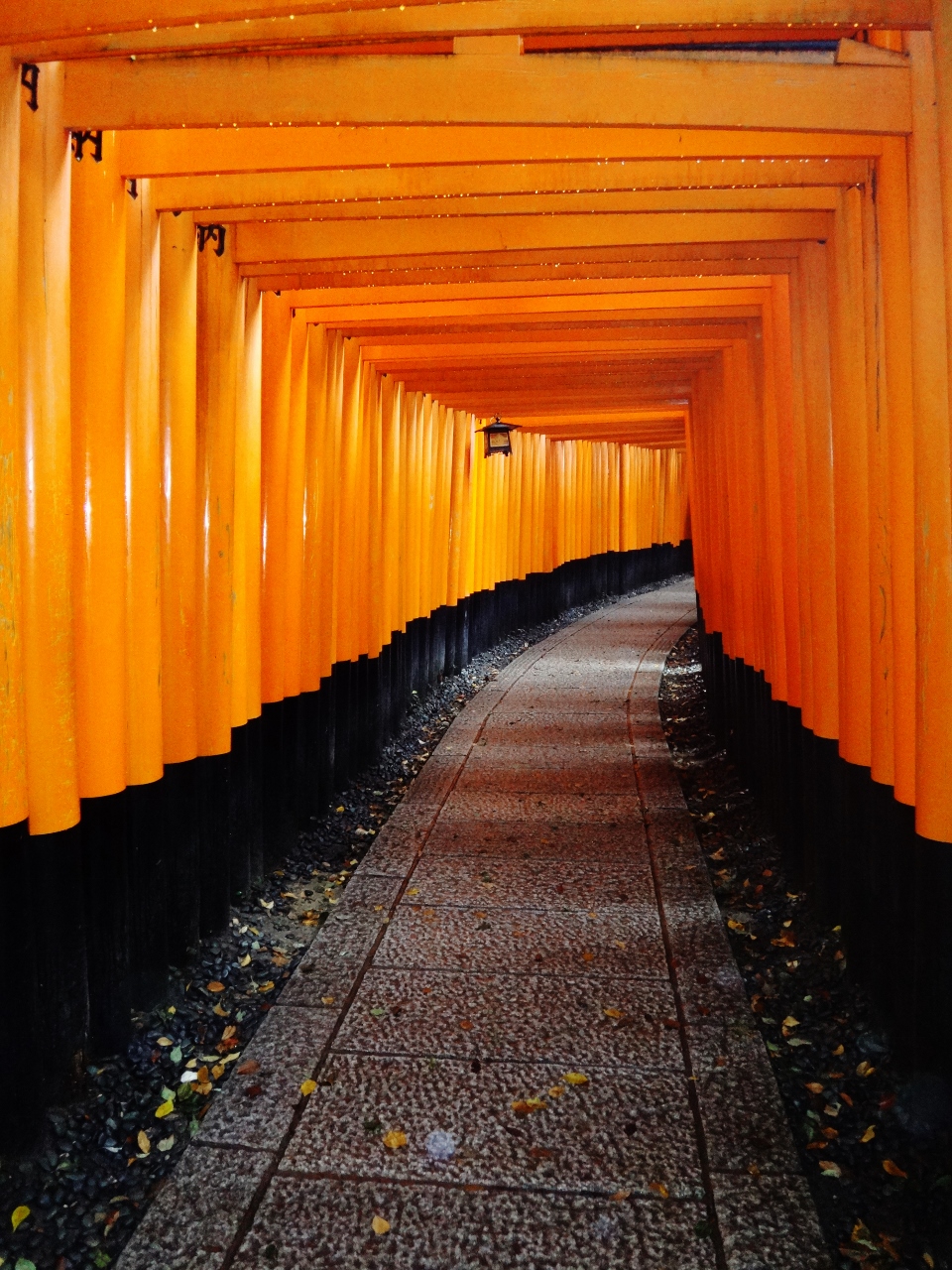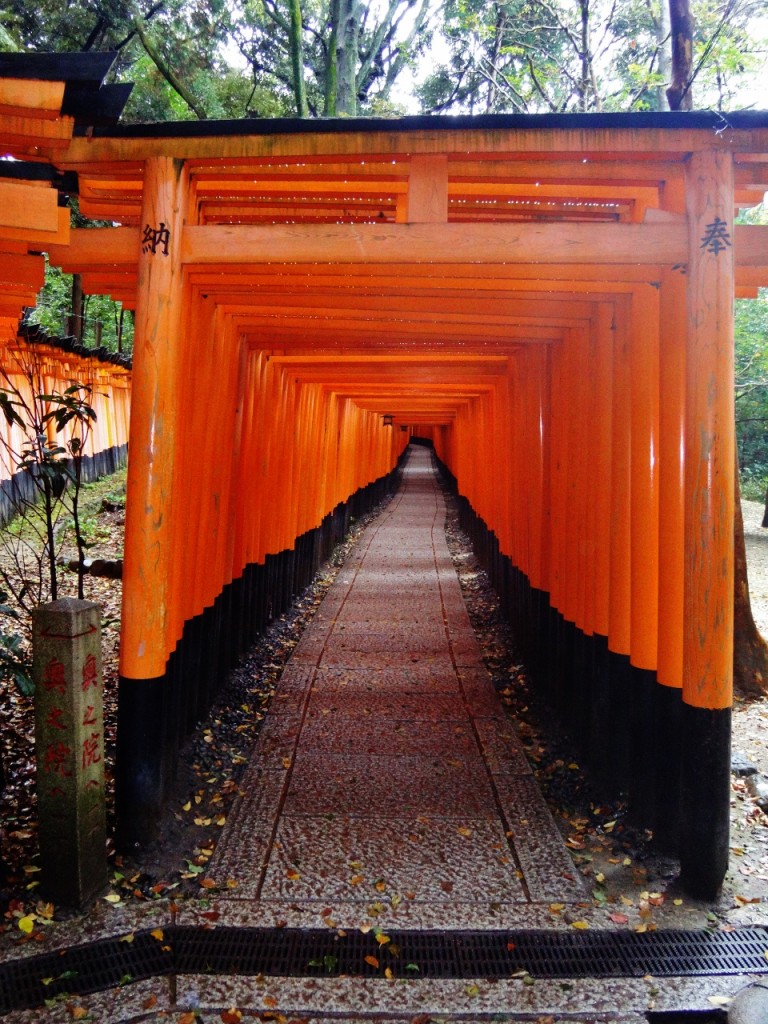 The tori gates were so closely packed together that the trails almost looked like a network of tunnels winding through the mountains. After taking countless photos and admiring the beauty of the area, we decided to make our way back down.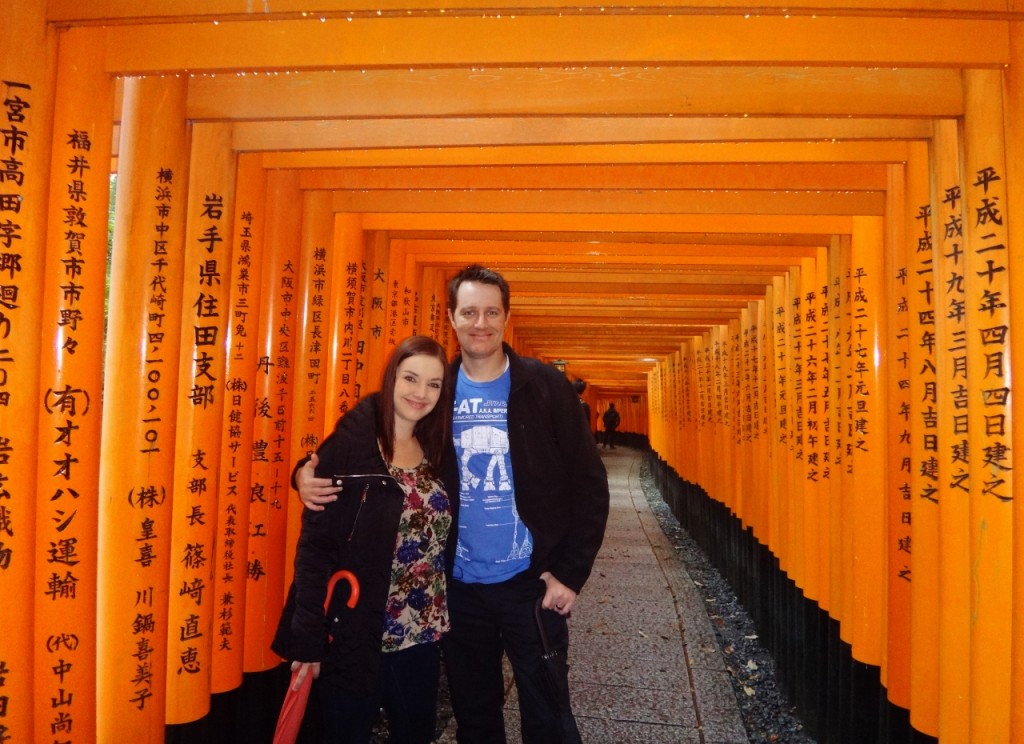 By this time, Fushimi Inari had started to attract many more visitors and the shrine entrance was very crowded. The shops had all finished opening and there were now vendors selling all sort of street food.
TRAVEL REVIEW: Fushimi Inari Shrine

 Trip Highlight!
We quickly found a taxi and headed out for Kinkakuji Temple. It was the early afternoon and Kinkakuji was beyond crowded (probably the most crowded temple we had visited). We bought our entrance tickets and were directed to a viewing are immediately to our left. As we turned the corner, there was Kinkakuji glowing in the sun and reflecting beautifully in the water below. All eyes were on the gorgeous Golden Pavilion. Because of the enormous crowds of people it was difficult to get pictures, but we did manage to snap a few great photos. As we exited this viewing area, the crowds started to dwindle and spread out along the trails. The trail lead to the back of Kinkakuji for a closer look at the two tiers of gold leaf plated walls and then up through the hills for an aerial view.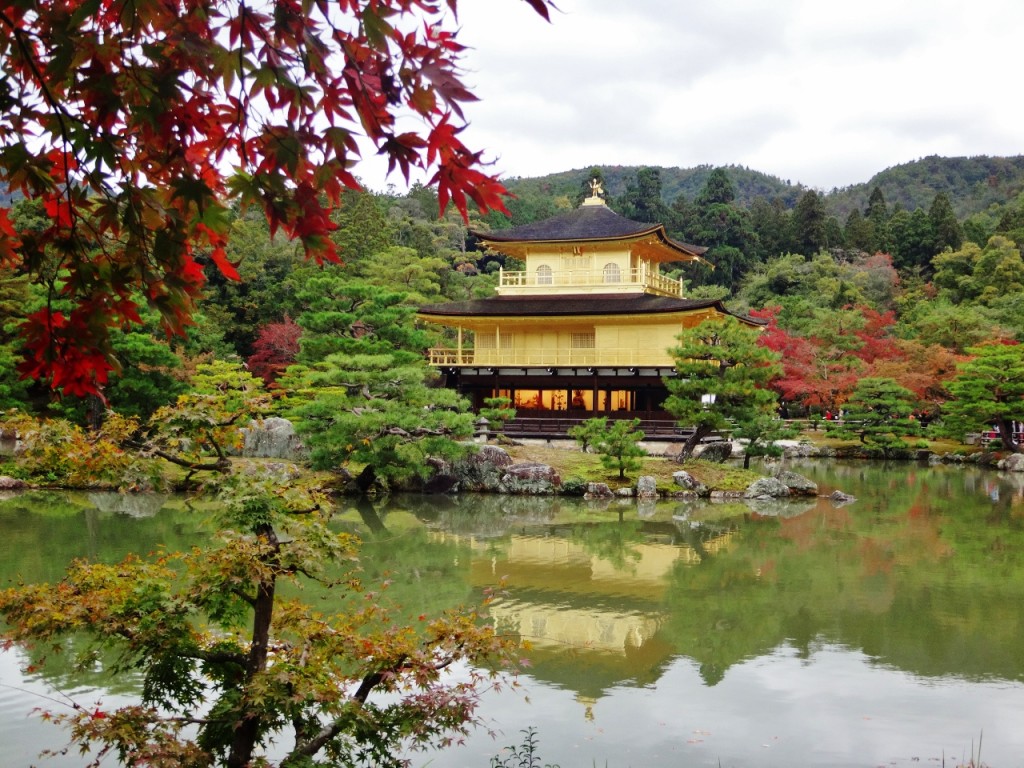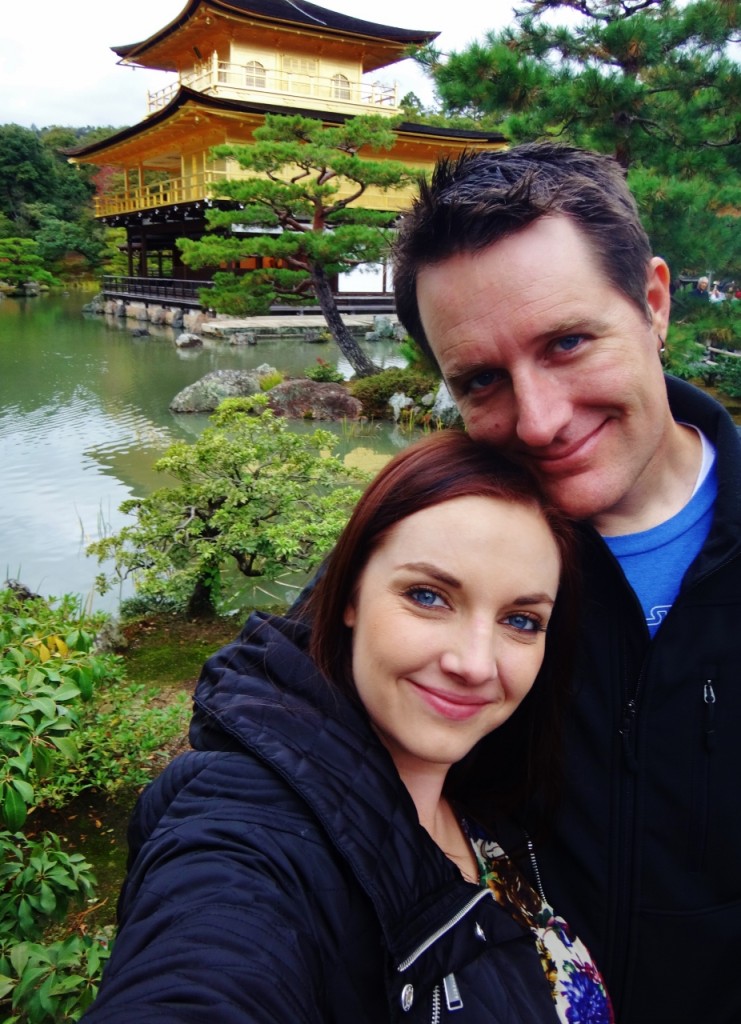 TRAVEL REVIEW: Kinkakuji Temple

 Trip Highlight!
Next we headed for the Shijo Dori shopping street to get some last minute souvenirs that were still on our list. We wandered into some very unique shops including a sticker store that sold designer T-shirts with the most unique screen printed art work.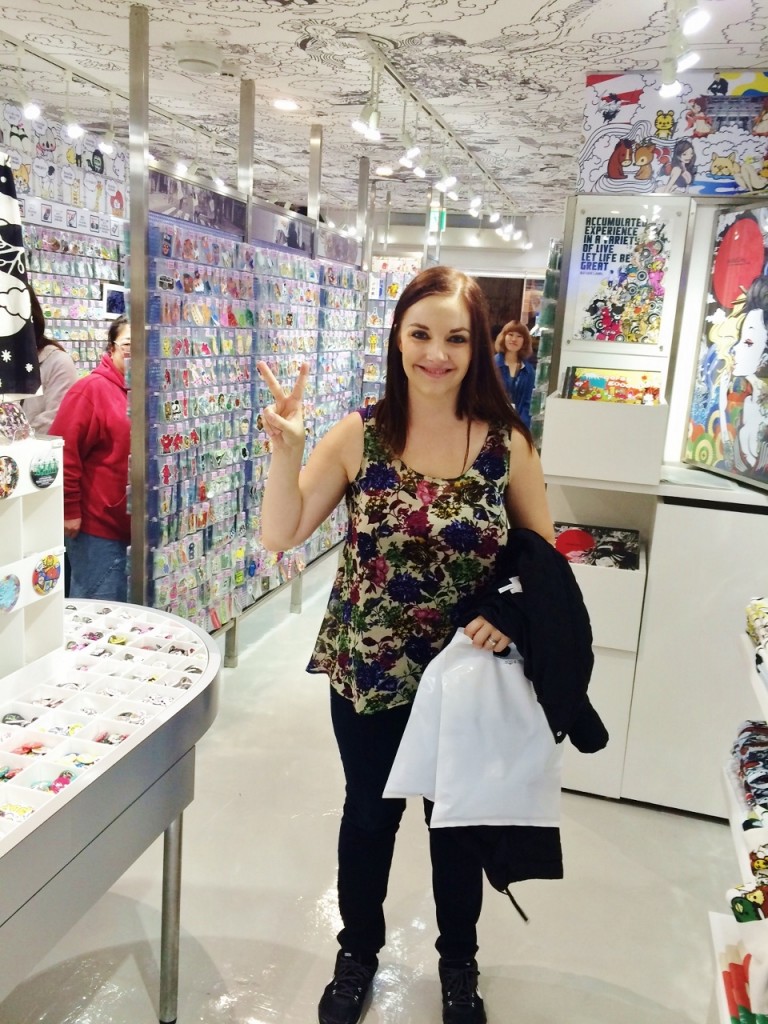 We stopped for lunch at a café that sold an assortment of baked goods and deserts. Each selection was displayed as a plastic replica behind a glass window. I remember seeing some sort of ice-cream sundae topped with soba noodles – very interesting! We enjoyed wandering around the area with no real plan or itinerary. Hotel Mume was just a 15 minute walk away so we headed back to get some rest before dinner.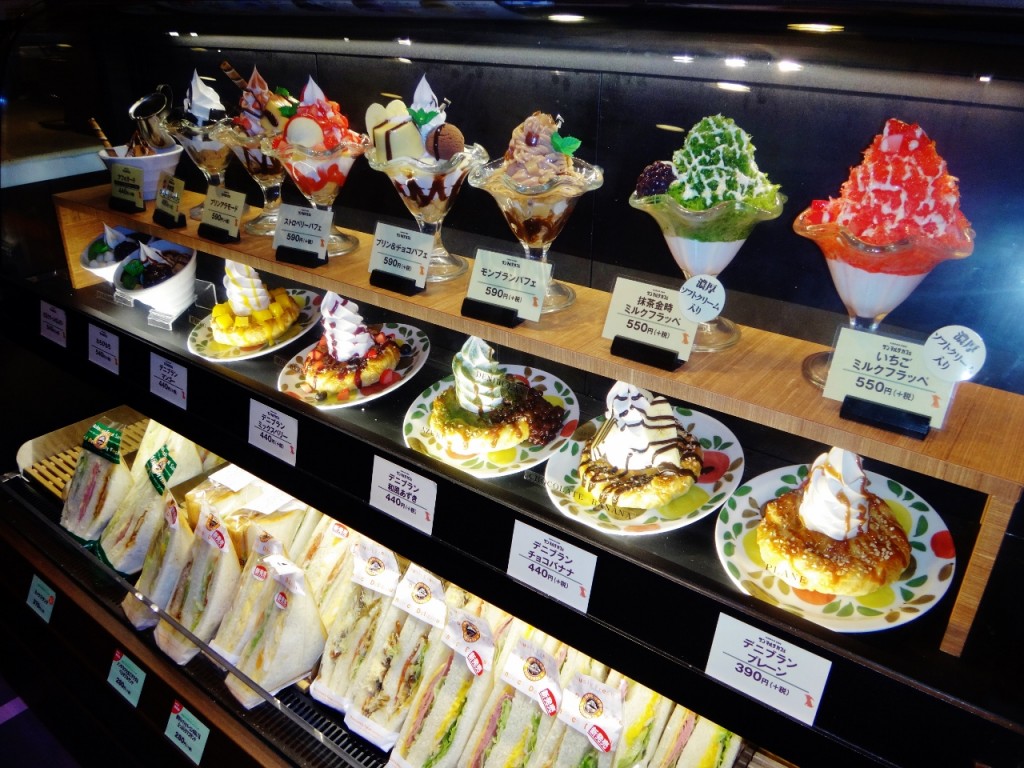 This was our final night in Kyoto and Hotel Mume recommended The Sodoh Higashiyama for a special dinner. The Sodoh is a Japanese-Italian fusion restaurant. Although only a 15 minute walk from the hotel, it had started to rain so we decided to take a taxi. We were seated at a table for two next to the window overlooking a garden. We decided to order some champagne and selected a pre-set 6 course menu.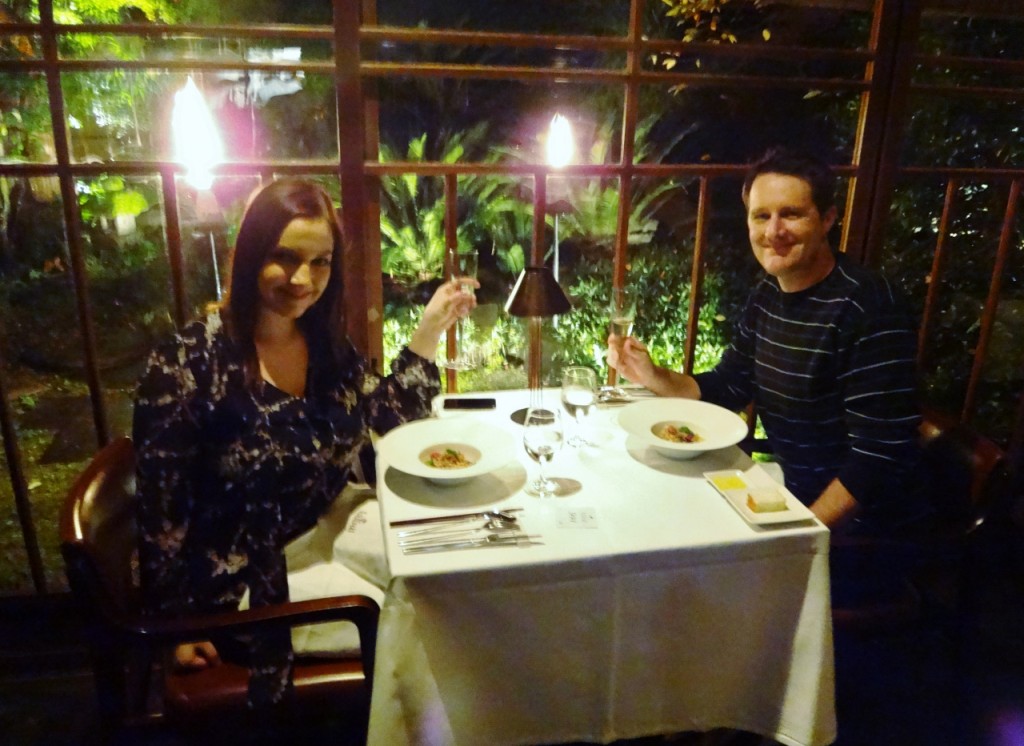 Each course was a "standard" Italian dish but with Japanese flavors and ingredients. We enjoyed a salad, an appetizer, a seafood dish, beef dish, pasta course, and a desert with tea and coffee. Each course was delicious and of course artfully arranged on the plates.
It had stopped raining so we decided to walk back to Hotel Mume. We stopped at the Yasaka Shrine on our way back which was illuminated for an autumn foliage event. It was beautiful to see the shrine and surrounding trees lit up in the dark evening. We headed back to Hotel Mume, knowing it was our last night in Kyoto and we had to get our luggage ready for an early morning train to Koyasan the next day.
Trip Resources
Reviews: www.tripadvisor.com
Nine Hours Kyoto Capsule Hotel: ninehours.co.jp/en/kyoto
Hotel Mume: www.hotelmume.com
eConnect Pocket Wifi: www.econnectjapan.com
Kyoto Information: www.japan-guide.com