4 Nights in Cusco
The Historic Capital of the Inca Empire

It was all about food in Cusco. From the markets, the chocolate, the fine dining, and the cuy (Guinea pig) – Cusco was easy on the taste buds. I had a list of places and dishes that I wanted to try and we didn't hesitate to get started.
Our first meal in Peru was at Inkazuela, a restaurant specializing in Peruvian stews. We had made reservations a few weeks in advance and were greeted by the owner with a welcoming smile. The menu consisted of about a dozen mouthwatering soups. Brian ended up getting the Andean Stew and I ordered the Coconut Curry Chicken. Our soups were served piping hot with two delicious pieces of fresh baked bread.
Everything was packed full of flavor. It was at that point that we realized why Peru is known for having some of the best cuisine in the world. Although I had heard that this restaurant was a popular one, I noticed that we were the only patrons. Our server, the restaurant owner, told us that they normally aren't open on Sundays, but that they opened up just for us since we had made reservations. Wow, talk about Peruvian hospitality!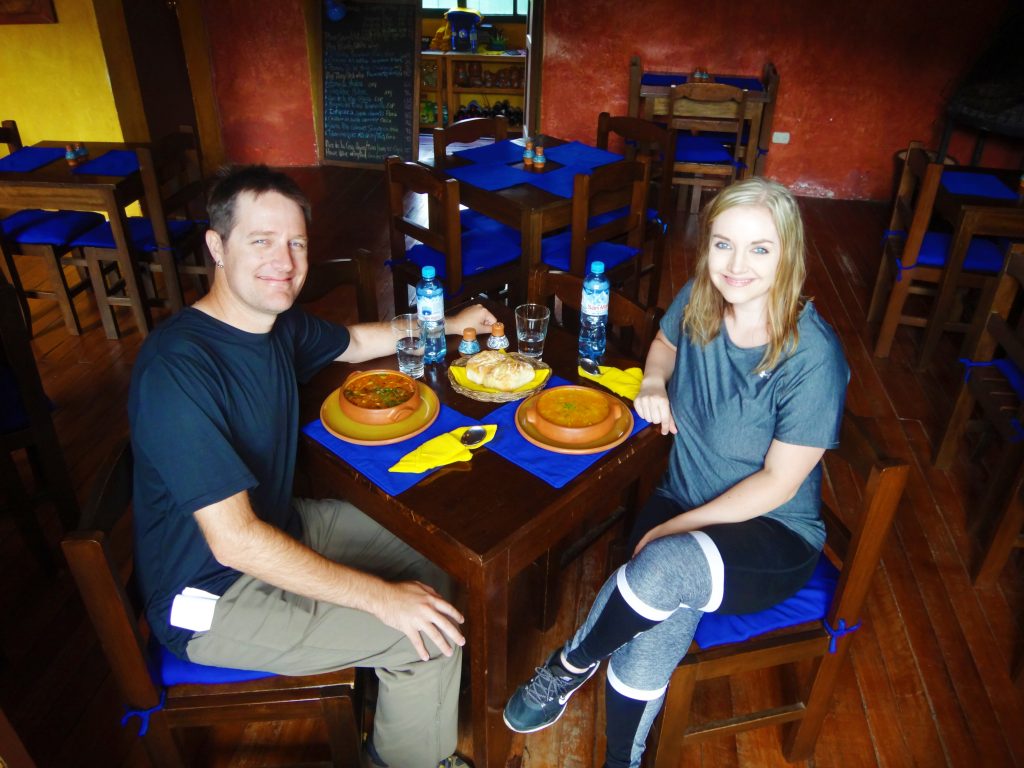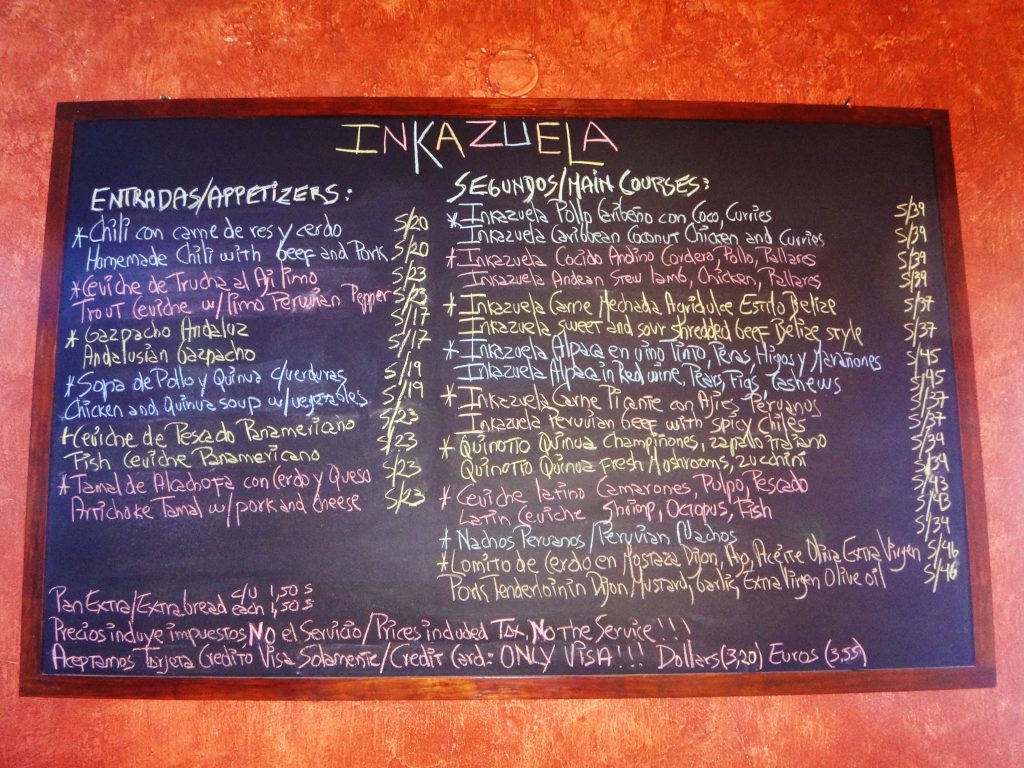 TRAVEL REVIEW: Inkazuela Restaurant

 Trip Highlight!
Some of our other favorite restaurants included Uchu Peruvian Steakhouse, Kusikuy, Marcelo Batata, and Café Morena.
At Uchu we started with key lime shrimp bruschetta, tried a stone cooked trio of alpaca, lamb, and mahi, and finished with the "Chocolate Madness" for desert.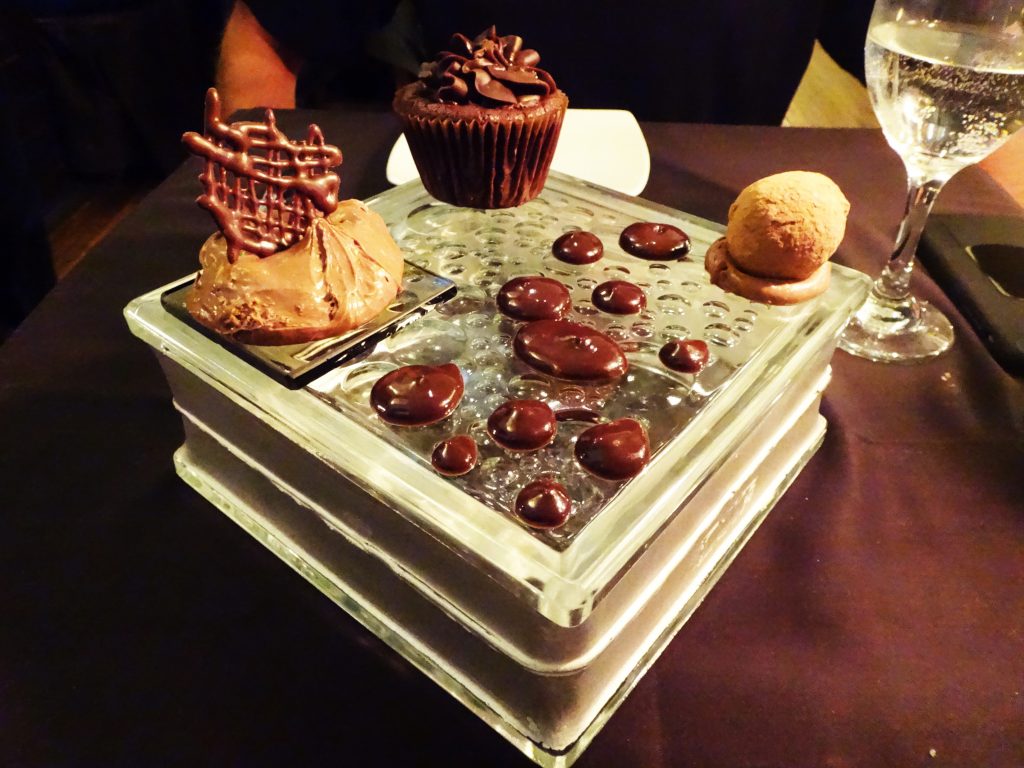 TRAVEL REVIEW: Uchu Peruvian Steakhouse

 Must Do!
When in Peru, you HAVE to try to local dish – cuy! Also known as guinnea pig, cuy is typically served roasted and whole. Yes, that means head, teeth, claws and all. Kusikuy restaurant was built in a 16th century house and is famous for its cuy dish.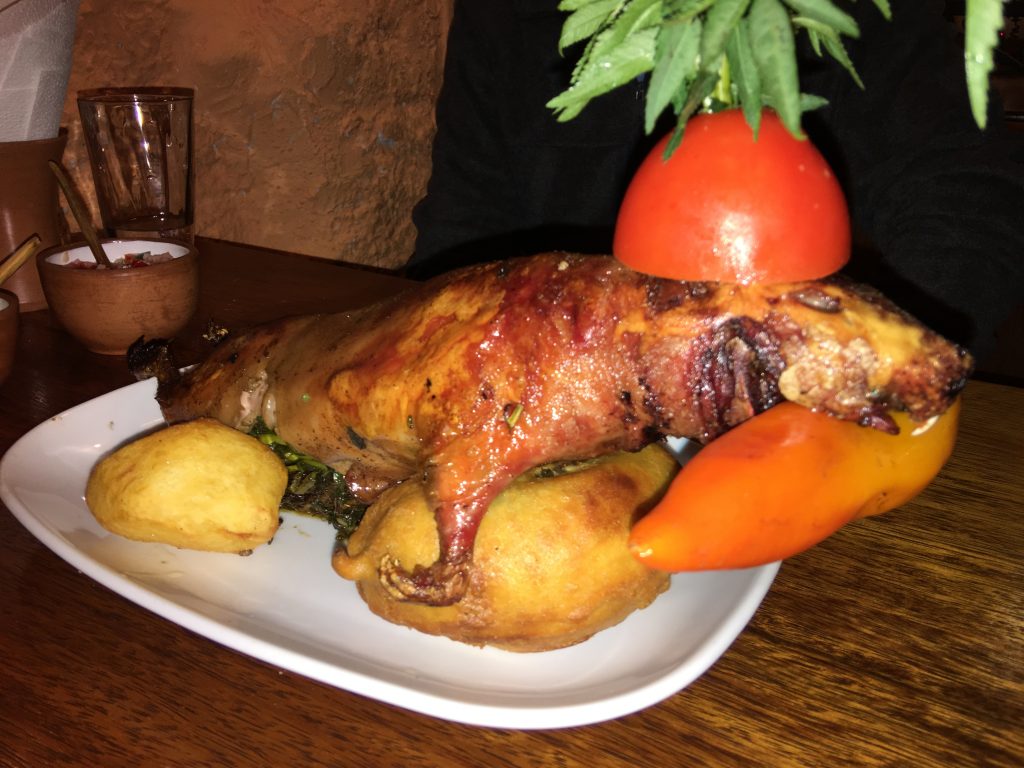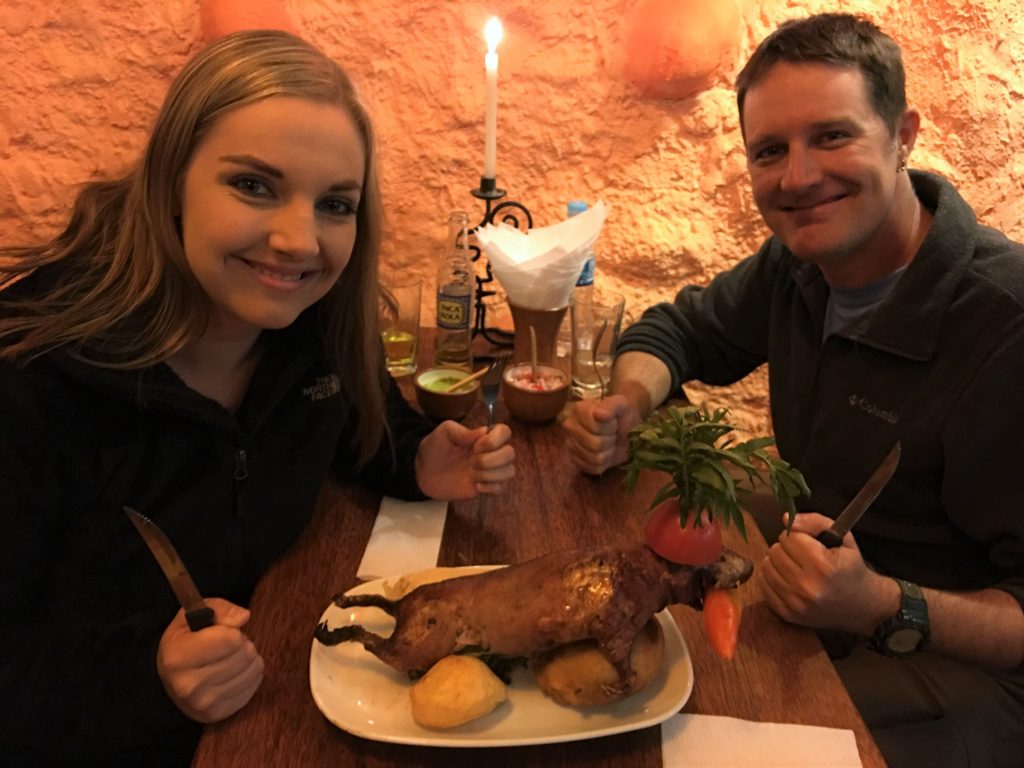 TRAVEL REVIEW: Cuy at Kusikuy

 Trip Highlight!
We enjoyed lunch on the rooftop terrace of Marcelo Batata which overlooked the beautiful city of Cusco. I had the alpaca in a honey garlic sauce and Brian had lamb (of course!).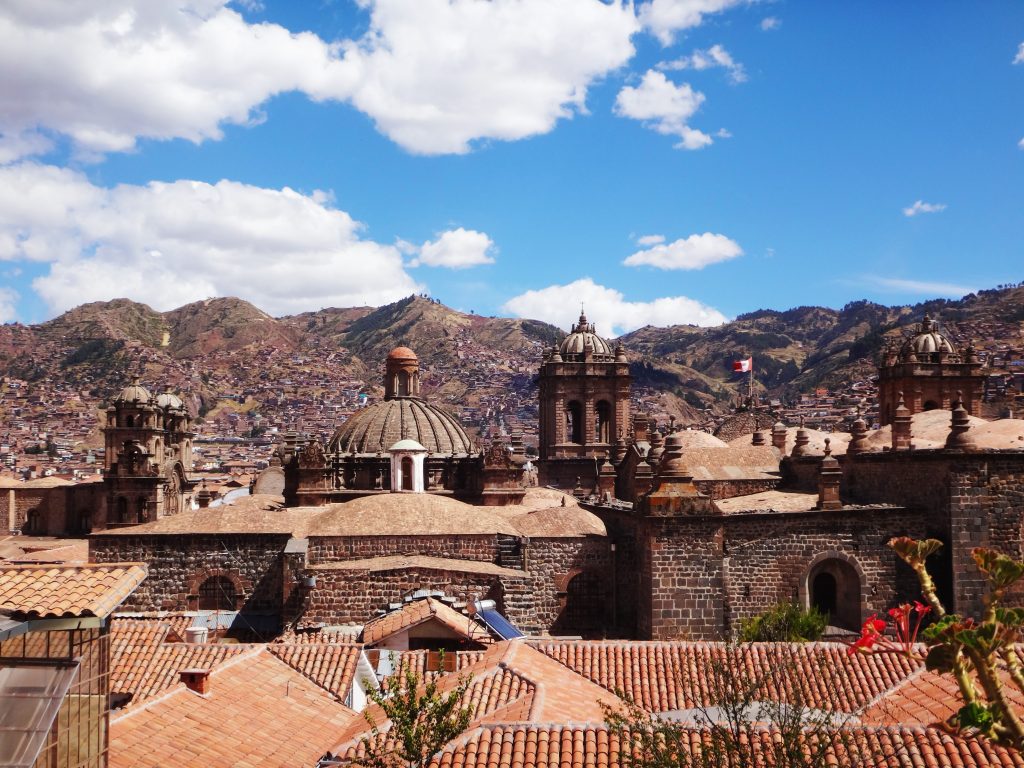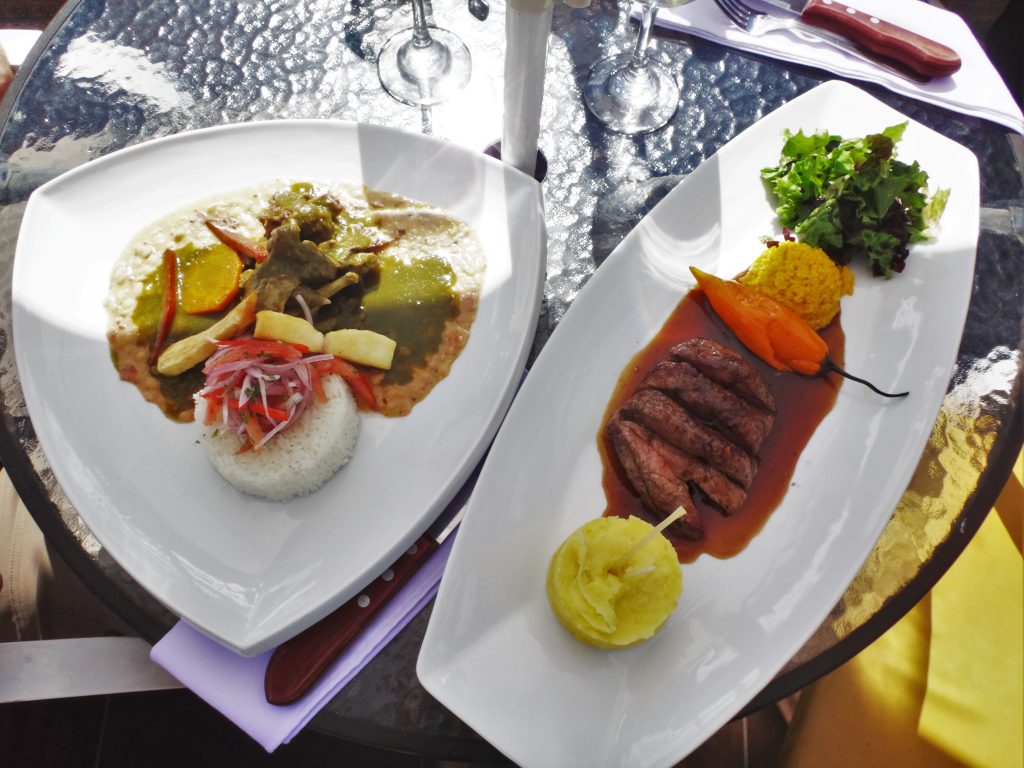 TRAVEL REVIEW: Marcelo Batata

 Must Do (for the view)!
Our final dinner in Cusco couldn't have been any better. We visited the famous Café Morena (rated #1 restaurant in Cusco). The highlight of this restaurant were the drinks – lemongrass lemonade (the best I've ever had…I'm still day dreaming about it), chicha morada sour, and fresh squeezed orange juice.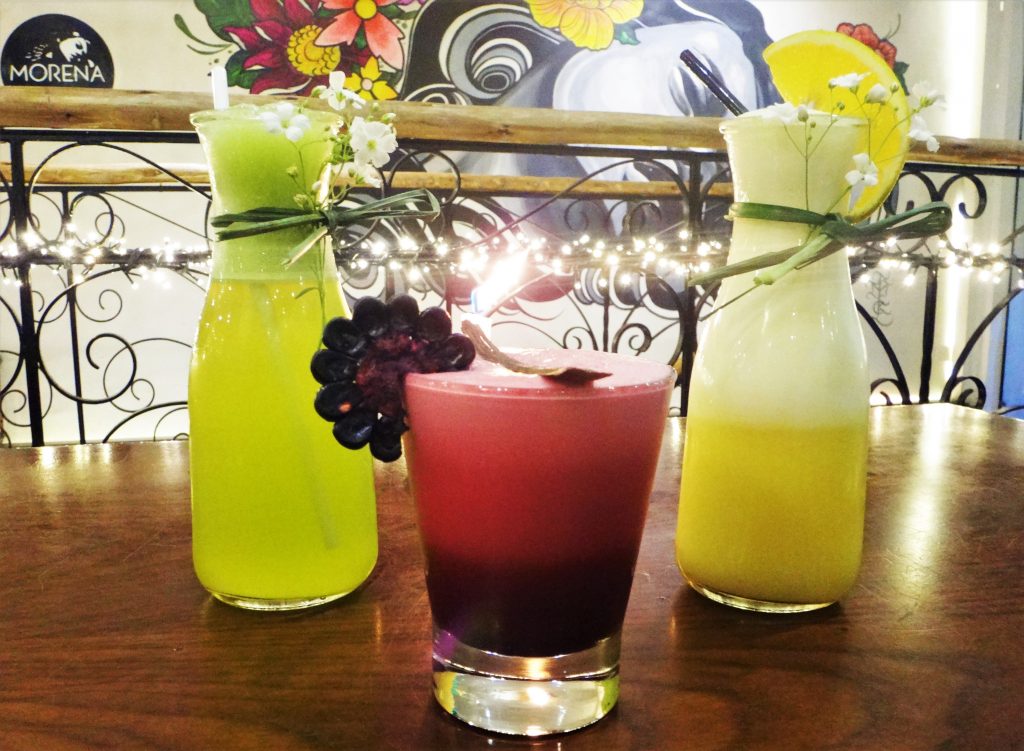 For dinner I had house made fettuccini tossed in a three-chili cream sauce with fresh prawns, calamari and octopus, topped with fresh herbs and parmesan cheese. Brian devoured an Alpaca burger named the "Inka Trail Burger." Desert was excellent – almond ice cream with chunks of brownie served in a cacao shell.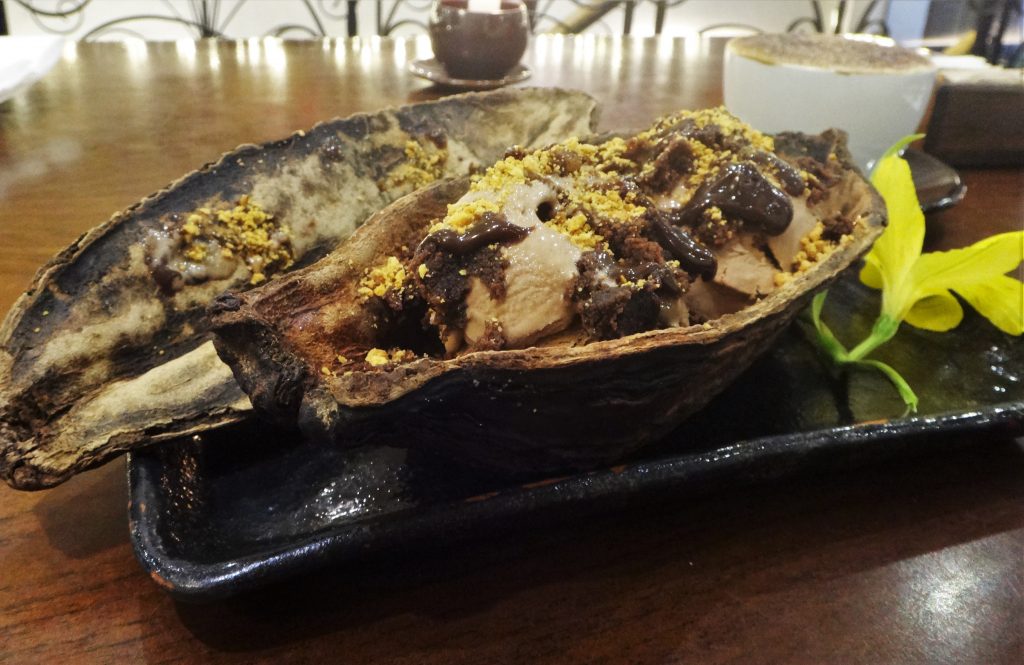 TRAVEL REVIEW: Cafe Morena Peruvian Kitchen

 Must Do!
After sampling some amazing food, we decided to visit the local market (Mercado Central de San Pedro) where we could see some of the ingredients first hand. Of main interest to me was the purple corn (used to make chicha morada), the variety of spices, the giant loaves of bread, and the over 4,000 types of potatoes!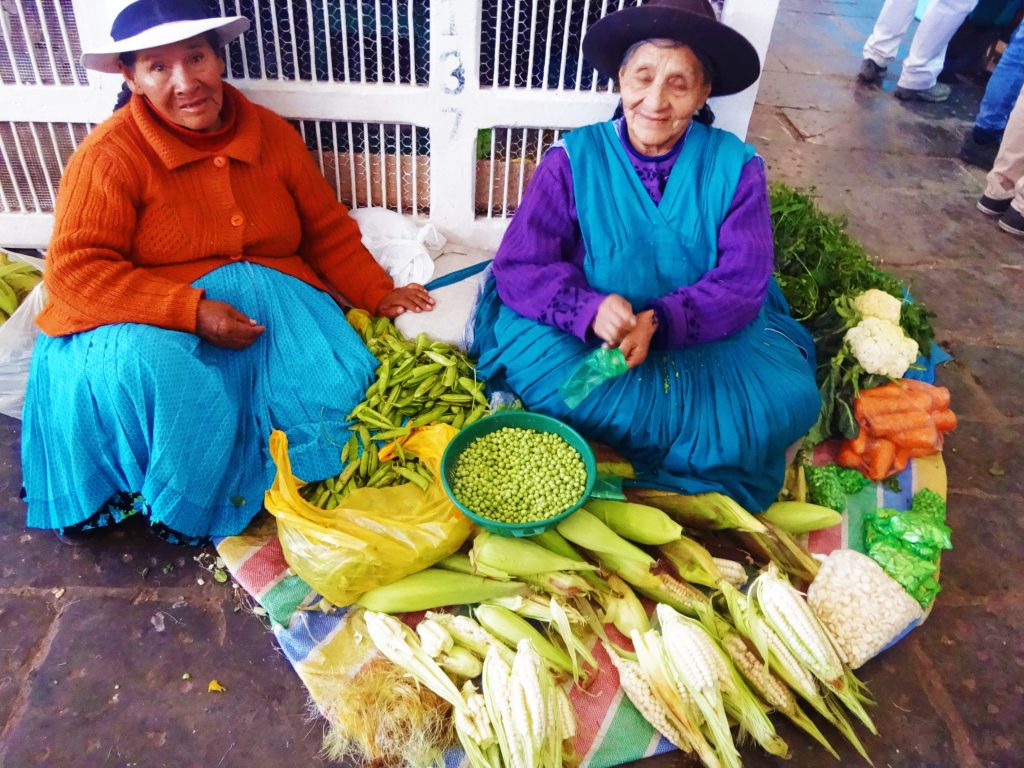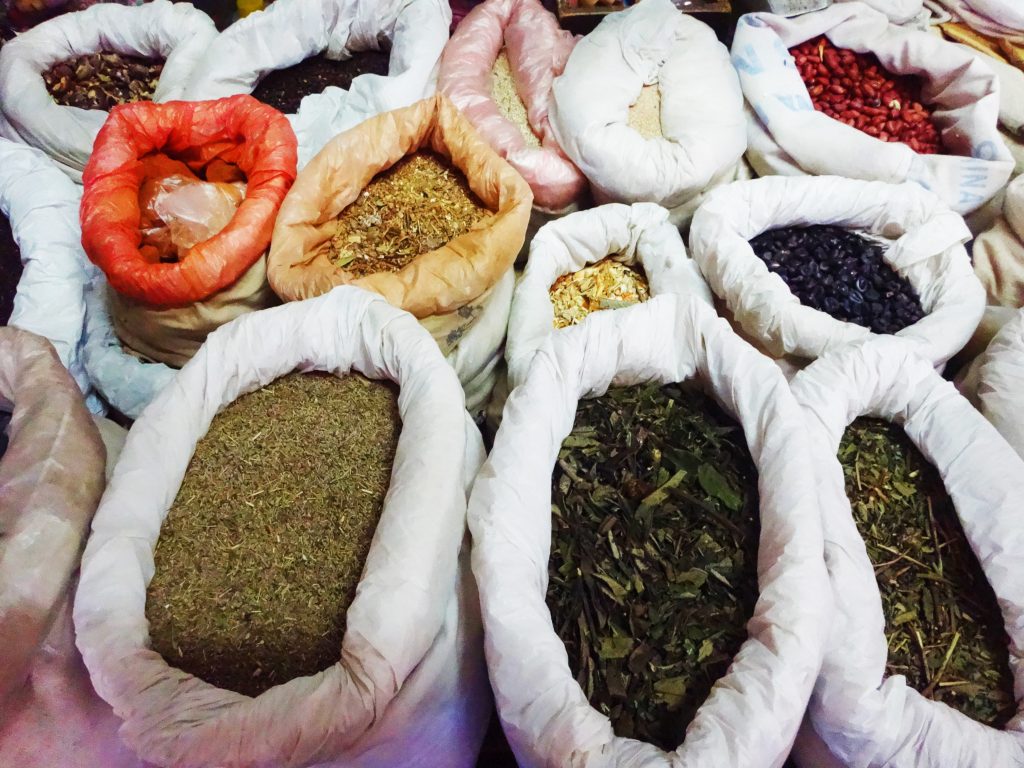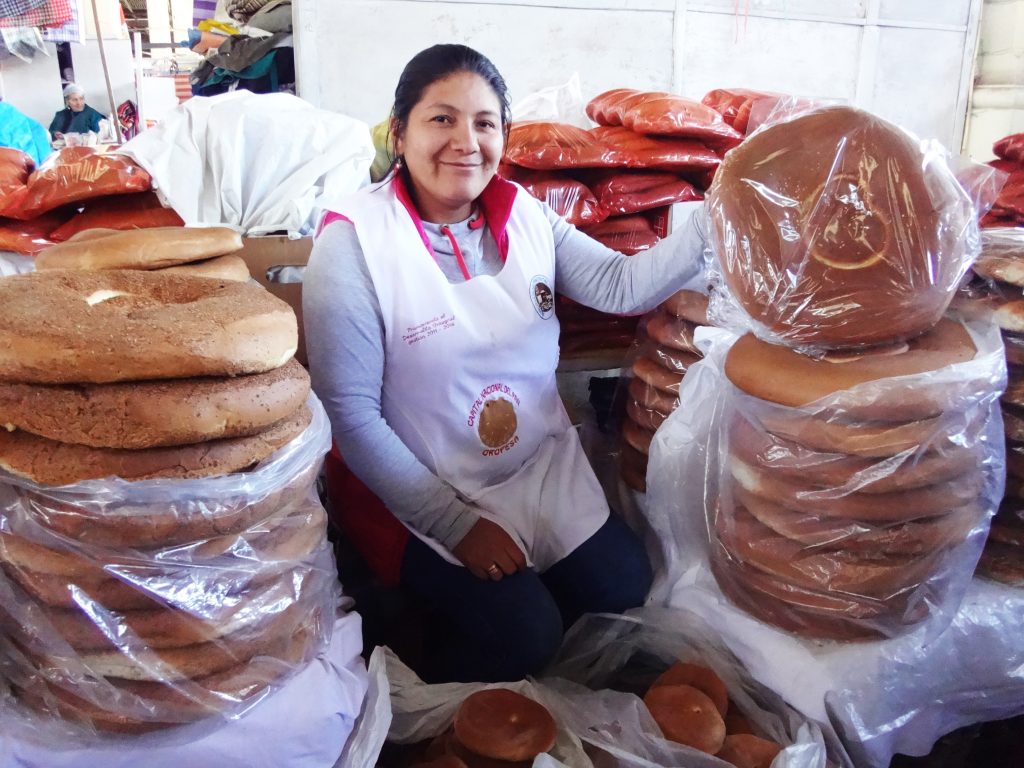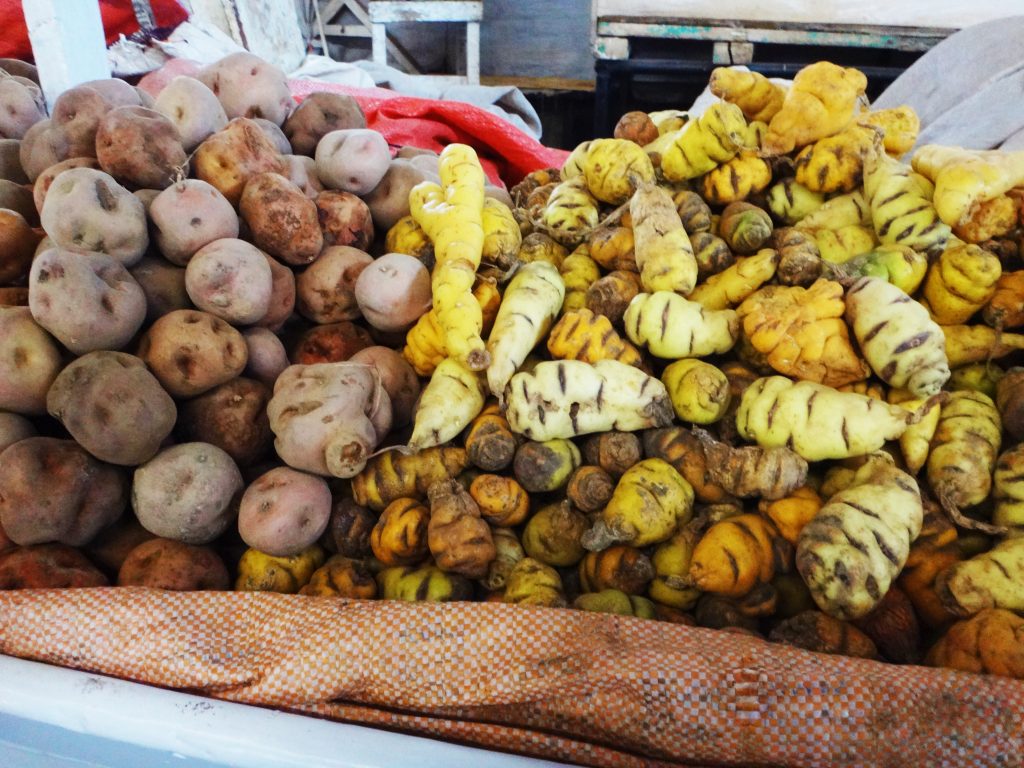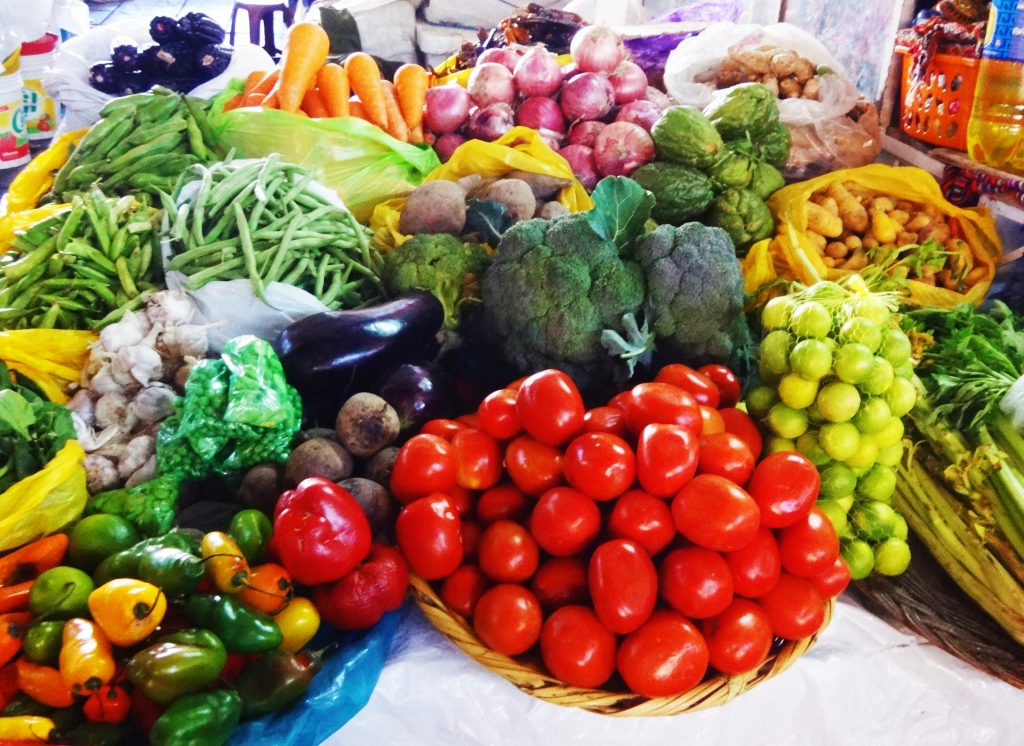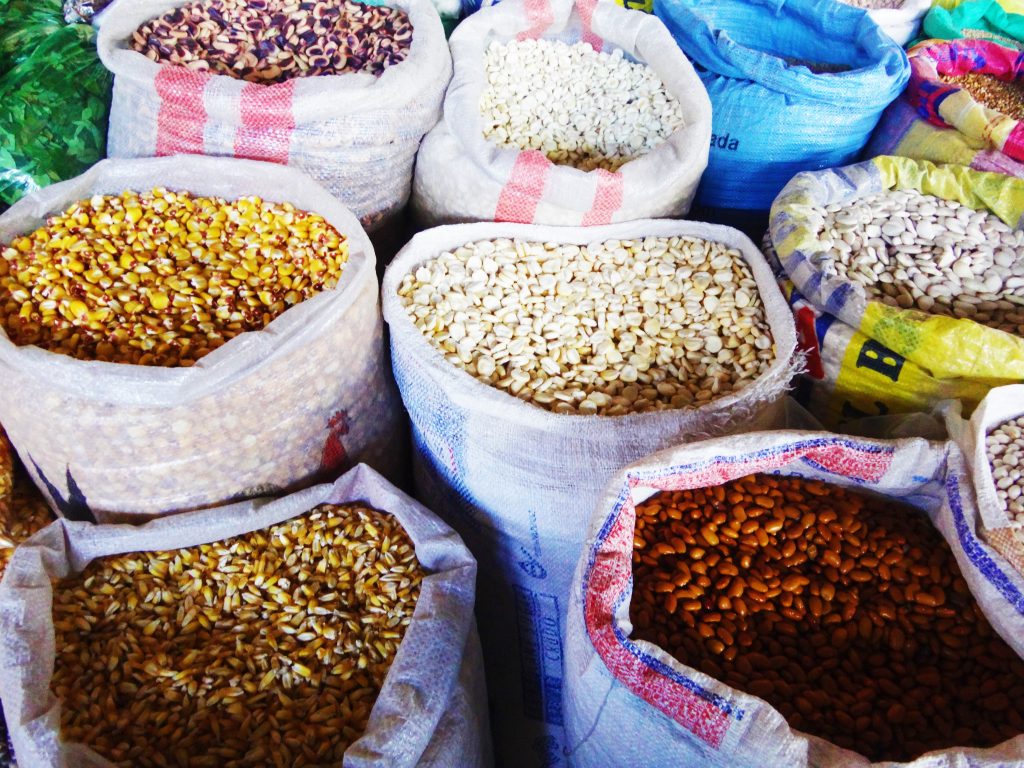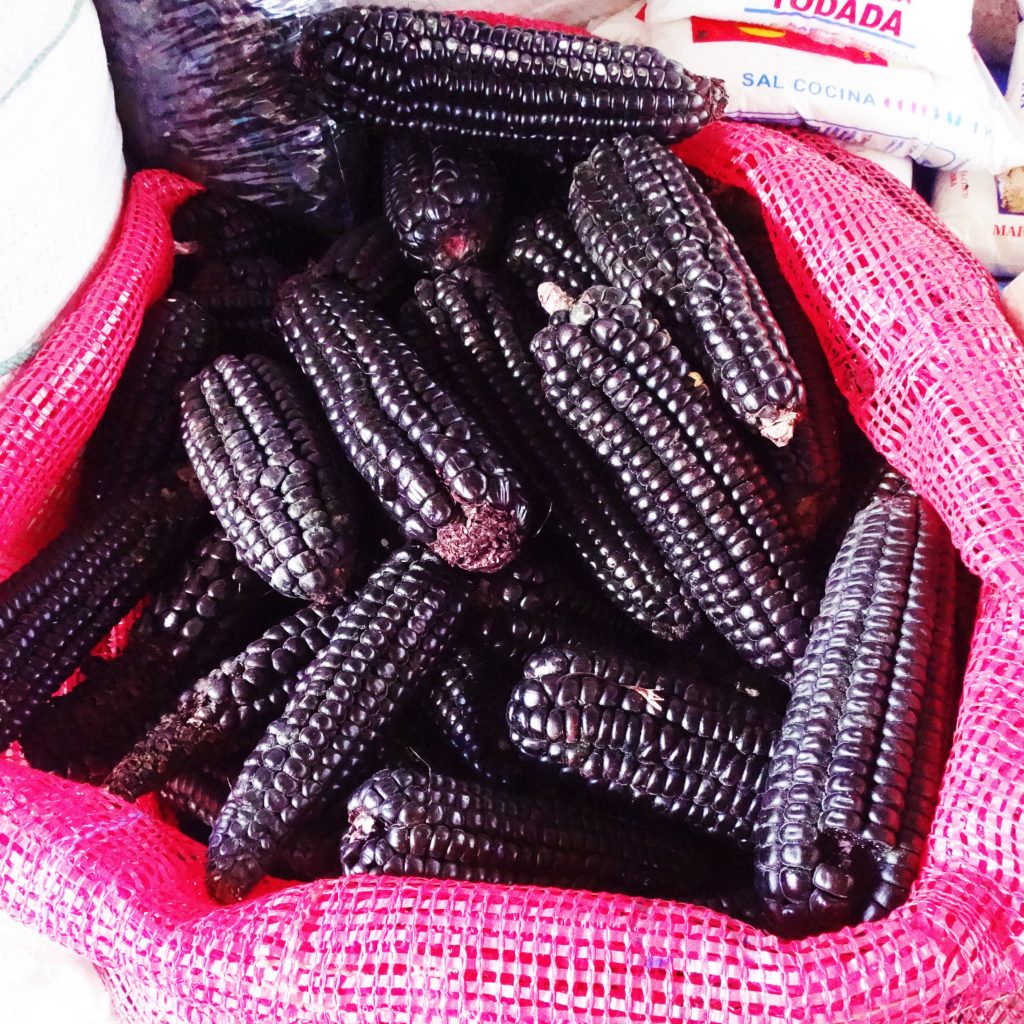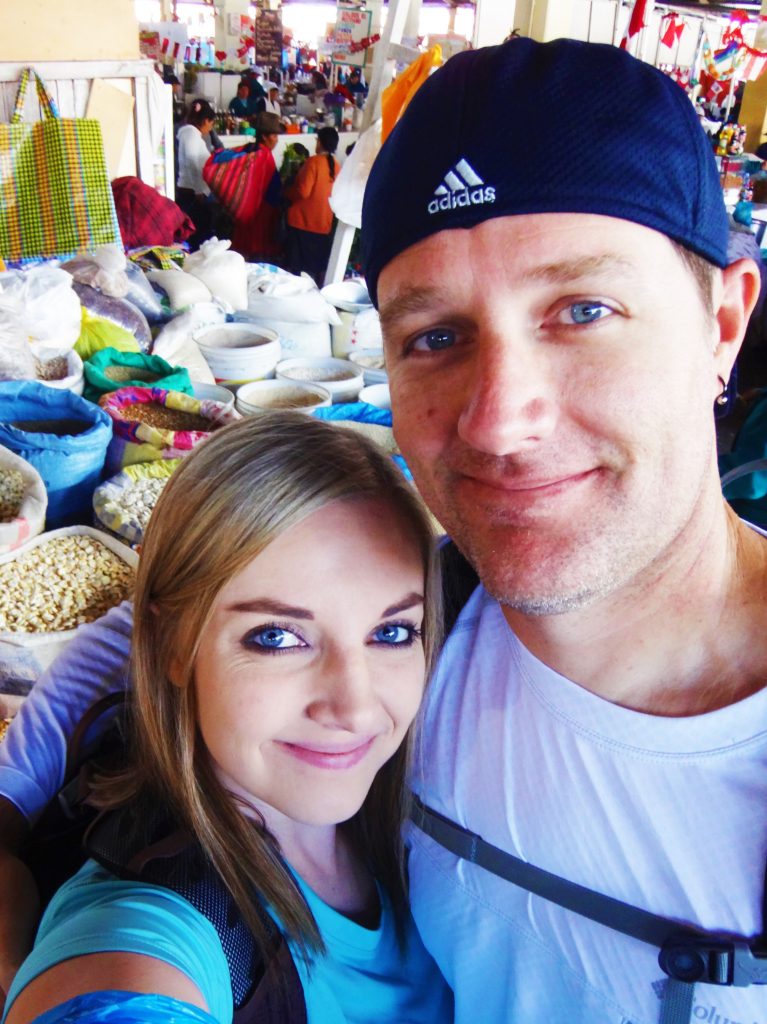 TRAVEL REVIEW: San Pedro Market

 Must Do!
After all the eating we had been doing, we thought it would be a fun idea to take a cooking class. We ended up attending a chocolate making class where we learned to make chocolate starting with roasting and peeling the cocoa beans, grinding the beans into a paste, and mixing in other ingredients to make the most delicious pieces of chocolates! We also learned how to make cacao tea and Mayan hot chocolate.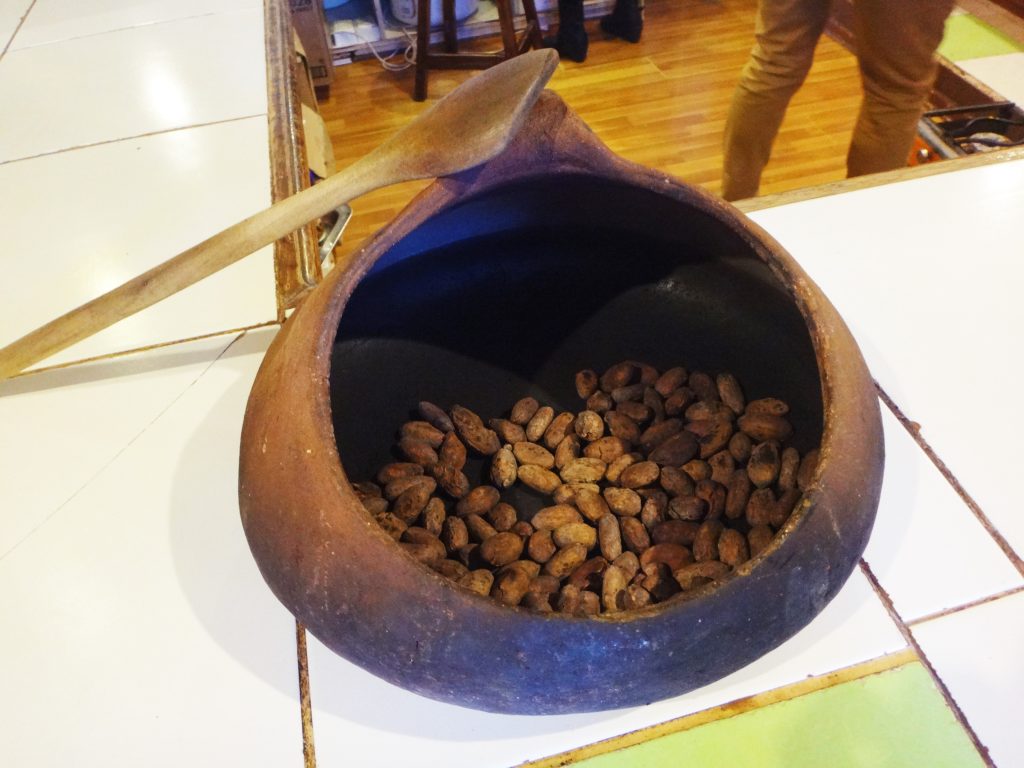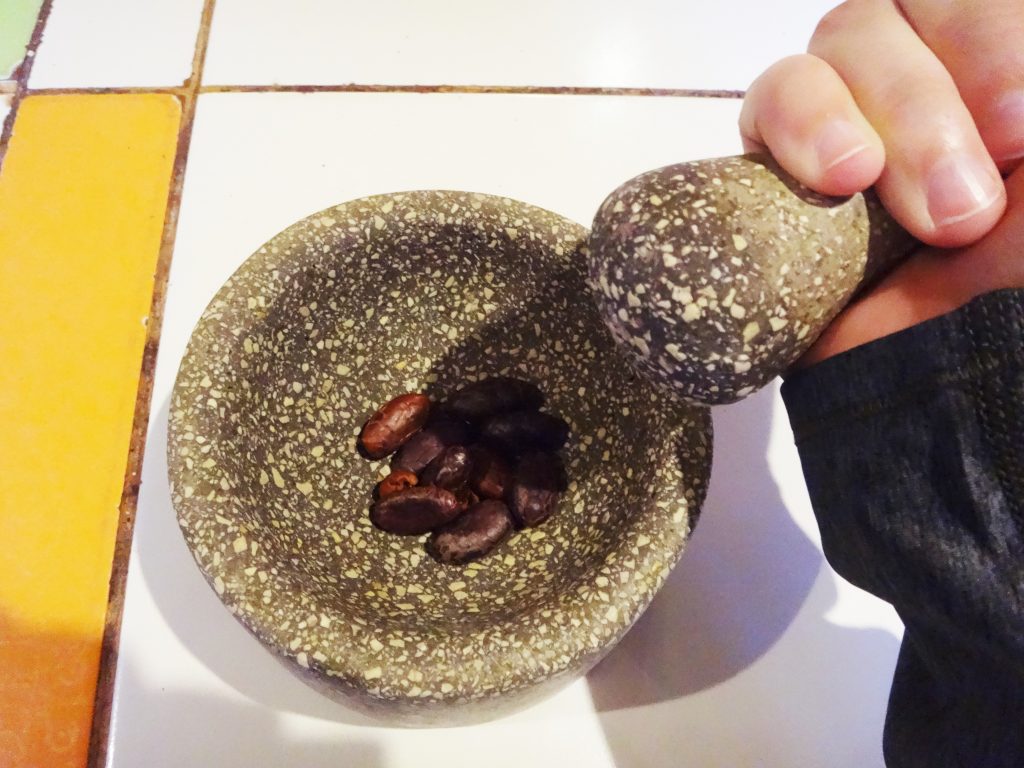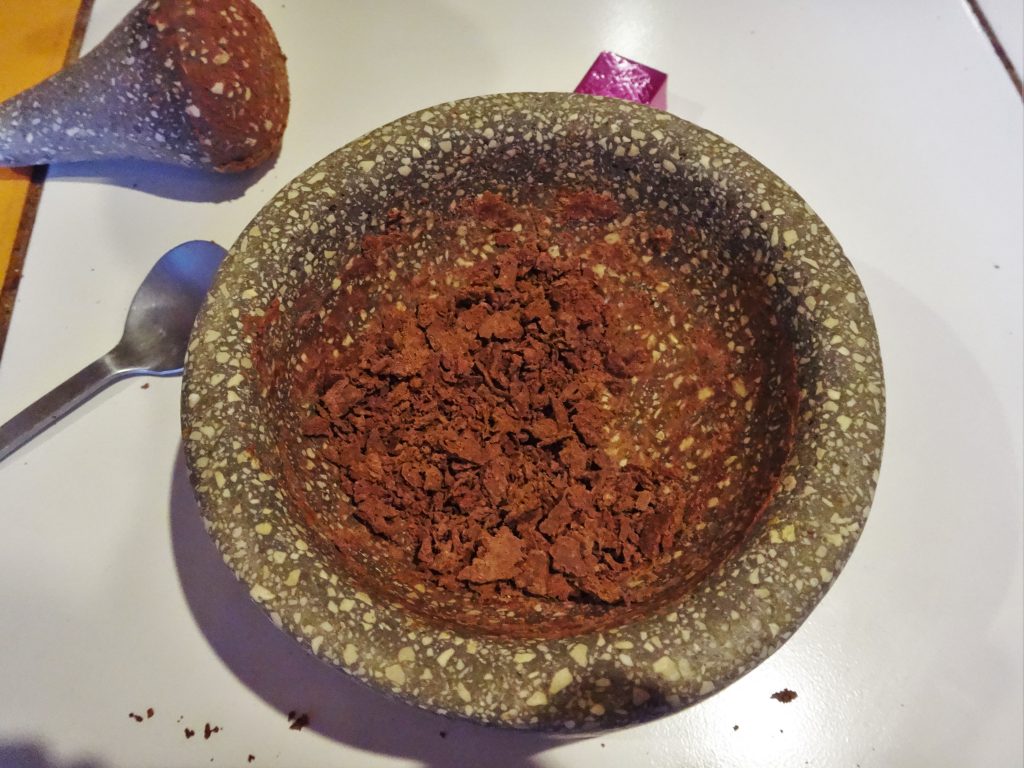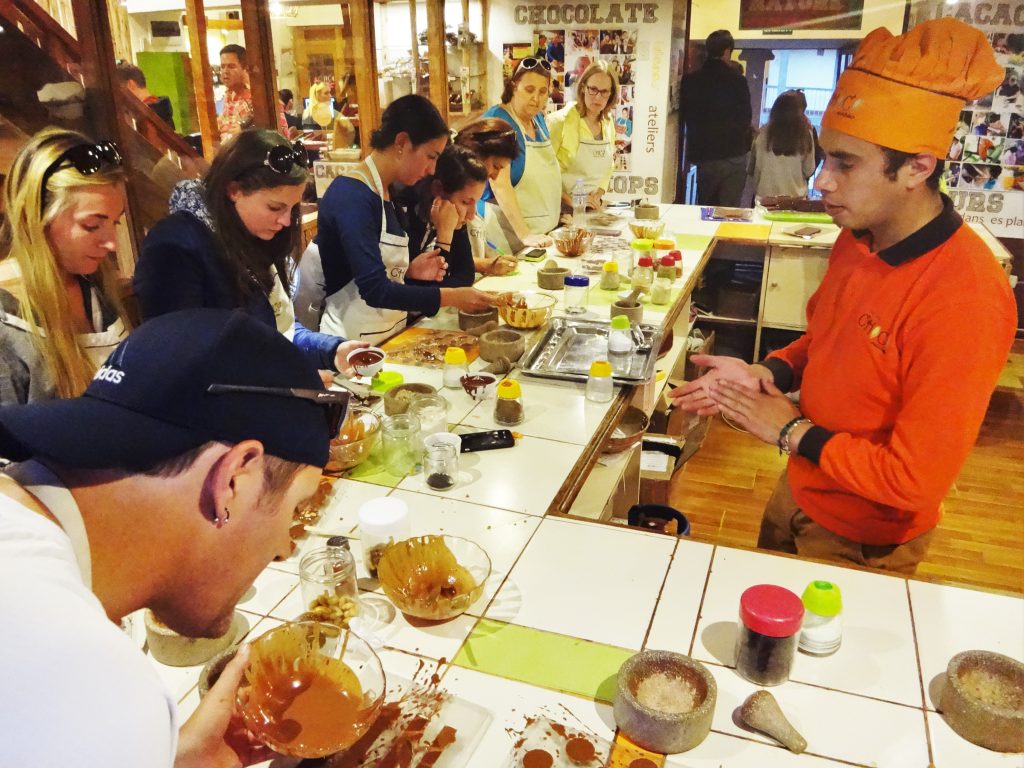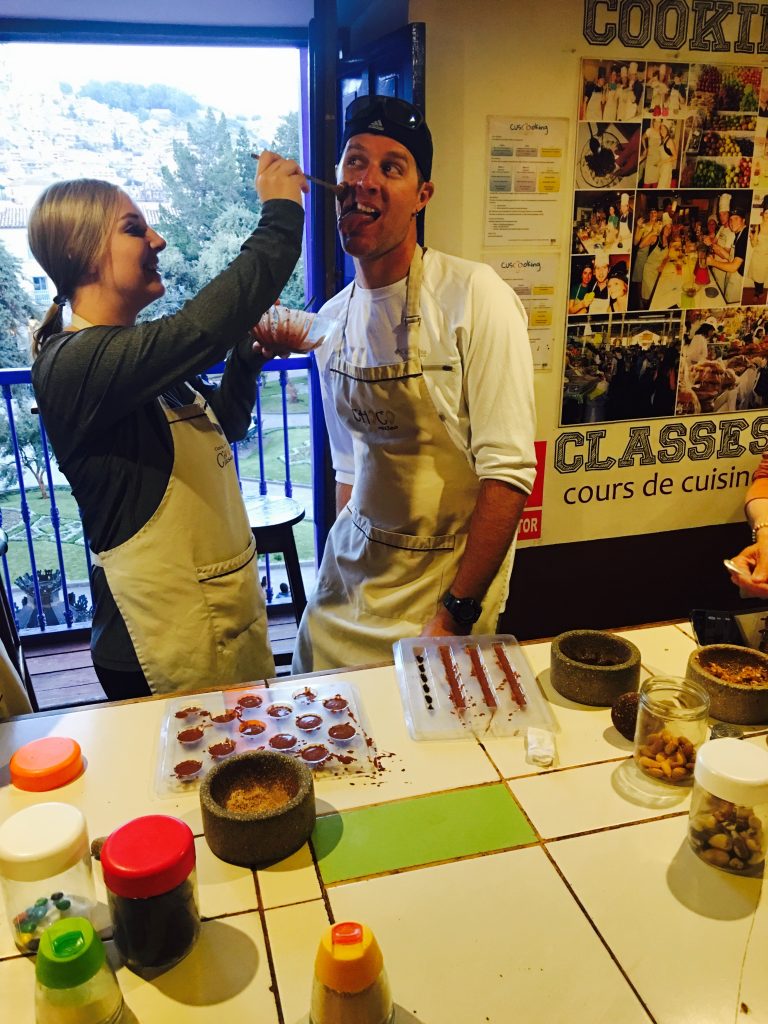 TRAVEL REVIEW: Chocolate Making Class

 Trip Highlight!
Of course there is more to Cusco than just the food…
We enjoyed walking the cobblestone streets and admiring the beautiful architecture of the Plaza de Armas and la Catedral del Cusco.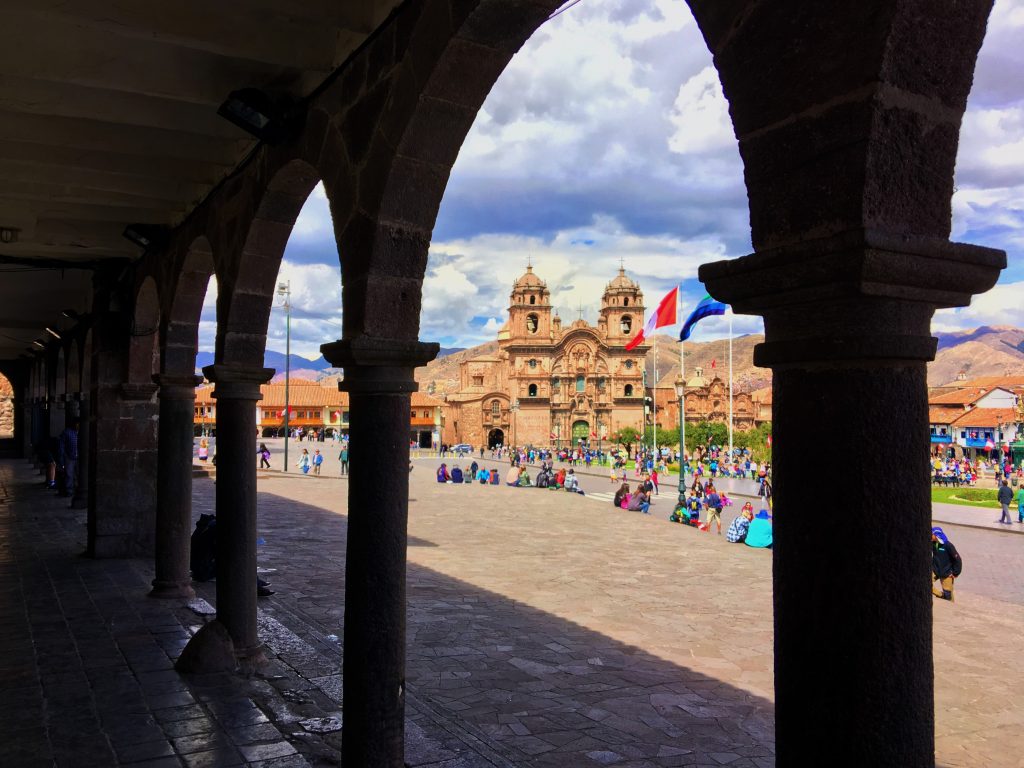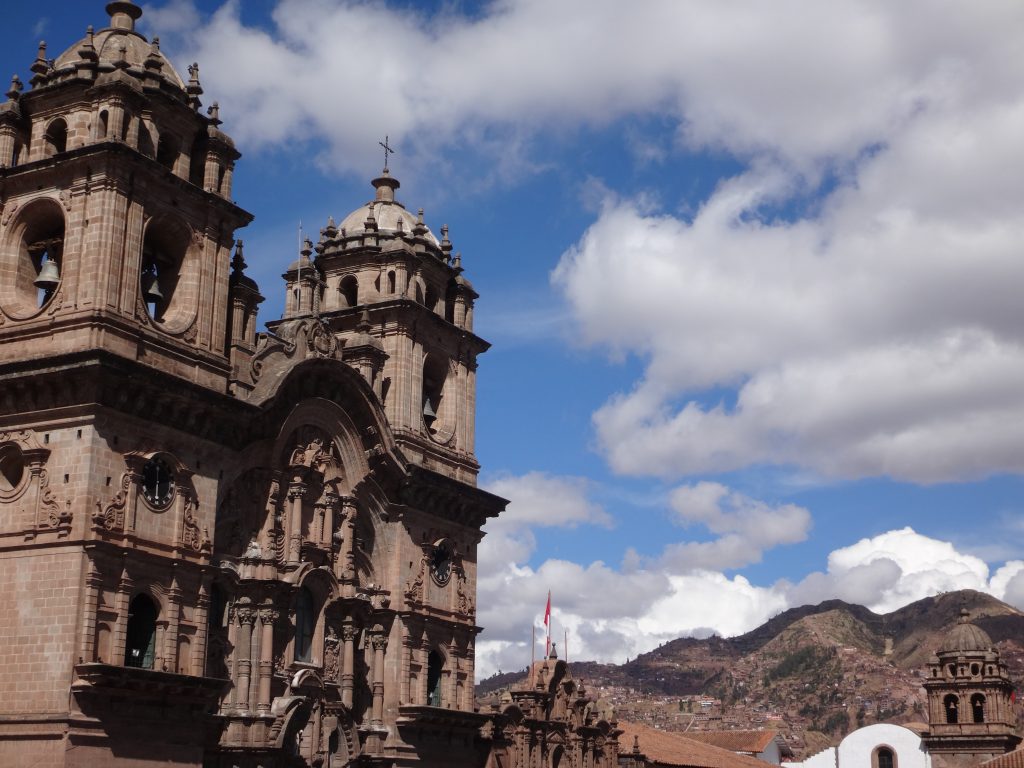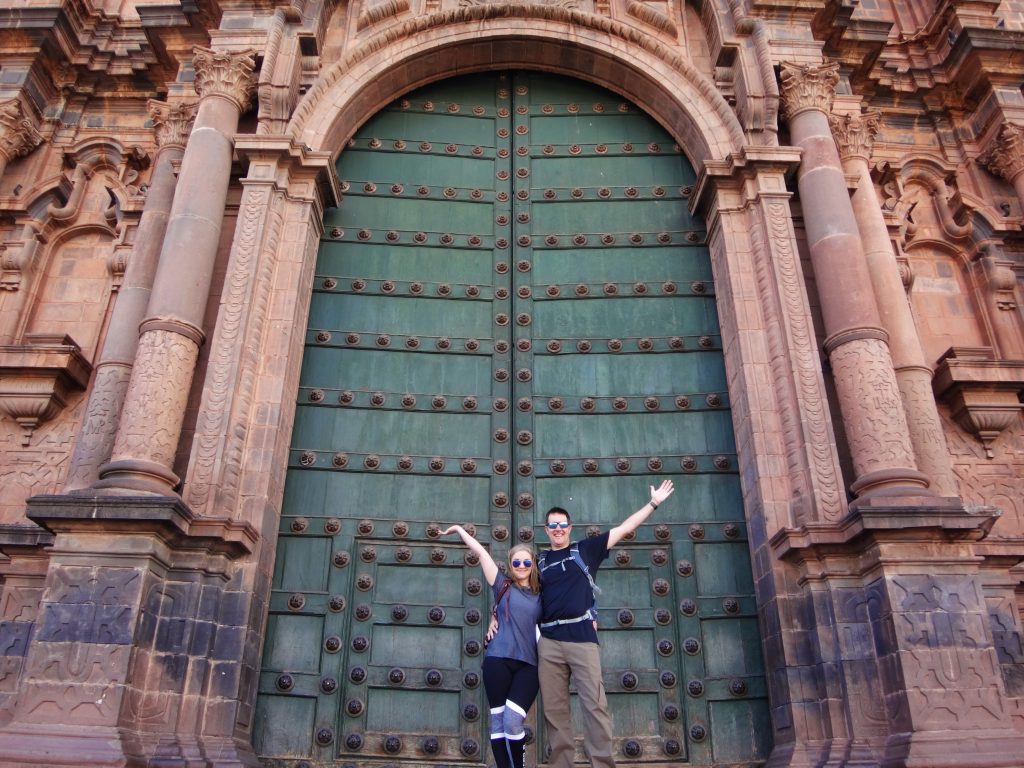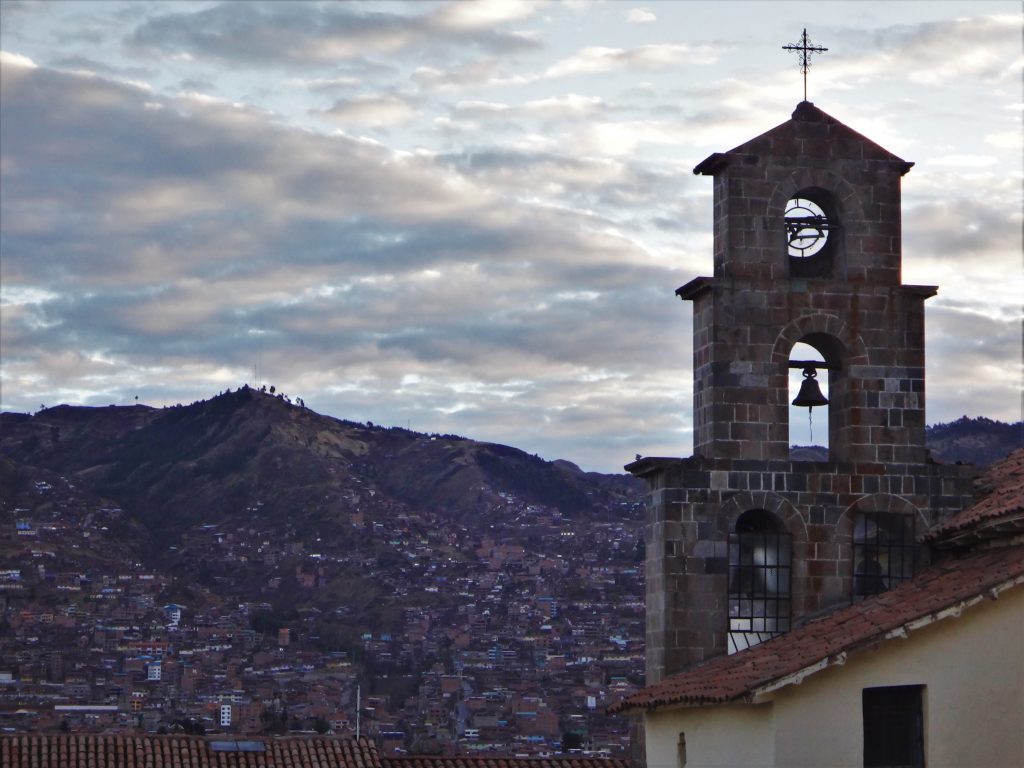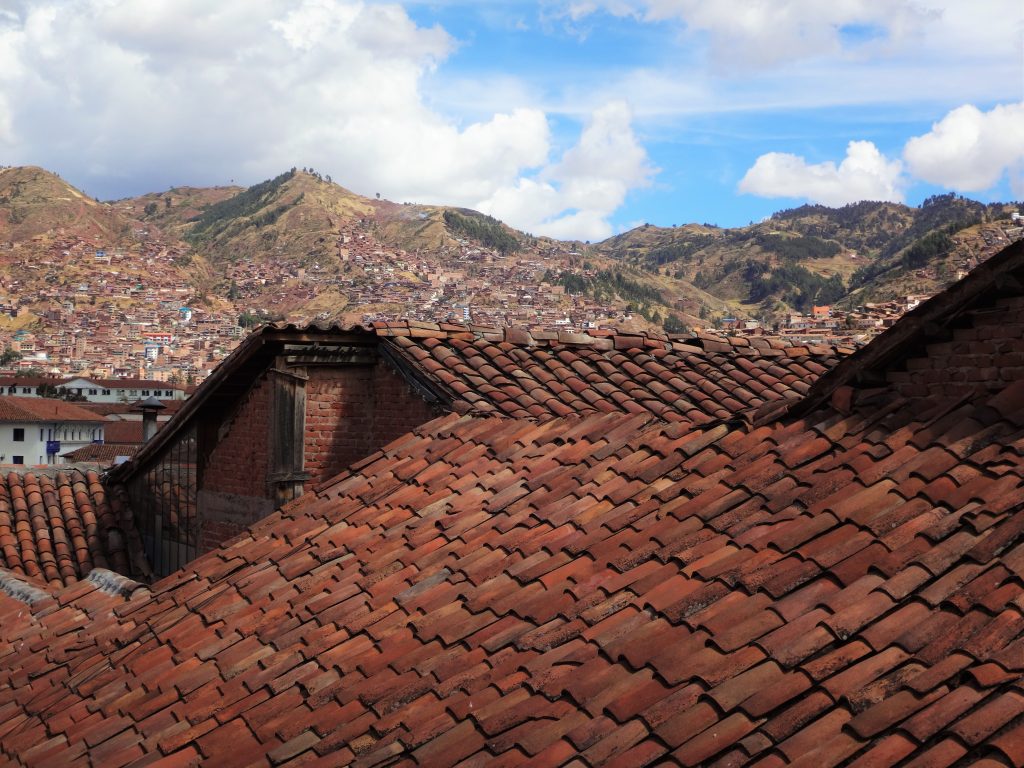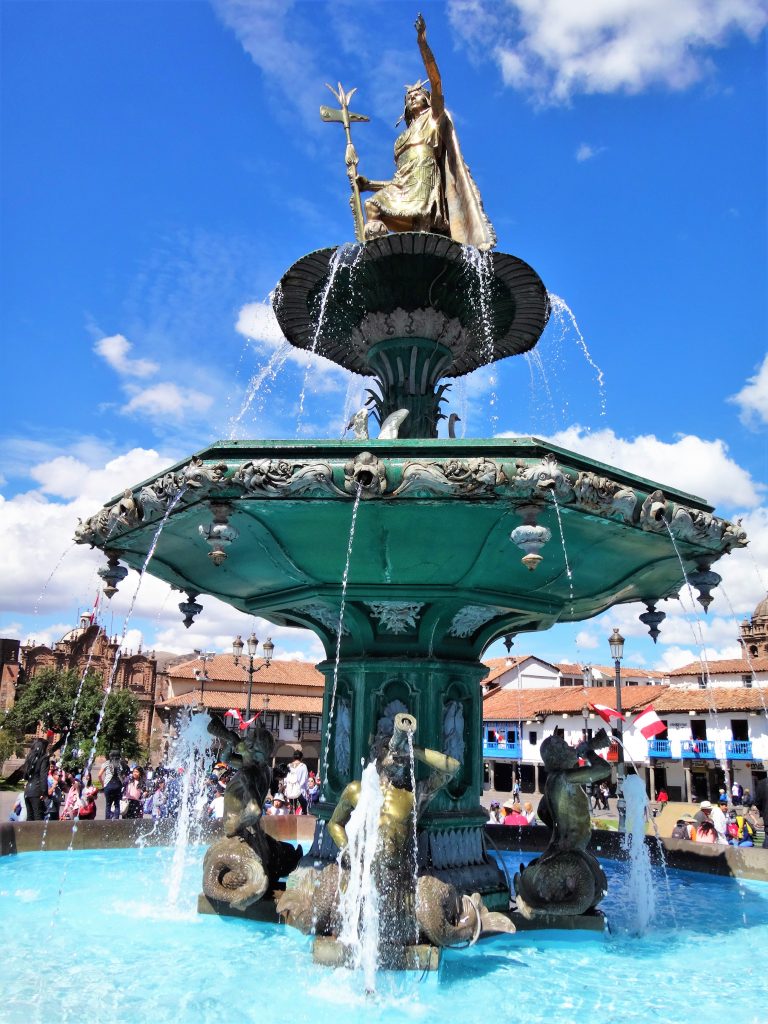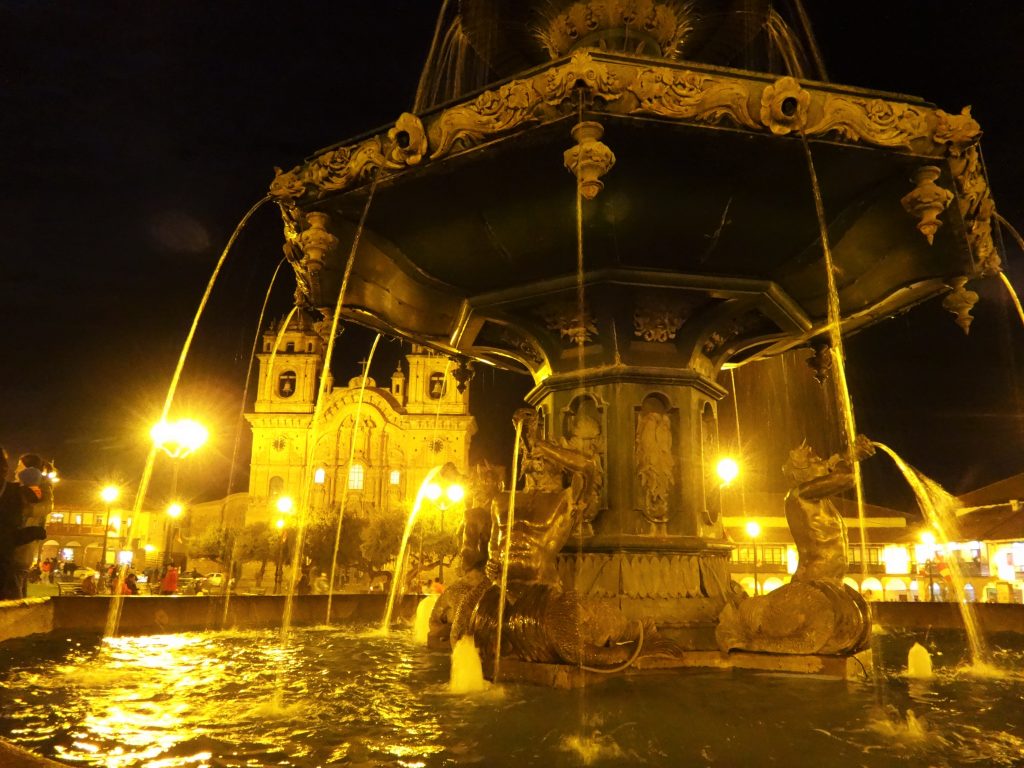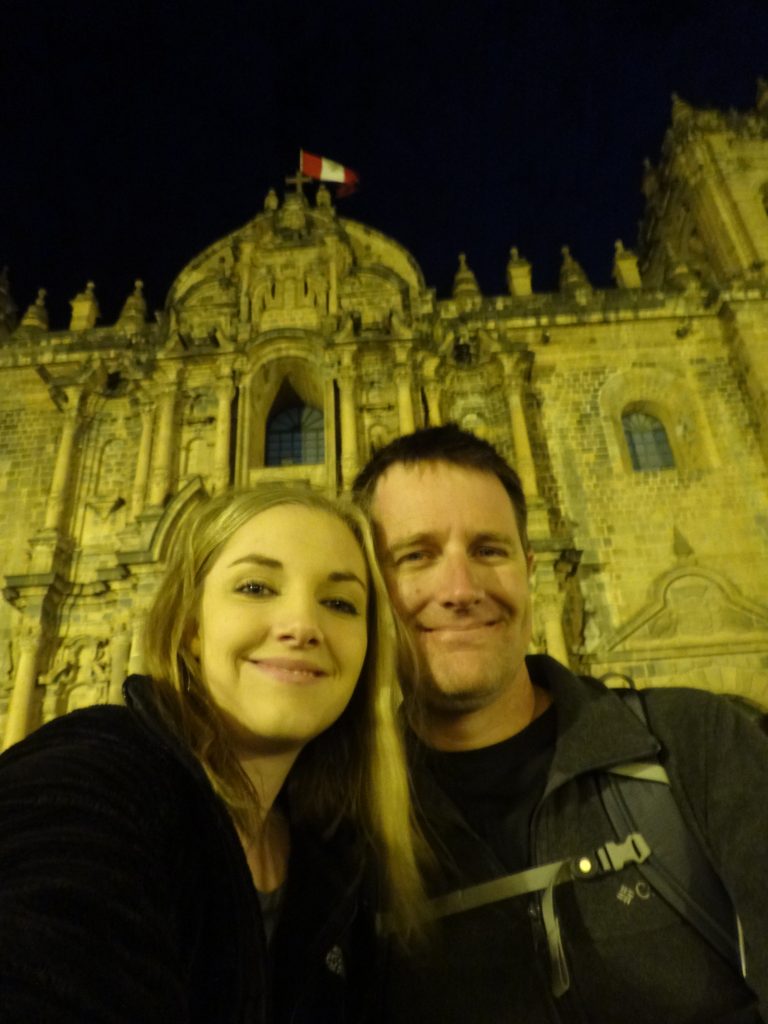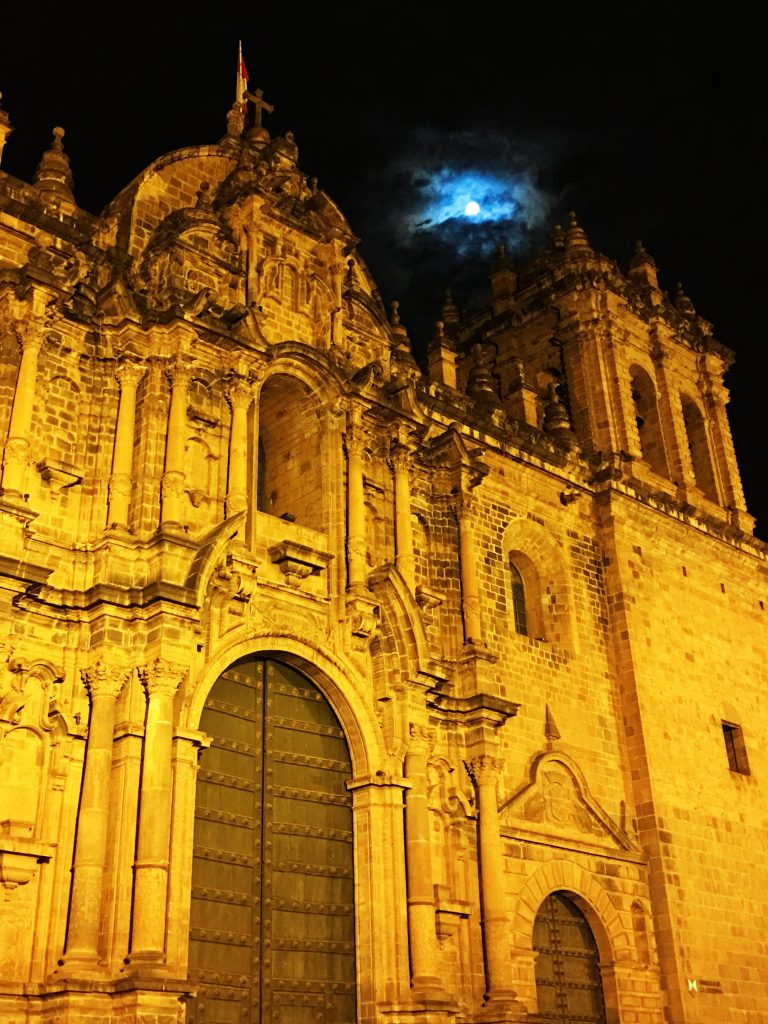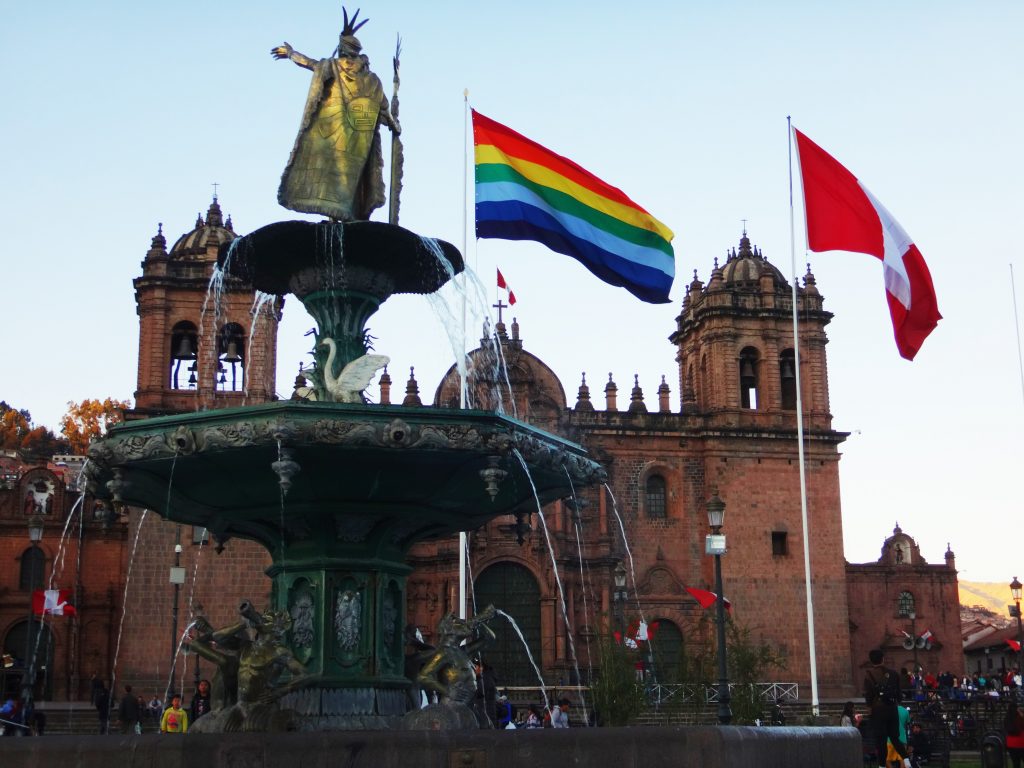 The use of snail gel began with the ancient Greeks and was later rediscovered by South American farmers who noticed their hands were softer after touching snail secretion. We noticed a street vendor applying samples of giant snail moisturizer and I couldn't pass by without a quick stop!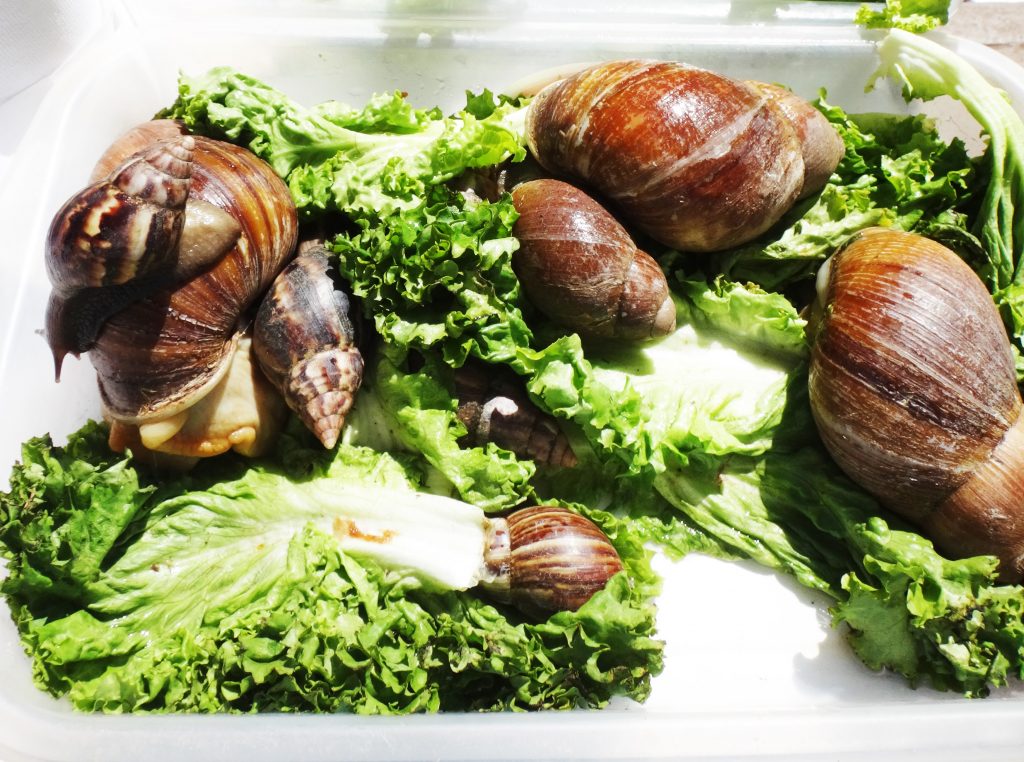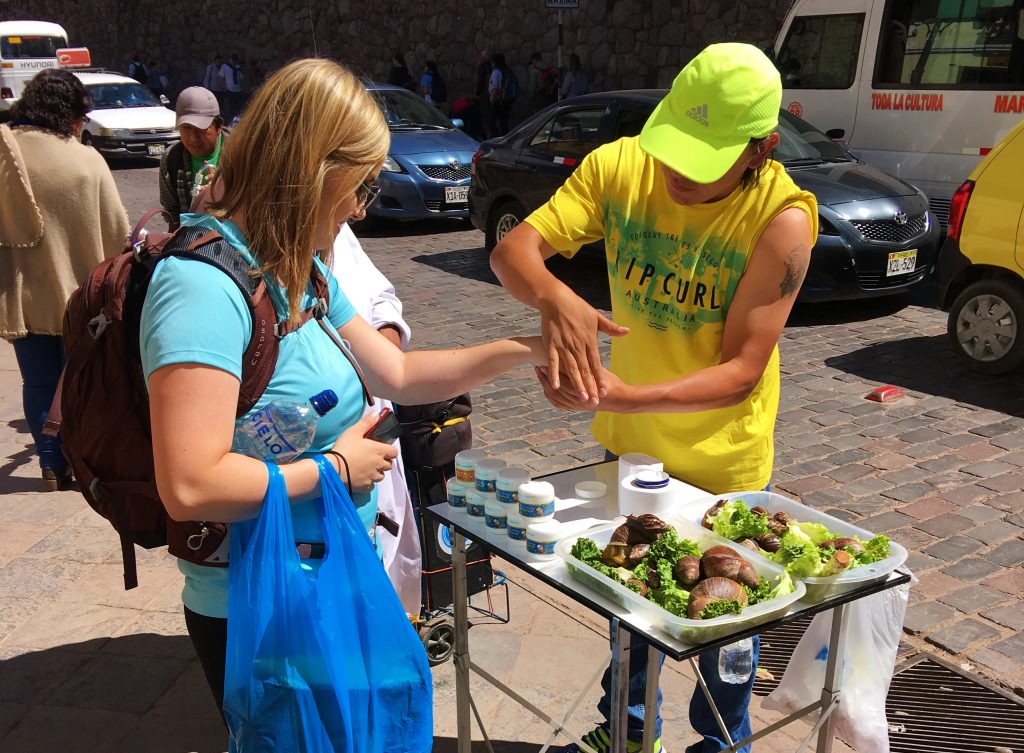 We stayed a total of four nights in Cusco. Two nights at Hotel Rumi Punku and two nights at Aranwa Boutique Hotel. Both hotels came with an oversized jet tub – I was definitely a fan of Cusco hotels! We particularly loved Aranwa and would have preferred to spend all four nights there. The service was more than excellent, the bathroom had heated floors, the breakfast buffet had one of the best selections I've ever seen, and the location couldn't have been better.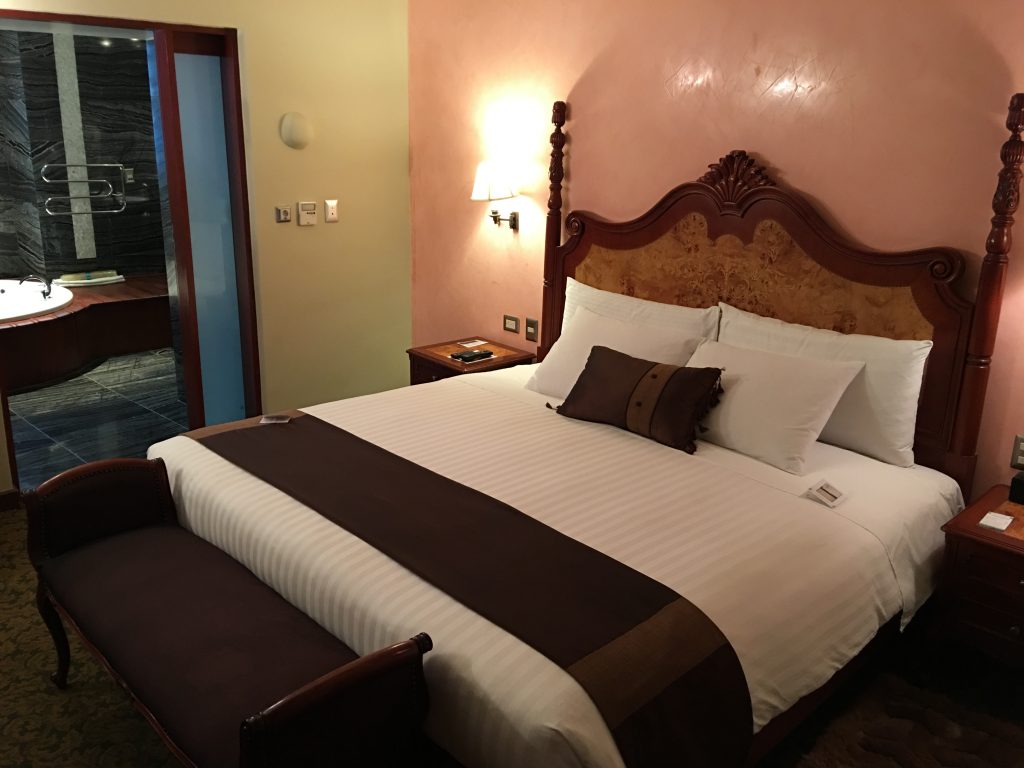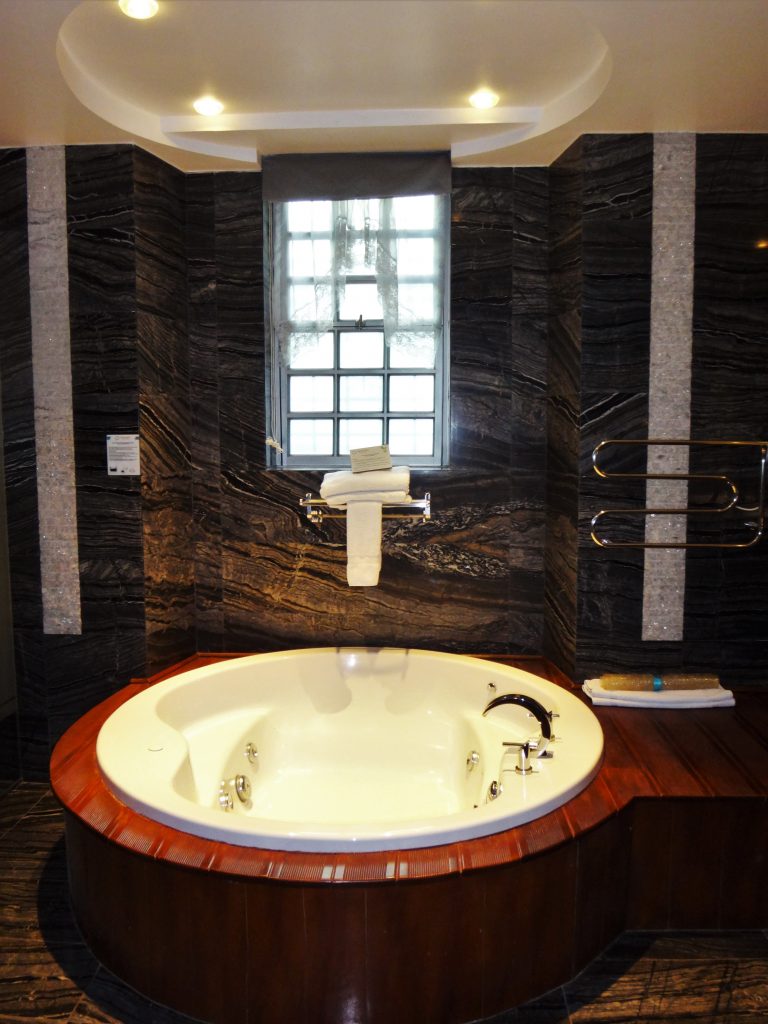 TRAVEL REVIEW: Aranwa Boutique Hotel

 Trip Highlight!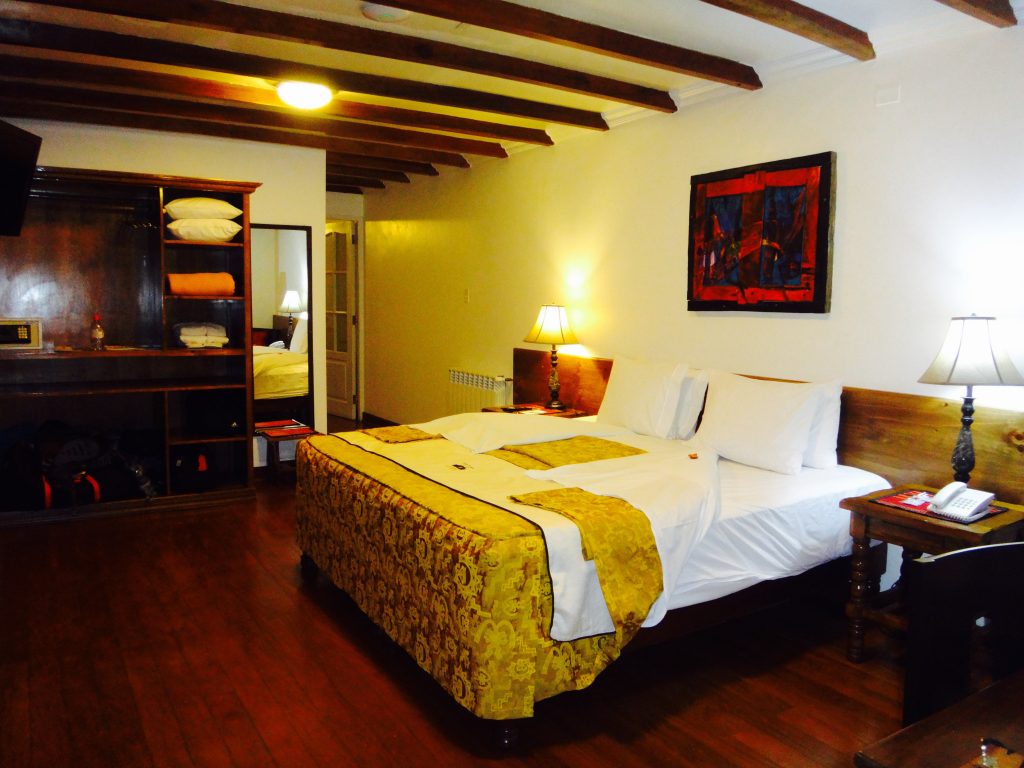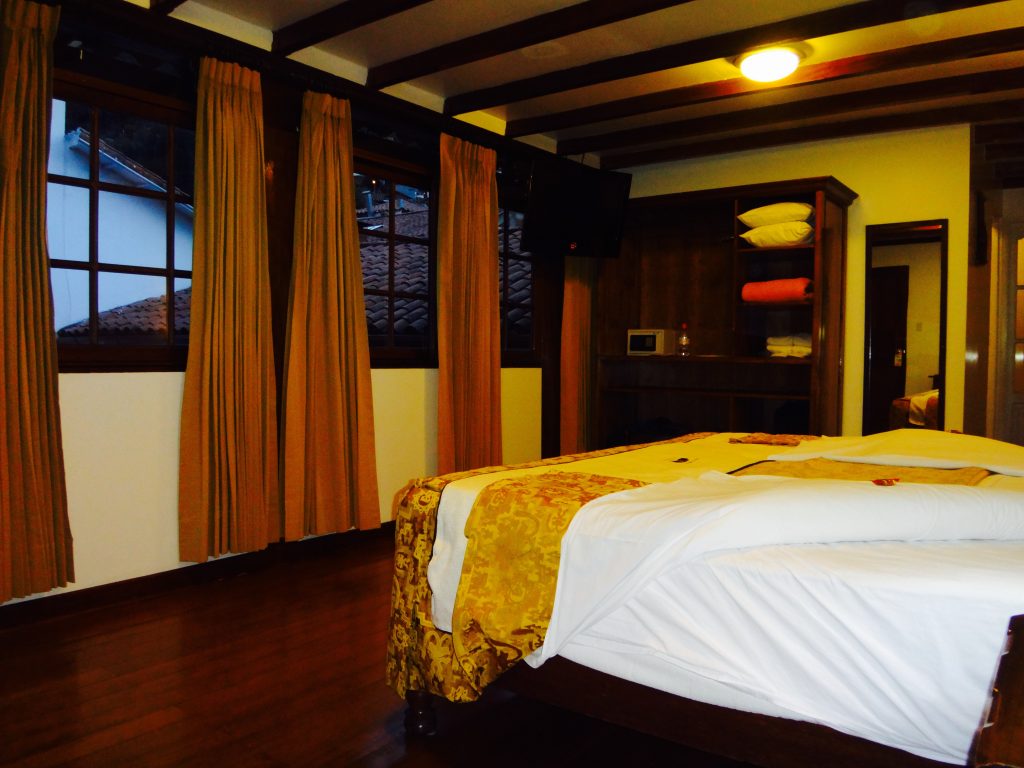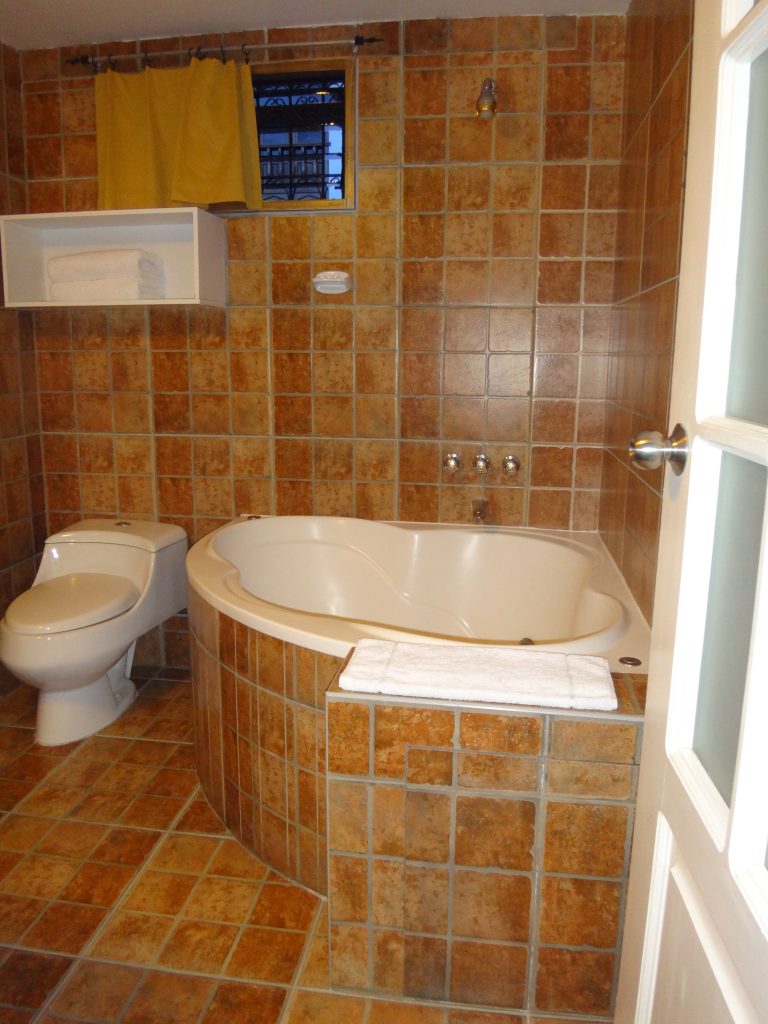 TRAVEL REVIEW: Hotel Rumi Punk

Above Average
Trip Resources
Reviews: www.tripadvisor.com
Aranwa Boutique Hotel: www.aranwahotels.com/en/hotel-cusco
Hotel Rumi Punku: www.rumipunku.com
Choco Museo Chocolate Making Class: www.chocomuseo.com
Inkazuela Restaurant: www.restaurantinkazuela.com
Uchu Peruvian Steakhouse: www.cuzcodining.com/uchu.html
Marcelo Batata: www.cuzcodining.com/marcelo-batata.html
Cafe Morena Peruvian Kitchen: morenaperuviankitchen.com
Kusikuy Restaurant: www.tripadvisor.com